Aquaponics Nugget #158, "The Basics: How To Succeed With Aquaponics"
We've talked about this a LOT in these newsletters, so WHY are we still beating this same drum?

For two important reasons: one, we want you to not fail in commercial aquaponics; and two, we want you to succeed when you enter commercial aquaponics as a business.

In the last three years there have been some massive commercial aquaponics failures in the $500,000 to $1,600,000 price tag range. Always interested in how others approach aquaponics, we kept an eye on them from inception to failure to see what we could learn.

Most amazing to us is that more than a few newcomers to aquaponics are now duplicating the exact same technologies (and failure modes!) these businesses used to fail!

One odd thing we noticed is that all of these businesses began operation after we had developed a profitable commercial aquaponics technology in Hawaii, and then freely offered it to the world in our courses. You'd think if you were going to invest $500,000 or up, you wouldn't think twice about spending $1,500 to take a commercial aquaponics course from someone who had already been successful; especially a well-documented course based on proven technology that could help guarantee your success in your new business venture.
Another odd thing we noticed is that these people seemed to want to invent aquaponics themselves. They didn't even start at the obvious place we did, with the technically sophisticated UVI systems (based on 20 years of university-level research). They developed their own ideas for systems that were odd hybrids of racks, raft aquaponics, media beds, monster water pumps, and huge fish tanks. Many of them built their raft troughs (which weigh +/- 1 ton per 8 foot length) up off the floor at waist height, adding a huge, unnecessary expense to their system construction costs.

As anyone who has ever operated a raft system knows, one of the major benefits to them is that you never work on the vegetables bent over; neither for planting nor harvesting. Rather, you take the rafts to a set of sawhorses at waist level for both operations. This hugely reduces the expense of construction, but even more importantly, the ever-ongoing cost of labor to plant out and harvest these systems.
I asked my gorgeous, intelligent, and incredibly talented wife Susanne why people insisted on doing this. She's our Farmily expert on why people behave irrationally (even when good reasons for not doing so exist within arm's reach). Her answer surprised me, it was so simple:
(Below) Susanne and some of her gorgeous lettuce. We've been successful with commercial aquaponics because of her innovative way of thinking and coming up with solutions, and my ability to build them effectively and inexpensively.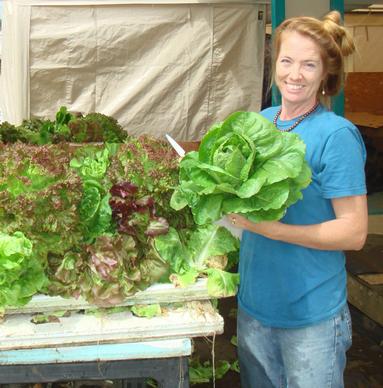 Aquaponics is so new, she said, that the people who get involved in it usually fall into one of two categories: she called the first one the "innovators"; the second, the "early adopters".

While successful innovators come up with new ideas no one else can imagine (and they must do a lot more besides!), successful early adopters are those who take the technology the innovators develop, build it economically, and operate it profitably in the marketplace.
However, not all innovators are successful; in fact, most are not. To be successful as an innovator, you not only have to come up with the idea; you also have to implement it economically and figure out how to operate it profitably for it to be meaningful in the marketplace.

This is the pitfall most innovators get trapped in: they think because they have a cool idea that it is a guarantee of success. We know of many aquaponics innovators who have bet on their ideas in the commercial aquaponics arena and have failed.
Early adopters often attend our courses. When they go home and faithfully duplicate our technology, they are almost always successful with aquaponics. The pitfall for early adopters is that they often have difficulty finding new ideas on their own.

On the other hand, many of the "innovators" who attend our courses and (in spite of our advice to the contrary) start changing the system designs and/or "inventing" new stuff often experience ongoing frustration with their poorly operating systems. We can't help them; they have wandered off into unknown territory without a map. We would never have invested in the things they try because we already knew they produce poor results.

(Below) Here's a graphic that illustrates the standard bell curve with respect to innovators and early adopters: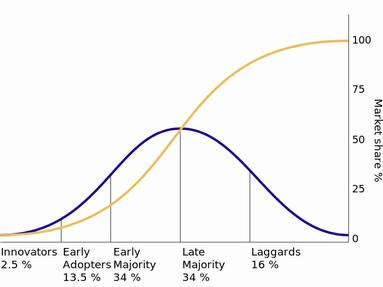 So why were Susanne and I successful? How did we skirt the pitfalls that lurk for both innovators and early adopters? Because she's an innovator who is married to an early adopter (me!); and our skills were mutually supportive of developing profitable commercial aquaponics systems.

Susanne has ideas I could never conceive of because of the way her mind works. I build them and together, we figure out how to make them as profitable as possible. She has the idea, I build it; we figure out how to operate it together.

And what we bring to our courses is our combined skills and background as both innovator and early adopter. We do our best to teach you how to function in both those areas, as well as everything we know about running a small business (I haven't had a job in 40 years; rather, I owned a series of small successful businesses employing up to 20 people, and Susanne has been an entrepreneur for years).
(Thanks for listening! We'll have something interesting and technical in next week's newsletter about aquaponics; and remember: our ongoing series of newsletters discussing agricultural solutions to the California drought problems comes out on Thursdays.)