Aloha Friend,
I hope you're ready for an onslaught of aquaponics information, tips and tricks, because we're going to be sending out two newsletters a week until the
Aquaponics Association Conference in Florida this September 16-18th, 2011
(with a Friendly Affiliate training being held right afterwards next door in Ridge Manor, Florida). The Conference is the brainchild of Sylvia Bernstein (the founder of The Aquaponic Source), and Gina Cavaliero and Tonya Penick (of Green Acres Organics, a commercial aquaponics farm). As the Conference website states:
The primary goals and/or vision of this Association are as follows:
1. To promote the benefits of aquaponic growing.
2. To educate the general consumer and food safety officials about the inherent safety of aquaponically grown food.
3. To dispel myths and rumors about aquaponically grown food.
The vision for this organization is that it will also create educational materials, facilitate an aquaponic speaker's bureau and act as a resource or liaison to the press. It could also offer legal and insurance assistance and help develop and implement standards and certification for our rapidly growing commercial aquaponic industry. However, in light of very recent and very real scares regarding e-coli and food safety, we recognize that the first and foremost agenda for this young association is educating others about the safety of aquaponically grown food.
Speakers at the Conference include Murray Hallam, of DIY Aquaponics fame, Susanne Friend of our own Friendlies, Charlie Price of Aquaponics UK, Sylvia Bernstein of The Aquaponic Source, James Godsil of Sweetwater Organics, Aleece Landis (AKA TCLynx to many aquapons who frequent the forums), and Tim Mann of the Friendlies. Right after the Conference, Friendly Aquaponics will be holding two aquaponics trainings with our affiliate, Green Acres Organics.
We've added a day to our previous four-day training to make it a total of five days, and have split it into the three-day "Aquaponics Technology", which is all the information you need to grow things with the most cutting-edge aquaponic technology available; and the two-day "Commercial Aquaponics" training, which focuses on all the details required to make money and survive in the business world as an aquaponic food producer. We separated the trainings so you can attend just the training you're interested in, or both if you're ready for it. If you're interested, click on the "More Information....." link in the right column.
As we mentioned last week in the newsletter, we've had an iron-clad "no-smoking, no tobacco products on the farm" rule for quite awhile. It's because most tobacco products carry tobacco mosaic virus, which easily transfers to lettuce and tomatoes and is deadly to them. Well, we had a smoking intern on the farm. You read about the fire he started if you read last week's newsletter, but what we didn't know until this week was that all the tomatoes he hand-trimmed with another intern now seem to have tomato mosaic virus and are visibly and quickly dying.
It looks like we are going to lose $3-6,000 worth of tomato harvests, and may also have the disease in our farm until we are able to eradicate it. With luck, it won't spread to our other crops (many of which are also susceptible to this virus), but we're just crossing our fingers and hoping for the best.
Even though we thought we were being careful, we forgot to take into account the fact that people lie. That's us, ignorant and naive, again. As I've always said to Susanne "If you are OK with the worst possible thing you can imagine happening, then everything is fine. If not, you need to add safeguards". Now we have a new rule on the farm: NO smokers, PERIOD. We just can't afford to take this kind of chance any more.
If you're interested in commercial scale aquaponics, please take a look at our
Commercial Aquaponics Trainings
(Special Offer in right sidebar of this email), where you will learn more about real-life operation of a commercial aquaponics system than you can anywhere else in the world. The next training is in Florida in September 2011. For smaller home backyard and apartment systems, please read on:

Purchase Construction Plans and Operating Info for 4 Different Sizes of Apartment/Condo Aquaponics Systems $49.95
Our Apartment/Condo System package includes new and easy-to-understand building instructions and complete operating information for 4 different sizes of small aquaponic systems based on our years of experience operating a commercial aquaponics farm. Anyone can build a system out of plastic barrels, but operating one successfully without good
and
easily-understood information can be frustrating. You simply use the "Daily O
perations Checklist" in the manual and follow the step-by-step
instructions on your way to success.
We spent hundreds of thousands of dollars, hundreds of hours, and built our first commercial aquaponics systems with FAR less information than this manual contains. We included all the information learned from that experience in this manual so you don't need to make any of the same mistakes we did.

Aquaponics Nugget #47:
Prawns in Aquaponic Systems, Part 2
Prawns are sexy. Prawns are expensive! Everyone loves prawns! Newcomers to the aquaculture or aquaponics fields immediately jump to the conclusion that raising prawns will make them the most money of any aquacultured species. The only problem with this is that it ignores all the natural behavior, breeding habits, and other facts about prawns that one MUST know to be able to raise them successfully (let alone to make money with them). We covered Part 1 of this two weeks ago in newsletter #45; here's the rest of the information. Don't quit your day job to raise prawns, though, unless you have about 300 acres of ponds and a source of cheap prawn food!
As we found, prawns grow just fine in the aquaponics system troughs without impacting the vegetables or system negatively in any way. You need to keep them out of the fish tank though, because the fish will make them disappear. So you need a filter smaller than the prawns on the outflow of your final trough(s). If you never had a filter there before you put prawns into your system, you will notice that it sometimes clogs and overflows the trough; you now have one more check-point to inspect and clean when you do your daily rounds on your system.
We are experimenting with higher stocking densities and with using substrate inside the troughs to increase the survival rate of the prawns. Substrate is basically wadded-up plastic with a lot of holes in it that the prawns can hide from each other in, and there is prawn literature that indicates almost double stocking and harvesting densities can be achieved when using it. An example of substrate is that orange plastic mesh barrier you see on construction sites, wadded-up and spread around the bottom of the trough. The problem with this is when it comes to harvest time, you have huge wads of the plastic stuff full of prawns inside the trough, and you have to get it out and them out of the plastic without damaging them too much in the process. This may make labor costs soar so much that it wipes out any additional production realized by using the substrate.
Freshwater prawns require a brackish water phase in their breeding cycle; they will NOT hatch out in freshwater only. Because of this, a prawn hatchery is somewhat involved. We figure we can build a basic small capacity prawn hatchery for about $1,000 or so, and learn how to run it successfully in two to three months of trial-and-error (but we have a head start on this: we're successful aquaculturists already). Because we don't have a prawn hatchery yet, the only way we can obtain baby prawns to stock our troughs with now is to buy PL's (for Post-Larvae, a very small prawn about 1/4-1/2" long) from a local breeder.
Most of the commercial breeders have minimum orders of 100,000 or so and high shipping costs, so unless you can find a local prawn breeder that will sell you small amounts, you can't raise prawns easily or affordably. Don't expect to make a lot of money on prawns or grow a lot of them unless you can figure ways around all these problems that no one else has figured out in 50+ years of commercial prawn farming.
A GREAT source of information on breeding, hatching, and growing prawns can be found at the following down-loadable link; this is a reference work on breeding and rearing freshwater prawns at the United Nations Food and Agriculture Organization's website at
http://www.fao.org/docrep/005/y4100e/y4100e00.htm#TOC
. Look for, then click on "PDF Version" in little blue print at the top right of this document to get the down-loadable version in PDF format, then save it into a folder on your computer. The prawn hatchery in this publication would cost around $150,000 to build in the US and is not feasible for most of us, but the techniques described are solid and well-tested.
(Next week: Food Safety In Aquaponics Systems")
Big Aquaponics Conference in Florida:

Aquaponics Video!
............................................
Back Issues Of Newsletters Now Available, Click Here!
.............................................
Free Farm Tours

..............................................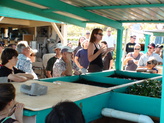 Aquaponics tour at the Friendly farm!
We hold a free workshop on our farm the FIRST Saturday of every month, focused on growing food with aquaponics and permaculture.
Click here
for information. See you there!
If you are a school, a non-profit organization, an organization working with the poor, Native Hawaiians, or ex-inmates, or if you are a church, we will hold a free farm tour for you anytime. You DO need to email us first to schedule, or we might be out on errands!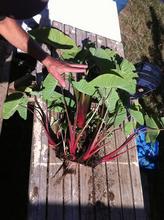 3-1/2 pound kalo (taro root) grown in a 2" net pot (little bump at bottom)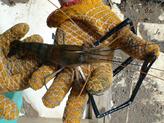 4-month old prawn (macrobrachium rosenbergii) grown in hydroponics troughs of our aquaponics systems
Special Offer!

Sign up for our our September 2011 Florida Commercial Aquaponics Training, OR our

October 2011 Hawaii Commercial Aquaponics Training

now, and we will email you our Micro System package so you can begin studying aquaponics! ($99.95 value)



More Information on Hawaii and Florida Commercial Aquaponics Training
In
The Farmily
Chris Smith, one of our early students, visited the farm yesterday with two of his interns, and shared some really cool new ideas with us that he's been trying out.
Chris has put in a "wicking bed system" on his farm to try out (I hope I got that name right, I was kind of on the periphery of the conversation running the weedwacker at the time). What a wicking bed consists of is a wooden 2x10 or 2x12 frame (just like a standard dirt raised bed in an organic garden), but the bottom of it has a plastic liner about 3" up the sides, which is then filled 3" deep with gravel or volcanic cinder.
He then puts a piece of ground cover over the top of the cinder, and fills the area above that with growing media (spent coir, vermiculite, etc, from the aquaponics operation). It looks like any normal raised bed from the outside, because you can't see the plastic under the cinder, the cinder, or the ground cover.
How this works in conjunction with his aquaponics system: he takes runoff water from the aquaponics (that would normally overflow the troughs out onto the ground and be wasted), and channels it to the wicking bed, where it trickles down and is captured in the gravel, and kept from continuing on into the ground by the plastic liner. This establishes a reservoir of nutrient-rich aquaponics water below the growing media. The cinder wicks the water up to the ground cloth, which wicks it into the growing media, which wicks it upwards to the vegetables in the wicking bed.
This is not a recirculating system as aquaponics systems are; he just adds more water when the water reservoir below the growing media gets low. It also does not require aeration, so no energy whatsoever is expended in growing here. We're SO interested to see how this works out!
We really only know ten percent now of what we'll know in another ten years about aquaponics, and trying new things such as this to quantify the knowledge is how we'll get there!