Aloha Friend

In today's "Nugget",
we start our long awaited and oft-requested series on
"Alternate Energy For Your Aquaponics System"
. If you want to be more energy self sufficient (even if you don't have an aquaponics system yet), this information will be extremely valuable to you.
Our "In The Farmily" column today
is about "growing fish in a pond", and why that's not as easy as it sounds. It's good background information for aquaponics beginners and experts alike!
Aquaponics Nugget #131, Part 1: Alternate Energy Systems For Aquaponics

First, We Talk About Electricity

Electricity is power: it can do huge amounts of work; heat and cool, and many other things if used properly and safely. However, it can also injure or kill if used or installed improperly, or if you don't know what you're doing with it.
DISCLAIMER: We do NOT recommend that you perform any electrical installation of either direct current systems or alternating current systems unless you have the appropriate electrician's and contractor's licenses required in your jurisdiction, and you also know what you're doing. This section is entirely and solely for your entertainment, and should not be construed to mean that you actually try to install or service any of these things yourself.
The human propensity to self-destructive stupidity is why we have to put this warning in here; that said, we'll tell you everything we know about installing and using alternate energy systems with aquaponics systems and small farms.
Electricity: What It Is And How It Works
Alternating current electricity, or AC, is the kind in your home's electrical outlets; direct current electricity, or DC, is the kind in car and boat batteries. It doesn't have anything to do with a heavy metal band or one's sexual preferences. Wasn't that simple? Electricity is very useful stuff, because it is energy in an easily transportable form; you can simply send it down an insulated wire from the place it is created to the place you want to use it.
Now, some definitions: "Load" means the actual thing that uses the electricity; a washing machine, a light bulb, or a water pump in an aquaponics system. In this article, we'll refer to everything that uses electricity as "the load", whether it's a farmhouse, an aquaponics system, or a single lightbulb. "On-grid" means connected to your utility's high-voltage transmission wires with a meter so they can bill you; "Off-grid" means that no such connection is available.

Off-Grid Systems:

If your load is off-grid, you will need a source for the power: off-grid energy systems commonly use photovoltaic panels (or PV panels; often referred to as "solar panels", even though there are two kinds of "solar panel": one that makes hot water and one that makes electricity) and/or wind generators and/or hydroelectric generators. All of these systems make DC electricity, which cannot be used directly by your loads, but which can be stored and then converted from DC into AC for use. This means you need a battery bank for storage.

The DC power produced by your alternate energy source first goes through a "charge controller" on the way to your battery bank; the controller regulates the amount of charge so you don't under-charge the batteries or fry them. From the battery, the DC electricity goes to what's called an "inverter" that turns the DC electricity into AC electricity that you can use to run pumps, fans, lights, and other AC electrical equipment that is your load. With an off-grid installation, you will need an internal combustion engine-powered electric generator for backup if your alternate energy sources fail or are down for some reason.
On-Grid Systems:
If your load is on the grid, and you want to supply your own alternate energy from PV panels or another source, you can use the grid as a sort of battery to store the electricity you make. Here's how it works: although AC electricity cannot be stored in batteries, it can be run back into the electric company's grid using what's called a "grid-tie" inverter. This type of inverter doesn't require batteries, but simply runs your electric meter backwards, giving you credit for the electricity it puts into the grid.

When you need electricity at a time when your alternate energy system is not making any (such as nighttime, when your PV panels aren't making any, or during a period of no wind when your wind generator is not making any) you simply take electricity from the grid and run your electric meter in the other direction.
How To Design Your System For Your Electrical Needs:
It is easy to figure out what your electrical system requirements are: simply add up the wattage specifications for all the equipment (the information on wattage will be on a nameplate or sticker somewhere on the pump, motor, or blower) in the building that uses regular AC power. Figure that it will ALL be turned on at the same time at some point, add 50% to that number, and you will have an electrical system that is large enough to handle your needs.
The AC System:
Your AC system consists of your 120/240VAC distribution panel (the metal box in the wall where the circuit breakers are), and all the wires going through the walls or through conduits to the receptacles, lights, and switches where the electricity is used. Get a licensed electrician to explain this to you if it's unfamiliar territory.

The DC System:
Alternate energy systems start with DC electricity. PV panels, wind generators, and hydroelectric generators make DC electricity that you can charge a DC battery bank with, but do not make AC electricity. You need a piece of equipment called an "inverter" to make AC electricity from DC electricity.
If you have a grid-tied alternate energy system, you will have a DC charge controller to regulate the DC output of your PV panels or wind generator. This charge controller feeds a grid-tied inverter that turns the DC electricity into AC electricity and matches it to the electricity on the grid so you don't fry your equipment. Sometimes the charge controller and grid-tied inverter come as an integrated unit, this is fine, and probably better than separate units, especially from separate manufacturers.
If you have an off-grid alternate energy system, you will have the same PV panels or wind generator, DC charge controller, and inverter, but you will also have a battery bank, and some DC circuit breakers to protect the equipment. This is the most expensive type of alternate energy system. With this kind of installation, you will also need an internal combustion engine-powered electric generator for backup if your alternate energy sources fail or are down for some reason.
(Below) Tim with part of the Hawaii Aquaponic Solar Greenhouse's alternate energy system; the PV panels are outside (in the sun, yeah!). You can see the charge controller (black box at top), the inverter (black box below that), the combiner box (upper right, where the multiple cables from the PV panels combines into a single set of larger cables leading to the charge controller), battery charge indicator (little flat black rectangle), and DC breaker panel (black box to the right of the inverter). Roll-up white plastic cover is so that all this BLACK equipment doesn't cook inside the greenhouse. See why we say: "Hire a professional!"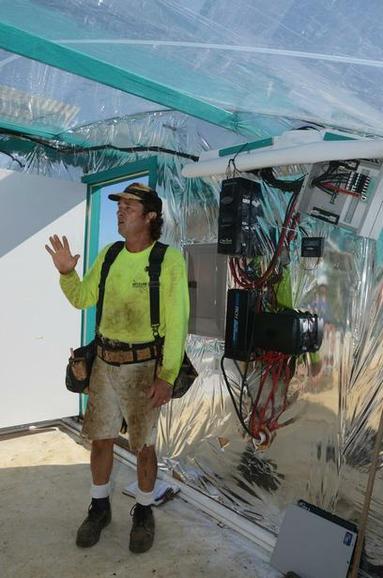 For smaller home backyard and apartment systems, please read on: