Aloha Friend,
Here we are again! A week's gone by: we're older and wiser, and of course, we ALL have more money in the bank! While I was putting all our money in the bank, I chatted with our bank teller, and told her my goal in life was to keep getting older for as long as possible. She laughed, and we instantly had a connection.
In Hawaii, the land of aloha, it's easy to remember this and take time to connect with the people in the community around you. In Hawaii, we pull over and ask people stopped by the side of the road if they need help. We share our food and resources with those less fortunate than us; this is a very Hawaiian thing to do.
Our attitude about strangers is also Hawaiian: in ancient times they would classify a newcomer as either a family member or an enemy. We always assume the best about a person (that they are a family member) and give them plenty of chances to prove us wrong. There are few we don't consider family. Imagine what the world would be like if everyone treated people the Hawaiian way!
Today's "Nugget" will explain how to figure out what to grow to make money with aquaponics. It's that simple: we made the decision to build an aquaponics farm five years ago because we realized that food doesn't
ever
go out of style, and people don't stop buying it when times get hard, the way they stop buying new cars and houses. Amazingly, now it's five years later, and people are
still
buying the food we grow in our aquaponics systems. It was a good choice!
The thing we didn't realize at the time was that growing food for a living meant
we
got to eat better, fresher food that we otherwise could have afforded. It's hard to quantify this benefit, but we know we're healthier and in better physical shape than we were five years ago when we just bought all our food at the store.
Click Here To Find Out More About The January 2013 Tennessee Training, And Get A $1,000 Discount!
If you want to earn a living from aquaponics (or just learn the best aquaponics technology available),

we also have one training scheduled in 2012 in Hawaii:
We hold our 3-day Aquaponics Technology Training, plus the 2-day Solar Greenhouse Training, plus the 1-day Commercial Aquaponics Training, at our farm in Honokaa, Hawaii, starting on October 21st, and ending on October 27th. Attend one or more of these trainings to suit your needs. You can sign up now on our webpage here or using the "Special Offer" buttons in the right sidebar of this email. You can also call us directly at 808-775-7745, or email Tim for information.


For smaller home backyard and apartment systems, please read on:

Purchase Construction Plans and Operating Info for 4 Different Sizes of Table Top Aquaponics Systems $49.95
Our TableTop System package includes new and easy-to-understand building instructions and complete operating information for 4 different sizes of small aquaponic systems based on our years of experience operating a commercial aquaponics farm. Anyone can build a system out of plastic barrels or IBC totes, but operating one successfully without good
and
easily-understood information can be frustrating. You simply use the "Daily O
perations Checklist" in the manual and follow the step-by-step
instructions on your way to success. We also cover how to make aquaponics systems out of weird things like old refrigerators and door frames; this makes aquaponics
much more
economical to get started in!
We spent hundreds of thousands of dollars, hundreds of hours, and built our first commercial aquaponics systems with FAR less information than this manual contains. We included all the information learned from that experience in this manual so you don't need to make any of the same mistakes we did.

Aquaponics Nugget #93: What Kind Of Vegetables Should I Grow To Make Money With Aquaponics?
A student asked us a deceptively simple question the other day: "What can I grow to make money with aquaponics?".

We've been teaching commercial aquaponics for four years now, and if anyone should have the answer, we should. I wish I could just say: "Here, grow this, and it will make you a fortune!". But it's more involved than that. That doesn't mean It's difficult, and it doesn't mean it's complex, you just have to do a little homework. Here's the homework: do a market assessment, and a test grow, then take samples to your prospective buyers.

Part One, The Market Assessment: You have to find out what the different sales outlets for produce are paying for all the different possible things you're growing. Depending on the volume you need to move, you should talk to: restaurant owners, small retail store owners/managers, produce brokers and distributors, produce wholesalers, and people selling in local CSA's and farmer's markets. This is all local information, and no one except another farmer in your area can tell you what your local market is willing to pay, you have to do this research to know.

You will get a range of prices from the different types of buyers. The buyers will also tell you (if you were perceptive enough to ask) what they have trouble getting at a particular time of year, or what they would like to get more of, regardless of price. If you're smart, you'll also ask the buyers what they'd like to get, but can't, at any time of the year, because it "doesn't grow around here".

Asking this last question is important, because you'll find that aquaponics will grow a lot of vegetable varieties easily that soil farmers in your area have difficulty producing organically with high quality, such as watercress, cilantro, green onions, leeks, garden herbs, and others specific to your location.

Part Two, The Test Grow: No one can tell you what grows well in your location, in your weather, in your particular greenhouse; because that is completely specific to your situation and no one else's; this can vary widely with as little as 500 feet difference in elevation, or a few degrees difference in temperatures. To find out this, you need to do a test-grow with at least three to five varieties of each of the vegetables you found to be valuable to your market in "Part One".

This is because there will be ten or twelve varieties in the seed catalog: a couple will grow really well at your location, a couple won't grow worth a darn, and the rest will be somewhere in between. If you only picked one or two varieties to try, and you accidentally picked the ones that don't grow well in your location, you might erroneously conclude that "so-and-so" doesn't grow well in aquaponics. When we started out, we made this kind of erroneous assumption a couple of times, then were pleasantly surprised later when we found that "it grows like a weed!", when you get the right variety.

Part Three, Taking Samples To Buyers: After doing your test grow (it's easy to do a series of three or four test grows in a small aquaponics system such as one of our Micro Systems); harvest your samples and take them to your buyers. Tell them in particular to pay attention to the shelf life of the vegetables; for we've found that aquaponic produce has the longest shelf life of any organic produce. Another huge benefit you will have to offer your buyers: the taste of aquaponic produce is usually better than that of soil-grown produce of the same variety.

When we first got started in aquaponics, we grew lettuce just like everyone else. We invited three of the local organic (soil-based) lettuce farmers to come on one of our "Farm Tours", and they asked if they could sample our lettuce. They all said: "It's really sweet!". And us, being the new kids on the block, said thanks, and you don't have to be so polite. And they said: "But you don't understand: it's really sweet!".

So, puzzled, we went to the store and bought a bag of each of their lettuce mixes, took them home and ate a few bites without any salad dressing on them. They were really bitter! This is the lettuce we'd been eating all along, we just hadn't noticed the bitter taste because we had always put sugar sauce on it (AKA salad dressing!).

After you take samples to buyers, you may find that they are a lot more excited about aquaponic produce than they were before they tasted some. You can educate them about the fact that it's impossible to use pesticide and herbicides on organically-certified aquaponic produce, the way some unscrupulous "organic" farmers may sometimes do, because it will kill your fish.

Thus, aquaponic produce is guaranteed organic (not the same as "organically certified"; see this webpage for a lot more information on organic certification of aquaponics). If you do farm tours, invite the buyers on a farm tour; because everyone we've ever met has been interested in aquaponics because it is different than soil-based growing.

That's pretty much it: you do need business smarts and/or experience to succeed, and you need to pay attention to what your market wants and what they're willing to pay for it. There are no guarantees for success in aquaponics or in any business, except making intelligent decisions and working hard: just ask the president of General Motors!
The photo below is our Solar Greenhouse. It's cool when it's hot, and warm when it's cold (hope that makes sense to you, it's the best greenhouse we've ever seen!)
.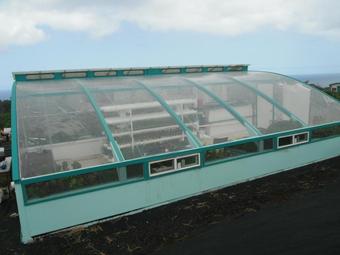 Friendly Aquaponic's FIRST Aquaponic Solar Greenhouse in full bloom, Honoka'a, Hawaii, March 2012, (on a grey rainy day) showing PV panels and growing plants.
Next week: Something else interesting and valuable to know about aquaponics. Thanks for listening!
Click Here To See Our New Aquaponics Video!
.......................................................
Back Issues Of Newsletters Now Available, Click Here!
.............................................


Purchase Trough Liner Directly From Manufacturer!

Free Farm Tours

..............................................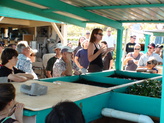 Aquaponics tour at the Friendly farm!
We hold a free workshop on our farm the FIRST Saturday of every month, focused on growing food with aquaponics and permaculture.
Click here
for information. See you there!
If you are a school, a non-profit organization, an organization working with the poor, Native Hawaiians, or ex-inmates, or if you are a church, we will hold a free farm tour for you anytime. You DO need to email us first to schedule, or we might be out on errands!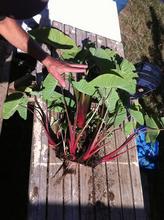 3-1/2 pound kalo (taro root) grown in a 2" net pot (little bump at bottom)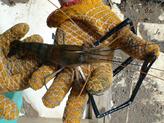 4-month old prawn (macrobrachium rosenbergii) grown in hydroponics troughs of our aquaponics systems
Special Offers!

Sign up for our HAWAII October 25th-26th
Aquaponic Solar Greenhouse Training

or our


HAWAII October 21-23 Aquaponics Technology Training

,

or our


HAWAII October 27th Commercial Aquaponics Training

,
and receive a free Micro System DIY package so you can begin studying aquaponics! ($99.95 value)
More Information on Aquaponic Solar Greenhouse Trainings
"Martin's Fish"

It was 1976, and I was anchored in my 37-foot SeaRunner cutter "Spice" in a bay called Hakaui on the South side of Nuku Hiva, in the Marquesas Islands, with my friends Chuck and Nancy, who were cruising on their dugout canoe "Tyone", named after Chuck's son (this is not last week's column, it just takes place around the same time and in the same geographic area of the world).

We'd run low on fresh fish, so we decided to take my 37-foot cutter Spice out of the bay on a fishing trip. We'd been spending a lot of time on shore with Paul Taupotini and his nephew Martin, so we went over there first to see if Paul or Martin wanted to go fishing with us, as they did not have access to the deep sea fish, not having a seaworthy ocean-going boat themselves.

Paul had been a gracious host, always inviting us to eat, or go hunting (then eating). We'd had everything from the freshwater prawns that grew in the river to lobster from the bay, to barbecued goat, pig cooked in an underground oven with sweet potatoes and taro, "back-yard" chicken, and other delicacies.

We found Paul and Martin, but Paul had work to do, so sent Martin with us. Martin, about 19 or so, was eager and full of excitement. We left the anchor on a bouy, since we were going to be right back in a few hours, and headed out of the bay under the vigorous push of my little 6-hp diesel inboard engine.

We had put up the sails while still at anchor, just as a precaution, but couldn't really use them until we got outside the bay, because the precipitous 500-foot tall cliffs that bordered the bay on one side made the wind circle in whirligigs and williwaws, not coming from one direction consistently for more than a few seconds at a time.

Once outside the bay, we were immediately in the dependable 10-12 knot tradewinds of the Marquesas, sheeted in the sails, turned off the engine, and started looking for birds.

Wait a minute, you say: don't you look for fish? No. When you are fishing for yellowfin tuna, mahi mahi, and ono, the way we were, you look for the flocks of birds that are a giveaway as to where the big schools of fish are feeding. The big fish chase the baitfish up to the surface, and they are caught between the birds above and the big fish below: this is an opportunity for the birds, and is how they make their living.

So we found a school shortly, and with four husky handlines in the water proceeded to pass through the squawking mass of diving birds and surface splashes from the big fish below. We hit all four lines! Each fish stretched the shock-absorbing bungey cord on the handlines out to their full lengths, and we luffed up into the wind to slow the boat down and pull the fish in.

I put the boat on self-steering so I could pull fish too, and (wearing my safety line), went to the rail, braced myself, and started hauling in a 120-lb yellowfin tuna. Martin was pulling in a line next to me, and he was a little slower on the draw; I got my fish in to the boat, and put a gaff into it while he was still pulling his in.

(Part 2 of "Martin's Fish" next week!)