Aquaponics Nugget #79: The Science Of Solids Settling Tanks, Net Tanks, And Degas Tanks
Where Did It All Begin?
The first use of solids settling tanks in aquaponics began in a university setting (they had been used in sewage treatment facilities before this for years). The university people were aquaculturists originally, and ventured into aquaponics as a way to improve water quality for the fish. They had a simple goal: grow as much fish as possible in a system of a given size.
How It Works:
The water from the fish tank (where all the solids were generated) flows into the cone-bottomed
solids settling tank
next. Inside this tank, the fish excrement settles out to the bottom of the tank, where it can easily be drawn off daily and used for fertilizing plants in the ground. When we emptied the solids settling tank in our first system, we'd get a 5-gallon bucket of stinking black goo once a day.
Next the water flows through the
"net tank"
, a similar tank, but filled with bird netting (lightweight monofilament netting with a
ton
of surface area, which is normally used for keeping birds off of fruit trees).
Although the function of the net tank was never explained clearly to us, on our farm it seemed to catch all the small suspended particles of excrement that were too light to settle out in the solids settling tank, and prevent them from going on out into the system to the plants. This tank and its netting required cleaning every two weeks to a month or so; the result was getting covered from head to toe in the same black stinking goo that the solids settling tank caught.
Next comes the
"degas tank"
. We were taught that the degas tank, with its voluminous aeration, got rid of the carbon dioxide and hydrogen sulfide (fart gas) that the biological processes occurring in the solids settling tank and net tank created, before those gases could go out to the vegetable troughs.
So far so good; we built our first systems this way, and they functioned well. We got an eye-opener at the end of our first year though: we raised 6,000 pounds of tilapia that year, and when we ran the numbers (being business people who have to survive off the actual income from the business, and keep numbers to facilitate that)
we found we'd lost $2.00 per pound on each and every pound of that 6,000 pounds of tilapia, for a total

loss

on the fish of $12,000!
This was a large enough loss that we ended that first year in the red, even though we'd had the income from the vegetables also.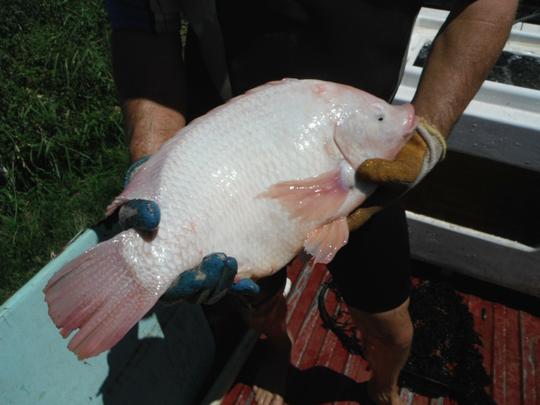 This is a beautiful 7.4 pound tilapia; we would lose $14.60 on this fish if we sold it through the normal outlets in our area! It is one of the brood stock we use in our tilapia breeding program.


Our Low Density Systems
Everything changed for us then. Not having a trust fund or a budget committee to appeal to the way universities do, we realized we
had
to find a better way to raise the same amount of vegetables on fewer fish. We developed our
Low Density
(LD) systems as a result, and are operating
only
LD systems on our farm now. We held our breath for the first few months until we realized our first LD system grew just as many vegetables as the more expensive systems with all those tanks.
What's an
LD
system? It is an aquaponics system that consists of a fish tank and vegetable troughs, and
no other tanks,
operating on
one-fifth
of the fish that the systems with all these other tanks do (LD systems use about three-tenths of a pound of fish per square foot of raft area). This makes the system simple and inexpensive to build and operate.
What's an
HD
system? It's the original university-type system, with the solids settling tank, net tank, degas tank, and uses an average of a pound and a half to two pounds of fish per square foot of raft area. What's the benefit of these systems? They grow the maximum amount of fish possible in a system this size. However, you also need to purchase and plumb the three additional tanks, and the fish tank and blower required by such a system are five times the size of the ones required for an LD system that grows the same amount of vegetables (
and
the blower uses five times as much electricity, forever).
The benefit of the LD systems was that they only require one-fifth the fish, one-fifth the electricity for aeration, one-fifth the fish food, and one-fifth of the labor to breed, feed, and harvest the fish. We grew the same amount of vegetables, but lost less on the fish; making more income overall.
Which System To Choose:
A common (but incorrect) assumption we commonly see in aquaponics is that one of its purposes is to grow as much fish as possible. This is great as long as you don't have to make any money from the fish, and never examine your costs to see what your fish is actually costing you per pound. Unfortunately, most of the people espousing this view have no experience with what it costs to raise the fish versus what the fish are worth, and thus, their opinions are just opinions. If they had to make money from their fish, they'd go broke.
It's easy to decide whether to use an LD system or an HD system by applying the two simple tests that follow:
If you add up your costs for raising fish (purchase price or cost to raise fingerlings, plus fish food, plus electricity, plus labor) and find that they are MORE than the wholesale price you get for your fish, the most productive and profitable system is an LD system (because you are in an economic climate where you
lose
money on the fish!).
If you add your costs for raising fish and find that they are significantly LESS than the wholesale price you get for your fish, the most productive and profitable system is an HD system (because you are in an economic climate where you
make
money on the fish!). It's that simple. If you make an emotional decision, or a decision based on what you
believe
(instead of what you know to be true), then we hope you have a trust fund to finance your experience with aquaponics.
There are a few places in the world where all these numbers line up so that it makes sense to try to raise more fish. We have clients in Thailand and in Egypt who use our HD systems. Take the Egyptian one for example: they have 6 cents a kilowatt-hour government-subsidized electricity, 17 cents per pound fish food from a local cannery, $4/day labor costs, and their wholesale price for tilapia in a nearby city is $5 per pound.
For us in Hawaii, the numbers look more like this: we have 45 cents a kilowatt-hour electricity, $1.00 per pound fish food, $120/day labor costs, and our wholesale price for tilapia is $2.50 per pound because of the cheap frozen Chinese tilapia our market is flooded with. We lose $2.00 per pound on every pound of tilapia we raise. What's our strategy? We use our LD systems to raise vegetables in, and we sell as many of the tilapia as we can as fingerlings and fry for people to stock their ponds and aquaponics systems with (because we make more money on the smaller fish), and we really make our income from the vegetables from our systems. It's that simple.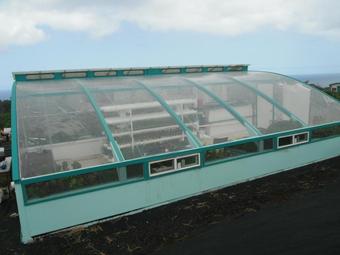 Friendly Aquaponic's FIRST Aquaponic Solar Greenhouse in full bloom, Honoka'a, Hawaii, March 2012, (on a grey rainy day) showing PV panels, and growing plants.
Next week: Part 3 Pump Intake Filters where we give instructions and photos showing how to make these filters (we promised these instructions this week, but had to run a different column, sorry!). Thanks for listening!