Aloha Friend,
The following explains EVERYTHING we've got scheduled next in 2012.

1. We are now offering FREE aquaponics trainings. Two years ago, one of our attendees named Joe Weatherby said "I almost didn't sign up for your training, because I'd already taken the ......... training. I learned more during your free two-hour farm tour before the training than I did in their entire three-day training". We've had more of this kind of testimonial, to the point where we realized that we had a responsibility. We needed to get better information to these aspiring aquaponic farmers who felt at a loss after taking someone else's expensive training that didn't deliver. So, we decided to give it away for free!

Our Aquaponics Technology Training is available at no charge to anyone who has taken an aquaponics training from Nelson and Pade, UVI, Green Acres, Max Meyers, or Aquatic Ecosystems, and been dissatisfied with what they learned. If you take one of our courses; build one of our systems, and are not satisfied, we will refund your money 100%. That's the guarantee

we

make! Email Tim directly to qualify for this FREE training offer.

2. We've been asked to write a book on aquaponics for a major publishing company. This commitment will take all the spare time we don't spend farming during the month of March. We'll announce the book on our newsletter when we finish the proof.

3. We barely finished the manual for the Aquaponic Solar Greenhouse before the solar greenhouse training in February (we started writing it FIVE days before the training began!). However, this was only the operating manual, not the complete set of information required to BUILD the "Friendly" aquaponic solar greenhouse: there will also be a Construction Manual and a set of CAD (Computer-Aided Design) plans for building two different sizes of greenhouses, plus much more in this package. All these together will make up the DIY Solar Greenhouse package; it will be ready by the end of April, and we'll announce it on this newsletter the moment it's available. All those who attended our first Aquaponic Solar Greenhouse training in February will receive their copies at no charge then.

4. Although the "Verticalis" plans will be part of this DIY Solar Greenhouse package, we will also offer them separately, for use by those who already have a greenhouse or growing structure. The Verticalis plans will be available sometime in late April, cost $199.95, and will have complete information on lighting requirements, growing with natural light only, and use of different spacings, both vertical and horizontal, for different kinds of plants. When the Verticalis plans are ready, an announcement will be made in this newsletter.

5. Our next Hawaii training dates are going to be from June 24th to June 30th,, 2012. The three-day Aquaponics Technology Training is June 24-26th; then we take Wednesday off and go to the beach to recharge our batteries (we explain why we scheduled this in the "In The Farmily" column today). The Aquaponic Solar Greenhouse training will be on June 28-29th, and the Commercial Aquaponics Training will be one day on the 30th. We've changed the curriculae for these trainings slightly, please see the course descriptions on the Group Trainings webpage.

Please feel free to email me directly with any questions you may have. Aloha and good growing to you, Tim........
If you're interested in learning about our new Solar Greenhouse technology,
please take a look at our
Aquaponic Solar Greenhouse Training
(Special Offer in right sidebar of this email), where you will learn more about how to grow affordably using aquaponics in greenhouses than you can anywhere else in the world. The next Solar Greenhouse training is in Hawaii on June 28-29th, 2012.
For smaller home backyard and apartment systems, please read on:

Purchase Construction Plans and Operating Info for 4 Different Sizes of Apartment/Condo Aquaponics Systems $49.95
Our Apartment/Condo System package includes new and easy-to-understand building instructions and complete operating information for 4 different sizes of small aquaponic systems based on our years of experience operating a commercial aquaponics farm. Anyone can build a system out of plastic barrels or IBC totes, but operating one successfully without good
and
easily-understood information can be frustrating. You simply use the "Daily O
perations Checklist" in the manual and follow the step-by-step
instructions on your way to success. We also cover how to make aquaponics systems out of weird things like old refrigerators and door frames; this makes aquaponics
much more
economical to get started in!
We spent hundreds of thousands of dollars, hundreds of hours, and built our first commercial aquaponics systems with FAR less information than this manual contains. We included all the information learned from that experience in this manual so you don't need to make any of the same mistakes we did.

Aquaponics Nugget #74:
How To Get Rid Of Snails
We hope you never need this information; snails are a miserable problem to have. We thought for the longest time that we were stuck with them. How did we get them? One of our interns came up with a "good idea"; he saw small aquatic plants selling for five dollars each in the local PetCo store; so he bought a couple and brought them back to the farm, putting them in one of our systems without asking us beforehand.
Unfortunately, the plants in question had snail larvae on them. They grew and spread throughout that system, and migrated to other systems on rafts before we noticed we had a problem. We ended up with them in three of our four large commercial systems. This was a species of snail that is a vector for human pathogens; although the pathogens in question don't exist in Hawaii, so they weren't a direct disease risk.
Still, they made us feel creepy-crawly, and if one of the pathogens ever DID show up in Hawaii, we'd have a ready-made breeding ground for them. So we did our best to get rid of them; we physically cleaned them out of the troughs, then drained the troughs and bleached them and the rafts. Did this more than once, in fact, and the snails reappeared each time.
We were in despair about it, when we noticed that there were never any snails in the sump tanks or fish tanks of these same systems. Guess what? Both tanks are full of fish! So we discovered, in a backwards way, that tilapia eat these snails. So,we did a further experiment: we harvested all the vegetables out of Jack's 64 square foot Micro System (it was time to anyway). and put four six-inch tilapia into each trough.
We did NOT feed the tilapia in the troughs, and a week later, all the visible snails were gone! There were still snail eggs on the rafts and liner, but all we need to do is one more cycle like this, catching the newly hatched snails after they've all hatched out, but before any of them can attain sexual maturity, and we should be done with the snail problem.
This is a great example of the type of "systems thinking" and understanding that makes aquaponics so much fun for us. You CAN'T just isolate the problem and spray Malathion on it, the way conventional farmers seem to believe they can.
Friendly Aquaponic's FIRST Aquaponic Solar Greenhouse in full bloom, Honoka'a, Hawaii, March 2012, (on a grey rainy day) showing PV panels, growing plants, and the mysterious Verticalis in the center!
Click Here To See Our New Aquaponics Video!
.......................................................
Back Issues Of Newsletters Now Available, Click Here!
.............................................


Purchase Trough Liner Directly From Manufacturer!


.......................................................


Free Farm Tours
We hold a free workshop on our farm the FIRST Saturday of every month, focused on growing food with aquaponics and permaculture.
Click here
for information. See you there!
If you are a school, a non-profit organization, an organization working with the poor, Native Hawaiians, or ex-inmates, or if you are a church, we will hold a free farm tour for you anytime. You DO need to email us first to schedule, or we might be out on errands!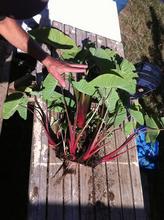 3-1/2 pound kalo (taro root) grown in a 2" net pot (little bump at bottom)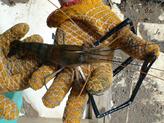 4-month old prawn (macrobrachium rosenbergii) grown in hydroponics troughs of our aquaponics systems
Special Offer!

We've decided to give a 50% discount on our A

quaponic Technology Training if you take our Solar Greenhouse Training OR our Commercial Aq

uaponics Training. And don't forget you can get the Aquaponics Technology Training for free if you took a competitor's training and weren't satisfied. Email me to qualify for this free training!

Sign up now, and receive a free Micro System package so you can begin studying aquaponics To receive a 50% discount on this course, sign up for either the Aquaponic Solar Greenhouse training OR the Commercial Aquaponics Training; click here for more information on these trainings

More Information on Hawaii Aquaponic Technology and Solar Greenhouse Training
s

In
The Farmily
It's been hectic! We forgot to rest up and have fun, and nearly ran our batteries flat! We've been very aware of the battery analogy lately because of our Solar Greenhouse, which is entirely off-grid (although we ARE on the grid).

Here's where we went wrong: never having done a training this long before, we scheduled seven straight days of training (eight if you count the pre-training farm tour day) during the month of February.

Two things happened: one, we drank coffee and Monster energy drinks like fish during the training to keep going; and two, we didn't get to spend any time with our kids for almost eight days. That was the final straw that did it: we have a new policy now.

For the next training, we are going to do the farm tour and three training days; then a beach day with the kids; then three more training days. If we have extra space in the van, trainees are welcome to join us, but our interns have first dibs on van seats.

This also gives those who attend either the Aquaponics Technology training and/or the Solar Greenhouse Training a day to visit the volcano or go to the beach themselves.