Aloha Friend,
We've been working 12 hours a day on "The Complete Idiot's Guide To Aquaponic Gardening" (that will be published by Penguin Books sometime in November), in between keeping our fish and vegetables all happy, answering emails, taking care of children, and of course, writing the newsletter. Susanne's been writing the "Lighting" chapter (she's a perfectionist, this will be a GOOD source of information). The information in this chapter will allow you to grow aquaponically even if you live in "The Land Of The Midnight Sun"!

Hopefully you get to live in a less extreme climate than that, and it's easier for you to do aquaponics. However, we've learned a lot of our indoors aquaponics tricks from our friend Captain CJ, who lives in Kodiak Island and grows tomatoes, green onions, lettuce, and basil when it's -20 and dark outside. He's the only guy in the neighborhood who has this kind of produce in this kind of weather, so as you can imagine, he has a LOT of friends. We'd love him anyway, but he also skippers a salmon seiner (a big salmon fishing boat), which puts him at the top of our list.


One of the big reasons we're so excited about the book is that for $15, you will be able to learn everything you need to do practical aquaponics, with systems costing as little as $65 to build! In contrast to many of the "kits" available that cost thousands of dollars, this is HUGELY affordable! This is the book that will put aquaponics within reach of thousands of people who can't afford it now, including schools and students. And Penguin and Amazon have even listed this book, though it's just in production and the first batch of proofs hasn't gone to the editors yet.

We are honored and humbled by Penguin's trust in us and their choosing us to write this book.

Free Aquaponics Trainings


We are now offering FREE aquaponics trainings. Two years ago, one of our attendees said "I almost didn't sign up for your training, because I'd already taken the ......... training. I learned more during your free two-hour farm tour before the training than I did in their entire three-day training". We realized we had a responsibility to get better information to these aspiring aquaponic farmers who took an expensive training that didn't deliver. So, we decided to give ours to them for free!

Our Aquaponics Technology Training is available at no charge to anyone who has taken an aquaponics training from Nelson and Pade, UVI, Green Acres, Max Meyers, or Aquatic Ecosystems, and been dissatisfied with what they learned.
Email Tim directly to qualify for this FREE training offer.
If you are considering taking one of these organization's aquaponics trainings, ask them how many complete sets of CAD construction plans and materials lists for different sizes of aquaponics systems are included with their course (there are six plans with ours, for systems from 64 square feet up to 4,096 square feet).
We ALSO teach you how to custom-design systems of 10 to 100,000 square feet in size; these others WON'T give you this information, because it might mean you wouldn't need to hire them as consultants and buy expensive stuff from them.

Ask them what sizes and types their systems are, and how long

they

have had theirs in commercial operation; for a good comparison, check out our "Group Trainings" webpage. Just for laughs, ask them if they took the "Friendly" course (three of those five DID; that's where they got the technology they're going to teach you!). We're not being mean, just honest; our main goal is for you to be successful with aquaponics, regardless of whose training you take.

If you take one of our courses; build one of our systems, and are not satisfied, we will refund your money 100%. That's the guarantee

we

make!

Please feel free to email me directly with any questions you may have. Aloha and good growing to you, Tim........
If you're interested in learning about our new Solar Greenhouse technology,
please take a look at our
Aquaponic Solar Greenhouse Training
(Special Offer in right sidebar of this email), where you will learn more about how to grow affordably using aquaponics in greenhouses than you can anywhere else in the world. The next Solar Greenhouse training is in Hawaii on June 28-29th, 2012.
For smaller home backyard and apartment systems, please read on:

Purchase Construction Plans and Operating Info for 4 Different Sizes of Apartment/Condo Aquaponics Systems $49.95
Our Apartment/Condo System package includes new and easy-to-understand building instructions and complete operating information for 4 different sizes of small aquaponic systems based on our years of experience operating a commercial aquaponics farm. Anyone can build a system out of plastic barrels or IBC totes, but operating one successfully without good
and
easily-understood information can be frustrating. You simply use the "Daily O
perations Checklist" in the manual and follow the step-by-step
instructions on your way to success. We also cover how to make aquaponics systems out of weird things like old refrigerators and door frames; this makes aquaponics
much more
economical to get started in!
We spent hundreds of thousands of dollars, hundreds of hours, and built our first commercial aquaponics systems with FAR less information than this manual contains. We included all the information learned from that experience in this manual so you don't need to make any of the same mistakes we did.

Aquaponics Nugget #76:
Worms, Compost, and Aquaponics Revisited
I know just by writing the title above I will draw flack from worm and compost lovers who put them in their aquaponics. I don't care. I am more concerned about scientific accuracy and human safety than I am about someone's unscientific pet notions.
We don't have PhD's (although Susanne has a BS in Chemistry and Biology), but we still use good scientific method in doing our aquaponics research and investigations. We investigate things that will make an immediate bottom-line difference in our commercial aquaponics farm.
We don't always fully understand WHY everything we've developed works, for some of this stuff occurs on a complex microscopic-level with a microbiological and chemical basis that would truly take a lab, some PhD's, and half a million dollars in funding to figure out properly. But when we see that it works the same way every time, and means more money or less work for us, understanding why is secondary; for we've got bills to pay. We also know that what we develop makes a difference to you out there who are following in our footsteps; this is an additional important motivation for our continuing research in aquaponics.
We've been quite successful with our approach: we're the people who first got aquaponics USDA Organically Certified and Food Safety Certified, the first to get an aquaponic product into a major wholesale chain (Costco), the first to use the flood-and-drain "sprouting tables" that we invented (which cut sprouting time in half), the first to invent "low density" fish aquaponics systems, which allow you to lose LESS money on the fish portion of your operation if you're in an area where fish prices are lower than the costs for raising those fish (as we are). We figured out how to build durable aquaponics systems for a third of what we were taught they should cost, and a fifth of what equivalent "kits" from major consultants cost.
Just last year, we finally figured out a tilapia egg and fry hatchery technology (the whole process took us THREE years), that has a 95% survival rate and costs under $200 to implement. Before we did this, we got quotes on "tilapia hatcheries" from professionals in the business ranging from $150,000 up to $350,000.
The kicker came when we had a tilapia hatchery operator's partner from Thailand take our Commercial Aquaponics Training and report to us that their state-of-the-art tilapia egg hatchery had a 25% survival rate. NOT mortality, but survival. These hatcheries that cost hundreds of thousands of dollars kill three-quarters of the baby fish! He took our cheap and efficient hatchery technology back to Thailand and his partner, knowing that now he would get almost four times the survival rate using our system.
We've been interested in the possibilities of combining worms and aquaponics systems for years. However, we do not know of any true peer-reviewed scientific studies demonstrating that compost, manure, and/or worms are safe in aquaponics systems, and we've been looking for them for years. We have wanted to test earthworms in our small experimental systems for a long time, but have found no scientific evidence that doing so would be safe, so we never tried this.
Why don't we just "try"? Because we could kill someone without even knowing that a danger existed. This is because we don't have the microbiological analysis capabilities (this would require a fully-equipped lab) and the budget to be able to do a proper scientific study that would demonstrate the safety of worms. Without a proper scientific inquiry, we'd simply be "guessing" whether the food that came from the worm/aquaponics system was safe or not.
Although this is disappointing to us, we'd rather be safe than sorry. A lot of people listen to our advice. What if one of them did something we had guessed was safe (but not KNOWN), and it wasn't? We'd bear the scars of that stupidity forever.
In fact, we recently found studies that indicate that worms help spread dangerous E. coli through soil and vermicomposts (FEMS Microbiology And Ecology, #58, Oct 2006, pp 54-64). This research is by the Federation of European Microbiology Societies, a recognized world leading organization in medical and biological research. It describes how earthworms spread dangerous strains of E. coli and other bacteria vertically and horizontally through both compost and soil. This is good peer-reviewed scientific research, and for us, it's a Bible of sorts.
So, in light of this research, and in the absence of proof that worms are safe, we are constrained to be careful and conservative in the way we operate our systems and in the advice we offer. You should be too. To paraphrase: worms in aquaponics systems MAY be safe; they may NOT. Or, as Clint Eastwood/"Dirty Harry" said in that movie: "Are you feelin' lucky?".
Aquaponic systems should have a solid basis in proven science AND in proven experience. There's too much nonsense arguing between people with no science and no experience with aquaponics. Get some science, get some experience, or better yet, get BOTH. Time's short, and there's enough exploration in aquaponics needed for everyone to participate in. We want to make a better world for our kids, and their kids. Don't you think?
Friendly Aquaponic's FIRST Aquaponic Solar Greenhouse in full bloom, Honoka'a, Hawaii, March 2012, (on a grey rainy day) showing PV panels, growing plants, and the mysterious Verticalis in the center!
Click Here To See Our New Aquaponics Video!
.......................................................
Back Issues Of Newsletters Now Available, Click Here!
.............................................


Purchase Trough Liner Directly From Manufacturer!


.......................................................


Free Farm Tours
We hold a free workshop on our farm the FIRST Saturday of every month, focused on growing food with aquaponics and permaculture.
Click here
for information. See you there!
If you are a school, a non-profit organization, an organization working with the poor, Native Hawaiians, or ex-inmates, or if you are a church, we will hold a free farm tour for you anytime. You DO need to email us first to schedule, or we might be out on errands!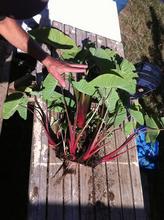 3-1/2 pound kalo (taro root) grown in a 2" net pot (little bump at bottom)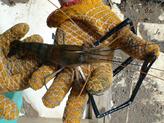 4-month old prawn (macrobrachium rosenbergii) grown in hydroponics troughs of our aquaponics systems
Special Offer!

We've decided to give a 50% discount on our A

quaponic Technology Training if you take our Solar Greenhouse Training OR our Commercial Aq

uaponics Training. And don't forget you can get the Aquaponics Technology Training for free if you took a competitor's training and weren't satisfied. Email me to qualify for this free training!

Sign up now, and receive a free Micro System package so you can begin studying aquaponics To receive a 50% discount on this course, sign up for either the Aquaponic Solar Greenhouse training OR the Commercial Aquaponics Training; click here for more information on these trainings

More Information on Hawaii Aquaponic Technology and Solar Greenhouse Training
s

In
The Farmily
I (Tim) have been writing "In The Farmily" columns for a while as Susanne is really busy writing "The Complete Idiot's Guide To Aquaponic Gardening". I know she has much better stories and shares, but I'm going to do the best I can out of my memories of growing up and my family, which wasn't a Farmily, but did shape me into what I am today.
I was big enough to really do jobs and help, my guess is about seven or eight, and we had these old-fashioned Christmas lights with big bulbs all around the eaves of our house. When one burned out, it was my job to get out the ladder, climb onto the roof with a replacement bulb and replace the bad one.
So I was out on the roof in the dark one night, doing my job. Having replaced a couple of bulbs, I moved down the roof to where I could tell the last one was, by the fact that there was a dark space in the string of lights. I reached into the dark space, feeling for the light, and found it.
I noticed that the bulb was broken but still was "live" when my arm jerked, my whole body jerked, and I spasmed off the edge of the roof right onto the top of the fence that was between our house and the neighbor's. Our two houses were only about six feet apart, with the fence right in the middle below the roofs. I bounced off the top of the fence, knocking the wind out of me, and into a bush on the neighbor's side.
The neighbor's Weimaraners went off, barking at the top of their lungs at the normally quiet bush that had suddenly become a threat to their people and house. I started freaking out, thinking the huge snarling dogs were going to eat me or something.
Then I got a little wind back and started thrashing around in the bush; and the dogs went off louder. The people were outside the house by now, a few feet away from the bush saying "Who's there, is someone there?" I grunted in a choked voice, "me". I'm sure that explained a lot.
When I got my wind back and explained who I was, they called off the dogs, helped me out of the bush, and called my parents. This was handled by yelling over the fence; as we were in Suburbia, where the houses were only separated by fifteen feet and a six-foot redwood fence.
Mom and Dad both came over and took me home. I think I got ice cream or something, while they both fussed over me and were relieved. I was sure going to take a flashlight and an insulated pair of pliers the next time I changed Christmas bulbs!


More on "The Farmily" next week, Aloha, Tim.......