Aquaponics Nugget #155, Part 2: What's Necessary For Profitable Commercial Aquaponics
In last week's newsletter we were talking about "starting small", and how important "test grows" are to establishing what will grow best and make money in your location.
In addition, the confidence and the experience you get from operating your small system are two of the most important factors in whether or not you will be successful with commercial aquaponics. Who would you hire to run your commercial aquaponics business?
A confident and experienced person, right? It is much easier to gain experience in a new skill when you don't have a lot of stress overlaid on the learning experience; and a small aquaponics system, with its low costs, but the exact same functionality as a big system, offers a big advantage here.
In contrast, although you may dream of starting with a BIG system, you don't want to. The worst possible situation to have to deal with is starting up 20,000 square feet of aquaponics system with a $5,000 a month business loan on top of another $8,000 a month operating and labor expenses. If you stumble here, you can hit the asphalt pretty hard.

Starting commercial aquaponics off too big with not enough experience or knowledge, but with too much debt can end you up here. Not where you want to be!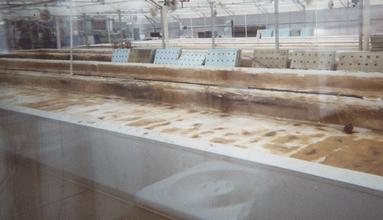 Even though the aquaponics technology you are starting with may be well-developed and already profitable (as ours is) your situation is guaranteed to be different than ours in ways we can't predict and can't plan for. You want to be prepared for that and be able to take advantage of new information you discover. If you've already built your 20,000 square feet of aquaponics and then discover something that gives you 20% more production, it's too late: you've spent your money and you just have to live with your system the way it's set up.
What we can guarantee is that, in your physical environment, with your market, your temperature regime, and your skill sets; you will learn so many things in your first few growing cycles (in your small test system) that you will be able to build your large commercial system more economically, and also operate it more productively, than if you hadn't done the test grows with the small system.

It's also fun: it's easy to get started with a small system, but they're just as much fun as a big one to see the little sprouts and fish get big, and finally harvest and eat, or share with your friends.
3. Next: Find money and put together a business based on what you learned in #1 and #2. Even if you can access capital and can get a loan, it may not be the best move: starting small is guaranteed. Our suggestion is to get your cash flow going, then expand off cash flow. You won't owe anyone if you do it this way.
And what we mean by small is: you can start with a 128 square foot Micro System that only costs around $2,500 for system and greenhouse! The production of the "128" will be 1-2 pounds per 10 square feet of system area per week; or 12-24 pounds per week of organic vegetables. If you figure your average price for organic vegetables in your area is $3/pound, then this system will bring in a gross income of $36-72 per week, or $1,872 to $3,744 per year.
Not bad for a business that only cost $2,500 to get set up! Even after operating expenses (which run from $200 to $400 per year, depending on prices in your area), you still have a net income of $1,600 to $3,300 per year for wages and profit. And, you can use these funds to build your next, larger system with.
What's the next step? Build a 512-square foot system with greenhouse, using the cash flow from your 128. This is 4 times larger than the 128, and will give you four times the cash flow. Don't forget the 128! It's still operating and producing vegetables (and cash flow), and what you have now is really five times the production and cash flow you had when you just had the 128.
And the next step? A 1,024 or 2,048 square foot system plus greenhouse, built with the cash flow from the 128 and the 512! This way, you are taking small steps, gaining experience at each step along the way, expanding out of cash flow, and you don't owe anyone any money!
Full troughs, lots of happy fish, lots of healthy plants, a decent income for honest work. This is where you want to end up!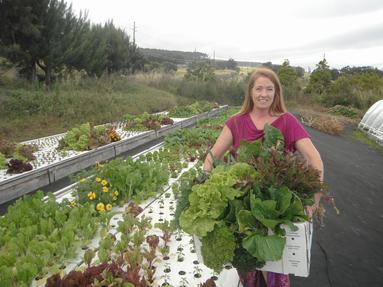 4. Business experience is critical! If you don't have it, hire some, borrow some, or marry someone who has it! Aquaponic produce practically grows itself. If you have economical systems that are energy and labor-efficient, then the only thing you have to worry about is getting the produce to your customer and getting paid for it: the business part!
Businesses often fail because the people running them don't know enough about business to make them work. Aquaponics is not a "magic bullet", and is no different from any other business in this respect. Business skill is what will make your commercial aquaponic farm a successful reality. As we say: "Don't quit your day job yet!". And the best thing about running your own business is: if you pay attention, and never give up, you gain business skills and get better at it!
5. BTW, this is farming! It's real work! We had some out-of-work realtors come to a course once. Somehow they'd gotten the idea they would make the same $10,000 each per month they used to (back when the market was booming) by sitting behind a desk and fielding phone calls.
Didn't happen! Another student (who used to be in real estate also, but wasn't allergic to hard work) is now making around $85,000 a year (net income) working 48 hours a week on his aquaponics farm, at home.
We had three other students take our courses over the years; these three all spent 20 years or more farming; either growing up on the farm or operating a farm as an adult. Their feedback to us after they'd started their own commercial aquaponics farms was all the same: "It's half as much work, and my back doesn't hurt anymore!".
6. Work your butt off until you are successful. If you fail, go back to numbers 1 through 5 and figure out what went wrong, then try again until you succeed. Don't ever give up, and don't ask for guarantees, because there aren't any. Welcome to Real Life!
We have no idea what we're going to do for our next newsletter! We've got four kids and it's almost Christmas, so we're going to take some time off and spend it with them. You all have a wonderful Christmas, we'll be back next Monday with something valuable and interesting aquaponic. Thanks for listening!.