Aloha Friend,
In today's "Nugget" we'll discuss fish density in aquaponics systems, and explain how few fish you actually need to power your system. We'll also explain why having a
lot
of fish in your system might
not
be a good idea.
We still have a few spaces available in our
second
Tennessee training. If it works better for you, you can sign up for the
third
7-day training in Tennessee, from Monday February 4th through Sunday February 10th.
Although our normal price for this complete training is $2,495 we are extending this $1,000 off offer to everyone who signs up for both the second (January 27th-Feb 2nd) and third (February 4-10th) 7-day trainings.
We are limiting
all
the trainings to 35 persons, so everyone gets a chance to have all their questions answered. Sign up early if you want to come!
When you
go to this webpage
to sign up you will be offered
both
the second and third training dates, until the second is full. When it's full, the link will disappear, and you will only be able to register for the third training.
These trainings include our $995 DIY Commercial Aquaponics package, $998 DIY Farmer's Market Aquaponic Solar Greenhouse package, and new $295 DIY Commercial Tilapia Hatchery manual as course materials!
If you're located near Tennessee
, Randy and Katie give regular free farm tours of their aquaponics systems and greenhouses to introduce the public to the benefits of aquaponics and energy-efficient greenhouse growing.
Call Randy and Katie at 256-679-9488
or
email Randy
to find out when the next farm tour is scheduled.
1. The four days of the Aquaponics Technology training is everything we know about the techniques and methods of growing with aquaponics. Each day has hands-on segments. In addition, you will spend all of Day Four building several 12-square-foot
TableTop Systems
from scratch (under our expert eyes, of course).
More details of the Aquaponics Technology course here.
2. You can take one of these 12-square-foot TableTop systems home, assemble it there, and begin growing with aquaponics immediately, even in the middle of winter! The cost of this kit is only $450; much smaller "kits" from others start at $1,295 and go up from there, not including shipping.

3. The two-day Aquaponic Solar Greenhouse course is everything we know about energy-efficient greenhouses, including information and complete CAD plans showing how to build a Chinese-style aquaponic solar greenhouse; and how to convert existing greenhouses to be as energy-efficient as possible. We even show you how to purchase, move, and erect a good used greenhouse for ten cents on the dollar! More details of the Aquaponic Solar Greenhouse course here.
4. The one-day Commercial Aquaponics Training is everything we know about all the different ways of making money with aquaponics, from CSA's to Costco, from wholesale to retail, from selling simple produce to producing value-added products, including Health Department Certified Processing Facilities, Food Safety Certification and Organic Certification. We also include our commercial-scale tilapia hatchery and nursery information, so you can raise your own tilapia and make money selling the fry and fingerlings to others also.
More details of the Commercial Aquaponics course here.
Click Here To Find Out More About The 2013 Tennessee Trainings!
The free information in these three newsletters: last week's, the week before last week's and two weeks before last week's newsletter will meet most people's needs for tilapia breeding. However, if you want the complete story in 72 pages, with highly descriptive photos of the process and equipment we use, our new commercial tilapia hatchery manual is finished and ready for you. There's even a "micro-video" that my gorgeous biologist wife Susanne shot with her treasured Leica Microscope that explains why the techniques we use work so well.
For smaller home backyard and apartment systems, please read on:


Purchase Construction Plans and Operating Info for 4 Different Sizes of Table Top Aquaponics Systems $49.95
Our TableTop System package includes easy-to-understand building instructions and operating information for 4 different sizes of small aquaponic systems based on our years of experience. Anyone can build a system out of plastic barrels or IBC totes, but operating one successfully without good
and
easily-understood information can be frustrating. You simply use the "Daily O
perations Checklist" in the manual and follow the step-by-step
instructions on your way to success. We also cover how to make aquaponics systems out of weird things like old refrigerators and door frames; this makes aquaponics
much more
economical to get started in, and fun too!
We spent hundreds of thousands of dollars, hundreds of hours, and built our first commercial aquaponics systems with FAR less information than this manual contains. We included all the information learned from that experience in this manual so you don't need to make any of the same mistakes we did.

Aquaponics Nugget #106: How Many Fish DO You Need Or Want For Your Aquaponics System:
This is a confusing area of aquaponics for many people; not because it's confusing, but because it isn't always easy to separate the pieces in order to understand it. Let's separate the individual items so we can think about them clearly:
Number One: no matter what type of aquaponic system you may have, the fish provide the "nutrient solution" that your aquaponic vegetables grow on. So obviously, you need some minimum amount of fish to provide this, or your vegetables will suffer from nutrient deficiencies, right? (more on this in a bit!).
Number Two: One of the big attractions to aquaponics is that it produces protein (fish!) as well as vegetables. However, there is an equation regarding this fishy production that you should be aware of: fish cost money to raise.

Here's the equation as it applies to a commercial aquaponics farm: these things when combined (cost of fingerlings, plus cost of fish food, plus cost of electricity for aerating the fish tanks, plus cost of labor to raise, harvest, and market the fish) need to be less than the price you get for your fish.

Why less? Because if your costs are the same, or more, you broke even or lost money on the fish. While this is OK for consultants or universities teaching aquaponics, it's not good for a commercial aquaponics farm.
Some Numbers:

We weren't aware of our numbers (we'd just gone to a university course that said we would make money on the fish), and that ignorance cost us a $12,000 loss our first year of operation. Our $0.25/each fingerlings, $1/lb fish food, $0.44/KwHr electricity, and $10/hour labor costs made our fish cost $4.50 per pound to raise, while we could only get $2.50 per pound for them wholesale.
It's obvious this subject should be of concern to anyone planning to run a commercial aquaponics operation. But how about the backyard grower? Things are a little different for you, but you should still be aware of what your costs are so you can make an informed decision.

We developed Low-Density aquaponics systems that run on as few fish as possible (click here to read our back newsletter #96), while at the same time we have run systems that operate at the highest fish densities known in the field (1 pound of fish per 1-1/2 gallons of fish tank water). The High-Density systems that newsletter #96 describes not only raise greater amounts of fish, but also cost greater amounts of money to build, as they have many more tanks, plumbing between these tanks, and so on.

Even if you're a backyard operator, and consider your labor to be "free", you should at least look into all these additional costs for running a High Density system to produce more fish: additional cost of fingerlings, fish food, and electricity to raise the fish; and additional cost to build that is required when you need larger air pumps, more tanks, and the additional plumbing between tanks that a High Density system requires.
Some More Numbers:

As we mentioned, we've run a High Density aquaponics system of 864 square feet with 1,800 pounds of fish housed in a 2,700 gallon fish tank. This worked out to 2 pounds of fish per square foot of raft area, and the system worked just fine (except for the $2/lb loss on the fish!). This system had a large solids settling tank, a net tank, a degas tank, a much bigger blower, and cost much more to build than an equivalent Low Density system that would grow just as many vegetables but not lose as much money on the fish (in our location!).

We do recommend these systems to our clients when they have certain, very specific economic conditions: such as when their fish food cost is $0.18/lb, their electricity cost is $0.06/KwHr, their labor cost is $4/day, and their wholesale fish price is $5/lb. We would run such a system if we had those numbers in our location! Incidentally, there's absolutely no difference between the vegetable output of an HD system and an LD system if they both have the same raft area.
A New Direction:

Once, one of our students had a slight nitrogen deficiency showing up in their vegetables. When we checked, we found that they had 256 square feet of raft area, and approximately 6 pounds of tilapia to "power it" with in their fish tank. By our LD system standards, this should have been 76 pounds of fish; they were already running with one-tenth the fish they should have had. But the most interesting thing was that they were feeding that six pounds of fish only one-tenth what they should have been. You can do the math: one tenth of one-tenth is what? One hundredth!

In other words, the system was getting about one-hundredth of the fish poop it was supposed to have (by our "tried and tested" LD system standards) and it was only showing a slight nitrogen deficiency!

Although this experiment (of determining the lower limit of functional fish poop input to a system) was on our "to-do" list at the time, it never occurred to us that it would still work when taken to this extreme. I happened to be on-site at the student's system at the time, and I suggested simply feeding the fish what they would eat. The fish were fed about ten times what they had been getting, and three days later the visible signs of the nitrogen deficiency had completely disappeared!
The "new direction" here is aquaponics systems with a minimum of fish involved (if they're a loss item on the books, this is a good thing!). We'll be doing more research in this direction to determine a lower "safe" limit of fish-to-raft area ratio; but we suspect it is far lower than the 0.3 pounds per square foot of raft area we recommend now; possibly as low as one-twentieth of a pound of fish per square foot of raft area.

(We'll have something interesting and useful about aquaponics in next week's "Nugget", thanks for listening!)

The photo below is our Solar Greenhouse. It's cool when it's hot, and warm when it's cold (hope that makes sense to you, it's the best greenhouse we've ever seen!).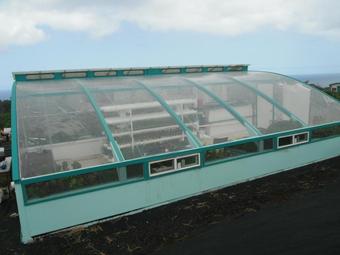 Friendly Aquaponic's FIRST Aquaponic Solar Greenhouse in full bloom, Honoka'a, Hawaii, March 2012, (on a grey rainy day) showing PV panels and growing plants.
Click Here To See Our New Aquaponics Video!
.......................................................
Back Issues Of Newsletters Now Available, Click Here!
.............................................


Purchase Trough Liner Directly From Manufacturer!

Free Farm Tours

..............................................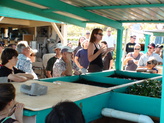 Aquaponics tour at the Friendly farm!
We hold a free workshop on our farm the FIRST Saturday of every month at 10:00, focused on growing food with aquaponics and permaculture.
Click here
for information. See you there!
If you are a school, a non-profit organization, an organization working with the poor, Native Hawaiians, or ex-inmates, or if you are a church, we will hold a free farm tour for you anytime. You DO need to email us first to schedule, or we might be out on errands!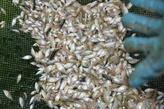 Thousands of inch-long "fifty-cent" baby tilapia from our "backyard" hatchery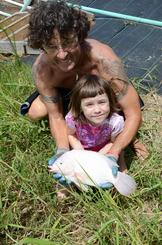 What they turn into about a year later: a beautiful 2-pound white tilapia grown in the fish tanks of our aquaponics systems
Special Offers!

Sign up for the SECOND or THIRD TENNESSEE 2013 Commercial
Aquaponics and Solar Greenhouse Training
and receive a free Micro System DIY package so you can begin studying aquaponics! ($99.95 value)
"The Heart of Our Farm, Part 1"
When we began our aquaponics extravaganza, in 2007, I figured that was about all the farming we would ever do. However, as time has passed, we have realized that what we're building is an integrated farm, that involves much, much more than just a lot of area under raft.

Since then, we have added chickens, significant in-ground, longer term crops, and most recently, we've added dairy cows to the mix. Since then, I have discovered that cows truly represent the heart of the farm. They turn sunlight into protein, and you do not have to kill them to get the protein, which is wonderful!

They encourage time honored farming practices that require being in the same place at the same time each and every day, with no exceptions. This was the real reason I resisted the idea of getting a cow for so long - it was easier for me to commit to getting married and to have children than to make the commitment to milk a cow twice daily! What follows is the story of our fist four months of owning and working with milk cows.
In early August, I ran into an acquaintance who was offering fresh milk for sale from a local farm. To my mind, the prices were astronomical: $15 for a gallon of milk, $10 for a half gallon or yogurt, half pound of cottage cheese, or half-pound of butter. I ran a quick calculation, and figured I'd need to spend in the neighborhood of $160 per week to supply my family's needs, and my reply was "thanks, but I simply can't afford that".
This event put a bit of a "bee in my bonnet", as the old saying goes, and it prompted me to search craigslist for dairy cows. By happy coincidence, a lovely Quaker family in our community had a seven year-old proven milker for sale, who had dropped five healthy calves, and was three months into her "fresh" term. Fresh means the time between having a new calf and seven to eight months later, when the cow needs to be dried out, to allow her to build her energy for two months, before the birth of her next calf - this is the time cows are milked.

Vanilla was extremely tame, and had been hand-milked for years. In short, she was the perfect "first cow". She is a Brown Swiss/Jersey mix, and she has given us several gallons per day of incredibly rich milk since we brought her home in mid-August.
Fortunately, the wonderful family who sold her to us warned me that the first three days would be a nightmare, and that I could expect only the worst possible behavior from Vanilla, and she did not disappoint. Cows are very different than horses; they absolutely love established habits.

We had completely disrupted Vanilla's lifelong routine, taking her away from the land upon which she had been born, and where everyone in the entire family was an expert cow person, and had inserted her into a new home with people who did not know a single thing about cows! She was very upset, not only for the first three days (which were the worst), but really for the first month or so.
Vanilla, though having minimal patience, was nonetheless an excellent teacher. The best thing about her was how used to handling she was, and even though she was upset, she was still, at heart, a very tame animal. She was so tame, in fact, that if I was late in milking her, she would come up our kitchen's back door, which provided a shortcut to the milking area, and stand there glaring at me, mooing at top volume.

On impulse one day, I just opened the sliding door, and let her walk through the kitchen, which she did with no fuss whatsoever. Below is a photo I took, with Vanilla two steps into the kitchen, checking out the mint drying in the wok on the table, to see if it was good to eat.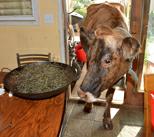 So well did Vanilla teach us about working with a single cow, that we soon were cruising craigslist looking for another, as Vanilla was obviously lonely. Cows feel infinitely safer in a herd, and so we decided to provide her with one.

We found Betty Boop, an 18 month old "open" (not yet bred) heifer, a 1/2 Holstein, 1/4 Jersey, 1/4 Black Angus mix, and on November 18th, we brought her home. She was not nearly as tame as Vanilla, but she had been around people, so she tamed down quickly, and Vanilla was happy to be The Boss Cow in a herd of two.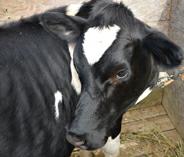 Because we live by the basic axiom "Anything worth doing is worth overdoing", next week I will continue our Cow Chronicles with the story of our third and fourth acquisitions, on 26 December, of two completely wild cows. Although the past two weeks have been quite an adventure, we haven't even thought once about turning them into steaks!

Aloha, Susanne.....