Aloha Friend,
We apologize for this not being the newsletter about our Chinese student, Mr. Shumin Wang, with the 30,000 square feet of aquaponics farm that we promised for this week. Susanne has already written the newsletter, and sent it to Shumin to proof it and approve. We're waiting to hear back from him, and as soon as we do, we'll release that information.
Today we share the powerful (and mostly conceptual, at this point) heretofore secret technology of
gatorponics
with the general public.
Gatorponics
began in 2009 as a flight of fancy from Tim's imaginative (or twisted?) mind.
Yes, you too can have an aquaponics farm that has
gator-wrestling shows
at 10:30 and 2:30 weekdays, and four times a day on Saturdays, along with "gator nugget baskets" in the diner! After you finish your gator nuggets (which taste like a cross between lobster and good chicken) you may shake your head to clear the vapors, but to the best of our knowledge, everything we propose here is eminently doable and based in solid science.
On another note: financial success in commercial aquaponics is eminently achievable using our methods and technologies, as this continuing series of newsletters that also provide actual income and expense numbers for real-world aquaponics operations abundantly show.
Our courses, DIY materials, our website, and this column are designed to remove as many of the barriers as possible between you and your success in commercial aquaponics.
There are many teaching "commercial aquaponics"; many of whom have never operated a commercial system that their livelihood depended on. We suggest you ask for verifiable income, expense, and profit numbers from whoever you're considering taking a course from or purchasing a "commercial" aquaponics system kit from. If they can provide them, that is. We gave you these numbers
for Zac Hosler's farm in Honaunau, Hawaii, in our April 17th newsletter (click here to read it).


We will give you these numbers for Mr. Shumin Wang's 30,000 square foot aquaponics farm in China in our next Commercial Newsletter (We are very proud and honored that Mr. Wang is a student of ours).
If the teacher you're considering can't provide numbers for their economically successful students, we'd love to meet you in person at one of our live
Aquaponics Technology Trainings
(only $495) For those of you who can't free up the time to come to Hawaii, our
Commercial DIY Training
has all the information combined in our Aquaponics Technology and Commercial Aquaponics Trainings together, and allows you to duplicate our success anywhere.
How To Make Money With Gatorponics And Love It!

In the Southern states there are a lot of defunct chicken farms; most of these are smaller farms that fell prey to rising energy costs over the past few years. Propane to heat the chicken houses in the winter has gone way up, as well as the electricity required to power the fans to cool them in the summer; but the price to the farmer for his chickens hasn't risen proportionately. The big guys are still in operation; a small farmer has little choice but to close the farm and get a job if he can.

Now there's another choice: gatorponics! Here's how it works: get yourself a small to middle-sized defunct chicken farm, either in a foreclosure sale at ten cents on the dollar, or as a long-term lease of ten years or more duration. Ideally, you would find one that has chicken houses with four-foot-high concrete walls that the rest of the chicken house rests on: this type of chicken house is ideal for conversion into both alligator pens and greenhouses for your vegetables.

Strip the roofing and siding off about three-quarters of the houses, and install regular 6-mil poly greenhouse material onto them. Build aquaponics troughs inside these new greenhouses as per normal deepwater trough technology. Plumb the troughs in these new greenhouses into the other quarter of the houses that you convert into gator pens by filling in their doorways with concrete, installing new drains, energy-efficient water circulation pumps, and plumbing.

You'll need to spend a little money on barbed wire and other security measures to keep the gators inside the gator pens. I'm not an expert on this, but I'm sure there are people who know how.

You just saved a ton of money on building your farm by adapting an existing one. There will be other cost-savings possible here too: many existing farms have multiple dwellings that you can house your family and workers in, further reducing costs and providing benefits. You may even be able to give the former owner a hand up by employing him and his family; after all, he knows the place best.



You'll save money on a gatorponics installation over one that uses fish because your alligators don't need any aeration; they come to the surface to breathe. Thus, you will only need to purchase much smaller regenerative blowers to power the airstones in the troughs that aerate the roots of your vegetables. These smaller blowers will run on far less electricity than what's required for a fish-powered aquaponics farm.

You save money here by hugely reducing the amount of hardware and aeration required to keep your "livestock" breathing.



Next, after stocking your system with baby alligators and newly-sprouted plants, just like a fish-powered aquaponic system, you will go to the chicken farms in the neighborhood that are still operating and offer to haul their morts away for free. Morts are the chickens that die in the normal operation of a chicken farm, and a big farm can generate several hundred or thousand pounds a day. These are a problem for the chicken farmer: he has to dispose of them in a sanitary manner, (usually by digging holes on his farm with a front loader and burying the chickens with bags of lime); and your showing up at his door with a 5-ton dump bed truck every other day or so solves a problem for him.

You save a ton of money on feed costs, and provide a valuable service to a neighbor for free.



Take the chickens home and put them into your solar-powered 1,200-gallon pressure cooker (we'll cover this technology in another commercial newsletter in the future), and cook them until you're certain all pathogens and possible microbial contamination no longer exists. If this many chickens is more than a single feeding for your gators, the extras can go into plastic barrels and then into your walk-in cooler after they've cooled down some, to be used another day.

You of course have to follow all normal Health Department regulations for this, but because you're feeding animals, the regulations are relatively simple to comply with as compared to those that cover preparing chicken for human consumption.

Besides sourcing your own feed locally for almost nothing, you could go into business providing other gatorponics farms in your area with preprocessed, chilled or frozen, pathogen-free gator feed.



Gator poop, and the alligators themselves, should be totally safe in an aquaponics system. Alligators are cold-blooded animals, just like fish, and they don't harbor the dangerous varieties of

e. coli

the way warm-blooded animals do. If what you feed the alligators is clean, and you don't create any paths into your system that will transmit pathogens into the water (in other words, use the same care to prevent contamination you would with any normal aquaponics system you want to eat lettuce out of!), then everything should be sanitary and safe.

But imagine the economic possibilities: you have all the vegetable production you would have with any normal aquaponics farm, you have alligator meat to sell (which is worth a

lot

more than tilapia!), you have alligator hides and leather for sale, alligator purses, shoes, wallets and accessories for the women in your fashion shop, alligator cowboy boots for both sexes, alligator nuggets and filet mignon in the diner, alligator wrestling (as previously mentioned), gator farm tours, aquaponics and gatorponics classes for the local schoolkids and community, and best of all: baby gators for pets for the kids! "Mommy, I

need

one!".

OK, well, a little adult supervision and approval would be required for that last one. If you were smart, you'd also set up a gator breeding operation so you could supply gator "fingerlings" to other gatorponics entrepreneurs in a 300-mile radius or so. This is one of the biggest problems when setting up a fish-powered aquaponics farm: where do you get the hundreds or thousands of pounds of fish to power your farm?



This is eight more income streams than the average aquaponics farm has.

As experienced business people know, the more and varied sources of income your business generates, the more stable, profitable, and able to weather market fluctuations it will be. In addition, the security problems that regular fish and vegetable farmers face would be nonexistent on a gatorponics farm. Can you imagine anyone crazy enough to hop the fence to try and steal either the livestock or vegetables?

Unfortunately, we're not allowed to have or import these cuddly little reptiles in Hawaii, so we have to leave the implementation of the first gatorponics farm to others for whom it is legal and doesn't sound too crazy. But we're really pulling for you: here's our offer: our design and consulting services for the first commercial gatorponics farm are offered

free of charge

, for site and facility design, equipment and aquaponics specifications and design, and as ongoing consultants during the life of the project. Just make certain gators are legal in your area first! My word on it, Tim Mann..........

Aloha, Tim and Susanne
We hope this has been useful to you. In the next "Commercial Aquaponics" newsletter we will share the success of Mr. Shumin Wang, a student of ours from Shanghai, China. Shumin took our October 2010 Commercial Aquaponics Training, then built 30,000 square feet of greenhouses with about 24,000 square feet of aquaponics system in them. Shumin's system just came into production this May, and is what we believe to be the largest operating aquaponic system in the world. We will have construction cost, income, and operating cost numbers for his systems included in the next newsletter, along with information on what he is growing.
If you have any additional questions you would like us to answer in this continuing series of Special newsletters,
please email them to Tim
.
Click to see our new Video!
............................................


Purchase Trough Liner Directly From Manufacturer!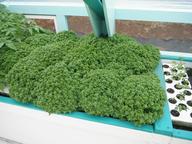 Pistou basil growing in our Aquaponic Solar Greenhouse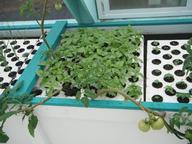 Large-leaf basil interplanted with tomatoes equals yummy pesto in the future!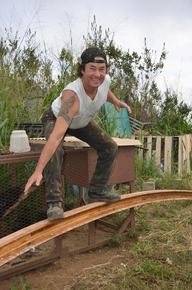 Tim joking around, but really showing off the strength of the 20-foot curved beams used in the Aquaponic Solar Greenhouse.

Special Offer!
Sign up for our June 28-29
Aquaponic Solar Greenhouse Training
or our June 24-26th Aquaponics Technology Training, and receive our Micro System package for free so you can begin studying aquaponics! ($99.95 value)
More Information on Hawaii Aquaponic Solar Greenhouse Training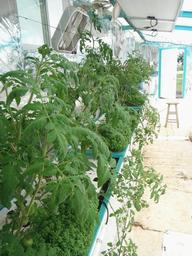 Tomatoes on the north wall of the Hawaii Aquaponic Solar Greenhouse; the wall reflects light and provides a built-in tomato trellis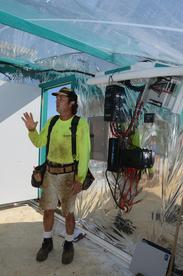 Tim with the PV system charge controller, inverter, breakers, and cabling from the PV panels on the wall to the right. The roll-down white plastic cover (rolled-up in this picture) keeps all this (black) equipment from heating up too much on a sunny day.
"The Fish's View"

I started my career in commercial fishing in 1975, in Tomales Bay, California. Tomales Bay is like a little version of San Francisco Bay up north in Marin County, but before the pollution and suburban sprawl that defines the Bay Area. It has white sand beaches you can sail your boat up to and tie off to a live oak tree.

It also has flounder, halibut, rockfish, and occasionally, Great Whites. The Bay is also a major breeding ground for Great White Sharks, which meant that when we swam there, we swam carefully and quite near to shore.

It wasn't because Great Whites intentionally eat people, but they

do

intentionally eat seals, and may get confused and accidentally bite into a person. I've been told by shark experts that they don't

like

the taste, and quite often spit out the bite after taking it (not that it does the person any good).

My friend Chuck Raymond and I were fishing in the Bay in his 12-foot plywood skiff. I think it had a 25 hp Johnson outboard, and the skiff leaked. Not alarmingly, but just enough that you had to remember to bail, and to not lose the bailing scoop overboard.

Chuck, who grew up in Alaska and had fished salmon and herring there, introduced me to several methods of commercial fishing in Tomales Bay. I don't think all of them were strictly legal, because Chuck was always on the lookout for the "Tuna" which was the big grey local California Fish And Game enforcement vessel.

We caught bottomfish and halibut in what were called "trammel nets", sometimes picking up a good-sized halibut. We often caught valuable fish that we could sell, and other fish that weren't worth much on the market, but tasted just fine barbecued over a beach fire.

So, one day Chuck and I are out on the Bay in the little leaky plywood skiff, and we are picking up the trammel net after a three-hour set. We got about half the net into the boat, then the far end of the net came up off the bottom by itself, and it was

moving

, slowly rotating and undulating through the water.

Chuck defined the moment clearly: "Great White!" he whispered under his breath. In other words, our boat, which must have weighed 600 pounds soaking wet max, was irrevocably attached to about 2,000 pounds of large live marine animal by 100 feet of very strong net. We could have dumped the rest of the net back into the Bay and left it there, but it was Chuck's only means of earning an income at the time.

So we did the only thing possible that didn't involve dumping the net: we started the outboard and motored slowly towards Chuck's house on the other side of the Bay, about 1/2 mile away. It was the longest half mile I had ever traveled on the water, and when the skiff touched the beach, with the shark about 100 feet behind, we literally jumped out of the boat onto the land.

Chuck got his 4-wheel drive pickup truck hitched to the net, and dragged the shark, net and all, up onto the beach. After shooting the shark several times in the head with the 30-06, and leaving it for three hours to make sure, we filletted it, retrieving about 1,000 pounds of fillet from a 2,000 pound fish.

Somewhere in my stuff I have a picture of Chuck's 12-year-old son, Tyone, sitting on the shark on the beach with his legs hanging down on either side, feet still about a foot off the ground. It was a large shark to us at 12-1/2 feet long and 2,000 pounds, but they get much bigger!