Aloha Friend,
Today
we begin a series of newsletters that talks about
tilapia breeding
and the issues involved in breeding your own fish, from the backyard to the large-scale commercial level. It took us four years to successfully develop this technology, and we incorporated it in our Commercial DIY Trainings and our Commercial Aquaponics trainings since June of 2011.
We announced
a commercial-scale tilapia hatchery manual incorporating this technology in
our June 21st, 2011 newsletter.
We were a little short on time that week to format, proof, and publish an entire book, so we put that information in our
Commercial DIY Trainings
and our
Commercial Aquaponics Trainings
instead. That hatchery manual is almost finished, and we will announce it in next week's newsletter.
Two weeks ago
we offered you a free list of the hundreds of things you can grow in aquaponics systems. This week we include in today's "Nugget" the "backyard version" of this commercial hatchery manual, which covers how to breed your own tilapia in tanks as small as 300 gallons in size. It's really easy: the tilapia do all the hard work!
Special Offer Until December 25th:
we're going to extend our $1,000 off offer on the new 7-day complete training until December 25th to give you a chance to affordably send a loved one to the best commercial aquaponics and integrated greenhouse course in the world.
We got such
a positive response to the September 6-day aquaponics and solar greenhouse training in Tennessee, we've already scheduled the next Tennessee training for January 20th to the 26th in 2013, at Randy and Katie Campbell's "Today's Green Acres", in Elora, Tennessee.
The hands-on parts of the course were everyone's hands-down favorite, so we added a whole day to the January course to include hands-on construction of small aquaponics systems by all the attendees. Here's the day by day description of the course, which is now seven days long:

1. The four days of the Aquaponics Technology training is everything we know about the techniques and methods of growing with aquaponics. Each day has hands-on segments. In addition, you will spend all of Day Four building several 12-square-foot TableTop Systems from scratch (under our expert eyes, of course). More details of the Aquaponics Technology course here.
2. You can take one of these 12-square-foot TableTop systems home, assemble it there, and begin growing with aquaponics immediately, even in the middle of winter! The cost of this kit is only $450; much smaller "kits" from others start at $1,295 and go up from there, not including shipping.

3. The two-day Aquaponic Solar Greenhouse course is everything we know about energy-efficient greenhouses, including information and complete CAD plans showing how to build a Chinese-style aquaponic solar greenhouse; along how to convert existing greenhouses to be as energy-efficient as possible. We even show you how to purchase and erect a good used greenhouse for ten cents on the dollar! More details of the Aquaponic Solar Greenhouse course here.

4. The one-day Commercial Aquaponics Training is everything we know about the various ways of making money with aquaponics, from CSA's to Costco, from wholesale to retail, from selling simple produce to producing value-added products, including Food Safety Certification and Organic Certification. More details of the Commercial Aquaponics course here.


To introduce this expanded training, we're making a "super-saver" offer of $1,000 off the regular cost of the Tennessee Training (this is only $1,495 for all 7 days instead of $2,495). Watch this three minute video and you will be able to sign up at the super-saver rate.
Click Here To Find Out More About The January 2013 Tennessee Training, And Get A $1,000 Discount!
For smaller home backyard and apartment systems, please read on:


Purchase Construction Plans and Operating Info for 4 Different Sizes of Table Top Aquaponics Systems $49.95
Our TableTop System package includes easy-to-understand building instructions and operating information for 4 different sizes of small aquaponic systems based on our years of experience. Anyone can build a system out of plastic barrels or IBC totes, but operating one successfully without good
and
easily-understood information can be frustrating. You simply use the "Daily O
perations Checklist" in the manual and follow the step-by-step
instructions on your way to success. We also cover how to make aquaponics systems out of weird things like old refrigerators and door frames; this makes aquaponics
much more
economical to get started in, and fun too!
We spent hundreds of thousands of dollars, hundreds of hours, and built our first commercial aquaponics systems with FAR less information than this manual contains. We included all the information learned from that experience in this manual so you don't need to make any of the same mistakes we did.

Aquaponics Nugget #99: Backyard Tilapia Hatchery And Breeding, Part 1
What Works:

Where do you get breeder tilapia? There are tilapia in many local rivers and lakes. Get a cross net or a friend with a cross net, a couple of buckets, and you are in business. Go to your nearest lake, cow pond, or standing body of water, or ask locals if they know where tilapia can be found. Cross net the body of water, pick out the biggest, healthiest looking fish, and put them in the buckets.

Tilapia are breeding age when not much more than 1/2 lb in size, or 8" or so in length. Males have two rearmost apertures, and females have three, with the middle one looking like a short crossways line. You want a ratio of two females for every male.
Breed Your Own! Method Number One:
You must have a
minimum
size 300-gallon fish tank in your Micro System (or other aquaponics system) for this to work. If you use anything smaller, the fish will be so crowded they
won't breed!
We use a standard "Behlen Country" LDPE 300-gallon stock water tank that we get at the local farm and ranch supply for about $200.
First, you put a mesh barrier "corral" made from half-inch plastic mesh across one end of the tank, about 12 inches in from the end. First, we make a frame of 1/2" PVC pipe that fits inside the tank, zip tie the plastic mesh to the frame, but cut the mesh long so it overlaps the sides and bottom of the tank. The final touch is a piece of 3/4" rebar ziptied to the bottom of the frame to keep the whole thing from moving around.
This barrier completely blocks the end of the tank from top to bottom so no fish can jump over, pass under, or get by on the sides. The purpose of this barrier is so the half-inch long babies (which can
easily
swim right through the half-inch mesh!) can shelter there and not get eaten by the larger 2-3" long fish in the same tank on the other side of the mesh barrier.
Next:
Put two pieces of 6" PVC pipe that are 12 inches long each (these are the
breeding habitats
for the tilapia) on the bottom of the tank on the "big" side away from the mesh corral, and the tilapia will take care of the rest for you.
Don't
bother using 4-inch PVC, it's too small and will just annoy the tilapia; you will get
no
babies!
Once or twice a month, you will need to go through the "small" side of the mesh barrier "corral" with a dip net and dip out all the tilapia in there that are
too big
to swim back out through the mesh; then just put them on the
big
side of the tank; they will
not
be able to swim back through the mesh and eat the little guys.
This "corral" is how you give the little guys a protected area inside the tank to grow in without getting eaten. To make it more attractive, you can put some "water weeds" such as water hyacinth into the "small" side of the tank for the tilapia fry to shelter under; a natural behavior for them. You can hatch babies and raise big fish all in the same tank!
We used this method in one of our Micro Systems, and it works really well! After a year, we had harvested 17 fish weighing a total of 33 pounds out of the tank (keeping the weight of fish in the tank roughly constant), and we had 54 new fish that were spawned that year, from 9 inches in size down to about an inch and a half!
What Doesn't Work:
1. Watch out for sex-reversed fish! Many tilapia breeders and hatcheries sell all-male fish. These fish are either sex-reversed during their first month of life by feeding them methyl-testosterone-laced fish food, or are sex-reversed by using what's called a "Supermale" tilapia as part of the breeding process.
Either way, if you only purchase all-male tilapia, you
won't
have
any
baby tilapia! Make sure you have two females to each male, with a total of 5 or 6 females and 2 or 3 males who are breeding size in your 300-gallon tank. The rest of the fish in the tank can all be smaller than breeding size; you are mainly after the fertilizer for your aquaponic plants anyway.
2. Tilapia
won't breed
in water cooler than 72 degrees Fahrenheit. Our tilapia, anyway; they treat this the way kids treat the last day of school before summer: "We ain't doin' that no more!". So heat your water or experience fewer tilapia fry.
3. Tilapia fry at the top of a fish tank are prime targets for herons or other fish-eating birds. Unless you're
certain
you don't have herons, you need to protect the baby fish in the tank from predation: the easy way is to bolt some 6-inch long pieces of PVC pipe vertically all around your fish tank rim, then drill a sideways hole through all the tops of the pipes, and thread a piece of 120-poound test monofilament fishing line through the hole. The first bird that tries to land on the rim of your tank to fish goes "boinnnng!" on the monofilament, and
never
tries it again!
The photo below is our Solar Greenhouse. It's cool when it's hot, and warm when it's cold (hope that makes sense to you, it's the best greenhouse we've ever seen!).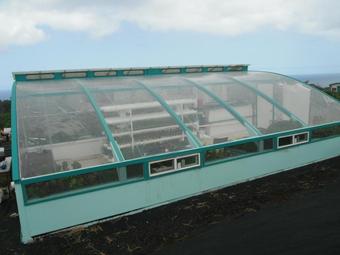 Friendly Aquaponic's FIRST Aquaponic Solar Greenhouse in full bloom, Honoka'a, Hawaii, March 2012, (on a grey rainy day) showing PV panels and growing plants.
Next week: Something else interesting and valuable to know about aquaponics. Thanks for listening!
Click Here To See Our New Aquaponics Video!
.......................................................
Back Issues Of Newsletters Now Available, Click Here!
.............................................




Purchase Trough Liner Directly From Manufacturer!



Free Farm Tours

..............................................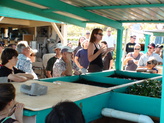 Aquaponics tour at the Friendly farm!
We hold a free workshop on our farm the FIRST Saturday of every month, focused on growing food with aquaponics and permaculture.
Click here
for information. See you there!
If you are a school, a non-profit organization, an organization working with the poor, Native Hawaiians, or ex-inmates, or if you are a church, we will hold a free farm tour for you anytime. You DO need to email us first to schedule, or we might be out on errands!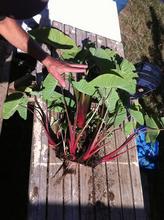 3-1/2 pound kalo (taro root) grown in a 2" net pot (little bump at bottom)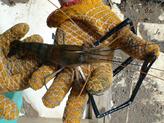 4-month old prawn (macrobrachium rosenbergii) grown in hydroponics troughs of our aquaponics systems
Special Offers!

Sign up for our TENNESSEE January 20th-26th Commercial
Aquaponics and Solar Greenhouse Training
and receive a free Micro System DIY package so you can begin studying aquaponics! ($99.95 value)
The "Tropic Bird Chronicles", #48: "The Boots"


Today was just one of those difficult days. I couldn't seem to get my motor running, let alone running smoothly. Normally easy things were difficult, and normally difficult things would stall me and send me into a tailspin.

I got almost nothing done. For a manic achiever type of person (which I am) this was hugely frustrating.

Towards evening, I remembered that we were going to a beekeeping class that night, and I'd have to shower and get a little more dressed up. I realized I'd need to wear shoes.

This is the land of aloha, where I usually wear my luau feet (or at the most, slippers), and wearing more elaborate footwear such as my steel-toed lace-up work boots is something I distastefully engage in because I find damaging my feet while working is even more distasteful.

However, I was looking forward to putting on footwear this evening. I had something to look forward to, because I had a new pair of boots, a present from a friend.

I was going to get to wear my new boots, and all of a sudden the day changed: things seemed sunnier (even though the sun had almost set), and I picked up some renewed energy from somewhere.

That seems a pretty simplistic cause for a major change of attitude; so let me explain:

One day long ago, during a particularly difficult, dark, and financially poor period of my life, I was headed to the dump with a pickup full of trash.

I had a lot of trash that needed cleaning up right then, and not much money, so going to the dump was a little "date" with myself that I could afford.

I thought: maybe I'd splurge and buy a can of cold soda on the way there; I was sure I had the fifty cents it cost. So, after leaving the grocery store, I wended my way up the hill towards the town dump, soda in hand.

I waited my turn in line, then backed my truck up to the chute, and noticed...... a pair of cowboy boots sitting right next to the dumpster chute, on the ground, neatly deposited side by side with toes facing outwards from the chute, just like they'd been left neatly outside a Japanese residence by a visitor that knew the customs.


They were rounded-toe, nondescript brown in color, and when I picked them up to inspect them, they appeared to have a lot of sole left. I looked inside: size 10, EE. At this point, I tossed them in the back of my truck.

Even though it had gotten pretty mashed lately, I had a little pride left, and I hadn't sunk quite so low as to be trying on throwaway shoes at the dump.

When I got home (I rented a converted garage at the time), I put on a pair of socks and tried the boots on. I'd never had a pair of pull-on boots before, so I had no idea what to expect.

The boots were only a little tight when my foot was halfway in; I found out later that this is the sign of a good boot; if it's loose when you're pulling it on, it will be looser when you're walking in it.

The boots slipped on easily after the small tight spot, and I stood up and walked around in them a bit. They felt good, in fact they felt great!

Although they were new to me, they were soft and well broken in, apparently by my twin brother, lost from birth, because they fit perfectly. There were no tight spots, no big loose areas. It felt like I was walking around on the grass in my bare feet, but I had a pair of boots on!

They were so comfortable I wore them from then on, everytime I was doing something that required shoes. I forged knives and swords in them, and they protected my feet from flying sparks and hot metal. I wore them to parties, because they were way more classy than anything else I had at the time. I wore them until I wore them out, about two years later.

My life took a huge change for the better then, when I met my current wife Susanne, and the boots were there through all the episodes. I retired those boots eleven years ago, and you might be asking: "So what does that have to do with today, and the current boots?".

When I put on the boots my friend gave me and walked around in them the first time tonight, they felt exactly like those old retired boots did.

They turned me right onto memory lane, turned the radio on to my favorite station, and put the top down. They cruised me down the road, tuned up my attitude, and left me feeling a little bit drunk.

I wore them to the beekeeping class, and found that I kept getting up on any little excuse to walk around in the boots some more, for they felt so good. I just got up and walked for the feel of walking; and kept thinking: "I just got up and walked around, here I am doing it again".

It was awhile before I consciously noticed what I'd been doing; although it'd been a long day and I was pretty much exhausted, I kept getting up to walk around a bit.

It's late, but I think I'll take a little walk before going to bed.

Aloha, Tim......
(Something fun next week!)