Aloha Friend,
Today's "Nugget"
is Part 2 of the "Water" section of our Commercial Aquaponics manual. It contains
important new information about water treated with chloramines and bromine, which are increasingly being used as treatment methods in our modern water systems. If you want to, read last week's newsletter first for the first part of this series.


Our "In The Farmily" column today
is about why we share, by Susanne.
Nugget #126: Water To Fill Your Aquaponics; The Game Just Got More Complex (Part 2):

City Water, Ag Water, and Bad Water:
This "Note" was in last week's newsletter: "If any of you out there ARE filtration system engineers, and know a cheap way to get chloramines safely out of water before adding it to our systems, please email me and let me know!". We got lots of responses, thank you for all of them!

They put us on the track of a safe and effective way to get rid of chloramines, and it is detailed here (in fact, we rewrote the Commercial Aquaponics manual specifically to include this info, because we thought it was so important).
Chloramine does not out-gas as chlorine will with aeration and sunlight, so you have to actively remove it from your water, or wait days or weeks for it to dissipate on its own.
Here's what we recommend for active removal, if you find that you have chloramine in your water: Many sources cite ascorbic acid (Vitamin C) as a neutralizing agent for chloramine (see Wikipedia article). Here's a source for the NSF-certified chemical (National Sanitation Foundation) in quantity from the Integra Chemical Company. Do not use the "Vita-D-Chlor Neutral", as it is sodium ascorbate. The sodium atom in this compound will break away in water, and recombine with a free chlorine atom to form salt; that's bad for your plants!
Do use the "Vita-D-Chlor Granular"; it is ascorbic acid, and will neutralize chloramines if used according to their instructions for concentration and then mixed with your system water (or makeup water). You can neutralize all the chloramine in your system water easily with a one-time application of ascorbic acid when you start up your system, then simply wait two days before you add bacteria and fish, because the ascorbic acid will neutralize all by itself, usually within a few hours (test for chloramines to make sure you're done!).
After you initially fill and dechloraminate your system, and are now operating a "live" aquaponics system, you will need to add water at irregular intervals to "make up" for water usage. Normally you would fill your "makeup water tank" with your chloraminated tap water, mix in ascorbic acid, and wait a couple of days for the ascorbic acid to self-neutralize. Yes, you need a separate tank for this if your water has chloramines in it, because you cannot put either chloraminated water or ascorbic acid into your live aquaponics system!

If you can't wait a couple of days to add the makeup water to your system, neutralize the ascorbic acid in the makeup water tank with a couple handfuls of calcium carbonate thrown in with the new water and stirred around thoroughly, and you should be able to safely add it right away. Calcium carbonate is coral sand or crushed oyster shell, which we use in our systems anyway to balance pH.
Why do you need to neutralize the ascorbic acid if you're going to add the water right away? Because ascorbic acid acts as a herbicide in your system; it will sicken or kill the plants and turn their roots black if you add water with high enough quantities in it.
IMPORTANT! (As If That Wasn't Enough!) Instead of Chlorine or Chloramine, Some Water Systems now use Bromine to sanitize their water! You should check with your water department to make certain exactly what they're using to sanitize your potable water, and also check with them on the best way to de-brominate it, if you find that yours uses bromine. Bromine is toxic, just as chlorine and chloramines are, or else it wouldn't be able to kill the microorganisms in water that it is designed to get rid of. This means it is also toxic to you, your fish, and plants, even though it may be a small amount and only slightly toxic.
You can get Sodium Bromide test strips from pool and spa stores and use them to find out if you have it. The US Navy uses up to 1 ppm of bromine to purify their water aboard ships; this bromine then breaks down into bromides in the water and in the human body. Bromides are used in quantities far greater than this for anti-epileptic, sedative, and diuretic drugs for human use, and approved by the FDA. Because of the sketchy information available on bromines in water, you need to find out if yours has it, and then make your own determination on whether or not you feel it's safe to use in your aquaponics system, we can't tell you yes or no!
WARNING: For Chloramine And Bromine-Purified Water! If you are planning to sell organically certified produce from a commercial scale operation, make certain your organic certification agency will allow use of water purified with chloramines or bromines, and then removed with whatever your chosen method of removing them is, before you literally buy the farm, and get it in writing! We have been certified USDA organic by two separate large certification agencies with plain chlorinated water used to fill and top up our systems, so we know chlorine is OK.
For smaller home backyard and apartment systems, please read on:


Purchase Construction Plans and Operating Info for 4 Different Sizes of Table Top Aquaponics Systems $49.95
Our TableTop System package includes easy-to-understand building instructions and operating information for 4 different sizes of small aquaponic systems based on our years of experience. Anyone can build a system out of plastic barrels or IBC totes, but operating one successfully without good
and
easily-understood information can be frustrating. You simply use the "Daily O
perations Checklist" in the manual and follow the step-by-step
instructions on your way to success. We also cover how to make aquaponics systems out of weird things like old refrigerators and door frames; this makes aquaponics
much more
economical to get started in, and fun too!
We spent hundreds of thousands of dollars, hundreds of hours, and built our first commercial aquaponics systems with FAR less information than this manual contains. We included all the information learned from that experience in this manual so you don't need to make any of the same mistakes we did.

Friendly 2013 Training Schedule:

One-Day Benefit Trainings are all finished; we'll announce more soon! (Email us if you're interested in having us give a benefit training for your non-profit organization).

5-Day Commercial Trainings:

Although our normal price for these 5-day trainings is $2,495, we were offering a special discount of $1,000 off, or only $1,495, until our deadline of April 25th. However, we've had so many requests to extend the deadline that we've decided to extend it right up until the courses themselves.

We are happy to give this gift to you. We hope it helps you attend the most advanced comprehensive commercial aquaponics and greenhouse training in the world.

(Below) Randy and Katie's Chinese-style Aquaponic Solar Greenhouse in Tennessee in the February snow, 2013. 70 degrees inside and you had to take your coat off when working with the vegetables!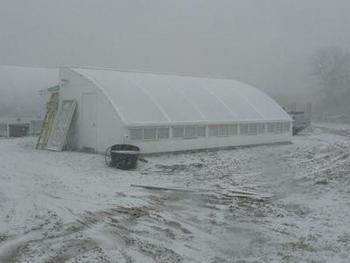 Tennessee Commercial Aquaponics and Energy Efficient Greenhouse Training, $1,495 per person. First 5-day training: June 17-21st (register here for first Tennessee training). . Second 5-day training: June 24-28th (register here for Tennessee second training).

(Click here for more information on Tennessee trainings).

This five-day training is designed to allow you to travel during the weekend so you only need to take a week off your busy life to attend.
(Below) Randy and Tim showing attendees at the training how easy it is to use a DO (dissolved oxygen) meter to measure oxygen levels in the vegetable troughs.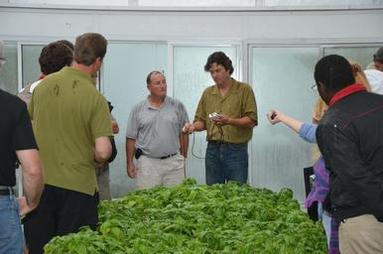 These five-day trainings all include our $999 DIY Commercial Aquaponics package, $998 DIY Farmer's Market Aquaponic Solar Greenhouse package, $1,998 DIY Commercial Aquaponic Solar Greenhouse package, and new $295 DIY Commercial Tilapia Hatchery manual as course materials, plus our Plywood/Epoxy/ Tank manual, CAD construction drawings for all greenhouses and aquaponics systems, and much more!

(Below) Tim drinking water from one of Randy and Katie's aquaponics systems. "I've been doing this for six years; it's the reason I absolutely know the food from these systems is safe and healthy" (Tim).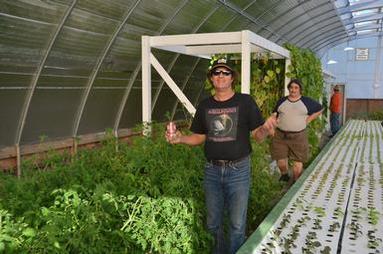 If you're located near Tennessee, Randy and Katie give regular free farm tours of their aquaponics systems and greenhouses to introduce the public to the benefits of aquaponics and energy-efficient greenhouse growing. Call Randy and Katie at 256-679-9488 or email Randy to find out when the next farm tour is scheduled.

More details of the Aquaponics Technology course here.
More details of the Aquaponic Solar Greenhouse course here.
More details of the Commercial Aquaponics course here.
(Part 2 of "Water" in next week's newsletter. Thanks for reading!)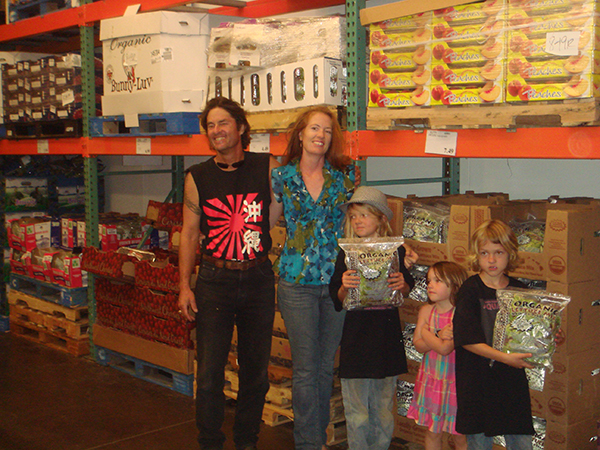 Our Farmily with our product in a "Big Box" store; the first time ever that a little mom and pop (Aquaponics!) farm took an account away from a multimillion dollar agribusiness. You'll see more of this, because you as consumers will demand it!
Watch The Friendly Aquaponics Philosophy Video!
.......................................................
Back Issues Of Newsletters Now Available, Click Here!
.............................................
Purchase Trough Liner Directly From Manufacturer!
New Source! Trout Fry/Fingerlings Shipped Directly From the Hatchery To You!Free Farm Tours
..............................................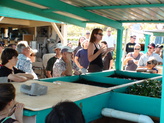 Aquaponics tour at the Friendly farm!
We hold a free workshop on our farm the FIRST Saturday of every month at 10:00, focused on growing food with aquaponics and permaculture.
Click here
for information. See you there!
If you are a school, a non-profit organization, an organization working with the poor, Native Hawaiians, or ex-inmates, or if you are a church, we will hold a free farm tour for you anytime. You DO need to email us first to schedule, or we might be out on errands!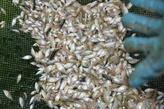 Thousands of inch-long "fifty-cent" baby tilapia from our "backyard" hatchery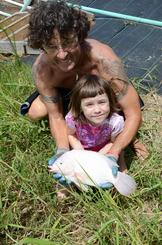 What they turn into about a year later: a beautiful 2-pound white tilapia grown in the fish tanks of our aquaponics systems
Special Offers!
Sign yourself up



for the New York June 10-14th, 2013 Commercial

Aquaponics and Solar Greenhouse Training

NOW, and get a $1,000 discount, plus you receive a free Micro System DIY package so you can begin studying aquaponics! ($99.95 value)


ORSign yourself up for the FIRST

Or sign yourself up for the SECOND


TENNESSEE June 2013 Commercial

Aquaponics and Solar Greenhouse Training

s

NOW, and get a $1,000 discount, plus you receive a free Micro System DIY package so you can begin studying aquaponics! ($99.95 value)



Why We Share:
One of the biggest reasons we share EVERYTHING we learn as freely as we do is that we believe time is short. Metaphorically, we believe our species is in what we call "the 45th Minute", due to the stresses our vast human population is putting on the planet.
Exponential is a hard concept for us to grasp, so we love the Stadium example, modified a bit from Chris Martenson's Crash Course, which is highly recommended reading!

"Imagine that you're in a massive stadium, in a seat right at the top, at the back. For some reason, you are handcuffed to the seat you are in, and cannot escape. There's also a whole group of other people in the top row, all chained to the seats, with nowhere else to go.

A drop of water appears on the pitcher's mound, and it's magical. It's going to grow exponentially and will double every minute. This means that at the end of the first minute, there's one drop of water, at the end of the second, two drops, at the end of the third, four drops and the end of the fourth minute, there will be eight drops of water. You get the picture.

The question is: how long do you have before the stadium is full and you drown?
Do you have hours, days, weeks, or months to get free?

Our human brains tend to be linear and therefore wildly over-estimate the time we have. We intuitively conclude that the answer is many hours or possibly days or even weeks.

Actually, it's just 49 minutes.

But the real surprise is that at 45 minutes, the stadium is still 93% empty. That's right, with just four minutes to go, you will look down, notice there's only two feet of water on the infield, and you might see a dangerous situation developing. But you'd look around you, and because no one else seemed too concerned, you'd probably still fail to do anything to save yourself".
Human population doubled between 1960 (3 billion) and 1999 (six billion). That's only 39 years. Even if you do not agree that the human population is putting incredible stress on our environment, how long do you think our population can keep doubling before you would agree that there are too many - 12 billion? 24 billion? 48 billion? 96 billion?

At some point, everyone agrees that the human population must stop its exponential growth.
The wonderful example above completely hits the nail on the head for us. We believe Humanity is in the 45th minute.

To a large degree, things still seem fairly normal. There's food on the grocery store shelves, gasoline to be purchased at the gas stations, and anything we could possibly want to buy at the wonderful Wal-Mart nearby (LOL!).

However, if you are willing to look deeper, you might find that there are real problems developing - droughts, food shortages, crop failures, resource depletion in many areas, and in the face of all this, our population keeps growing - exponentially.

We see aquaponics as a wonderful solution - no matter what the future holds. And because we believe that time is short, we're not "holding on to our aces", as the saying goes.

We're not patenting anything, we're not proprietary, and we're completely willing to share everything we've learned in six amazing years of being Primary Food Producers.

Thanks for reading
Aloha, Susanne....