Aquaponics Nugget #80: Water Pump Intake Filters

In With The Good, Out With The BAD!
Today we're going to talk about how to keep stuff out of your aquaponics system water pump that you
need
to keep out (like gravel, leaves, grass, plant tags, and so on); while at the same time allowing plenty of the stuff to get to the pump that you
need
to get to your pump (the water!).
Regardless of how your aquaponic system is set up: whether it's a flood-and-drain gravel system, a deepwater raft system, an NFT system, or vertical aquaponics, at some point you will need to pump your water from the lowest point in your system to the high point. At the very least, you will need an intake filter at the
lowest point in your system
(where your pump picks up its water) to keep stuff out of the pump. You may need water filters at other locations in your system also.
If you are using tilapia, you DEFINITELY need a filter between your fish tank and wherever the water goes next. This filter stops tilapia eggs and fry from getting out to your aquaponics and eating all the plant roots off. Ask us how we know :)
We'll show you some pictures that illustrate a simple and inexpensive way to make these filters, and then a little about cleaning filters and general water flow information.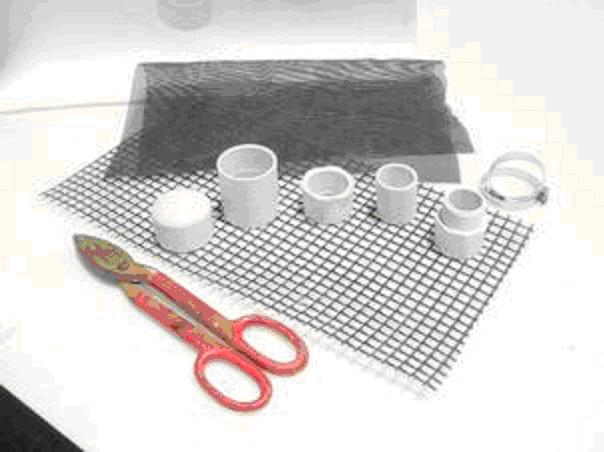 Materials for making a 2-inch filter that will thread into a 1-1/2-inch female threaded adaptor fitting (like a bulkhead fitting or female PVC adaptor fitting). The parts used are: a piece of 1/2-inch mesh plastic screen, a piece of "pet screen", which is like window screen but

much

tougher, a stainless steel hose clamp, a 1-1/2" male threaded adaptor, a short piece of 1-1/2" PVC pipe, a 1-1/2" to 2" slip adaptor, a 2" PVC coupling, and a 2" PVC cap.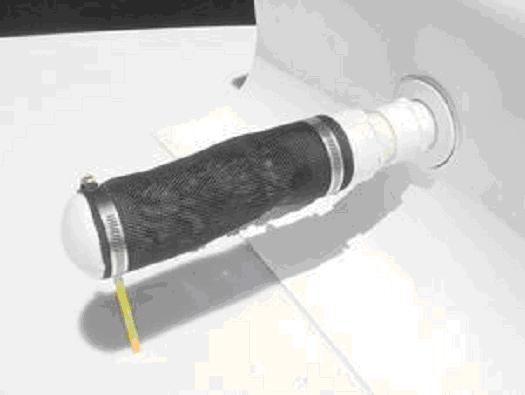 Finished 2" filter threaded into a 1-1/2" bulkhead fitting in the end of a (mocked-up for this photo) deepwater raft trough. Simply screw the filter in loosely, then you will be able to unscrew it to check it and clean it later. The pet screen on this filter will keep tilapia and catfish eggs and fry from getting to the other side of the filter. The 1/2" mesh is installed

under

the pet screen, and keeps it from collapsing when the pet screen is almost full of crud. If you don't use the 1/2" mesh, the pet screen will collapse in no time at all and completely cut off flow through the filter.
Building this filter is easy:
cut out 12-inch by 18-inch rectangular pieces of the two types of screen shown in the previous picture, lay the pet screen down first on a horizontal work surface; lay the 1/2-inch screen on top of it; then put the pipe cap at the left corner of the screen nearest you and the pipe coupling at the right corner of the screen nearest you. Then, roll the entire thing up like rolling a sleeping bag or a sushi roll, with the pipe cap and coupling tightly held inside the mesh. You will end up (hopefully!) with a tightly-rolled unit that you will need at least two additional hands present for to pick up the hose clamps. Slip the hose clamps over each end of the thing, and tighten while your hands are full simply holding this assembly together (Tim somehow manages to do this by himself, but we think he cheats and uses his teeth!).
Using the filter is easy too:
every day when you feed your fish, simply check the filter, by running a hand over it, or, if it's a filter on a gravity-fed system, such as a filter in a fish tank that the water flows through to get to a lower level, just visually inspect it. If it is clean, the water level will be near the bottom of the filter; as it gets progressively clogged up with crud, the water level will rise until the filter is nearly submerged. This is a clear sign that you need to clean the filter!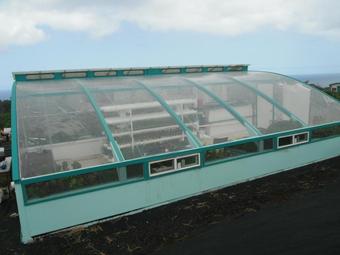 Friendly Aquaponic's FIRST Aquaponic Solar Greenhouse in full bloom, Honoka'a, Hawaii, March 2012, (on a grey rainy day) showing PV panels, and growing plants.
Next week: We'll do what we did this week, but for standpipes; we'll also show photos and give instructions on how to install a
very
simple and inexpensive trough end fitting for deepwater aquaponics troughs. Thanks for listening!