Aloha Friend,
We've been asked to write "The Complete Idiot's Guide To Aquaponic Gardening" by Penguin Books. We are completely honored by this association with Penguin, and are already working with their editors, whom we've found to be an intelligent, perceptive, and responsive crew of people.


In contrast to other books currently available on aquaponic gardening, the purpose of this one is NOT to give you so much information about so many different kinds of aquaponics that your head spins. Our purpose is for everyone who reads the book to be able to build and operate an affordable, simple, and easily understood aquaponic garden indoors or outdoors wherever they may live in the world.
We'll have the book available for purchase on our website when it is published.

An author friend of ours was impressed when he found that the publisher had approached us, not the other way around (although we've written technical manuals on aquaponics for four years, this is our first BOOK, yayayayay!). We are excited about this project, and are working ten hours a day (in addition to normal work on our farm) to meet the publisher's schedule, but will do our best to answer emails with aquaponics questions as we always have.

Free Aquaponics Trainings


We are now offering FREE aquaponics trainings. Two years ago, one of our attendees said "I almost didn't sign up for your training, because I'd already taken the ......... training. I learned more during your free two-hour farm tour before the training than I did in their entire three-day training". We've had more of this kind of testimonial, to the point where we realized that we had a responsibility. We needed to get better information to these aspiring aquaponic farmers who felt at a loss after taking someone else's expensive training that didn't deliver. So, we decided to give it away for free!

Our Aquaponics Technology Training is available at no charge to anyone who has taken an aquaponics training from Nelson and Pade, UVI, Green Acres, Max Meyers, or Aquatic Ecosystems, and been dissatisfied with what they learned. If you take one of our courses; build one of our systems, and are not satisfied, we will refund your money 100%. That's the guarantee

we

make! Email Tim directly to qualify for this FREE training offer.

Please feel free to email me directly with any questions you may have. Aloha and good growing to you, Tim........
If you're interested in learning about our new Solar Greenhouse technology,
please take a look at our
Aquaponic Solar Greenhouse Training
(Special Offer in right sidebar of this email), where you will learn more about how to grow affordably using aquaponics in greenhouses than you can anywhere else in the world. The next Solar Greenhouse training is in Hawaii on June 28-29th, 2012.
For smaller home backyard and apartment systems, please read on:

Purchase Construction Plans and Operating Info for 4 Different Sizes of Apartment/Condo Aquaponics Systems $49.95
Our Apartment/Condo System package includes new and easy-to-understand building instructions and complete operating information for 4 different sizes of small aquaponic systems based on our years of experience operating a commercial aquaponics farm. Anyone can build a system out of plastic barrels or IBC totes, but operating one successfully without good
and
easily-understood information can be frustrating. You simply use the "Daily O
perations Checklist" in the manual and follow the step-by-step
instructions on your way to success. We also cover how to make aquaponics systems out of weird things like old refrigerators and door frames; this makes aquaponics
much more
economical to get started in!
We spent hundreds of thousands of dollars, hundreds of hours, and built our first commercial aquaponics systems with FAR less information than this manual contains. We included all the information learned from that experience in this manual so you don't need to make any of the same mistakes we did.

Aquaponics Nugget #75:
How To Learn Aquaponics
We often get eight or ten emails asking aquaponics questions from the same person over a short period of time. We used to get all involved in answering these, until we realized that these people were asking question after question, but had never built or operated an aquaponic system! The questions were all rhetorical. In other words, if they HAD run a system, that in itself would have answered all their questions, and we wouldn't have had to.
In fairness to these people, just studying things without ever doing them can be fun too. For instance, I'm quite happy to watch base jumping videos for fun, although I'd never want to try it myself. But if you are like most people interested in aquaponics, you want a concrete result; most likely plants and fish from your own system!
The best way to achieve that is to build an aquaponics system and start operating it TODAY! Don't wait, don't procrastinate, don't think you'll find that "perfect system" if you just look a little longer or study a little more. Just do it! It doesn't even matter if you do something wrong; you'll learn so much that your next one will be a lot better.
For example: the "Apartment/Condo Aquaponics Systems" plans we sell cost only $50. You can download it instantly, and be shopping for materials within a few hours of reading the manual, for it has complete materials lists with suppliers names also. The smallest of these systems, a 2.25 square foot table top system, fits on your kitchen countertop under a 32-watt compact flourescent bulb, and only costs $65 for materials (and that's in Hawaii, where prices are high compared to the rest of the US).
Or go onto one of the excellent discussion forums on the backyard aquaponics sites; they have oodles of people who will describe in great detail how they build and operate their systems. You can get free information there on how to build raft systems, vertical systems, media-based systems, aeroponics systems, wormponics systems, and so on. These people all built one, that is the most important thing to pay attention to.
BTW, when we go to answer emails, we REALLY like answering those from people who are actually using their aquaponics, and have real questions about real systems. We tend to answer these emails first. We also do whatever we can to help non-profits and people who have proven they are "doing something with aquaponics", like Marcus Engelmayr of Aquaponics India (on FaceBook under Aquaponics India), who, with his wife, works construction in Australia until he has enough money saved, then they go to India to help support the orphanage where he and his wife built an aquaponic system to feed the kids.
THAT'S what aquaponics should be about, not all this nonsense arguing we sometimes see. Time's short, and there's enough for everyone to do to make a better world for our kids, and their kids. Don't you think?
Friendly Aquaponic's FIRST Aquaponic Solar Greenhouse in full bloom, Honoka'a, Hawaii, March 2012, (on a grey rainy day) showing PV panels, growing plants, and the mysterious Verticalis in the center!
Click Here To See Our New Aquaponics Video!
.......................................................
Back Issues Of Newsletters Now Available, Click Here!
.............................................


Purchase Trough Liner Directly From Manufacturer!


.......................................................


Free Farm Tours
We hold a free workshop on our farm the FIRST Saturday of every month, focused on growing food with aquaponics and permaculture.
Click here
for information. See you there!
If you are a school, a non-profit organization, an organization working with the poor, Native Hawaiians, or ex-inmates, or if you are a church, we will hold a free farm tour for you anytime. You DO need to email us first to schedule, or we might be out on errands!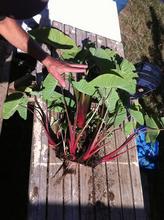 3-1/2 pound kalo (taro root) grown in a 2" net pot (little bump at bottom)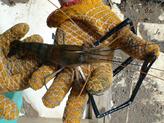 4-month old prawn (macrobrachium rosenbergii) grown in hydroponics troughs of our aquaponics systems
Special Offer!

We've decided to give a 50% discount on our A

quaponic Technology Training if you take our Solar Greenhouse Training OR our Commercial Aq

uaponics Training. And don't forget you can get the Aquaponics Technology Training for free if you took a competitor's training and weren't satisfied. Email me to qualify for this free training!

Sign up now, and receive a free Micro System package so you can begin studying aquaponics To receive a 50% discount on this course, sign up for either the Aquaponic Solar Greenhouse training OR the Commercial Aquaponics Training; click here for more information on these trainings

More Information on Hawaii Aquaponic Technology and Solar Greenhouse Training
s

In
The Farmily
I (Tim) stated off building stuff at an early age. When I was 1-1/2, my Mom bought me a little kid-sized hammer, a paper bag of six-penny nails, and gave me a wooden orange crate. I don't remember if she or Dad showed me how, but I loved to hammer those nails into the crate.

I banged my finger a few times (I wasn't even 2 yet!), and went crying to Mom, but mostly I loved the hammer and the nails. After a couple of weeks, our next door neighbor asked my Mom over the fence: "Are you guys building something over there, or doing some remodeling?".

I remember the day I reached the bottom of the paper bag and there were no more nails. I went to Mom then; hoping she kept some in her kitchen cupboards or something. Hey, I was just little, I didn't know where nails came from yet. Every horizontal surface of the orange crate was studded with nails.

Well, my career expanded from then on. When I was six, we didn't have much money for nails for a kid, but I had a hammer, and a saw I borrowed from my Dad. I took my hammer to construction sites on my bike, and pulled nails out of boards I found there, and straightened them out on a piece of concrete nearby. I would return home with a whole pocket full of pretty good nails.

Sometimes I'd find boards that the construction crew had obviously thrown away; they were in a different pile than the new boards. I never took new boards, just the discards.

It was kind of hard to get many boards at once onto my bike to take home, but after awhile I had a pile of boards and another pile of relatively straight, usable nails in back of our house.

I figured "Don't ask, don't tell" was a good policy, so I had gotten two stories of a three-story treehouse-clubhouse built onto the fence in back of the house before Mom stuck her head out there to see what was going on. Although I hadn't gotten permission first, she was impressed, and told Dad about it over dinner.

My dad was a kind of laissez-faire father, so he just let me keep on doing it. I do remember him coming by one weekend when he was working out in our suburban yard and exclaiming "My God, Tim, what have you built?". I showed him the three floors, the trapdoors, and handles that allowed you to climb easily from one floor to another on the inside or outside of the clubhouse.

I had a lot of fun with that clubhouse, my sister Susie liked it too. She'd bring her dolls and stuff out there. I hadn't learned anything about roofing yet, so it wasn't very dry in a rain. It was sort of a fair weather clubhouse.

More on "The Farmily" next week, Aloha, Tim.......