Aquaponics Nugget #121, Part 1: Wayne Hall; Profile Of An Aquaponics Producer
"Why Did I Decide To Go Into Farming In The Bahamas?"
This question has been posed to me numerous times and in order to answer it, I really need to explain how this all came about.
In the summer of 2009 a series of events occurred in my life that forced me to evaluate the direction my life was taking. Having spent the majority of my adult life working in high pressured environments, I realized that this was no longer providing me with the joy and satisfaction that it once held for me.
Even though I was paid well for what I did, it was always for the benefit of others and never truly for me, like the vast majority of the working world at the end of every work day it always felt that I had not accomplished anything for myself, suffice it to say that I was "stuck", and needed to figure out a way to get "unstuck".
I spent the next several months trying to find my true path and one day a very close friend of mine sent me an email which contained a link about aquaponics. After reading it several times I called him up and said "This has got to be a scam".
Of course this sent both of us in search of more information regarding aquaponics, and after weeks of research we both came to the same conclusion that this did indeed appear to work, the only question was would it work here in The Bahamas.
We found several entities offering aquaponics courses, but of all of them only two really stood out, one in the US Virgin Islands and the other in Hawaii, as these most closely matched our own environment in The Bahamas.
In the spring of 2010 my aunt passed away (she was the last of my mother's immediate family), and all my family came to Nassau to give respects and bid final farewells, including my older brother who lived in Maine, who I had not seen in 15 years since our mother passed away in 1995. As with most family gatherings this gave us an opportunity to catch up and renew family ties.
After he had returned to Maine and several weeks had passed, on one of our many telephone calls I mentioned to him about this thing called "aquaponics", and said to him that I was seriously considering changing careers and becoming an aquaponics farmer. He stated simply that everyone needed to eat and was I really sure about this as he knew me digging in the dirt in the hot sun was never going to happen as I had only ever worked in an office environment and was not accustomed to any form of manual labour.
Of course I knew he was right, but I told him that this burden had been placed on me to show that it could be done and I had a vision of other aquaponic farms on every island in The Bahamas, so much so that we (aquaponic farmers) could generate enough food to feed the entire nation.
Along the way he got just as excited about it as I was and I sent him to Friendly Aquaponics website to see what I was talking about where he purchased the Microsystem manual himself.
That winter I packed up my belongings, moved from Nassau and relocated to the island of Abaco, where the government had tens of thousands of acres of farmland available.
And so began my adventure of aquaponic farming in The Bahamas.
The Island of Abaco
Over the past 70 years Abaco has been the home of several large (thousand plus acre) traditional farms, which today no longer exist.
In the 1940's an attempt was made to cultivate sugar cane, which only lasted three seasons as the nutrient levels in the soil were unable to sustain the crop at desired levels. Then an attempt was made to cultivate pineapples, which again only lasted a few seasons.
Over the decades many attempts at traditional farming have been made all with the same outcome.
The only farming which was even remotely successful was the cultivation of citrus trees in the late 60's for export, which lasted a little more than two decades, requiring massive amounts of fertilizers and pesticides and finally came to an end when blight and the citrus fruit fly put an end to it when all the citrus groves had to be razed and burnt to the ground.
Of course with such a high failure rate for farming, insurance companies considered farming high risk and did not generally offer coverage and even if you get coverage it was very limited and the rate was even higher than hurricane coverage.
(Part Two of Wayne Hall's profile in next week's newsletter, with photos. Thanks for reading!)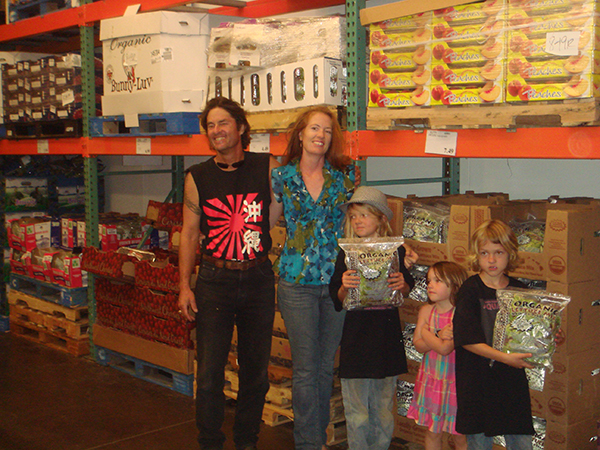 Our Farmily with our product in a "Big Box" store; the first time ever that a little mom and pop (Aquaponics!) farm took an account away from a multimillion dollar agribusiness. You'll see more of this, because you as consumers will demand it!

The photo below is our Second Generation Solar Greenhouse, at ten in the morning in the Tennessee winter. It's growing plants inside right now, and you have to take your jacket off because it's so warm! It's cool when it's hot, and warm when it's cold (hope that makes sense to you, it's the best greenhouse we've ever seen!).