Special Pest Control Update (for Pirates!)
Aloha Friends!

Have you noticed that we put out the only newsletter in this entire field that has REAL information in it?

I recently received an excellent question via email from a gentleman named Jarred Cox, who's been having a problem with fire ants around his system, and whether or not a product called "Spinosad" would be safe to use. I had heard of this product, but had not taken the time to research it. Jarred's question spurred me to do three or four hours of internet research (what in the world did we do before the internet??), and when I finished, and wrote up what I'd learned in my email reply to Jarred, I realized I needed to update all our manuals with this new pest control information, and to let all of you know about it, too.
That's how it goes around here - something happens (good or bad), which brings new information to our attention, and we learn a little bit more about how these complex systems work, and get to add a tiny piece to the ever-growing body of knowledge that is aquaponics. Because it seems somehow that human beings seem to learn more from failure than from success, it's often a mistake we made, or a mistake made by one of our fellow students. (Yes, we still consider ourselves students, and we're lucky to have hundreds of fellow explorers who are willing to share with us their discoveries - and mistakes - and then we freely share them with you, in this Newsletter).
Other times, we get an email, asking an excellent question that we had not yet even thought about. In this case, the latter is the case - not a mistake, which makes us happy. And what makes us even happier is if we are able to help someone avoid a mistake - and perhaps a costly one!
So, in that spirit, we offer you our latest bit of information, on an organically-approved pest control method called Spinosad, that is appropriate for use with aquaponics systems with due care (we explain how!).
~~~~~~~~~~~~~
Spinosad (pronounced spin-OH-sid) is a relatively new insect killer that has quite an interesting back story. While vacationing in the Caribbean in the early 1980s, a scientist discovered a soil dwelling bacterium called Saccharopolyspora spinosa in an abandoned rum distillery. Therefore, it obviously qualifies as the insect control method of choice for pirates.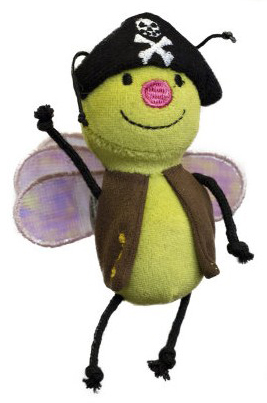 In 1988, the bacteria was placed in a fermentation broth, producing a compound that has since been formed into an insecticide that also acts as a biological pest control organism. It is a bacterial waste product produced in the fermentation process on a nutrient food substrate used by the bacteria Saccharopolyspora spinosa.
Spinosad combats caterpillars, leaf miners, thrips, spider mites, borers, and fruit flies. It must be actually eaten by the insect, and therefore it has little effect on sucking insects, such as aphids, and carnivorous beneficials. When wet, it is toxic to beneficial insects such as bees, braconid wasps, and praying mantises, but it's relatively safe for them once it dries. Therefore, it should be used at times when pollinators and other beneficials are not actively foraging, such as near dusk.
Spinosad is relatively fast acting, and its effects have a perfect 100% mortality rate. When Spinosad is sprayed onto an attacking bug population, the nervous system of the target insect is radically overstimulated and begins to unravel. The pest insect dies within two days after ingesting a leaf treated with Spinosad. It does not persist in the environment, because both sunlight and soil microbes cause it to break down into it's component molecules (carbon, hydrogen, oxygen and nitrogen), and is therefore no threat to groundwater. It is classified as an "approved organic substance" by the USDA National Organic Standards Board, and is OMRI (Organic Materials Review Institute) Listed for use in organic production.
Spinosad loses its toxicity after 8 to 24 hours and so it may be necessary to reapply a few days later when new larva hatch.
Until Spinosad was discovered, one of the only organically acceptable insecticides was
Bt
(
Bacillus thuringensis
), which is safe to use in an aquaponics
system
.
Bt
is a bacterium which, when sprayed on or eaten by an insect host, infects the host, making it sicken, and then causing death.
Bt
is completely host-specific and works only on the caterpillar stages of moths and butterflies.

In the past few years a specific variety (
Bacillus thuringensis israelensis
) was found to affect mosquito larvae and has been used successfully to control mosquitoes developing in stagnant water. With this latter exception,
Bt
has only been effective by infecting the caterpillars of moths and butterflies - no other species of plant pests are controlled by
Bt
.

Spinosad, on the other hand, provides effective control of pests belonging to the following groups: moths and butterflies (caterpillars); flies; mosquitoes, ants; and thrips. It is also effective for some beetles and members of the grass hopper family. It is also listed for use on such diverse pests as coddling moth, tomato hornworms, cabbage worms, corn borers, thrips and even leaf miners. However,
Spinosad does have some toxicity to fish, while
Bt
is completely non-toxic to fish, and so can be used on the plants in your aquaponics system.
Spinosad is classified as slightly toxic to fish, with an LC50 of between 1 and 10 mg/liter (LC50 stands for "Lethal Concentration" and refers to the concentration of the chemical in water that kills 50% of the test animals in a given time, usually four hours). Because of this, even though those concentrations are nowhere near what fish in an aquaponics system would be exposed to, Spinosad is best used around your aquaponics system (on bugs on the ground is OK) rather than on the plants in your system. It might be OK, but be aware, you are risking your fish if you use it on the plants in your system.
Spinosad comes in many forms - a dry, flowable powder, a liquid, and in a granular form like Sluggo Plus Snail Bait. This is the method we're going to use here on our Farm. We'll pour a barrier circle around our aquaponics, as I think this is the best way to use it in an aquaponics system. It will protect plants from the diabolical slow chew of the slug as well as aphids, which are carried and tended by ants. In addition, this delivery method would not put bees and other beneficials at risk.
So, this is the long answer that Jarred received. Yes, Spinosad should be an excellent method to control fire ants, in the ground, around an aquaponics system.
For smaller home backyard and apartment systems, please read on:

Purchase Construction Plans and Operating Info for 4 Different Sizes of Table Top Aquaponics Systems $49.95
Our TableTop System package includes easy-to-understand building instructions and operating information for 4 different sizes of small aquaponic systems based on our years of experience. Anyone can build a system out of plastic barrels or IBC totes, but operating one successfully without good
and
easily-understood information can be frustrating. You simply use the "Daily O
perations Checklist" in the manual and follow the step-by-step
instructions on your way to success. We also cover how to make aquaponics systems out of weird things like old refrigerators and door frames; this makes aquaponics
much more
economical to get started in, and fun too!
We spent hundreds of thousands of dollars, hundreds of hours, and built our first commercial aquaponics systems with FAR less information than this manual contains. We included all the information learned from that experience in this manual so you don't need to make any of the same mistakes we did.

Friendly September 2013 Commercial Aquaponics Training Schedule: Tennessee:

These Tennessee trainings are $1,495 per person for five days of the most comprehensive and profitable Commercial Aquaponics and energy efficient Solar Greenhouse technology on the planet. If you can't wait until September to learn about profitable commercial aquaponics, check out our Personal Intensive trainings in Hawaii.

SPECIAL OFFER: First 25 registrations will receive 50 tilapia fingerlings, a $100 value (shipping not included). Register before September 1st and you are automatically entered in a drawing to win a COMPLETE 64 square foot backyard Micro System. This includes everything you need to get started (just add fish, media and seeds; shipping not included). This is an $1,800 value, and the course only costs $1,495.
(Below) Tim drinking water from one of Randy and Katie's aquaponics systems at a previous Tennessee training. "I've been drinking this for six years; it's the reason I absolutely know the food from these systems is safe and healthy" (Tim).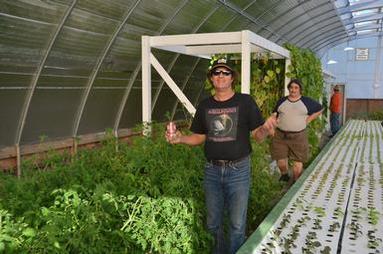 First 5-day training: September 23rd-27th (register here for first Tennessee training). Second 5-day training: September 30th-October 4th (register here for Tennessee second training).

(Click here for more information on Tennessee trainings).

These five-day trainings allow you to travel during the weekend so that you only need to take a week off your busy life to attend.

Both of these five-day trainings include our $999 DIY Commercial Aquaponics package, $998 DIY Farmer's Market Aquaponic Solar Greenhouse package, and new $295 DIY Commercial Tilapia Hatchery manual as course materials, plus our Plywood/Epoxy/ Tank manual, CAD construction drawings for all greenhouses and aquaponics systems, and much more!

(Below) Randy and Tim showing attendees at the Tennessee training how easy it is to use a DO (dissolved oxygen) meter to measure oxygen levels in the vegetable troughs.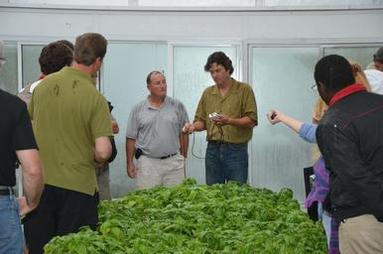 If you're located near Tennessee, Randy and Katie give regular free farm tours of their aquaponics systems and greenhouses to introduce the public to the benefits of aquaponics and energy-efficient greenhouse growing. Call Randy and Katie at 256-679-9488 or email Randy to find out when the next farm tour is scheduled.
Our Affiliate Program:

For those of you who aren't yet aware of our Affiliate programs, here's the deal: we're the ONLY aquaponics professionals who teach our students how to teach aquaponics, AND let them use our manuals (under license) to teach others with. In fact, there are two Micro System trainings being given by our affiliates right now (see sidebar). If you read below the turquoise box in the middle of the newsletter, you'll see that we also encourage and work with "Commercial" level affiliates to teach our Commercial Aquaponics and Solar Greenhouse Trainings. No other aquaponics teachers offer this, but you can partner with us to do so if you wish!
More details of the Aquaponics Technology course here.
More details of the Aquaponic Solar Greenhouse course here.
More details of the Commercial Aquaponics course here.
(Below) Randy and Katie's Chinese-style Aquaponic Solar Greenhouse in Tennessee in the February snow, 2013. 70 degrees inside and you had to take your coat off when working with the vegetables!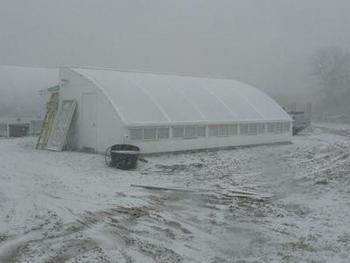 (Below) Our Farmily with our product in a "Big Box" store; the first time ever that a little mom and pop (Aquaponics!) farm took an account away from a multimillion dollar agribusiness. You'll see more of this, because you as consumers will demand it!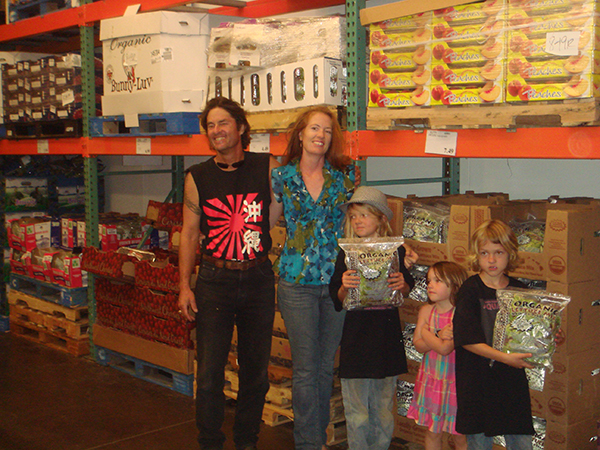 The Friendly Aquaponics Way Video!
Free Farm Tours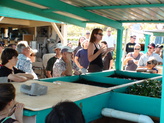 Aquaponics tour at the Friendly farm!
We hold a free Farm Tour on our farm the FIRST Saturday of every month at 10:00, showcasing how growing food with aquaponics and permaculture.
Click here
for information. See you there!
If you are a school, a non-profit organization, an organization working with the poor, Native Hawaiians, or ex-inmates, or if you are a church, we will hold a free farm tour for you anytime. You DO need to email us first to schedule, or we might be out on errands!
~~~~~~~~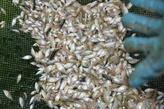 Thousands of inch-long "fifty-cent" baby tilapia from our "backyard" hatchery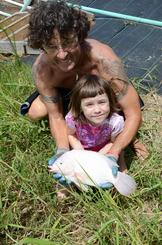 What they turn into about a year later: a beautiful 2-pound white tilapia grown in the fish tanks of our aquaponics systems.
~~~~~~~~
SPECIAL OFFER: For a FREE MICRO SYSTEM! (yes, a complete, fully-built SYSTEM, an $1,800 value!):
SPECIAL OFFER: Register in either the first or the second Tennessee training before September 1st and you are automatically entered in a drawing to win a COMPLETE 64 square foot backyard Micro System. This includes everything you need to get started (just add fish, media and seeds; shipping is not included). This is an $1,800 value, and the course only costs $1,495!
Sign yourself up for the FIRST
TENNESSEE TRAINING
Or sign yourself up for the SECOND

TENNESSEE TRAINING
~~~~~~~~~~~
MicroSystem Classes!


FLORIDA MICROSYSTEM TRAINING:
TEXAS MICROSYSTEM TRAINING:
These Texas and Florida one-day live trainings use our $100 Micro System DIY manual as the class coursebook, and are a a great deal!
Also, for a two-day Basic Aquaponics Course, attend Sahib Punjab's Backyard and Small Urban Farming class in Orlando, FL, on the 7th and 8th of September. Sahib's goal in his workshop is to empower you to grow your own food naturally, right in your own backyard.
Go to Sahib's website, here, for more information.
~~~~~~~~~~
The Farmily of Fish:

Working with the farmily harvesting today, I realized that
it was time to feed the fish. So, bucket of Rangen 1/8" floating catfish food in hand, I went around to the various tanks and fed everyone.
This involves calling out "Hello, delicious fishes", and banging on the side of the tank with the scoop can. The fish actually start feeding behavior as soon as they hear the can, and sometimes even at "that time of day" when they hear a person's footsteps on the ground outside the tank.
There are seventeen different fish tanks on the farm, holding inhabitants from 1" long up to 7 pounds in weight. The smallest biomass is in one of the nursery tanks, where we have a tank with about 2,000 1 to 1-1/2" long tilapia that hatched in June. This tank, of course, gets the smallest scoop of fish food.
The tank with the largest amount of biomass has about 700 fish with an average weight of 2-1/2 to 3 pounds. This is where the seven-pounder lives! This tank gets 2/3 of a five-gallon bucket of fish food. And the other 15 tanks get everything in between.
I don't know them all by name, but once I tried to show one of the interns how much to feed each tank so he could take over the job of feeding the fish, and it was a total mess.
Even with a "feeding map" of all the tanks, and measurements of how much to feed each tank, it's difficult, because some days it's a little colder, or the fish were just moved from another tank, and you know they won't be eating much for a day or two.
So this is very much a case of "the farmer's shadow". If you're out there with your aquaponics system every day, you will become intimate with its moods, its ins and outs, and come to understand its workings on a very sophisticated level.
Now, you could be wondering, "why is he going on about fish when this is supposed to be the "Farmily" column?". OK, think about that for a second: how well would the farm work if you removed the fish? And where would our Farmily be then? Good think, huh?
I was walking down the street the other day, feeling sorry for myself about some insignificant thing that had occurred that day, when I walked past a man with no legs getting out of a car into his wheelchair. This put it all into perspective.
I was WALKING, and my whole day changed. I had forgotten to be appreciative of everything I have, and to remember and appreciate the simple fact that I have legs.
This is why it's not hard for me to think about the fish as members of the Farmily. They are the foundation for everything else we do at the farm, and the whole Farmily. Maybe we should give them names, and get to know them better (all 11,234 of them!).
Aloha, Tim....