Aloha Friend
In today's "Nugget", we continue with our
final
Part 11 of our series on
"Energy-Efficient Greenhouses For Aquaponic Growing"
. In our next newsletter, we'll cover "yucky roots", as we've noticed a lot of buzz about that on the forums we watch.


Watch out for the announcement of our new book: "Aquaponics The EASY Way!" within the next few days. It's still available at a presale discount of 33% now, for only $19.95 by clicking here. It will be $29.95 when finished; you'll save ten bucks and get it emailed directly to you when it's finished if you buy it now!


Our "In The Farmily" column today
is Part 3 of the story of our son
Lucky
, and why he got the nickname "Lucky". He really
is
lucky, as you will understand when you read it!
Aquaponics Nugget #145, Part 11: Energy-Efficient Greenhouses For Aquaponics
(You can catch the first 10 of this series on our "Back Newsletters" page, starting with #135, if you wish!)
Geothermal Well For Greenhouse Cooling:

Last week, we ended by discussing what to do if your geothermal resource 6 feet under ground is insufficient for adequate greenhouse cooling. In some areas with this problem, there are well-drillers who will drill you a 150-foot deep geothermal well that may fit your budget. You will put the same geothermal cooling pipes down this deep well as you would have laid horizontally if you'd been able to dig a geothermal cooling trench, and get the same effect. The wells usually cost a lot more than the trench (our trench only cost us $125 to have dug) but still may be an affordable and good solution.

But, you say, pumping water up from that depth requires a big and expensive pump that uses a lot of electricity! That would be true, if you were only pumping water up from that depth. But you are also dropping it down from the top: the energy imparted by the weight of the water in the "down" pipe largely cancels out the energy required to pump the water up the "up" pipe, for it is a closed system. This type of recirculating system in a 150-foot deep well only requires a 45-120 watt pump to circulate the water, depending on the volume of water and the speed you wish to move it at.
Another Alternative To A Geothermal Well:
If you have a lake or large pond, then you don't even need to bother with the ditch or well; you can just put your geothermal cooling coil at the bottom of the lake, and plumb it over to your aquaponics system using insulated pipe. If the lake or pond is large enough and deep enough, the water at the bottom will be quite cold, and will transfer that cold beautifully to your geothermal cooling coil. But test this first! Don't just assume it's cold at the bottom; if you have a shallow lake it may be quite hot down there!
Hook this geothermal cooling coil up with some valves to the same Grundfos pump you used to pump the hot water from the solar water heaters (hold your horses, we cover this next!), and insulate the above-ground sections with standard copper pipe insulation so you don't lose heat to the environment.

Your heating AND cooling systems use the same pump; the valves are so you can switch the pump over to pump water down through the pipes in the geothermal trench/well for cooling or up through the solar water heater panels for heating. Now, when you circulate the warm water from the heat exchanger in the fish tank through the cold pipes buried in the cold ground, it comes back to the heat exchanger in the fish tank COLD, and cools down the aquaponics water.
The Grundfos pumps we use are very energy-efficient, usually running at 40 to 120 watts energy use; they're the only ACTIVE use of energy in this whole geothermal and solar heating-and-cooling-system. No huge fans, no huge energy-sucking air-conditioning units or propane-gulping heating units. Just a quiet little pump pumping away, giving you almost free access to the heating and cooling energy that Nature provides us with everywhere in the world.
Cooling The Greenhouse Air Using Water Walls/Swamp Coolers
In addition to geothermal cooling and passive and active venting, If you are in a relatively dry climate you can successfully use what's called a "Water Wall" to drop the temperature of the air coming in through your intake vents by ten to twenty five degrees F. Water walls, also known as "swamp coolers", or evaporative coolers, work by moving air over dripping water. The water evaporates into the air, and as the air becomes more humid (full of water) its temperature drops quite a bit in the process. Here's a photo of one:
(Below): Water wall in the side of a greenhouse. The brown material is a type of cardboard with lots of air passages through it, that is manufactured with an epoxy resin so it is waterproof. Water drips down from the top to the bottom, and the air passing through the water wall drops from 5 to 25 degrees F in temperature as it passes through the cardboard, as a result of the water evaporating. Same as a wet T-shirt on a hot day!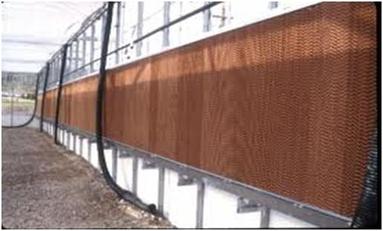 A water wall is located at your greenhouse air intake(s), and is simply a water trough or pipe above a wall of ventilated material that drips water down onto the ventilated material. There is another water trough or tank under the ventilated material that catches the water dripping off the bottom of the material, then the water is pumped back up to the water trough or pipe at the top of the water wall to run down the wall again.

Air coming into the intake vent flows over the water wall; then the water in the wall evaporates into the air, cooling it as it passes into your greenhouse. The water evaporates in this process, so the water in the bottom trough or tank will need to be replenished at regular intervals as it's used up.
Manufactured material to make your own water walls with is available at many greenhouse supply places; it often looks like cardboard seen from the end on, with hexagonal cells like a honeycomb; and it is treated with a resin material to make it waterproof; it is not cheap. It can also look like the "spaghetti" in the photo below.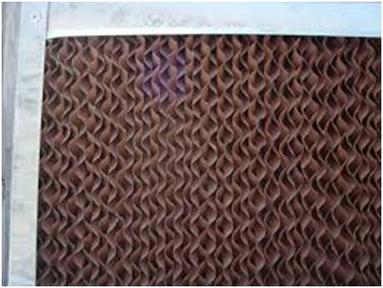 You can also buy complete water wall assemblies (but they're more expensive). You can also use a couple of layers of plastic mesh, window screen (tends to clog up with algae, though), or larger plastic screen (1/4" mesh to ½" mesh is ideal), and other materials that are easily permeable to the air that moves through your water wall. Home made water walls are easy to make and plumb, if you simply include a material that the air can pass through easily while water drips down it.
If you need a large water wall, rather than just a short one three or four feet long, you want to install it in a plenum for best efficiency. An example of a plenum is a box about two to two and a half feet deep and the height of your water wall material, which may be twenty, thirty, or even sixty feet long. This is installed on the outside of your back greenhouse wall.

The fans that draw the air through the water wall material are installed in the greenhouse wall itself, and when they are on, they draw air through the water wall into the "box" formed by the plenum, and from there draw it into the greenhouse. This way, the air is drawn through all the water wall material instead of just the small portion of it located behind a fan, as it would be if the water wall material were only a few inches away from the fan.
If you are in a humid climate such as Hawaii near the ocean or in Florida, water walls do not work as well. However, we have reports of 5 degree temperature drops even in humid Florida conditions, and 25 degrees in the same location during their "dry" season. Investigate the local humidity during the time of year you will need to cool your greenhouse to see if this will work for you or not. Another good source of information to help you make this decision is to look at any commercial greenhouses in your area, talk to their operators if you can, and see if THEY have water walls, as well as how big they are and whether they are passive or active.
An Aquaponic Solar Greenhouse with the participants in our second June 2013 course in Tennessee!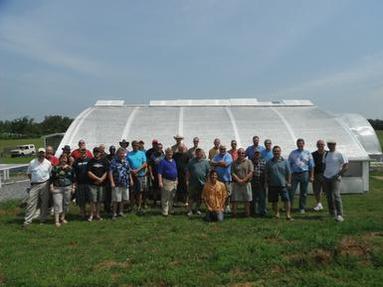 (Next week's newsletter will cover "yucky roots" and what the REAL solution for them is; that is, the EASY solution! Thanks for listening!)
For smaller home backyard and apartment systems, please read on: