Aquaponics Nugget #100: Backyard Tilapia Hatchery And Breeding, Part 2
This is part two of a three-part series; understanding today's may be easier if you read last week's newsletter first. So, we'll assume you started there, what's next after the backyard, single-tank system?
The Family-Scale Hatchery

We spent almost $22,000 on our first hatchery, and got 10% survival rates (with a LOT of labor). This means we killed 90% of the baby fish we hatched out. When we called the people who had taught us, a graduate student told me that we were doing well, as they usually had around 95% mortality with their system.

We were motivated to do better, so we tried a new way of caring for newly-hatched tilapia fry. Three years later, it is a resounding success, and seems likely to put us out of the hatchery business because it is so simple and cheap to implement. It consists of rearing fry in small-mesh cages inside a hapa inside a large greenwater tank, until they are large enough to be transferred to a larger tank in an aquaponics system.
To start your own hatchery, get one or two nine-foot to twelve-foot diameter round tanks and put a hapa inside each tank (you also need two 0.5 cubic foot airstones in each tank). The tanks can be plastic, vinyl-lined corrugated metal, or fiberglass.

Hapas are large sewn nets that fit inside the tank and over the top rim of the tank, going completely down to the bottom; they're like a second "mesh" liner for the tank. They have a flexible mesh about the size of window screen that neither the tilapia fry (babies) nor eggs can fit through; some of our students have successfully made them at home from surplus army mosquito netting. They are available from Thailand by contacting Angus MacNiven at http://www.farmaqua.com/.

If you are unable to find hapas this way, you can have them sewn up by a local sewing shop or sew them yourself from surplus mosquito netting. Sew a pocket into the top edge, and put a piece of quarter-inch rope into this pocket, then you'll have something to attach the top of your hapa to the rim of your tank with.

To install a hapa, you fill your tank with water, dechlorinate, put the hapa in, then put six or seven 12" long pieces of 6" diameter PVC pipe into the bottom of the hapa to both hold it down (because it floats) and provide breeding habitats for your tilapia.
The Floating Frames
Next, build eight or ten 1-1/2" floating PVC pipe frames 2 feet square by gluing the PVC and corner fittings (90-degree elbows) together with PVC pipe glue. Sew up a 3-foot deep bag for each frame from the same hapa or mosquito mesh netting (the bag should fit around the rim of these floating frames), then use nylon monofilament fishing line to lash each bag to each PVC frame.

Next, glue together smaller PVC frames of 1" PVC that will fit inside the first frames, and drill holes in the second smaller PVC frames so they will sink and hold the bottom of the bag down. This whole assembly is what we call a "floating frame", and is also known as "cage culture" in the aquaculture world.
The bag in the floating frame completely contains the fry and excludes any other larger tilapia (that might eat them) so it is easy to see what the mortality rate is because the dead fish float.

We have seen almost ZERO mortality with forty-five cycles of fry going through this system. The mortality rate is 85 to 90 percent lower than what we experienced in our inside hatchery tanks with several different types of water quality management schemes.
You can easily fit six to twelve frames in a tank (depending on tank size) and hold 2-3,000 fry in each frame. Depending on how many fry you want to hatch per month, you may need additional tanks. The fry will start to get crowded in these frames after a month or so when they grow to ¾ inch to 1 inch long, and will need to be divided into more frames or put in additional separate tanks until you decide to sell them or stock them into your systems.

Fingerlings need to be grown to about 2-3" long minimum size to stock with larger fish, or they will not be able to compete well for food, and may get eaten.
(We'll conclude "The Family Scale Hatchery" in next week's "Nugget")

The photo below is our Solar Greenhouse. It's cool when it's hot, and warm when it's cold (hope that makes sense to you, it's the best greenhouse we've ever seen!).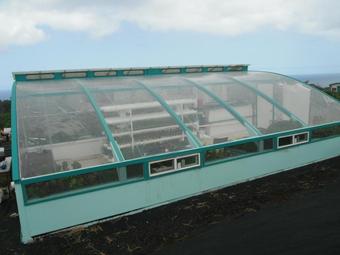 Friendly Aquaponic's FIRST Aquaponic Solar Greenhouse in full bloom, Honoka'a, Hawaii, March 2012, (on a grey rainy day) showing PV panels and growing plants.
Next week: Something else interesting and valuable to know about aquaponics. Thanks for listening!