Aloha Friend,
People ask "What is Aquaponics?". That's easy: it's the only food production method we know of that will still grow food even when oil runs out or is $250 a barrel. It operates on electricity, not on oil, and while it's difficult to make our own oil, there are many opportunities for little people like us to make their own electrical energy.
We feel that breaking food productions ties to oil costs is a good thing. To find out more, and get a feeling for how dependent we actually are on oil for our food right now, check out our new
Biogas On The Farm
page, or our new
"Alternate Energy On The Farm"
page. For the growers out there, we have added new do-it-myself manuals and information to our
Free Downloads
page.
**First Ever** Micro System Training

First ever Micro Systems Live Training:
in Kailua-Kona, Hawaii, Saturday, July 10, 2010
Although our Micro Systems manual and plans are designed as a Do-It-Myself package that will allow those with no local aquaponics resources to build successful aquaponics systems, we have always intended to license affiliates who will offer live courses and support for those who wish to build a Micro System but feel less than totally confident about it.
Our first Micro System Trainer Affiliates are Chris and Alexis Smith of Kailua-Kona, Hawaii. Chris and Alexis are self-starters who purchased a Commercial Do-It-Myself package and then built thousands of square feet of aquaponics systems and are growing and selling produce locally to an increasing demand. You can sign up for this course on the Big Island by emailing "
Coastview Aquaponics Inc."
. If you have questions about the course you can also call Chris or Alexis at 756-1121. This course includes the Friendly Aquaponics Micro System plans package, and will cover:
Classroom instruction on Aquaponics technology
Hands-On Aquaponics System Construction
Hands-on Aquaponics Farming and Water Quality
Free system water for inoculation of your system ($20 value)
The Micro Systems are 15% to 1200% LARGER than aquaponics kits being offered on the internet. Materials for your Micro System 64 in Hawaii are about $900, for the 128 about $1,200. Compare that to these "kit" prices (none of which include shipping!):
* Aquaponicsusa.com FGS-2 system with 20 sq ft of growbed area for $3,695.00
* Earthsolutions.com Phoenix "Farm in a Box" with 56 sq ft growbed area for $2,995.00
* Aquaponics.com (Nelson and Pade) 4T50-2-4x6 system with 48 sq ft growbed area for $5,756.00
* Aquaponics.net.au (Murray Hallam) Balcony Aquaponics Kit with ~10 sq ft growbed area for $2,280

We include the URLs of these websites so you can see what is available and compare it to our Micro Systems. The larger Micro System 128 is
two times
larger than the largest of these kits, but even including all materials, equipment
and
the cost of the Micro System Live Training it is only one third the price! You decide if these kits are overpriced, and if our Micro Systems are the best way to go.
Click to visit our website and learn more about our Micro Systems!

Aquaponics Nugget #10:
So you want to try something
"New" in aquaponics? (Part 2)

One student of ours is a great example of this. We corresponded with them for almost three weeks about their system start up difficulties before they just happened to include the information in an email that their "water was greenish". If they had said in the very first email "We started our system with the rafts off the troughs and grew a bunch of green water, then all this other stuff is happening....." , we would not have wasted time trying to figure it out. They did something the manual did not say TO do, and we were not telepathic and did not know to ask about it.

They had algae in their system water; LOTS of algae. They had started their system with the rafts OFF the troughs because they read in our manuals that they should take the rafts OFF after the nitrites showed up to prevent a nitrite spike. They apparently interpreted this to mean the rafts should come off BEFORE the nitrites showed up.

These students never had a measurable nitrite spike because they tried their system start up in direct sunlight: they had the rafts OFF the troughs when they started up (manual does not say to do this, we do not say to do this; where did it come from?). When you try a system start up in direct sunlight the following happens: as soon as the first nitrites show up in the system, the nitrifiers are already turning them into nitrates, and the nitrates then nourish the massive amounts of algae that grow right away in the troughs. What happens soon after that (and BEFORE any measurable nitrite spike) is that the algae dying off every night (we will explain in a moment) cause ammonia levels to increase rapidly in the system; this higher level of ammonia inhibits the nitrifiers; and the nitrite and nitrate production of the nitrifiers drops off, leaving you with VERY small measurable amounts of nitrites and nitrates (there IS enough of these two to support robust ongoing algae growth, however). This leads the beginning student to think there has been no nitrite spike, and there they are, sitting with troughs full of green algae right in front of them (which HAVE to be getting nutrients from somewhere, or they could not grow anything at all!) and thinking there are no nitrites or nitrates in their system!

Here is what was happening: these algae have a 2 to 6 hour life cycle, and reproduce FAST when they have nutrients and LIGHT available, which is provided by the rafts being OFF the troughs. This algae makes a LOT of ammonia when it dies off and turns into decaying organic material in the bottom of the troughs every night (something called the Diel cycle). This large amount of ammonia quickly inhibits the nitrifying bacteria that make the nitrites and nitrates so that now the system shows really LOW levels of nitrates and NO nitrites. These low levels make the student think they have not had a system start up because they never had a nitrite spike. So they email us and tell us their problem is that nitrites have not shown up, without once mentioning the green water OR the nitrates, which HAVE shown up.

This is why (once again) we do NOT recommend anything in these systems that we have not tried ourselves to be absolutely sure of. If you want to try something new in your aquaponics system, realize that you have introduced a new variable, and are now running an experiment. We have run enough of these "experiments" ourselves to be highly sympathetic with anyone who is on the receiving end of one that has run away from them. However, we DO salute you and respect your willingness to take a risk to advance aquaponics knowledge.

Good luck with your experiment! Please let us know how it worked and share what you learned with us; if it was a success, we will be happy to put it in our manuals with your name as the discoverer. If it was a disaster, we will also put it in our manuals, but we will omit your name and any embarrassment you might experience as a result. Either way, the results of your experiment in aquaponics will be very beneficial to others!


Upcoming Free Training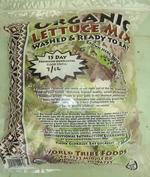 Organically Certified is worth more to your farm!
We invite you to our first "Organic Certification and Tilapia Breeding Workshop". This FREE one-day workshop will be held August 21st at our farm in Honoka'a, Hawaii, just off the main highway between mile markers 40 and 41.

This workshop covers all aspects of getting your aquaponics farm USDA organically certified, and tilapia breeding,hatching, and nursery operation; as we teach in our Commercial Aquaponics Trainings twice a year.
And it's free!
Training starts with a two-hour free farm tour from 10-12, a potluck lunch from 12-1, then the workshop from 1-4. See you there!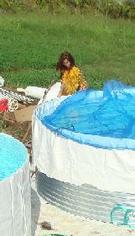 Installing a hapa in a tilapia breeding tank.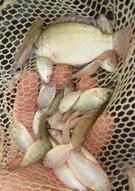 White tilapia fry from our nursery system
Special Offer!
Sign up for our October 4-7th, 2010 Commercial Aquaponics Training now, and we will email you our Micro System package so you can begin studying aquaponics! ($99.95 value)
Sign up for this Training
In
The Farmily
My wife Susanne had a great idea ten years ago, which was to start breeding Siamese cats. Now, I've had cats for years, and it was always a stretch to find homes for all the kittens when my cat had a litter. Siamese are different; a litter of Siamese would bring us $2,000, and two or three of those a year paid for the cat food and vet bills. That was back when we still had an economy.
Now, we're happy to find someone with far less funds who will cherish a beautiful little friend-for-life. Another result of the reduction in monetary value of Siamese kittens is that we've become more reticent to let loose of the really nice ones.
As a result, I think we currently have 27 cats.
Catponics, anyone?
This email, our manuals and construction plans are all copyrighted by Friendly Aquaponics, Inc, Susanne Friend and Tim Mann, 2008-2010
Email:
Friendly Aquaponics