Aquaponics Nugget #68:
A Primer On Sustainable Energy-Efficient Greenhouses, Part 8
This column is an ongoing series on how to understand, build, and operate energy-efficient greenhouses. If you missed the previous newsletters in this series, you can click here:
"Back Issues Of Newsletters"
to read them first, because understanding all the concepts presented is essential to understanding the Aquaponic Solar Greenhouse.
In the last "Nugget" in this series (
in our newsletter #67
), we heated the aquaponics water in our greenhouse in the winter with solar water heaters, and cooled it in the summertime with underground geothermal coolers; with the circulation run by an economical small electric pump. If you design and implement these heating and cooling systems properly with quality materials and workmanship, you will have very economical heat and cooling for your well-insulated greenhouse.
So far so good; but what happens when you have a prolonged overcast spell (or a one-week blizzard!) in the wintertime, and there's no heat at all coming from your solar water heater? And what happens during a prolonged hot spell in the summertime when your geothermal cooling area warms up and can't keep up with the heat in the greenhouse?
Let's deal with heating during a prolonged cloudy/cold spell first, because that's easiest (I'm lazy!). First, your Aquaponic Solar Greenhouse has a tremendous amount of thermal mass in the water in the aquaponics system. Once warmed by the solar water heater, it will tend to STAY warm. However, after a couple of days of completely overcast or dark weather, you will start losing heat overnight and not regaining it again in the daytime. If it's dark enough for long enough, your thermal mass will give up enough of its heat that your water gets so cold it can kill plants and/or your fish. You need to have more options that just waiting for the sun to come out again, however. Before this fatal cool-down happens, you need to turn on your backup heating system and heat your water back up to an acceptable temperature.
How do you provide this backup heating? Burn something! (That's got to be the shortest sentence I've EVER written in one of these newsletters!). No, seriously, you simply have a nicely installed modern wood-burning stove with a stainless steel water heat exchanger coil inside it, that your water circulation pump circulates water through, then to the heat exchanger in the aquaponics system water.. These modern stoves are very efficient and as a result emit very little to almost no particulate matter, while putting out a LOT of heat.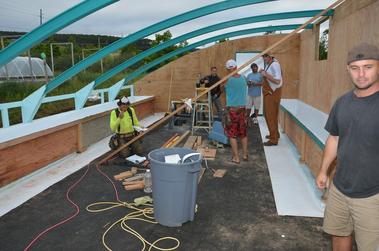 The Friendly farm's current crew of interns in the Aquaponic Solar Greenhouse, with Tim (in yellow shirt) writing something on his clipboard (his BRAIN, LOL!).
They can be outfitted with thermostatically-controlled, automatic feeder devices that will feed wood chips to the stove at a steady rate to maintain a preset temperature in your fish tank water inside the greenhouse. If you install a large enough feeder bin for the wood chips outside the stove room, it can hold several day's worth, or even a couple of week's worth of chips, which is plenty to get you through most blizzards.
And wood chips are a renewable resource, unlike propane gas, which is most commonly used for heating greenhouses in winter. You can use propane for this purpose, but just be aware that burning it creates just as much greenhouse gas as burning wood does, except that you are burning a non-renewable resource, and one that is just going to keep increasing in cost as time goes by and such resources become scarcer and more expensive.
I'm sure someone noticed we've only addressed providing backup HEAT during our hypothetical one-week blizzard. What about electricity for some lighting for the plants so they can also keep growing? First,
light is not absolutely necessary for plants to survive, and the plants can easily do with minimum light for a one-week period. They won't GROW (experts agrees that plants need a minimum of 5 hours of normal sunlight a day for decent growth), but they also won't DIE, unless they get too COLD. Losing a week's growth is much better than losing all the plants in your greenhouse to the cold.
IF you have plenty of economical electricity, the answer is simple: just turn on enough supplemental lighting in your greenhouse to make sure your plants get plenty of light, and don't even slow down their growth during your blizzard. If your solar greenhouse is completely off-grid, you have a different situation as regards electricity and using it for lighting. Unless you have a HUGE battery bank with a couple of weeks of what's called "cloudy-day capacity" in it, you should not use it for lighting, but should save your electrical capacity for pumping hot water from your wood chip stove through your aquaponics heat exchanger, and for the pump that circulates the water through the plants in the aquaponics. If THEY freeze, you have a big mess on your hands and a lot of work just to get everything up and growing again, not to mention the loss of all the FOOD they represented.
We'll deal with backup methods for keeping the greenhouse cool in the summer in next week's newsletter.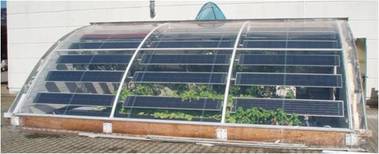 Franz Schreier's FIRST Aquaponic Solar Greenhouse in full bloom, Heppenheim, Germany, 2011, showing lamellae PV panels and growing plants!
(Next week: More on energy-efficient greenhouse technology, and how you can build your own! Thanks for listening!).