Aloha Friend,
In Today's Newsletter:

Today's "Nugget" is about how to make sure your water pumps work at optimum performance levels. This simply means you don't have to pay for any more electricity than necessary to move water in your aquaponics system. This nugget applies to any aquaponics systems, not just the deepwater raft culture systems we use.


We Make Our Request Again: Please Send Us Your Story And Photos!
Sometimes clients contact us and fill us in on their progress with aquaponics; sometimes, (as in Shumin Wang's case) the student surprises us with an incredible fait accompli, and we're absolutely floored when we hear.
Sometimes we don't hear about a student's problem until they've been suffering for awhile. So, here's our request of you (actually, two requests):
Request Number One: If you have a successful aquaponics system that you built from our plans, PLEASE email us and let us know, with photos, so we can be proud of you!
Request Number Two: If you have an aquaponics system that you built from our plans, and are having any difficulty at all with it, please email us and let us know, with photos, so we can help you get it back on track. We have always offered free email support with our Family System or Commercial System DIY packages, and now make the same offer with our Aquaponic Solar Greenhouse DIY packages!
We will send everyone who replies to this request a free copy of the new "Safe and Effective Pest Control For Aquaponics Systems", that Susanne recently finished.

If you want to earn a living from aquaponics, we have three trainings scheduled in the balance of 2012:
Training 1: In Hawaii, August 26th to September 1st. Our Aquaponics Technology Training, plus the Solar Greenhouse Training, plus the Commercial Aquaponics Training. Attend one or more trainings to suit your needs. More information on those trainings on our webpage here.

Training 2: In Tennesee, the same six days of training from September 16th to the 22nd at Randy and Katy Campbell's farm, Ellibell Farm, in Elora, Tennesee. You can sign up now for these trainings on our webpage here. You can also call Randy directly at 256-679-9488, or email Randy for information.

Training 3: The same six days of training, October 21st to the 27th in Hawaii.

If you're interested in our Solar Greenhouse technology,
please take a look at our
Aquaponic Solar Greenhouse Training
(Special Offer in right sidebar of this email), where you will learn more about how to grow affordably using aquaponics in greenhouses than you can anywhere else in the world. The next training is in Hawaii in August 2012 and in Tennessee in September 2012. For smaller home backyard and apartment systems, please read on:

Purchase Construction Plans and Operating Info for 4 Different Sizes of Apartment/Condo Aquaponics Systems $49.95
Our Apartment/Condo System package includes new and easy-to-understand building instructions and complete operating information for 4 different sizes of small aquaponic systems based on our years of experience operating a commercial aquaponics farm. Anyone can build a system out of plastic barrels or IBC totes, but operating one successfully without good
and
easily-understood information can be frustrating. You simply use the "Daily O
perations Checklist" in the manual and follow the step-by-step
instructions on your way to success. We also cover how to make aquaponics systems out of weird things like old refrigerators and door frames; this makes aquaponics
much more
economical to get started in!
We spent hundreds of thousands of dollars, hundreds of hours, and built our first commercial aquaponics systems with FAR less information than this manual contains. We included all the information learned from that experience in this manual so you don't need to make any of the same mistakes we did.

Aquaponics Nugget #86, Pumps That DON'T Pump!


Every aquaponics system has a water pump of some kind. If it's an electric pump, efficiency is a big concern because they usually run 24/7, and even a small inefficiency in electrical consumption can run into tens or even hundreds of dollars of difference over the course of a year.

For example, in our large commercial aquaponics systems, we use a particularly efficient low-head, high-volume pump that consumes 170 watts and costs $484. Right next to it, in the same catalog, is a pump that uses roughly the same amount of electricity, but only costs half as much: $297. The problem with this is that it only pumps half as much water. There's yet another pump that also costs about $300, and pumps the same amount of water as our pump, but uses twice the amount of electricity. Now, our pump uses $655.45 worth of electricity a year, so you can imagine how unhappy we'd be with a pump that cost double that!

We're also unhappy about anything that reduces the efficiency of our pumps and makes them pump less water. We covered how to build and install filters to keep your pumps clean and running in our June 9th, 2012 newsletter, but there is some stuff that will make its way through even a good filter.

Here's how to tell you have a problem before it costs you in decreased growth and production: you need to have your pump outflow above the water wherever it discharges so you can see and notice when there's any decrease in the amount of water flow. When you pass by while working in your system, just compare what's coming out of that pipe now with your mental image of how it looked when you first installed it.

If you notice a decreased flow, there's some crud somewhere. The first place to look is on the filter itself: it can pick up grass that got thrown into the system by a weedwacker, plant roots, plant tags, and all kinds of other rubbish, until its surface becomes so covered with stuff that the pump simply collapses the filter onto itself. If the filter is clean, then the second possibility we check is to see if the pump has crud inside it. Although these pumps have large pipe fittings going in and out (1-1/2 inch in our case), the impeller inside the pump often has openings as small as a quarter inch by a half inch, which easily clog with smaller stuff (see photo next).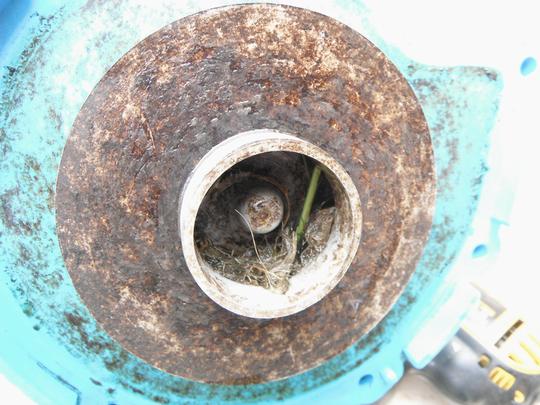 Photo shows composite pump impeller with fibrous crud stuck on the suction side of the impeller.

So if we've got a clean intake filter, and we've pulled the pump apart and checked the impeller, to find it clean and clear of debris; then the only possibility left is that the line up to the pump discharge into your aquaponics is clogged with crud. This is when you wish you had put in cleanouts when you plumbed it originally, or even used a size larger pipe to make it less likely to clog and easier to clean out when it does. Does that all make sense?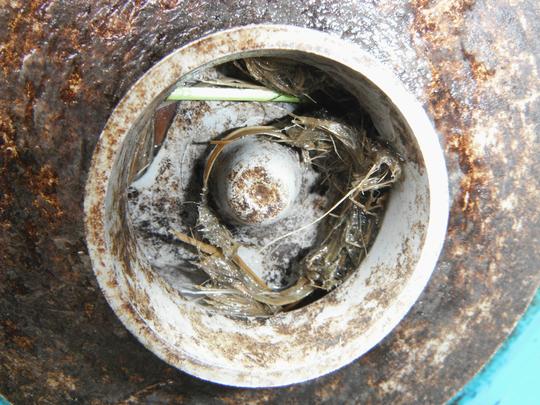 A close-up of that clogged pump impeller, on the intake side of the impeller. The fibrous junk might decay after a while and clear the pump, but maybe you'd just get more gungus coming down the intake to make the situation worse! Clean it out as soon as you notice a problem!

What are "cleanouts"? They are fittings in your PVC plumbing that you can unscrew and put a "snake" inside (that's a plumbing term for a long, flexible wire that can unclog drains) to clean out the entire length of pipe. You can usually get an inexpensive 25-foot snake for under $50, and if you have had the foresight to put in cleanouts (or if you can dig up your ditch and put one in now!) then you can solve the problem without too much difficulty.

One thing to not bother trying is to blow the clog out of the pipe with compressed air. The compressed air will simply go through a small hole in the area of the clog without affecting it at all! And how did we know this? :)

The best definition of "aquaponics" I've ever heard goes like this: "Aquaponics is gluing PVC pipe in a muddy ditch in the rain!".
The photo below is our Solar Greenhouse. It's cool when it's hot, and warm when it's cold (hope that makes sense to you, it's the best greenhouse we've ever seen!)
.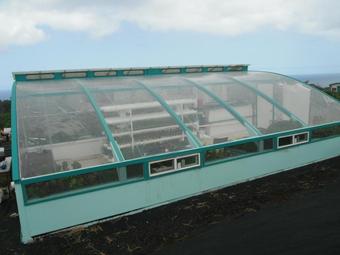 Friendly Aquaponic's FIRST Aquaponic Solar Greenhouse in full bloom, Honoka'a, Hawaii, March 2012, (on a grey rainy day) showing PV panels, and growing plants.
Next week: Something interesting and valuable to know about aquaponics. Thanks for listening!
Click Here To See Our New Aquaponics Video!
.......................................................
Back Issues Of Newsletters Now Available, Click Here!
.............................................


Purchase Trough Liner Directly From Manufacturer!

Free Farm Tours

..............................................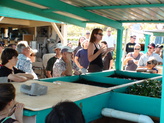 Aquaponics tour at the Friendly farm!
We hold a free workshop on our farm the FIRST Saturday of every month, focused on growing food with aquaponics and permaculture.
Click here
for information. See you there!
If you are a school, a non-profit organization, an organization working with the poor, Native Hawaiians, or ex-inmates, or if you are a church, we will hold a free farm tour for you anytime. You DO need to email us first to schedule, or we might be out on errands!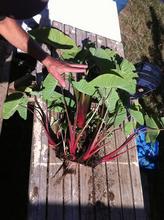 3-1/2 pound kalo (taro root) grown in a 2" net pot (little bump at bottom)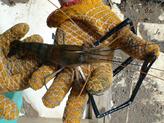 4-month old prawn (macrobrachium rosenbergii) grown in hydroponics troughs of our aquaponics systems
Special Offer!

Sign up for our HAWAII August 30-31st
Aquaponic Solar Greenhouse Training

or our


HAWAII August 26-28 Aquaponics Technology Training

,

or our
TENNESSEE September 20-21
Aquaponic Solar Greenhouse Training

or our


TENNESSEE September 16-18th Aquaponics Technology Training

,
and receive a free Micro System DIY package so you can begin studying aquaponics! ($99.95 value)
More Information on Hawaii Aquaponic Solar Greenhouse Training
"The Fish's View"

This is a fish story from 1976, when I was sailing my 37-foot cutter "Spice" in the Marquesas Islands (down near Tahiti). I had made a plan with some friends on another cruising boat to meet them in a small bay on the North side of the island of Nuku Hiva.

They'd left Taiohae bay earlier in the day, and I'd stayed to finish some maintenance jobs on my boat. I got done later than I'd expected to, hauled anchor and set sail for the north side. I had put out four trolling lines as soon as I'd cleared Taiohae harbor, but hadn't had a single strike in about an hour and a half of sailing.

As I made my way around the western end of the island and turned north, I watched my lines and wham! One of them went off, the bungie cord stretching all the way out to its full length of six feet. This meant that there was a big fish on, and I sheeted out and put the boat on her windvane self-steering so I could go pull the fish in.

I pulled in a nice 50-pound yellowfin tuna, what was called locally "kahi", and put it in a net bag. I then put out the trolling lines again, and got headed in the right direction.

Just as we were passing around the north-western tip of the island, the wind, which was blowing straight towards the towering 500-foot black stone cliffs that came right down into the sea, switched and came FROM the cliff for a minute or two. It swirled around the boat, throwing us aback, with the sails pressed against the rigging and mast.

The wind wasn't very strong, and we were VERY close to the cliff, so (just a little scared!) I jumped down below and started my little hand-cranked 6-hp diesel engine to get us straightened out and go in the right direction.

In my little time below, though, we'd gotten a gust of wind that had swirled the boat around, and as soon as I started the engine, the prop sucked in a couple of the trolling lines and the engine stopped dead with the lines wound around the prop shaft. Now I was really scared!

I looked at the wind, saw that it was gusty and shifting from moment to moment. I saw the cliff, only about 200 feet away now, and realized that I was at a critical juncture. So I sheeted the sails all the way out (loose), dropped the boarding ladder off the stern, and dove over the side with a razor sharp butcher's knife in my hand.

The whole time up til now I had kept my lifeline harness and lifeline on, to keep me with the boat, but now having a webbing harness and line on me could be the one thing that caught on a rudder gudgeon or the prop itself and drowned me. So I dove over without any lifeline on.

I went straight under the boat, and sawed about half the lines off the prop with my first breath. I had to come up to take another, then went down again. There was a confused sea off the point, and although the boat wasn't moving through the water much, or at all, she was bouncing up and down three or four feet on the stern and trying to bash my head in with the rudder and propshaft. When I went under and grabbed the propshaft as a solid point to work from, I was jerked violently up and down underwater about every four to five seconds, which was the period of the waves.

I went down a second time, got a death grip on the propshaft, and just barely sawed the rest of the lines off the shaft before running out of air. Swam to the boarding ladder, faced a quandary: How do I climb this thing with one hand holding onto a knife? Jammed the knife in between my teeth like a buccaneer, latched onto the ladder like it was my savior (it was!), and made it up the three rungs in about three tenths of a second!

The engine had never sounded sweeter when it cranked over and sucked me and my boat away from the towering stone cliffs. I sailed into the bay without seeing a sign of my friends; kind of feeling my way because by now it was pitch black, and there were no boats, no lights on shore, and no moon out. When I got the boat anchored and collapsed into my bunk, I totally forgot about the beautiful ahi I caught, and had to salt-dry it the next day instead of eat it fresh. But I still had a boat!