Aloha Friend
In today's "Nugget", we continue with Part 5 of our series on
"Energy-Efficient Greenhouses For Aquaponic Growing"
. If you want to learn how to do this instead of just read about it, we have trainings scheduled for Tennessee in September of 2013 (see bottom of this column, and right sidebar).

Our "In The Farmily" column today
is the continuing story of Bird and Boob, two feathered members of the Farmily that came along before I even knew there was going to
be
a Farmily.
Aquaponics Nugget #139, Part 5: Energy-Efficient Greenhouses For Aquaponics

(If you got started late, you might like to read back newsletter #1, back newsletter #2, back newsletter #3 , and back newsletter #4 of this series to catch up before continuing!).

Energy Efficient Heating:
A critical part of understanding this concept is to understand what we mean by energy efficiency. "Energy efficient" does not just mean "burns less heating oil or propane" for the same amount of heat; it means looking in entirely different directions for efficient, renewable, sustainable sources of heat. Can you think of one? I can.
There's a huge, nuclear fusion furnace accessible to everyone, whether or not they pay the utility bill: the sun! One of our students, when asked if he was planning on using solar heating inside his greenhouse in the winter, said to me: "It's too much bother". This surprised me for a moment, until I asked why not. You see, he had a natural gas well on his property, and for him, that was a virtually renewable resource. But most of us don't have gas wells. And they do go dry eventually. As I understand it, we've got about 10 million more years to go on the sun, so using it's a good bet.
(Below) Our nuclear fusion furnace (top left). We're not greedy; we share this dependable source of heat and light with ALL our neighbors!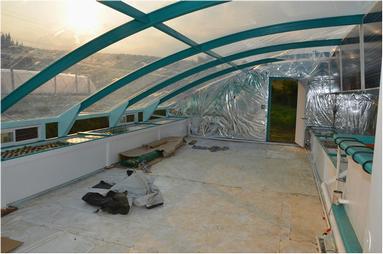 And it's cheap! You can capture the sun's energy and put it into heating the water in your aquaponic system inside your greenhouse using very simple and inexpensive equipment. Now you may be thinking about cloudy days, and how a solar heater doesn't work on cloudy days. Two things: first, there's often a lot more sun on a cloudy day than you might imagine; and usually enough to provide plenty of heat if you have adequate heating panel area.

Two, there's so much "thermal mass" in your aquaponic system water that your system can easily make it through two or three really cloudy days without needing to turn on a mechanical heater of any kind (I mean the kind that burns something).
First, WHY are we heating the water instead of the air? Heating the air inside an aquaponic greenhouse only SLIGHTLY heats the water; because the water picks up the heat VERY slowly from the air, and most of the heat radiates out through the greenhouse skin and walls. If your greenhouse is set up this way, you have this inherently inefficient ongoing cycle of spending a LOT of energy to only slightly heat the aquaponics water. So let's forget trying to heat and cool the air; we've got aquaponics water as thermal mass, and we don't need to waste our time and money on ancient and inefficient energy-intensive technology.
We heat and cool the water in our greenhouse because it functions very well as a thermal mass, retaining the heat or the cold, which is what we want. Also, just as heat or cooling transfers VERY slowly from the greenhouse AIR to the aquaponics water, the aquaponics water loses heat and cooling VERY slowly in the other direction: to the greenhouse air. When our heating and cooling energy expenditure is put into the water, it goes a lot farther because we're not losing the energy almost immediately to the environment the way we are when we heat or cool the air alone.
So, let's pretend it's wintertime and we're going to heat the water. This is easy to do: we just install a couple of solar water heater panels up high in the north side of the greenhouse somewhere (Northern hemisphere) so they don't block any light coming into the greenhouse, and install a small Grundfos hot water circulation pump to pump the heated water from the solar water heater(s) through a heat exchanger inside the fish tank or inside a separate tank that the aquaponics water passes through prior to going to the fish tank.

(Below) A typical 4-foot by 8-foot solar water heater panel showing plumbing connections, black color to absorb lots of heat, and thermal glass (to keep the heat inside the glass).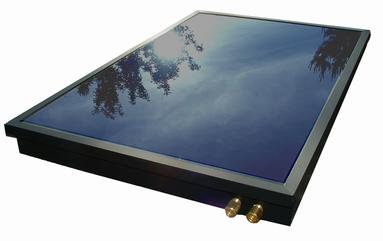 What's a heat exchanger? It's a coil of stainless steel tubing (or pipe) or Pex plastic food-grade tubing that is immersed in the fish tank or prior tank, that the hot water from the solar water heater circulates through and thereby transfers its heat to the aquaponics water.
Why do we need to use a heat exchanger? Why can't we just put the aquaponics water directly through the solar water heater(s)? First, the aquaponics water is full of crud (technical term), and could foul the small diameter tubing commonly used in solar water heaters, and that is a concern. The bigger problem is that the solar water heaters are commonly made with copper tubing, which in the presence of the highly oxygenated aquaponic system water develops and releases cuprous oxide (which is a toxin to both plants and fish) into the aquaponics system. Galvanized pipe, which is covered with zinc, which is also toxic, also cannot be used for this reason. DO NOT USE copper or galvanized pipe anywhere in your aquaponic system water circulation!
Those of you who know about plastic "solar swimming pool heaters" will say "let's just run the aquaponics water through one of those to heat it, instead of all this heat exchanger complication, because they're cheap!". You will STILL have the crud problem, and these plastic heaters are notorious for developing leaks after a relatively short time. Also, depending on the composition of the plastic, you may be leaching a toxic plastic compound into your aquaponic water. We can't recommend them.
The heat exchanger tubing in the fish tank or other tank MUST be stainless steel or Pex, because copper pipe will oxidize and transfer cuprous oxide (deadly to fish and aquatic plants) to the aquaponic water; and galvanized steel pipe will do the same with the zinc coating on the outside of the pipe.
Hook your heat exchanger coil up with some valves to your Grundfos circulation pump and to your solar water heater, and insulate the above-ground sections with standard copper pipe insulation so you don't lose heat to the environment.
Your heating AND cooling systems use the same pump; the valves are so you can switch the pump over to pump water down through the pipes in your geothermal cooling trench (covered next) for cooling or up through the solar water heater panels for heating. Now, when you circulate the hot water from the solar water heater through the heat exchanger in the fish tank, it gives up its heat to the aquaponics water, and your all-important thermal mass gets warmer.
(Below) A Grundfos 3-speed circulating pump such as we use for circulating water in our solar heating units and geothermal cooling units.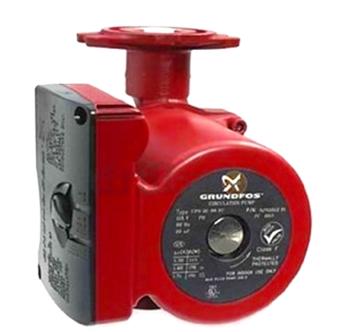 The Grundfos pumps we're speaking of are very energy-efficient, usually running at 25 to 150 watts energy use; they're the only ACTIVE use of energy in this whole heating-and-cooling-system. No huge fans, no huge energy-sucking air-conditioning units or propane-gulping heating units. Just a quiet little pump pumping away, giving you low-cost access to the heating and cooling energy that Nature provides us with everywhere in the world.
(Below) A Chinese-style greenhouse, complete with roll-down straw insulating mat to keep daytime warmth inside at nighttime. The small entrance building serves as an "air lock" keeping the warmth inside, as well as storage for tools and supplies.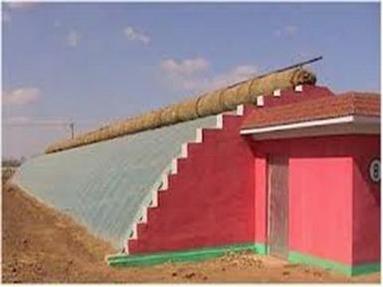 (Next newsletter in this series will cover energy-efficient heating, the next will cover cooling, and the next will cover thermal mass. Most important for those of you who are "lightly funded", a bit later in this series we will explain how to purchase and erect your own energy efficient greenhouse for pennies on the dollar, even if you never purchase any of our offerings! Thanks for listening!)

For smaller home backyard and apartment systems, please read on: