Aquaponics Nugget #69:
A Primer On Sustainable Energy-Efficient Greenhouses, Part 9
This column is an ongoing series on how to understand, build, and operate energy-efficient greenhouses. If you missed the previous newsletters in this series, you can click here:
"Back Issues Of Newsletters"
to read them first, because understanding all the concepts previously presented is essential to understanding how the Aquaponic Solar Greenhouse works.
In the last "Nugget" in this series
(
in our newsletter #68
)
, we discussed how to provide backup heating for the aquaponics water in our greenhouse in the winter when there's a prolonged period of no sun so that the solar water heater that normally heats the greenhouse water doesn't provide any heat.
If you read our
newsletter #67
, you'll remember we cooled the aquaponics water in the summertime with underground geothermal coolers; with the water circulating through them provided by an economical small electric pump.This cooling system depends on geothermal cooling coils, which are installed from four to six feet underground, where the temperature (in most locations) is more or less constant, AND, depending on your location, will be from 45 to 70 degrees Fahrenheit.
In addition to the geothermal cooling system in your aquaponic solar greenhouse, which cools the water in your aquaponics system, you may also have installed
energy-efficient exhaust fan
s to move hot air out of your greenhouse; you may also have installed
Aluminet or another type of shade cloth
that will block and/or reflect the sun's rays, resulting in less heat transmitted to the inside of your greenhouse; and if you are located in a non-humid location, you may also have installed a
water wall (AKA swamp cooler)
, that offers additional cooling through the principle of evaporation. These are all energy-efficient methods of cooling, but the water wall only works in non-humid areas because the evaporative process works less and less well as humidity increases. Greenhouses located in Hawaii or Florida, for example, would be poor candidates for using water walls effectively.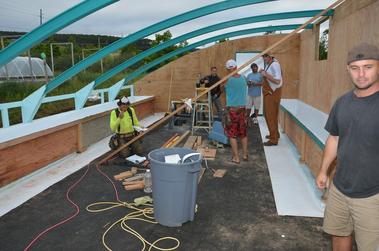 The Friendly farm's current crew of interns in the Aquaponic Solar Greenhouse, with Tim (in yellow shirt) writing something on his clipboard (his BRAIN, LOL!).
\
So, what is an economical way to provide backup cooling when your main cooling system is a geothermal cooling system? Well, there really isn't one. You can burn something when you need heat, but it's difficult and involved to produce COLD by burning something. You can install a big three-phase air-conditioning system that uses electricity as if you own the hydroelectric company, but for most of us that's too expensive: the energy costs simply make the greenhouse too expensive to grow food in and make a profit from doing so. So, what can we do?
If your Solar Greenhouse is still too hot, after you've done all you can do in terms of
shading
(with Aluminet or some similar product in a roll-down curtain over the ETFE),
providing lots of ventilation
, using energy-efficient fans,
and utilizing a water wall
(if you're in a low-humidity area), and the interior is
still too hot
, then the only economical thing you can do is
expand
the capacity of your
geothermal cooling system
. It is the ONLY nearby energy-efficient source of cold, and so you just need to extract MORE of the cold to do the job.
There are a couple of ways to do this: if, when you built your geothermal system, you intelligently installed a LARGE size of tubing or pipe in your subterranean geothermal cooling ditch (and a LOT of it), you can simply put a larger size of circulation pump that brings more cool water through your heat exchanger. This will reduce the temperature immediately.
If you did not install a LOT of LARGE tubing in your LARGE geothermal cooling ditch in the first place, then you are up a creek, and simply need to dig another ditch and put a second set of tubing into this second ditch. If you have sized your tubing correctly, you should be able to hook your first geothermal system up to your second one in
parallel,
and install that larger size of circulation pump onto these parallel tubing circuits, and this will reduce your temperature immediately. However, this second option costs a LOT more! Because digging and refilling the ditch is a major cost, and a little more pipe doesn't cost that much, it's much simpler to be conservative and purchase a little more tubing than you think you need, and put it in the first ditch.
The worst that could happen is that you end up with
too much cooling
. This is easy to solve, because the circulation pumps we use for this system commonly come in 3-speeds, and if you have one of these 3-speed pumps, you can simply turn it down to a lower speed if you find you are over-cooling.
We'll deal with backup methods for keeping the greenhouse cool in the summer in next week's newsletter.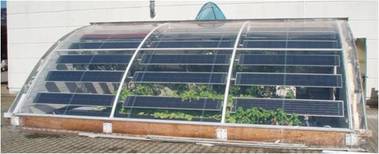 Franz Schreier's FIRST Aquaponic Solar Greenhouse in full bloom, Heppenheim, Germany, 2011, showing lamellae PV panels and growing plants!
(Next week: More on energy-efficient greenhouse technology, and how you can build your own! Thanks for listening!).