Aquaponics Nugget #62:
A Primer On Sustainable Energy-Efficient Greenhouses, Part 3
This column is an ongoing series on how to understand, build, and operate energy-efficient greenhouses. If you missed last week's newsletter, #61 (and the week's before, # 60), you can click here:
"Back Issues Of Newsletters"
to read them first if you wish.
We've been getting requests to purchase the ETFE film we use on the Aquaponic Solar Greenhouse that Asahi Glass Company of Japan makes. This film WILL be available for purchase at some point, and it is NOW if you order a large enough amount directly from Asahi. However, I MUST stress that the new Aquaponic Solar Greenhouse technology we've been speaking of in this newsletter is a SYSTEM.
This means that the
system
works and does its job because all its parts are designed to work together; it must HAVE all its parts to do so. If you just put some Asahi ETFE film on a regular greenhouse and then expect it to be warm in the winter and cool in the summer, ain't gonna happen!. However, doing this DOES mean you only have to re-cover the greenhouse every forty or fifty years, AND you will get WAY better light transmission and growth inside the greenhouse than with any regular film or even with GLASS!
So, if you act intelligently when building your greenhouse and decide to spend MORE money initially to purchase Asahi ETFE film to cover it with, I think that's a good decision. Yes, it costs MORE per square foot than conventional greenhouse film, but way LESS than glass, AND you DON'T have to replace it every two to three years with the attendant labor costs, AND it doesn't get dirty, which means it's transmitting MORE light all the time AND your plants grow much faster; what does THAT mean in income to you?
My guesstimate is that after all costs have been factored in, if you're planning on using your greenhouse longer than two to three years, ETFE film is actually
cheaper
than regular greenhouse film. It starts looking WAY cheaper if you look at the greenhouse costs and production over a ten-year period. If this was ALL we'd learned about when we met Franz Schreier, we'd still be covering our greenhouse with ETFE film because it would make us more money for less work, period. But there were many more valuable pieces in the
system
of Franz' design; which we will cover in depth, one-by-one, in future newsletters.
Now, let's talk about another part of this system: the structure. IF you don't already have a structure, AND you need to build one, AND live in the northern hemisphere above 20 degrees North latitude, OR in the southern hemisphere below 20 degrees South latitude, then the most energy-efficient and cost-effective type of structure for you to use is a Chinese-style greenhouse. This is because it is LOW profile and has minimum amounts both of interior volume to heat and cool, and exterior surface area to either lose or gain heat to the environment through.
Its sloped roof easily adapts to having a thermal "kilt", or insulating blanket, that easily rolls down at night to keep in warmth during cold times, then rolls up at first light to let in sunlight for the plants. (See image next:).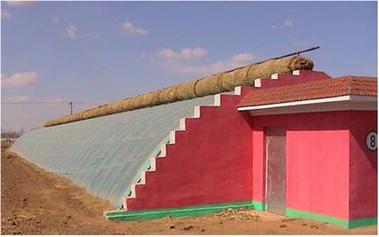 Chinese-type greenhouse, with long wall facing South in the Northern Hemisphere, end walls built out of masonry brick, and an "airlock-type" anteroom/entrance at this end for storage and to keep the temperature even inside.
Now, if you already have an existing greenhouse, you can still use all the energy-saving heating, cooling, and electricity-generation technologies we're going to cover in this column over the next few weeks, you'll just have to adapt the general principles expounded here to your structure. What does this mean? Well, let's assume you don't have a greenhouse yet, and you want to put together a usable structure at a reasonable cost. There aren't many Chinese greenhouse manufacturers in the United States, so we'll look at other options.
As we mentioned in a previous newsletter, conventionally heated and cooled greenhouses are dinosaurs, just waiting for their time to come. Many of them are already out of action because of rising fuel and electricity costs, and it is possible to purchase one of these for pennies on the dollar, disassemble it, and transport it to your location for reassembly and reconfiguration as an Aquaponic Solar Greenhouse! More on this in next week's Nugget!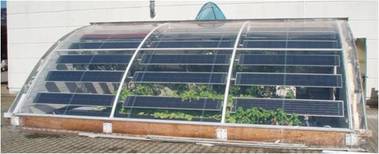 Franz Schreier's FIRST Aquaponic Solar Greenhouse in full bloom, Heppenheim, Germany, 2011, showing PV panels and growing plants!
(Next week: More on the Aquaponic Solar Greenhouse, and how you can build your own! Thanks for listening!).