Aloha Friend,
Today we give our Verticalis system to the world for free! A little over a year ago, we developed a vertical growing system that can hold up to 80 plants per square foot of greenhouse space, that can be built by amateurs from common, readily-available materials, and that will revolutionize growing in expensive spaces such as greenhouses and inside warehouses in the city, especially when artificial lighting is used. The Verticalis information starts just after the turquoise square in the middle of the newsletter.
Our "In The Farmily" column today, is by Tim, a funny little story about sailing.

We will continue our two complementary regular columns soon (they are covering why the combination of aquaponics and energy-efficient greenhouses is an excellent solution to many of the worlds problems today), but wanted to get the Verticalis information out into the world so you could benefit from it (this is down below the turquoise band in the middle of the newsletter).

One-day New York Benefit Training: Saturday, June 8th: TableTop and Backyard Systems (this is a BENEFIT, by donation). Registration will open soon!

New York Training; June 10-14 (Monday thru Friday) , the 5-day Commercial Aquaponics and Energy Efficient Greenhouse Training, $1,495 per person (this special $1,000 off discount only applies until April 25th).
Click here to register for the New York Training!

Click here to find out more about the New York Training!

Tennessee Commercial Aquaponics and Energy Efficient Greenhouse Training, $1,495 per person (this special $1,000 off discount only applies until April 15th). First 5-day training: June 17-21st (register here for first Tennessee training). . Second 5-day training: June 24-28th (register here for Tennessee second training).

(Click here for more information on Tennessee trainings).

These five-day trainings allow you to travel during the weekend so that you only need to take a week off your busy life to attend.
All of these five-day trainings include
our $999 DIY Commercial Aquaponics package, $998 DIY Farmer's Market Aquaponic Solar Greenhouse package, $1,998 DIY Commercial Aquaponic Solar Greenhouse package, and new $295 DIY Commercial Tilapia Hatchery manual as course materials, plus our Plywood/Epoxy/ Tank manual, CAD construction drawings for all greenhouses and aquaponics systems, and much more!
If you're located near Tennessee
, Randy and Katie give regular free farm tours of their aquaponics systems and greenhouses to introduce the public to the benefits of aquaponics and energy-efficient greenhouse growing.
Call Randy and Katie at 256-679-9488
or
email Randy
to find out when the next farm tour is scheduled.
More details of the Aquaponics Technology course here.
More details of the Aquaponic Solar Greenhouse course here.
More details of the Commercial Aquaponics course here.
For smaller home backyard and apartment systems, please read on:

!
Purchase Construction Plans and Operating Info for 4 Different Sizes of Table Top Aquaponics Systems $49.95
Our TableTop System package includes easy-to-understand building instructions and operating information for 4 different sizes of small aquaponic systems based on our years of experience. Anyone can build a system out of plastic barrels or IBC totes, but operating one successfully without good
and
easily-understood information can be frustrating. You simply use the "Daily O
perations Checklist" in the manual and follow the step-by-step
instructions on your way to success. We also cover how to make aquaponics systems out of weird things like old refrigerators and door frames; this makes aquaponics
much more
economical to get started in, and fun too!
We spent hundreds of thousands of dollars, hundreds of hours, and built our first commercial aquaponics systems with FAR less information than this manual contains. We included all the information learned from that experience in this manual so you don't need to make any of the same mistakes we did.

The Amicus Verticalis, Or Friendly Verticals, Part 1:

We invented something good. What people usually do next is try to patent it (yes! money!), then hang onto it for dear life. Having been a patent draftsman for a time, I unfortunately know all too much about how patents work: you spend more money than you can afford paying a patent attorney and paying the draftsman (we're not cheap!), and then what do you get?

Do you get rich? NO! You get to defend your patent in court, sometimes for years, against the well-funded corporation that decided it was cheaper to steal it and litigate than to purchase the rights to your invention. Whoever has the largest legal fund wins!

However, there's a very simple way around this problem: don't patent it! The good news is that if you publicly expose your invention to the world broadly enough, no one else can patent it either. This is because they have to demonstrate to the Patent Office that they are actually the ones that got the idea, and they didn't just take it from what's called the "public domain" and claim authorship of it. You can't claim patent rights to the "bicycle", or the "washing machine" for example, because they're in the public domain.

If we'd tried to keep it secret this whole time, someone would have stolen it, because it's such a good idea! But the Verticalis has been in all our live trainings for over a year now, and in our Commercial DIY manual since January. It's published in so many locations that it's impossible for anyone else to claim authorship of it. It's a "public domain" piece of information now.

So, we're going to give you the entire "Verticalis" section from our $995 DIY Commercial Aquaponics package. But get ready: this is a lot of information, and will be several newsletter's worth. (section follows:)

D. The Friendly Verticals (Amicus Verticalis), A High-Capacity, Low-Cost, Energy-Efficient Indoors Vertical Growing System
1. Development Of The Verticalis

We started the design process for the Friendly Vertical System by asking ourselves what was wrong with the available methods for growing aquaponically inside greenhouses and inside buildings (numbers A through E). Here's a list of what we came up with, with the positive features of those methods also included; you'll see why in a bit:
A. Our standard deep water raft method uses a lot of space, and space is expensive inside any greenhouse. However, the amount of water in the troughs and fish tank makes a good thermal mass, and the troughs can be used to "anchor" a relatively lightweight and inexpensive building such as a hoop house without the need for expensive and involved concrete foundations. However, our raft systems still hold far more plants per square foot than conventional greenhouse "Dutch Bucket" systems, raised beds, or media tables.
B. Nutrient Film Technology (NFT) troughs have a very small volume of water inside a trough with a lot of surface area, and are thus prone to having the water heat up and damage or kill the plants. This especially can occur if there is a clog in the water delivery system that cuts off new, cool water to the plants in the troughs. Thus, they work best in greenhouses where the temperature and humidity is tightly controlled (and this costs a lot!). However, they do put a lot of plants into a small space.
C. Conventional vertical growing systems such as the Foodie and Vertigro (both patented, trademarked systems, which we refer to here only for purposes of comparison), put a lot of plants in their containers, but also require a lot of additional space between vertical stacks of containers for humans to plant and harvest the crops, and additionally so that each stack gets enough light. If one stack cuts off the light to the next because they are too close, then the plants in the "cut-off" stack will grow poorly or not at all. The result of this required spacing is an actual "occupied floor space" density of 3 to 5 plants per square foot of greenhouse floor area.
Our raft systems do better than that at 5-7 plants per square foot of greenhouse floor area (this includes the plants in the high-density sprouting table areas, and the high-density nursery area with their 55-hole 2X2 rafts), and cost far less, since you can build them yourself instead of having to buy them from the manufacturer. There is no "however" here: because we couldn't find any benefits whatsoever to using these patented vertical systems, we knew verticals had to look and perform differently than these did: we knew there must be a better way to do verticals!

D. Media-based systems suffer from a fatal flaw when used inside a greenhouse that needs thermal mass to stay cool or warm: these systems don't work well as a thermal mass because they expose the media and the plant roots to the greenhouse air on every single flood-and-drain cycle. This cools the media and plants down when you want to keep them warm, and warms them up when you want to keep them cool. There was no "however" about media based systems; they simply had no discernible features that were benefits when used inside greenhouses.
E. We are lucky to live in a place with a lot of natural sunshine; but even so, there are seasons of the year, and certain types of weather, in which we experience very poor growth in our crops because the amount of natural light is inadequate for good growth. In inclement weather, northern climates, and places with not very much ambient light, we knew there must be a way to efficiently employ artificial lighting so that you got a lot of bang for your buck.

We looked at conventional artificial lighting systems, with their sodium-vapor and metal halide lights; we also assessed LED lighting possibilities. All of these dispersed light all over a large space, not just down onto the plants. Thus, the operator was paying for lots of light that was not actually going to the plants.

Some of these lights were also very hot when operating, and in any kind of summer weather presented a large additional problem to dispose of the excess heat they would generate inside the greenhouse or building. However, when we looked at T8 fluorescent lights, we found a light that was energy-efficient, inexpensive to purchase, runs quite cool, and was just the right shape to use with our vertical design (I'll wrap this all up in the next newsletter, sorry, but you'll just have to wait!).
The photo below is our Second Generation Solar Greenhouse, at ten in the morning in the Tennessee winter. It's growing plants inside right now, and you have to take your jacket off because it's so warm! It's cool when it's hot, and warm when it's cold (hope that makes sense to you, it's the best greenhouse we've ever seen!).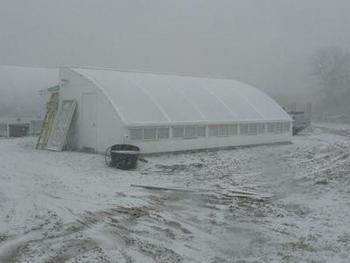 Watch The Friendly Aquaponics Philosophy Video!
.......................................................
Back Issues Of Newsletters Now Available, Click Here!
.............................................
Purchase Trough Liner Directly From Manufacturer!
New Source! Trout Fry/Fingerlings Shipped Directly From the Hatchery To You!
Free Farm Tours
..............................................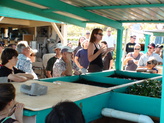 Aquaponics tour at the Friendly farm!
We hold a free workshop on our farm the FIRST Saturday of every month at 10:00, focused on growing food with aquaponics and permaculture.
Click here
for information. See you there!
If you are a school, a non-profit organization, an organization working with the poor, Native Hawaiians, or ex-inmates, or if you are a church, we will hold a free farm tour for you anytime. You DO need to email us first to schedule, or we might be out on errands!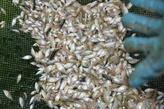 Thousands of inch-long "fifty-cent" baby tilapia from our "backyard" hatchery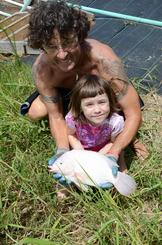 What they turn into about a year later: a beautiful 2-pound white tilapia grown in the fish tanks of our aquaponics systems
Sign yourself up!



for the New York June 10-14th, 2013 Commercial

Aquaponics and Solar Greenhouse Training

NOW, and get a $1,000 discount, plus you receive a free Micro System DIY package so you can begin studying aquaponics! ($99.95 value)


ORSign yourself up for the FIRST

Or sign yourself up for the SECOND


TENNESSEE June 2013 Commercial

Aquaponics and Solar Greenhouse Training

s

NOW, and get a $1,000 discount, plus you receive a free Micro System DIY package so you can begin studying aquaponics! ($99.95 value)



Half Moon Bay Sleigh Ride:
My wife Susanne is fond of telling me; "You're NOT a nice man!". I was probably always not a nice guy; once I took some friends of mine sailing for fun. You will think this might be a nice thing to do, but it will make more sense when you hear the story.

Back in 1974, I was 22 and had three friends: Bert, Tom, and Bruce. I had my own SeaRunner 37, which was a cutter-rigged trimaran; a classy world-cruising sailboat. Bert and Bruce were building their own SeaRunner 37's in their suburban backyards, dreaming of the day they would be wild and free (from their 9 to 5 jobs), and crusing the South Pacific.

Tom had a 35-foot Piver Lodestar, which was a decent small cruising trimaran, up in San Francisco Bay, but he had never taken her out the Gate (The Golden Gate Bridge, as sailors refer to it), into the ocean.
They all wanted a taste of the sea during "real" sailing conditions. I'd been sailing my boat for 4 years at the time, and had been through all kinds of "real" sea situations, so I agreed to take them out on a reasonably rough day so they could experience it too.

Spice was moored at the time in Pillar Point Harbor at the north end of Half Moon Bay in California, and I was running my sailmaking company over the hill in Burlingame.
We waited a couple of weeks for "appropriate" weather, then one Saturday, the weather was perfect: the Coast Guard weather advisories on the radio said the wind was 40 to 45 knots and gusting, and the seas 15 to 18 feet.

We rowed out to Spice in shifts, as even the small waves in the harbor threatened to swamp my little 10-foot dinghy with more than two people in it. We were all wearing foul weather gear, of course, because even though it wasn't raining, the spray from the surface of the harbor was driving horizontally in the wind.
We double-reefed the mainsail and put it up, and raised the staysail; dropped the mooring, and we were off! We went screaming downwind through the crowded anchorage inside the harbor, heading for the harbor entrance.

Everything was fine, because although it was windy, we were still inside the harbor in relatively flat water. Also, we were going downwind at ten knots in 40 knots of wind, so the "apparent" wind speed (the wind speed we actually felt on the boat) was only 30 knots. More on this in a minute!
It got a little rougher when we exited the harbor, but for the first half mile until we turned upwind at the outside bouy, there was a sheltering reef that broke the worst of the groundswell and prevented us from feeling it too much.
We turned upwind at the bouy, closehauled the boat and drove upwind for about an hour. That's just sailing talk for getting the crap bashed out of us and won't mean much if you haven't been there yourself; let me elaborate that a bit for the non-sailors in the audience. When we turned, we drove full into the force of that 40 to 45 knots of wind.

Since we were going upwind at 8 to 9 knots now, the boatspeed added to the wind speed so that we were feeling 50 to 53 knots of apparent wind on the boat. Try this sometime: it's the same as sticking your head out the window on the freeway at 60 miles an hour.
The boat was moving at 8 to 9 knots over the sea floor, but the ocean was also passing under the boat at twenty-five knots or so because there were these huge 15-18 foot high waves moving along at around 18-22 knots themselves (this is because the boat speed over the sea floor adds to the water speed moving the other direction), so our speed through the water was from 25 to 30 knots.

We would go rocketing along up a wave face that was 200 to 300 feet long, then, because we were going so fast, would literally "catch air" at the top when we made the transition to the next wave trough.

Sometimes the only thing left in the water for a second or so when the boat made the jump was the rudder. And we would fall down, seemingly endlessly, although it couldn't have been more than a second or so, to land with a mighty whumpfh in the next wave trough, still going 9 knots over the ground, still doing 30 knots through the water, spraying a huge splash of water everywhere.
(Part 2 next newsletter!)

Aloha, Tim.....