Aloha Friend,
As Pogo used to say "this week Friday the 13th come on a Thursday". If you don't know who Pogo is, you've missed one of the great political commentators of all time. If you know who Pogo is, well, I've really dated myself (but so have you!).
Big news for today is that our first ever Commercial Aquaponics Affiliate Training will be held in Florida from March 21st to March 24th, 2011.
The training will be held
at the Community Center of Ridge Manor, 34240 Cortez Blvd, Ridge Manor, Florida. Susanne Friend and Tim Mann of Friendly Aquaponics will be teaching this course along with Tonya Penick and Gina Cavaliero, who own and operate Green Acre Organics, the FIRST Friendly Aquaponics Affiliate
training center, where the hands-on sessions will be held. The conference room we're using only holds 120 participants, so registration will be on a first-come, first-served basis.
Because we've been working so hard to get the groundwork for this course laid, the aquaponics technical support forum that I (Tim) promised has slipped its deadlines AGAIN. So, I will re-re-make my promise (can that even be a word?):
The Friendly Aquaponics backyard technical support forum will be operating within a couple of weeks. Open to the public, it has a BASIC read-only section that is free, and covers subjects and questions applicable to ALL aquaponics systems. It also has a comprehensive commercial technical support forum with the ability to post questions to us (which will be answered within three business days). We are charging $29.95 per month for the commercial forum, with a discounted yearly subscription at $250.
The commercial support forum provides answers on fish and vegetable operation, system design and construction, farm design and construction, product processing, water quality, organic and food safety certifications, permits, and will be added to as users indicate areas of interest and problems they're having with their aquaponics systems. It is designed to be equally useful to users in commercial aquaponics whether you've built one of our systems, someone elses, or are designing your own.
If you're interested in commercial scale aquaponics, please take a look at both the
Hawaii and Florida Commercial Aquaponics Trainings
(Special Offer in right sidebar of this email), where you will learn more about real-world operation of a commercial aquaponics system than you can anywhere else in the world. For smaller home backyard and apartment systems, please read on:

Hands-on Live Micro System Trainings planned for Hawaii locations in February:
If you want to learn aquaponics easily and inexpensively, these Micro System trainings may be perfect for you. They show you how to build AND operate a stable, durable, and productive 64 OR 128 square foot backyard aquaponics system in two weekends for less than $900 (for the 64), or $1,200 (for the 128) worth of materials you can buy locally.
The training includes our standard Micro System manual and construction information ($99.95 value), plus six hours of hands-on instruction in building and operating these small affordable systems.
Anyone can build a system out of plastic barrels, but operating one successfully without good
and
easily-understood information such as included in this course and manual can be frustrating. Complete operating information, including troubleshooting, is given in the form of a "Daily O
perations Manual" where you simply use the checklist and follow the step-by-step
instructions on your way to success with aquaponics.
We spent hundreds of thousands of dollars, hundreds of hours, and built our first commercial aquaponics systems with FAR less information than this manual and training contains. We included all the information learned from spending that money and time in this course so you don't make any of the same mistakes we did.

These LIVE Micro System trainings are now available on the Big Island of Hawaii from two Friendly Aquaponics Affiliate trainers. John and June Greenfelder are giving Micro System trainings in the Hilo/Hamakua coast area; and Alexis and Chris Smith of Coastview Aquaponics are giving Micro System trainings in the Kona area. The Hamakua training is six hours and is scheduled for Saturday February 12th from 9 to 4; the Kona training is Saturday February 19 from 4 to 5 hours long, and begins at 12:15 pm. Susanne and Tim will be co-teaching both of these trainings with our affiliates.
To register for either of these trainings, just click on the links below or sign up for the Hamakua course by calling John and June at 962-0515; or the Kona course by calling Alexis and Chris at 325-7665.
Enroll in the February 12th Hamakua Micro System course

Enroll in the February 19th Kona Micro System course

Aquaponics Nugget #23:
Gammarus and Organic Aquaponics Systems (Part 2 )
What is an Organic Aquaponic System?
An organic aquaponic system is one that is USDA certified organic. The USDA certification is a well-defined standard that tells consumers produce has truly been grown using organically approved methods and materials. There is no guessing involved, as with systems that are "mostly organic", or with people who claim "aquaponics produces safe, organic fish and vegetables", but who never had one of their system designs certified organic.
This means your system must be constructed from materials that are on the OMRI (Organic Materials Research Institute) approved list. It must be operated with organically-approved pesticides, herbicides, and chemical amendments. The use of a single non-approved material or chemical in an aquaponics system is cause for non-certification.
For example, the excellent UVI aquaponics systems are not organically certifiable because calcium hydroxide and potassium hydroxide (both caustic chemicals that are on the OMRI not-approved list) are use to adjust system water pH; also because methyl testosterone (another OMRI no-no) is used to produce all-male sex-reversed tilapia to stock the system with.
Why bother to get certified organic?
The answer to this question can be found in the produce section of any grocery that carries both organic and non-organic produce: just look at the prices! You will notice that some organic produce costs twice as much as the same item that isn't organic. This price differential passes through to the farmer. A smart farmer realizes this is the easiest way to earn more for growing the same amount of produce: simply grow organically! Also, it just feels GOOD to produce vegetables and fish that you know contain NO harmful chemicals or residues.
Although it took six months and some major contortions to get our first aquaponics system certified organic, we make this process easy for others by teaching it in our Commercial Aquaponics Trainings. Since our first certification, we have gotten our aquaponics farm USDA Organic Certified both through Oregon Tilth of Oregon, AND through Organic Certifiers of California, two of the largest certifying agencies in the world.. They have said "As long as people build their systems exactly as Friendly Aquaponics has done, then their certification process will be a slam dunk.". Seven Friendly students have gotten their systems USDA organically certified as of October 2010.
An organic aquaponic system represents more than just certification. When the caustic chemicals and hormones are removed from the equation, these systems become fully balanced and dynamic aquatic ecosystems. Why is this a good thing? As any student of chaos theory or ecosystems will tell you, as systems become more complex and include a wider variety of organisms, they become more stable and can adapt to a wider variety of environmental conditions. This benefits the aquaponic farmer because it means that such a system is more resistant to disease and damage than a non-organic system.
This is borne out by our experience: In our three years of organic aquaponic operation we haven't had a single incident of fish or prawn disease, and the only plant disease we've experienced is the occasional case of downy mildew (due to damp climactic conditions).
There are other things besides non-approved chemicals and hormones, which, if introduced to an aquaponic system, can render it uncertifiable. Generally, these are items which can introduce bacteria such as
e. coli
or
salmonella
into your aquaponics system. A partial list of possible vectors of these bacteria would include but not be limited to: warm-blooded animal manures, compost, compost tea or brews, worms or worm castings, packing house waste, and any dirt, cinder, or potting mixture that was not ABSOLUTELY sterile.
If you decide to include any of these in your aquaponics system, be ready to jump some serious additional hurdles during the organic certification process. You'll have to convince the certifying agency that your methods are 100% safe using whatever methods they require you to use as a test of safety. This may be difficult or impossible to do, and certainly costly and time-consuming, so you should be certain that your proposed organic aquaponics technique or system is actually an improvement over currently certifiable systems; ie, it should lower operating costs, reduce labor required, improve production, or all three.
Friendly Aquaponics is doing ongoing research into approved organic additives and techniques for aquaponic systems in order to increase their production and operating efficiency. This is difficult because so many things that one COULD legally use (because they are organically approved), will sicken or kill your fish. For example, pepper sprays, oil sprays, and many organic soil treatments harm or kill the fish. One has to tread carefully, because the outcome of the experiment may be an expensive tank full of sick or dead fish.
(Next week: "
Gammarus
and Organic Aquaponics Systems" Part 3, including information on where to get
gammarus
and how to introduce them to your system).
Click to see our new Video!
............................................
Free Farm Tours

..............................................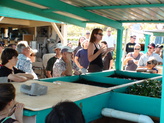 Aquaponics tour at the Friendly farm!
We hold a free farm tour on our farm the FIRST Saturday of every month, focused on growing food with aquaponics and permaculture. These tours start with a one-hour focus on aquaponics from 10-11 am, then we cover a permaculture topic from 11-12. Sample topics include: "How to grow"; bananas, sweet potatoes, taro, green onions, tomatoes, and so on. Each workshop will cover a different vegetable and include a handout with instructions covering that vegetable for you to take home.
Click here
for information. See you there!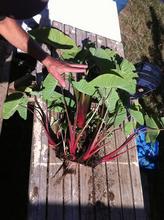 Taro grown in a 2" net pot (little bump at bottom)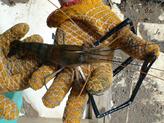 4-month old prawn (macrobrachium rosenbergii) grown in hydroponics troughs of our aquaponics systems
Special Offer!

Sign up for our April 4-7th, 2011 Hawaii Commercial Aquaponics Training OR our March 21-24th Florida Commercial Aquaponics Training now, and we will email you our Micro System package so you can begin studying aquaponics! ($99.95 value)



Sign up for Hawaii Commercial Aquaponics Training
Sign up for Florida Commercial Aquaponics Training
In
The Farmily

Working with the farmily harvesting today, I realized that
it was time to feed the fish. So, bucket of Rangen 1/8" floating catfish food in hand, I went around to the various tanks and fed everyone. This involves calling out "Hello, delicious fishes", and banging on the side of the tank with the scoop can. The fish actually start feeding behavior as soon as they hear the can, and sometimes even at "that time of day" when they hear a person's footsteps on the ground outside the tank.
There are seventeen different fish tanks on the farm, with inhabitants from 1" long up to 6 pounds in weight. The smallest biomass is in one of the nursery tanks, where we have a tank with about 2,000 1 to 1-1/2" long tilapia that hatched in November. This tank, of course, gets the smallest scoop of fish food.
The tank with the largest amount of biomass has about 1,000 fish with an average weight of 2-1/2 to 3 pounds. This is where the six-pounder lives! This tank gets 2/3 of a five-gallon bucket of fish food. And the other 15 tanks get everything in between.
I don't know them all by name, but once I tried to show one of the interns how much to feed each tank so he could take over the job of fedding the fish, and it was a total mess. Even with a map of all the tanks, and measurements of how much to feed each tank, it's difficult, because some days it's a little colder, or the fish were just moved from another tank, and you know they won't be eating much for a day or two. So this is very much a case of "the farmer's shadow". If you're out there with your aquaponics system every day, you will become intimate with its moods, its ins and outs, and come to understand its workings on a very sophisticated level.
Now, you could be wondering, "why is he going on about fish when this is supposed to be the "Farmily" column?". OK, think about that for a second: how well would the farm work if you removed the fish? And where would our Farmily be then? Good think, huh?
I was walking down the street the other day, feeling sorry for myself about some insignificant thing that had occurred that day, when I walked past a man with no legs getting out of a car into his wheelchair. This put it all into perspective. I was WALKING, and my whole day changed. I had forgotten to be appreciative of everything I have, and to remember and appreciate even the simple fact that I have legs.
This is why it's not hard for me to think about the fish as members of the Farmily. They are the foundation for everything else we do at the farm, and the whole Farmily. Maybe we should give them names, and get to know them better (all 11,234 of them!).