Aloha Friend,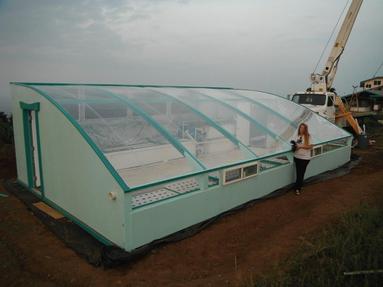 This is the Friendly Aquaponics Solar Greenhouse at the end of the day on January 26th, with the ETFE film installed. This was a major milestone for us; we were concerned that once we put the film on, it would get really hot inside. We debated waiting to install the film until the geothermal cooling system was complete and could be used to cool the aquaponic water, but finally decided to just put it on.

Even though we immediately had a spate of hot days following, the 2,000 gallons of aquaponics water in the greenhouse was 73 degrees F every morning, and only rose to 77 at its hottest at about 2 pm in the afternoons. As a comparison, our nearby outdoors aquaponic system #3, which has a HUGE thermal mass with its 30,000 gallons of water, was only 3 degrees cooler than this in the mornings.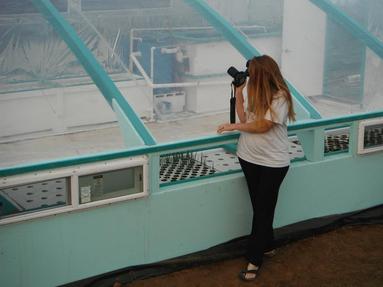 My gorgeous, intelligent, and talented wife Susanne "thonking" the ETFE film panel. It's quite tempting to slap it with the palm of your hand, or to snap it with the back of a finger, as it makes a satisfying "thonk" kind of noise. Just out of the picture at the top is the full-length compression strut I installed at the last minute the day before we installed the ETFE, because I was concerned we were going to collapse the end walls of the greenhouse when we stretched the ETFE.

Franz Schreier tried to tell me about this, but until we actually got the ETFE on site and I tried stretching a sample piece, I didn't have a good "feel" for how much tension could be put on it. Because it is a structural material quite unlike regular greenhouse poly coverings, it can sustain a much higher tension level, with corresponding high levels of stress imposed on the structure. Because of this, it can be stretched quite tightly, and as a result does not "flutter" and fatigue (wear out) like standard greenhouse poly film does (because standard poly CANNOT be stretched this tightly). Because of this quality, you can't just substitute ETFE for regular poly on a conventional greenhouse without undertaking to strengthen the greenhouse where necessary to support the strains imposed on it by installing the ETFE properly under correct tension.

If you simply try to cover an existing greenhouse with ETFE, and you stretch the film hard enough, you will simply crumple the greenhouse. Any structure that you install ETFE on must be able to withstand the increased tension this product is installed with, or you will be forced to do a loose, substandard installation that will lose you a lot of the potential benefits of the ETFE. This translates to a greenhouse with structural members that are relatively rigid in the directions that the ETFE will put strain on them.

We've extended the 50%
discount on ALL the February trainings for the entire registration period (until the courses start). The purpose of this is to make it as affordable as possible for as many as possible to attend these courses. If you've already registered, thank you for helping support this work.
If you're interested in learning about our new Solar Greenhouse technology,
please take a look at our
Aquaponic Solar Greenhouse Training
(Special Offer in right sidebar of this email), where you will learn more about how to grow affordably using aquaponics in greenhouses than you can anywhere else in the world. The FIRST training is in Hawaii in February 2012. For smaller home backyard and apartment systems, please read on:

Purchase Construction Plans and Operating Info for 4 Different Sizes of Apartment/Condo Aquaponics Systems $49.95
Our Apartment/Condo System package includes new and easy-to-understand building instructions and complete operating information for 4 different sizes of small aquaponic systems based on our years of experience operating a commercial aquaponics farm. Anyone can build a system out of plastic barrels or IBC totes, but operating one successfully without good
and
easily-understood information can be frustrating. You simply use the "Daily O
perations Checklist" in the manual and follow the step-by-step
instructions on your way to success. We also cover how to make aquaponics systems out of weird things like old refrigerators and door frames; this makes aquaponics
much more
economical to get started in!
We spent hundreds of thousands of dollars, hundreds of hours, and built our first commercial aquaponics systems with FAR less information than this manual contains. We included all the information learned from that experience in this manual so you don't need to make any of the same mistakes we did.

Aquaponics Nugget #71:
A Primer On Sustainable Energy-Efficient Greenhouses, Part 11
This column is an ongoing series on how to understand, build, and operate energy-efficient greenhouses. If you missed the previous newsletters in this series, you can click here:
"Back Issues Of Newsletters"
to read them first, because understanding all the concepts previously presented is essential to understanding how the Aquaponic Solar Greenhouse works.
In the last "Nugget" in this series
(
in our newsletter #70
)
, we discussed how to provide cooling and backup cooling for the aquaponics water in our greenhouse in the summer. This "Nugget" is mostly photos showing the installation of the geothermal cooling system on our Aquaponic Solar Greenhouse, the next newsletter's "Nugget" will explain the ditch, the parts of the geothermal cooling system and how they work in detail.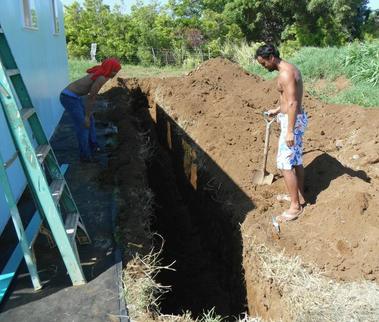 Two of the Friendly farm's current crew of interns
next to the six-foot deep geothermal ditch that a neighbor with a backhoe dug for us. They just cleaned out the loose rubble at the bottom left by the backhoe, and are getting ready to rake the bottom flat so it's ready for the next step: installation of the geothermal cooling plumbing.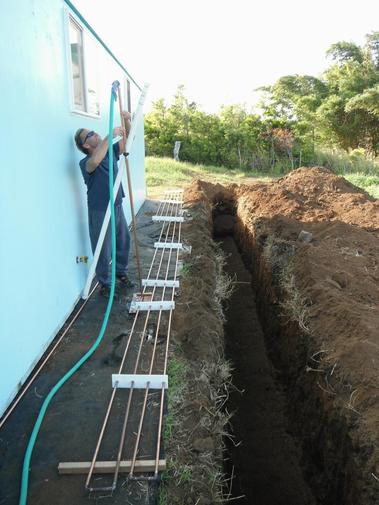 250 feet ofb 1/2" "L" copper pipe, being pressure tested before being lowered into the geothermal ditch and being buried. The 1/4" plastic collars are assembled onto the pipe before it's soldered together, and they hold the individual pipes at an appropriate distance so maximum cooling is achieved.
We'll talk about the photovoltaic system, charge controller, inverter, and cabling installation in next week's newsletter.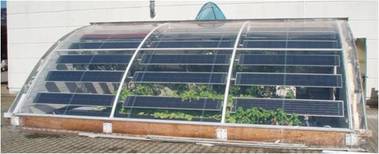 Franz Schreier's FIRST Aquaponic Solar Greenhouse in full bloom, Heppenheim, Germany, 2011, showing lamellae PV panels and growing plants!
Click Here To See Our New Aquaponics Video!
.......................................................
Back Issues Of Newsletters Now Available, Click Here!
.............................................


Purchase Trough Liner Directly From Manufacturer!


.......................................................


Free Farm Tours
We hold a free workshop on our farm the FIRST Saturday of every month, focused on growing food with aquaponics and permaculture.
Click here
for information. See you there!
If you are a school, a non-profit organization, an organization working with the poor, Native Hawaiians, or ex-inmates, or if you are a church, we will hold a free farm tour for you anytime. You DO need to email us first to schedule, or we might be out on errands!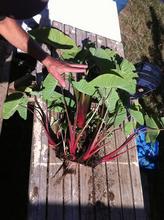 3-1/2 pound kalo (taro root) grown in a 2" net pot (little bump at bottom)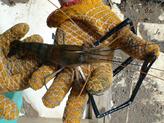 4-month old prawn (macrobrachium rosenbergii) grown in hydroponics troughs of our aquaponics systems
Special Offer!

We've decided to extend the 50% discount for our February 16th-17th

Aquaponic Solar Greenhouse Training

and ALL of our Aquaponics Trainings for the entire registration period, right up to when the courses start.

Sign up now, and receive the 50% discount, plus we will email you our Micro System package so you can begin studying aquaponics! ($99.95 value)

More Information on Hawaii Aquaponic Solar Greenhouse Training
In
The Farmily
Aloha All!
We have by far the most highly qualified interns that we have ever had, and I'd like to introduce them to you. It astounds me the level of participation they bring to our party. Here's a quick run down on our outstanding crew that's here now:
Katie: from Boston, arrived here "accidentally" in August of last year, and came back for a second term. The happiest person I have ever known, and willing to do the worst jobs with laughter and joy. Although only 19, she's running the crew, and gaining valuable management experience while here. Her plan is to take Aquaponics back to Boston, and provide fresh summer produce in the wintertime, with her own Aquaponics Solar Greenhouse. She's from a loving family, and we are so happy they're willing to share her with us
Mauricio: kind, loving, completely supportive, from San Diego. Has already run a small system, and wants to expand into Commercial operation in the greater San Diego area, in partnership with his cousin. Ultimate goal is to raise wet hops to provide to the Microbrewery folks in Southern California, who at present can only obtain dry hops, which are infinitely less desirable.
Jeff: also from the San Diego area. Grounded, incredibly hard worker. Strong, silent type. Loves the technical aspects of aquaponics, and stays as Tim's assistant long after everyone has drifted away, which Tim loves! Jeff eats standing up...I'm not sure what this means...Jeff?
Daniel: from Maui, already an accomplished dirt farmer, literally seven feet tall, and larger than life in everything. Uses amazing IMO (indigenous micro-organisms) and fermentation techniques that he is happily teaching us all. Did I mention he's actually 6'12" tall? Wonderful guy, and an amazing chef! Daniel also eats standing up. Hmmmm....perhaps it's because our kitchen is so small!
Jerry:
from the cold country of Denver, Colorado (b
rrr!), and he's enjoying Hawaii's distinct lack of snow. Jerry has this incredible vision to build a healthy, organic, fast-food alternative restaurant in Denver, sourcing his produce from his own aquaponics farm. Currently still bond trading, Jerry gets up at 2am, and then works all day in the Aquaponics. For obvious reasons, he's the one most interested in the Solar Greenhouse, and he's done almost every bit of the painting on it since he got here (usually my job, now his work clothes look like mine! THANK YOU, JERRY!) And he makes the BEST smoothies!
Isobel: from New Zealand, by way of Wyoming, where she's been working inside the State Correctional Institutions, with her American husband, Stan. Isobel is the kindest, most gentle person ever, and she is SUCH a hard worker!
Love you all! Your support is truly the wind beneath our wings. There are no words to express our gratitude. Seriously.
Our thanks to you all!
**Sus** (Susanne)