Aloha Friendly Aquaponics Supporter!

In our last few Newsletters, we've shared our student Zac Hosler's experiences over his five years as a new farmer, and what Zac did right that set him up to succeed.

In this Newsletter, we'll tell you about how Zac has improved his farm efficiency to the point where he works about 15 hours per week, each week, while making between $1500-3000 per week.

Thanks for reading!
*********************************
This Newsletter, and our courses, are designed to remove as many of the barriers as possible between you and your ability to start up a successful new aquaponics business.

There are quite a few teaching "commercial aquaponics". We suggest you ask for verifiable income, expense, and profit numbers from whomever you're considering taking a course from or purchasing a "commercial" aquaponics system kit from. If they can provide them, that is. We gave you these numbers for Zac's farm in last Monday's newsletter (click here to read it). If you have not received all four of the previous Newsletters about Zac's first five years as a new farmer, and Primary Food Producer, please

email me

to get them all.
*************************
If the teacher you're considering can't provide numbers for their economically successful students, we'd love to meet you in person at one of our live trainings (dates and schedules to be announced very soon). For those of you who can't free up the time to come to a live training, our Commercial DIY Training has all the information we've learned in eight years of Commercial Aquaponics, and also includes priceless information that we've learned from the hundreds of successful students we've taught in seven years of training and DIY Manual sales. This 340-page manual allows you to duplicate our success anywhere.
*************************
Zac's Improved Efficiencies and Financials – The Whole Update
Zac has been a commercial aquaponics farmer for five years now. This is the last update on how he's built a successful farm on a shoestring budget, to the point where he's now making about $3000 per week on his good weeks (and there is still the occasional $1500 week, due to a number of factors – this is farming, after all!), while working less than part time. It didn't happen overnight, and it wasn't easy; there have been real ups and downs. It required tremendous dedication, hard work, and tenacity. As with our experience, Zac's success was large built upon the fact he had no "backdoor" – so quitting was never an option.

First we'll cover Zac's increased efficiencies, which has dramatically reduced the amount of time it takes to run his 4200 sq. ft. of aquaponics systems. Predominantly, Zac increased efficiencies have been in two main areas, prevention of disease and worker's economy of motion.

Disease Prevention: In the summer of 2014, Zac's farm had terrible disease issues because of extreme humidity generated by nightly rainfall combined with hot summer temperatures. Other farmers told him it was the worst rainy season in the past 30-40 years, in both the amount and frequency of the rainfall. The rainy season started very early – it seemed like there was no dry season at all (December, January, and February is usually the dry season in Zac's location), but went straight into hot summer with the rains still continuing. This resulted in black spots all over the leaves in Zac's aquaponics system that ruined crop after crop. Zac sent samples for testing to see what was the cause, because his normal disease-prevention methods weren't working at all. The lab came back with a diagnosis of Cercospora leaf spot and Alternaria, also known as both "brown spot" or "early blight".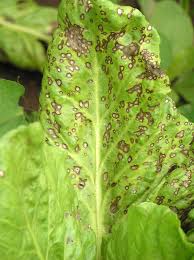 Above: A chard leaf with Cercospora spp.
Above: Alternaria black mold (Alternaria spp. ) on cabbage (Brassica oleracea
)
Both Alternaria and Cercospora leaf spot disease are caused by fungi similar to the type that produces edible mushrooms. But unlike mushrooms, these diseases take up residence on leaves and invade their tissues inside sunken depressions ("spots"). They are ubiquitous in the environment and are a natural part of fungal flora that are everywhere, and act as normal agents of decomposition and decay.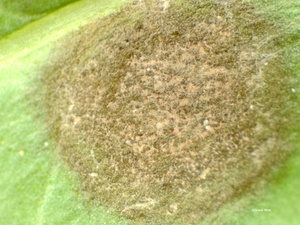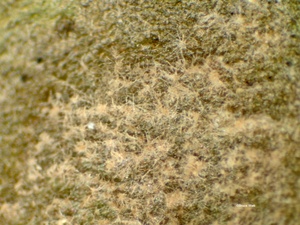 Above are two photos of Cercospora leaf spot magnified
At high magnification, tiny spore-producing threads can be seen developing inside these depressions in the leaves. The spores these threads prodeuce can be spread when the plants are touched by workers, when the wind blows, or during a rain shower. Both diseases thrive in damp, warm environments, and can live in the soil or in dead vegetation that hasn't been properly disposed of or composted - or, in Zac's case, on his rafts and in the coir/vermiculite mixture that he uses in his net pots.

For six to eight weeks last summer, Zac did not have a single harvestable plant. All told, the major disease issues affected a total of about five months n 2014. As it turns out, Zac was doing a lot of things wrong, and was inadvertently increasing the spread of these diseases. The biggest mistake he was making at the beginning of the disease outbreak was reusing his coir/vermiculite mix, which was spreading spores.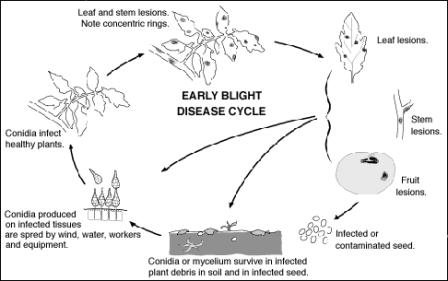 Above shows the lifecycle of Alternaria (early blight)

In an attempt to control his fungal diseases, Zac was spraying Serenade and Green Cure (potassium bicarbonate), sprayed with a backpack sprayer, but there seemed to be no effect on the level of disease he was seeing. In fact, it seemed things were getting worse.

To turn this around, Zac began spraying all his rafts and net pots with a light bleach mixture, and stopped reusing his coir/vermiculite. One of the biggest changes he made was to purchase a very expensive ($700) fogger, to replace the inexpensive backpack sprayer he had been using. He continued to spray potassium bicarbonate (Kalli-Green/Green Cure to kill fungus – OMRI approved), and Serenade (an OMRI-approved product that provides biological protection). In addition, Zac's research indicated that using a 4% hydrogen peroxide/vinegar mixture (also OMRI approved) would help, so he added this to his spray mixture. He continued to use Mycotrol (an OMRI-listed insecticide that contains spores of the insect-killing fungus Beauveria bassiana GHA strain), and Dipel, containing Bacillus thuringiensis subspecies kurstaki (Btk). - also approved for organic production. The spays he uses are not mixed together, because the potassium and the hydrogen peroxide would kill the biological sprays. Zac does multiple spays per week that need to be timed just right to make sure disease does not come back in between, but also spaced far enough apart so that the potassium and hydrogen peroxide don't kill the biologicals. It's a delicate balance. The sprays are mixed with yucca extract as a sticking/wetting agent, then sprayed with his new fogger, which saves him hours per week over the old backpack sprayer, while using less than one quarter of the product. It now takes 10-15 minutes to spray his entire farm, using four gallons of spray mixture instead of 12. This represents a savings of hundreds of dollars in product alone, and thousands of dollars in quality crops that would otherwise be lost.

Zac learned the hard way that prevention is easier than cure with fungal diseases, as once the spores are formed, there is exponential growth of the fungi, so it's imperative to spray even when there are no noticeable spots.

This past winter was very dry compared to last year's winter, and he had excellent production with no disease issues. Demand was high, and he was making over $3000 on most weeks. Coming into summer now, with the weather getting warmer, it's still drier this year than last, but the rains are starting to pick up. Zac is seeing far fewer spots on his leaves this year, and he's cautiously optimistic that he's handled the disease problems that plagued him last summer. He's also planning to covering all his troughs with plastic high tunnels, to help keep the rain off his plants (the dampness the rain brings encourages growth of these fungi Zac has been fighting; this will keep all the plants a lot drier).

Now, as far as how much Zac is actually working, and how many other people are required to run his 4200 sq. ft. farm:

Zac works ~15 hours per week. If he has interns, he works a little bit more, because he commits to spending 20 hours per week training them. He has one permanent employee who has been working on his farm for six months, who works 20 hours or less per week. He also has a WOOFer with 20 hour per week agreement (8am to noon, five days per week), but on the two days of the week when there is no harvest/planting, only cleaning and set up for planting/harvesting days), they often start at 8am and finish by 9:30 or 10am.

Zac also has two part-time harvest workers who come in for four hours, one or two days a week.

He says that what is allowing them to run their farm with so few people-hours per week is that everyone he has is a good worker – they stay focused, they use two hands instead of just one, and they pay attention to detail. At this point, he says they don't dunk rafts and don't clean and soak net pots; instead they're all sprayed down with a light bleach solution.

Its also VERY true that Zac's having put better and faster processes in place have come from five plus years of day in and day out of paying meticulous attention to what works and what doesn't work. As Zac says, as great as the information is that we offer, nothing can beat the actual experience of farming. Nothing.

Zac is currently selling to two local wholesalers, two restaurants, one oceanfront resort, and one snorkel boat that does a sunset dinner cruise. He also goes to one farmer's market each week.

Depending upon who he's selling to, he's getting $5, $5.50, or $6 per pound for whole head baby lettuce, which includes bottom of lettuce for more weight, sold by weight in 5-20# boxes. Demand exceeds supply almost every week, and Zac has recently expanded from 12 to 14 troughs.

Zac has big plans for the future, as he's planning to expand to another property nearby, in addition to his current farm. He's planning on incorporating this new farm into an eco-resort, to allow people to spend time touring our amazing island, with or without aquaponics training.

Again, our deep appreciation and acknowledgement goes to Zac. We are proud to introduce him as one of our most successful students, and the one to whom we are passing our baton.

Our definition of Mastery goes a step beyond mere high achievement and great knowledge; it also includes turning over to others everything we know, with nothing held back, so that with their ingenuity, hard work, and dedication, they can surpass us in every way. In our opinion, Zac is doing just that, so we're very proud to officially introduce him as the person who has taken over our Hawaii-based, on-farm trainings.

Just as we stood on the shoulders of Dr. James Rakocy and the aquaponics work at the University of the Virgin Islands, when we began in 2007, Zac has stood upon our shoulders, and has created one of the most successful Commercial farms in all of Aquaponics.

For those of you who cannot afford the additional expense of coming to Hawaii, Tim and I will continue our continental United States trainings, so look for an announcement for fall training locations soon. We'll teach you everything we've learned in almost eight years of Commercial Aquaponics, with absolutely nothing held back!

With Aloha,

Susanne and Tim
*************************
We hope this has been a useful series, and perhaps even an inspiration for you. It is our intention to profile people who have used our teachings to become successful in Aquaponics, at every scale. If you'd like to be featured in our Newsletter, no matter what size your system

,

please email Tim.

If you have any additional questions you would like us to answer in this continuing series of Special newsletters, please email them to Tim.
*************************
New! On our website, we have three new Photo Galleries, and we are opening a "photo sharing event" with awards you to help us improve them even more. We have tons of our own photos, but they're so familiar to us they are not nearly as interesting as are your photos! We'd REALLY love to see what you and your friends have done with aquaponics and greenhouses. Here's how it works:

Send us photos of your tabletop, backyard, or commercial-sized aquaponics system with mature vegetables in it, and for every photo we select, we will send you an electronic copy of "Aquaponics The EASY Way", a $29.95 e-book that explains everything about affordable tabletop aquaponics. They do not have to be professional quality photos; and we'd love it if there were people in them having fun! Also, please include a short sentence telling us what each photo is.

Send us videos of your tabletop, backyard, or commercial-sized aquaponics system with mature vegetables in it. For every video we select, we will send you an electronic copy of "Aquaponics The EASY Way", plus a printed copy of this book (include your mailing address when you email or DropBox us the video(s), please), a $59.95 value. They do not have to be professional quality videos or fancy; and we'd love it if there were people in them having fun! Also, please include a sentence telling us what is happening in each video, and what the people are doing.

Note: By sending us photos or videos you grant us permission to use these for posting on our website, in our manuals and other publications, and/or for advertising purposes. We promise not to sell the photos or videos directly, AND to give you full credit as the source of the photos or videos.

Here are the new photo galleries your photos and videos will be included in:

The Micro System Gallery
The Family System Gallery
The Commercial Gallery

In the future we will be adding small, medium, and large greenhouse galleries, plus others as you may suggest. Suggestions please??

Continuing Plug For Our Patreon Page:


.




We've spent a large portion of the last six years supporting the aquaponics community by developing and sharing new ways to build and operate aquaponics systems at a lower cost, and with less labor, from

small tabletop systems

up to

large commercial installations. We've written you a weekly or biweekly newsletter with aquaponics tips and tricks for the last five years (just like this one!).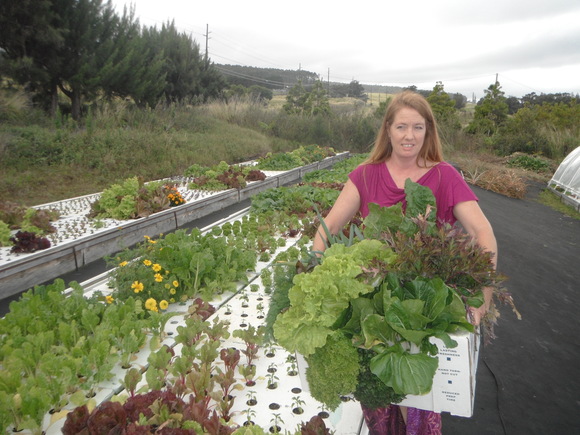 Today we are asking you to help us. We have three ongoing research projects that we need to fund that will benefit almost everyone in the aquaponic community. In addition, we want to continue improving this newsletter with more and better information for you, the modern aquaponic enthusiast and grower. We have created the
Friendly Aquaponics Patreon Page
to help with this need.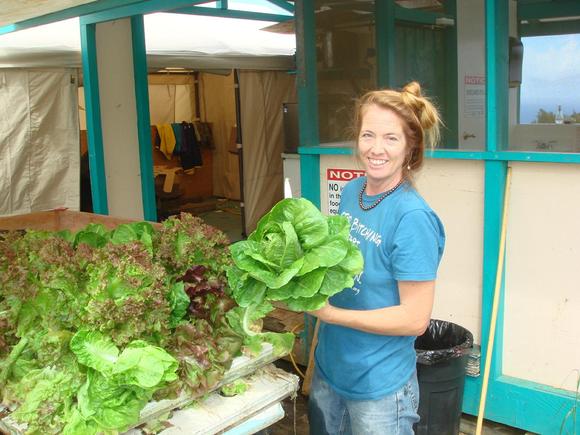 Patreon is a crowd-funding site that allows you to be our "patron", and support our work with small donations you can easily afford, of as little as one dollar. If you visit our
Patreon Page
, you will see the different levels of rewards we've set up for our patrons, from copies of "Aquaponics The EASY Way" all the way up to our $995 Commercial DIY package and larger greenhouse packages. We've also included descriptions of the research projects that we are starting now, so you will see what your funding will support.


We live by the kindness of others; and we thank you for your kindness to us!
Besides completing our goals, your gift also allows us to spend more time doing non-paid work, such as teaching aquaponics in schools and in non-profit settings.
Aloha, Susanne Friend and Tim Mann
.
Get started in aquaponics The EASY Way!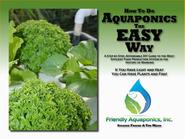 Our new book is complete and easy to understand; it will make you a success with indoor or small scale aquaponics, even if you've had difficulty before! Also, these small systems are great for schools!
This is an EASY Way System up close: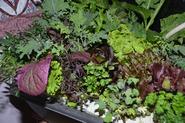 Check this out
;
it's a free 87-page download of the Introduction, plus chapters 1, 3, 12, and 19; you can get a feel for the information the book contains before you buy it.
You will successfully build and operate tabletop aquaponics gardens using materials and equipment you buy locally at Home Depot, Lowe's, and Petco.

The 3.5 square foot garden costs under $100, and the "18" costs $320.30.
Click here to get our free "System Cost Calculator"
, that you can put your own local numbers into (for parts) to find out what your system will cost you.
Purchase this E-book for only $29.95.
More production from aquaponics by going "Micro"!
A Micro System with 17 varieties of vegetables growing: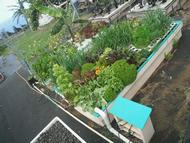 And yes, that IS a banana and a pineapple plant!

The Micro Systerm is our "next size up", and is the perfect backyard system for those who need more production from their aquaponic system. We have MANY friends who have put Micro Systems indoors with artificial lighting; works great!
Purchase the Micro System package for only $99.95.
Click for profitable commercial systems and energy-efficient greenhouses!
We also offer complete DIY packages with unlimited technical support for you to get started growing commercially. Get this information from those who are doing it for a living!
Forward this message to a friend
This email, our manuals and construction plans are all copyrighted by Friendly Aquaponics, Inc, Susanne Friend and Tim Mann, 2008-2014