Aloha Friendly Aquaponics Supporter!

In our last three Newsletters, we shared our student Zac Hosler's experiences over his three years as a new farmer, and what Zac did right that set him up to succeed.

In this Newsletter, we'll loop back to Zac's start, to share with you how he got started. We'll then tell you about the two years since his son Noah's leukemia diagnosis, and how his farm is thriving today. Most importantly, Zac will talk about how being a farmer has changed his life, for the better.

Thanks for reading!
*********************************
This Newsletter, and our courses, are designed to remove as many of the barriers as possible between you and your ability to start up a successful new aquaponics business.

There are quite a few teaching "commercial aquaponics". We suggest you ask for verifiable income, expense, and profit numbers from whomever you're considering taking a course from or purchasing a "commercial" aquaponics system kit from. If they can provide them, that is. We gave you these numbers for Zac's farm in Monday's newsletter (click here to read it).
If the teacher you're considering can't provide numbers for their economically successful students, we'd love to meet you in person at one of our live trainings (dates and schedules to be announced very soon). For those of you who can't free up the time to come to a live training, our Commercial DIY Training has all the information we've learned in eight years of Commercial Aquaponics, and also includes priceless information that we've learned from the hundreds of successful students we've taught in seven years of training and DIY Manual sales. This 340-page manual allows you to duplicate our success anywhere.
*************************
In 2009, while still living in California, Zac knew he wanted to stop flipping houses for a living and wanted to start growing food. He wanted to move to Hawaii, but just didn't know how to go about it. He Googled "alternative farming in Hawaii" and found Friendly Aquaponics. Zac says that finding us sparked his interest, and made his family's lifestyle change possible.

From that Google search, Zac found our website, and decided to come on a farm tour the next time he was in Hawaii. He says he almost did not make that farm tour, as they got a very late start that morning and almost decided not to go. But instead, they decided to come on up to see if they could catch the end of the tour. He met both Tim and me, and we talked for a long time. Zac says that day, when he stood on our farm and looked at our production systems that were growing lettuce for Costco that he realized that he could also do this type of farming and that it would work, and he decided to jump in.

For training, Zac did a two-day Personal Intensive training here on our farm, which included the Commercial DIY Manual. He says we provided great information, and that it was an excellent place to start, and that hands-on, real world experience was the only thing lacking. Unfortunately, this just cannot be put into a book and only comes with experience.

Tim spent a good amount of time designing and building Zac's initial system (which was expandable, and consisted of a very large fish tank and four 75' troughs) while Zac tied up all the loose ends of his life in California. In 2010, Zac and his family made the move to Hawaii, and he began learning all the vital information of day-to-day farm operations. The expansion that Zac has done – from four troughs to 14, all 75' long - has also been according to our plans, as Zac says he "feels no need to reinvent the wheel".

When I asked Zac if was anything we could have done to help him that we did not offer, this is what he said, in his own words:

"Real world, hands on experience to deal with the issues that farming brings. There is no way to gain experience with pest and disease or weather related issues except to experience those problems first hand and to hopefully come up with solutions. [Even though our farms are only 60 miles apart, the challenges we've faced have been very different, as we have different environmental conditions, so Zac had to figure out a lot of things on his own.]

"The only thing I could think of that could have been offered was some form of hands on experience that was not as long as the two-month internship you offered at the time. I was unable to do that length of time so my only other option was the two-day Personal Intensive. Having a week or two of hands on experience included with the personal intensive two-days one on one training would have saved me time in learning the day to day running of the system. This would have shown me the day-to-day duties of a farm already up and running. I know you offered this in the two-month internships, but for someone like me, who did not have the time to do that long of an internship, a training option somewhere between two days and two months would have been nice. Now that I have taken over the Hawaii-based training as your training affiliate, I am offering a two-day Personal Intensive training with the ability to spend an entire week on the farm, being involved in the hands-on, day-to-day running of a commercial farm."

[For more information on Zac's two-day Personal Intensive, either with or without the extra week on his farm, please visit his website, www.livingaquaponics.com]

When I asked Zac to share the possibility that aquaponics has created in his life, and how his life is different now as a result, this is what he said, also in his own words:

"For me it's huge. As you know one of my sons, Noah, was diagnosed with Leukemia in October of 2012. This was roughly two years after starting our farm. The first year that Noah was in chemo treatment I was gone to Oahu for over 100 days. We go less often now, but still several times a year, and Noah is still in active chemo treatment today.

"Being an Aquaponics farmer has changed my life in many, many ways but what stands out for me is that it has given me the time to care for my son. It has given me the time to take care of what's most important in life: my children.

"Prior to starting my farm I bought, fixed and sold houses. I did this mainly in California but also some in Hawaii. This was a lucrative business, but I worked 10+ hours a day, six days a week, and sometimes seven. I was responsible for hundreds of thousands to millions of dollars of other people's money (my investors) on any given day. Living that life, there is absolutely no way I could have taken the time to care for my sick son. But running my Aquaponics farm allowed me to NEVER miss even a single one of his appointments or hospital stays. I was able to get on the airlift helicopters every single time an emergency came up and he was medical airlifted to Honolulu. I was there for the weeks on end staying at the Ronald McDonald house on Oahu for extended outpatient chemo treatments. I was there to hold the bucket while he threw up from chemo side effects. The list goes on and on, what I was able to do for my son.

"While home on Big Island, I am able to work daily on the farm and still be within an acre of my son. We live on the farm property so I am very close if needed. Even at over two and a half years into Noah's chemotherapy treatment there are still days when I have to drop what I am doing and head up to the house to help my wife deal with a child on steroids or some other treatment related issue.

"Running my prior business would not have allowed this. I would have had the choice of walking away from it and shutting it down soon after Noah's diagnosis or missing the day to day of caring and supporting form my son during his fight for his life. There would not have been any in between as my prior house flipping business took so much of my time.

"The Aquapopnics farm has allowed me that time. While the farm suffered that first year of Noah's treatment, it not only survived, it made a profit, even when I was not there, with the help of employees and family. Even being gone one third of the year, we were still able to turn a profit.

"Now, today, two and a half years into dealing with cancer in my family, I work less than eight hours a day, we make a good living and are planning for expansion. That is the long explanation. In short, being an Aquaponics farmer has allowed me to set priorities straight and afforded me the capability to be here for my family during an extended time of crisis, while still providing for my family's financial needs."

In tomorrow's Newsletter, we're going to share with you the financial information about Zac's farm, as well as some of the ways he has increased efficiency to the point his farm is run on about 40 people-hours per week, total, while bringing in around $3000 per week.
Again, our deep appreciation and thanks go to Zac.

Our definition of Mastery goes a step beyond mere high achievement and great knowledge; it also includes turning over to others everything we know, with nothing held back, so that with their ingenuity, hard work, and dedication, they can surpass us in every way. In our opinion, Zac is doing just that, and we're very proud to officially introduce him as the person who has taken over our Hawaii-based, on-farm trainings.

Just as we stood on the shoulders of Dr. James Rakocy and the aquaponics work at the University of the Virgin Islands, when we began in 2007, Zac has stood upon our shoulders, and has created one of the most successful Commercial farms in all of Aquaponics.

For those of you who cannot afford the additional expense of coming to Hawaii, Tim and I will continue our continental United States trainings, so look for an announcement for fall training locations soon. We'll teach you everything we've learned in almost eight years of Commercial Aquaponics, with absolutely nothing held back!
With Aloha,

Susanne and Tim
*************************
We hope this has been useful, and perhaps even inspirational to you. Tomorrow, we'll tell you about the incredible efficiencies that Zac has implemented, so that his entire 4200 sq. ft. commercial farm is now able to be run with a total of 40 person-hours per week, while earning over $12,000 per month throughout the winter season! That's over $3000 per week, so in spite of all the challenges in Zac's personal life, he has managed to almost double his income, while working far fewer hours!



If you have any additional questions you would like us to answer in this continuing series of Special newsletters, please email them to Tim.
*************************
New! On our website, we have three new Photo Galleries, and we are opening a "photo sharing event" with awards you to help us improve them even more. We have tons of our own photos, but they're so familiar to us they are not nearly as interesting as are your photos! We'd REALLY love to see what you and your friends have done with aquaponics and greenhouses. Here's how it works:

Send us photos of your tabletop, backyard, or commercial-sized aquaponics system with mature vegetables in it, and for every photo we select, we will send you an electronic copy of "Aquaponics The EASY Way", a $29.95 e-book that explains everything about affordable tabletop aquaponics. They do not have to be professional quality photos; and we'd love it if there were people in them having fun! Also, please include a short sentence telling us what each photo is.

Send us videos of your tabletop, backyard, or commercial-sized aquaponics system with mature vegetables in it. For every video we select, we will send you an electronic copy of "Aquaponics The EASY Way", plus a printed copy of this book (include your mailing address when you email or DropBox us the video(s), please), a $59.95 value. They do not have to be professional quality videos or fancy; and we'd love it if there were people in them having fun! Also, please include a sentence telling us what is happening in each video, and what the people are doing.

Note: By sending us photos or videos you grant us permission to use these for posting on our website, in our manuals and other publications, and/or for advertising purposes. We promise not to sell the photos or videos directly, AND to give you full credit as the source of the photos or videos.

Here are the new photo galleries your photos and videos will be included in:

The Micro System Gallery
The Family System Gallery
The Commercial Gallery

In the future we will be adding small, medium, and large greenhouse galleries, plus others as you may suggest. Suggestions please??

Continuing Plug For Our Patreon Page:


.




We've spent a large portion of the last six years supporting the aquaponics community by developing and sharing new ways to build and operate aquaponics systems at a lower cost, and with less labor, from

small tabletop systems

up to

large commercial installations. We've written you a weekly or biweekly newsletter with aquaponics tips and tricks for the last five years (just like this one!).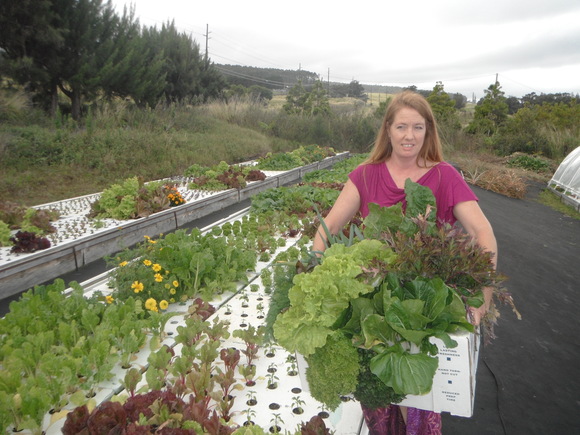 Today we are asking you to help us. We have three ongoing research projects that we need to fund that will benefit almost everyone in the aquaponic community. In addition, we want to continue improving this newsletter with more and better information for you, the modern aquaponic enthusiast and grower. We have created the
Friendly Aquaponics Patreon Page
to help with this need.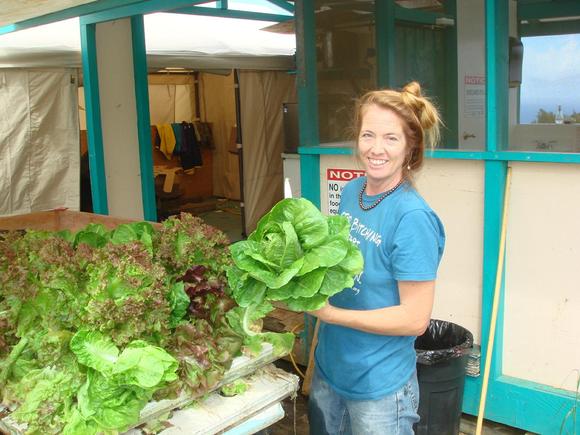 Patreon is a crowd-funding site that allows you to be our "patron", and support our work with small donations you can easily afford, of as little as one dollar. If you visit our
Patreon Page
, you will see the different levels of rewards we've set up for our patrons, from copies of "Aquaponics The EASY Way" all the way up to our $995 Commercial DIY package and larger greenhouse packages. We've also included descriptions of the research projects that we are starting now, so you will see what your funding will support.


We live by the kindness of others; and we thank you for your kindness to us!
Besides completing our goals, your gift also allows us to spend more time doing non-paid work, such as teaching aquaponics in schools and in non-profit settings.
Aloha, Susanne Friend and Tim Mann
.
Get started in aquaponics The EASY Way!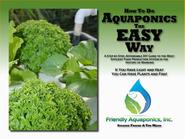 Our new book is complete and easy to understand; it will make you a success with indoor or small scale aquaponics, even if you've had difficulty before! Also, these small systems are great for schools!
This is an EASY Way System up close: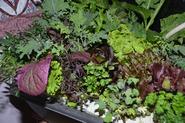 Check this out
;
it's a free 87-page download of the Introduction, plus chapters 1, 3, 12, and 19; you can get a feel for the information the book contains before you buy it.
You will successfully build and operate tabletop aquaponics gardens using materials and equipment you buy locally at Home Depot, Lowe's, and Petco.

The 3.5 square foot garden costs under $100, and the "18" costs $320.30.
Click here to get our free "System Cost Calculator"
, that you can put your own local numbers into (for parts) to find out what your system will cost you.
Purchase this E-book for only $29.95.
More production from aquaponics by going "Micro"!
A Micro System with 17 varieties of vegetables growing: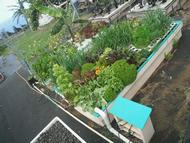 And yes, that IS a banana and a pineapple plant!

The Micro Systerm is our "next size up", and is the perfect backyard system for those who need more production from their aquaponic system. We have MANY friends who have put Micro Systems indoors with artificial lighting; works great!
Purchase the Micro System package for only $99.95.
Click for profitable commercial systems and energy-efficient greenhouses!
We also offer complete DIY packages with unlimited technical support for you to get started growing commercially. Get this information from those who are doing it for a living!
Forward this message to a friend
This email, our manuals and construction plans are all copyrighted by Friendly Aquaponics, Inc, Susanne Friend and Tim Mann, 2008-2014