Aloha Friend,
We are STOKED!! (That is Hawaiian surfer slang for "Reeely Excited!"). Yesterday we finished the training at Maui Economic Opportunity (MEO). MEO is a Maui non-profit organization that plans to use this facility to train low-income and economically disadvantaged people in aquaponic food production. We have Momi Medeiros, the MEO project manager, to thank for her vision and committment in making this valuable project happen.
This a big deal because this was the first training we've ever done on entirely off-grid aquaponics systems, AND the first for an organization with such a socially valuable mission as MEO's. They commissioned three systems for their off-grid site: a 10 square foot tabletop system, a 64 square foot Micro System, and a 512 square foot "small commercial" system, all powered from an integrated photovoltaic system of our design. Here's a picture of their finished systems: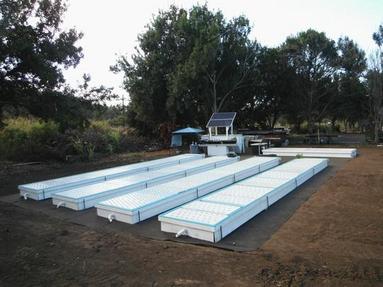 You can see the long troughs of the 512 sq ft system in the foreground, the shorter trough of the Micro system and its little black 100-gallon fish tank (Rubbermaid stock water tank), and the power cabinet holding the batteries and equipment; it's got the PV panels mounted on top facing towards us. The 800-gallon fish tank for the 512 is under the PV panel mount. For those of you who know a little about off-grid PV systems, this system only went down to 64% battery charge after a full three-day "cloudy day" test, and had a one-day "recharge time"; then, it was 100% charged by 2:00 pm on the next sunny day.
The MEO site is very sunny and flat. Currently, water is hauled in by truck at a significant expense. It's a perfect site for showcasing the energy-efficiency and minimum water usage of aquaponics..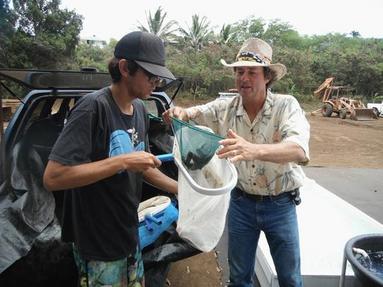 Getting tilapia to stock the MEO system from Nick, a local aquaculturist (Tim is the fish cowboy in the Hawaiian cowboy hat).
Procuring fish can be the most difficult part of starting an aquaponics system. It's easy to build the system, fill, and inoculate with bacteria from Aquatic EcoSystems, but if you can't get fish, you're up a creek (really BAD pun!).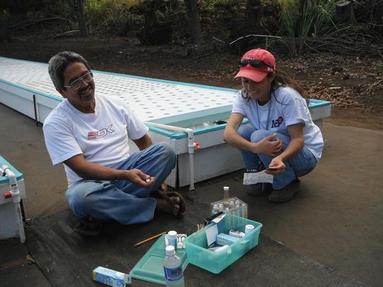 Larry Yonashiro of Maui's Aquaponics No Ka Oi (Hawaiian for "Aquaponics Is The Best") and Kassie (the MEO aquaponics manager) performing water tests at the brand-new off-grid MEO aquaponics facility (more about Larry and his wife Patty in the "Nugget" column this week.
If you're interested in commercial scale aquaponics, please take a look at our
Commercial Aquaponics Trainings
(Special Offer in right sidebar of this email), where you will learn more about real-life operation of a commercial aquaponics system than you can anywhere else in the world. The next training is in Florida in September 2011. For smaller home backyard and apartment systems, please read on:

Purchase Construction Plans and Operating Info for 4 Different Sizes of Apartment/Condo Aquaponics Systems $49.95
Our Apartment/Condo System package includes new and easy-to-understand building instructions and complete operating information for 4 different sizes of small aquaponic systems based on our years of experience operating a commercial aquaponics farm. Anyone can build a system out of plastic barrels, but operating one successfully without good
and
easily-understood information can be frustrating. You simply use the "Daily O
perations Checklist" in the manual and follow the step-by-step
instructions on your way to success.
We spent hundreds of thousands of dollars, hundreds of hours, and built our first commercial aquaponics systems with FAR less information than this manual contains. We included all the information learned from that experience in this manual so you don't need to make any of the same mistakes we did.

Aquaponics Nugget #51:
It Works And
You
Can Do It!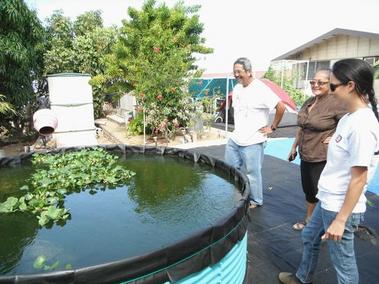 Larry and Patty Yonashiro (with Kassie from MEO) inspecting Larry and Patty's greenwater tilapia breeding tank.
How about this: aquaponics works and
you
can do it! That seems like an obvious statement to those whose aquaponics systems work well and feed them. But many others are struggling with poorly-designed systems, or trying to operate systems that include little or no operating instructions (or even worse,
wrong
and confused operating instructions). It's refreshing to see an aquaponics system built and operated by newcomers that works well right out of the box (or manual, so to speak). That would be Patty and Larry Yonashiro's system on Maui.
Patty and Larry took the Friendly Aquaponics course in October 2010; had their system finished in December; spent a LONG time trying to find fish and ended up starting their system with MOSQUITO FISH because they couldn't get tilapia; they had their first harvests in March 2011. They're developing their tilapia hatchery and nursery (using "Friendly" technology) to supply tilapia fry and fingerlings to other Maui aquaponicists so they'll have an easier time getting started than they did.
Patty says "Larry read the manual ten times, highlighted parts of it, and made notes in the margins". We say "They're successful because they studied and worked hard, and built and are operating the system EXACTLY according to instructions" (with good modifications of their own). Because they had fish from several different sources, and had trouble with an apparent fish disease early on, they've incorporated quarantine tanks on their farm as well as the standard fish tanks and breeding tanks.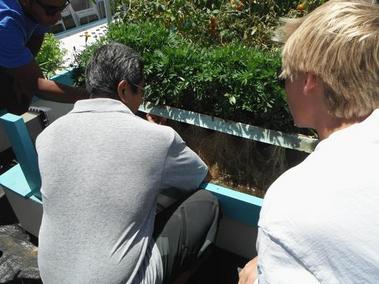 Larry lifting up a raft to show aquaponic vegetable root systems to high school students on a tour of their facility.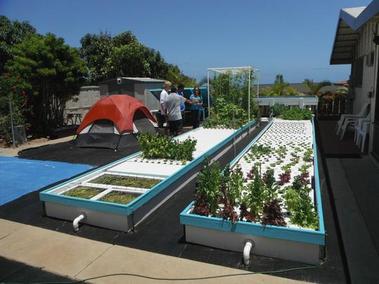 Larry and Patty's first 256 square feet of aquaponics system; they're planning to double this. They also give Micro System classes, sell Micro System kits, and will be stocking DuraSkrim 20 mil trough liner for the troughs (a hard-to-find item). Maui aquaponics is going to have a much easier time taking off because of Patty and Larry!
(Next week, more system thinking: "Hybrid Aquaponics/ Permaculture/Sustainable Food Production Systems")
Click Here To See Our New Aquaponics Video!
.......................................................

Back Issues Of Newsletters Now Available, Click Here!
.............................................
Free Farm Tours

..............................................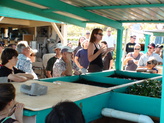 Aquaponics tour at the Friendly farm!
We hold a free workshop on our farm the FIRST Saturday of every month, focused on growing food with aquaponics and permaculture.
Click here
for information. See you there!
If you are a school, a non-profit organization, an organization working with the poor, Native Hawaiians, or ex-inmates, or if you are a church, we will hold a free farm tour for you anytime. You DO need to email us first to schedule, or we might be out on errands!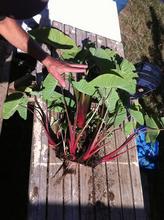 3-1/2 pound kalo (taro root) grown in a 2" net pot (little bump at bottom)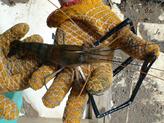 4-month old prawn (macrobrachium rosenbergii) grown in hydroponics troughs of our aquaponics systems
Special Offer!

Sign up for our our September 2011 Florida Commercial Aquaponics Training, OR our

October 2011 Hawaii Commercial Aquaponics Training

now, and we will email you our Micro System package so you can begin studying aquaponics! ($99.95 value)



More Information on Hawaii and Florida Commercial Aquaponics Training
In
The Farmily
We are re-running last week's "In The Farmily" column again this week. Remember our "Mosquito Eradication Aquaponics Systems"? Well, we got a BUNCH of mosquito bites the last few weeks before we figured out what was going on. This experience points up the need to cultivate a "whole systems view" of aquaponics to truly understand what's going on with your systems.
We've been plagued by mosquitoes the past two weeks! It started kind of slowly, with a mosquito here, and a mosquito there. We noticed them right away, because (as we've told you before) there are NO mosquitoes on our farm. This is because the aquaponics systems have eradicated them! This surprised us, because we hadn't seen ANY mosquitoes on the property for three years now.
It was puzzling too, because we went out right away and looked for places that had standing water but
no
mosquito fish in them: buckets and barrels and stuff like that. We found nothing.
Then, someone remembered that we had dumped ALL of the trough water in system #2 about two weeks previously, including ALL the mosquito fish that were in the troughs (why we had to do this is another story entirely). No one remembered putting new mosquito fish back in, so we went up and sure enough, there were no mosquito fish there, but PLENTY of mosquito larvae. We borrowed hundreds of mosquito fish from the other two large systems we had and transplanted them into the system #2 troughs.
What happened? The first trough in system #2 had mosquito fish in it; because they had come in with the incoming water from the fish tank, they live everywhere throughout the system. But they hadn't made it from trough #1 into the next three troughs yet, and the mosquitoes had gotten a toehold in those three troughs. Their population had exploded because there were no natural controls on it.
So we have a new "To-Do" in our manuals now: If you dump all your trough water, be certain to re-populate the troughs immediately with LOTS of mosquito fish!