Aquaponics Nugget #117: Why The Game's Over For "Big Ag"; And Why It's Just Beginning For The Small Farmer
That's a big claim: that "Big Ag" is going to dwindle and disappear; and that small farmers are going to take its place. Our explanation here of why it's inevitable is an exercise in logic. If you can find a logical flaw in this argument, please email us and explain why this is not going to happen the way we predict:
There are five major areas of concern (also known as "input variables" in the food equation that gets the food to our grocery shelves) that this article will consider: the cost of energy for food production, the effect of weather on food production, the availability of water for food production, and finally, the social forces that are combining to move our society away from oil-expensive, industrialized food production and towards local, energy-efficient food production. (Good! You're paying attention, because that was only four!)
First, The Cost Of Energy:

The bulk of the world's food for export is produced in a few well-defined, heavily industrialized areas: wheat and corn in the US; wheat in Russia and central Europe; and rice in China, India, Indonesia, Bangladesh, and Vietnam. These producers are typically highly mechanized and farm huge acreages of these grains. Grains are what is important.

(The reason we're focusing on "grains" is that tomatoes, lettuce, and fruits aren't really "food" in the sense that we're talking about here: for the purposes of this article, we'll define "food" as the basic nutritional content required to keep you alive. When you come right down to it, that means grains, not the processed foods, salad vegetables, fruits, meats, and stir-fry ingredients that we wealthy and fat Americans have become used to having at all times of the year. Grains are the foundation for most people's diets).
Back to grain producers: being mechanized means they use huge amounts of diesel fuel (oil) to power their planting and harvesting machinery, and also huge amounts of petrochemical energy (oil and natural gas) to power the processes that create the chemical fertilizer and agricultural chemicals that they depend on for their productivity just as much as they do the diesel fuel.
The huge amounts of food that are produced in these relatively small and centralized areas (using huge amounts of oil) are typically shipped (either before or after being processed, which uses even more oil!) thousands of miles away to the end consumers via a transportation system that (guess what?) also requires huge amounts of oil to operate!

Any centralized food producing area has a "shipping range" beyond which, even now, it's considered uneconomical to ship their product because other producers with a shorter shipping range can supply it. An example is Russia, which supplies much of the wheat that Europe has historically used: Russia's not very far away, so their transportation cost is less than if US producers tried to get their wheat to the European market (more on this in a bit!). This is also why you won't see much Russian wheat on the US market, even if they have a good year.

This is a simplified picture which is subject to many economic variables (because we live in a global economy) but the principle applies to all food producers everywhere: your cost to produce, plus your cost to transport to market, must be lower than what the market's willing to pay, or you have no sale!

The reason this system has worked for so long is because of cheap oil! Although there are stirrings about producing food locally, we are totally dependent on this oil-powered system now. But this is going to change: as oil becomes more expensive, both growing the food and transporting the food becomes more expensive. What happens next?
Food becomes more expensive at the outer range of the "shipping radius", is what happens next. There is
nothing
that the industrial ag complex can do about this; they can't
make
more oil; they can't make the price of it go down, they just have to pay more for it and raise their prices accordingly. What does that mean for local farmers? They just got more competitive in price with industrial ag because the cost for Big Ag's products just went up!
This is also the first area of concern
because it is an area where one of the "inputs" is completely beyond our control; the cost and availability of oil. Certain things on the supermarket shelves and in the produce coolers will get more expensive; and then yet more expensive (Oh, you've seen that already?). At some point, those items will just not be there, or will only be found in high-end stores catering to the rich.
Although we'll notice right away when things like mangoes and strawberries are no longer on the shelves, what's more insidious is the "downsizing" that package sizes have taken recently. Here are links to two articles:
Yahoo! Finance
, and
MoneyNews
, about how food companies are "hiding" higher food costs by simply reducing the amount of food they're selling in packages that
look
the same to the consumer. Yes, it's sneaky!
More important than the rising prices
is the possibility that the whole system could grind to a halt as a result of a catastrophe: maybe a global economic crisis (now
that
will never happen, right?), or some breakdown involving the oil-producing countries. If a Middle East country nuked another, and then the other guys retaliated, half the world's oil supply could become radioactive literally overnight (remember Fukushima? That wasn't supposed to happen either!).
That
would certainly affect whether or not you got your strawberries!
"Jesus Nut" is a colorful and descriptive term that American airplane and racecar mechanics use; it means if that nut on the engine comes loose, your only option is to pray!

This is where the problem lies: the "Jesus Nut" that the world's industrial agriculture machine depends on is cheap oil; and oil is no longer cheap or dependable. The world's greatest oil production occurred in 2005, and has declined steadily since then, with constantly increasing prices the result. No one knows whether the Jesus Nut is correctly tightened, or is in the process of vibrating off the engine!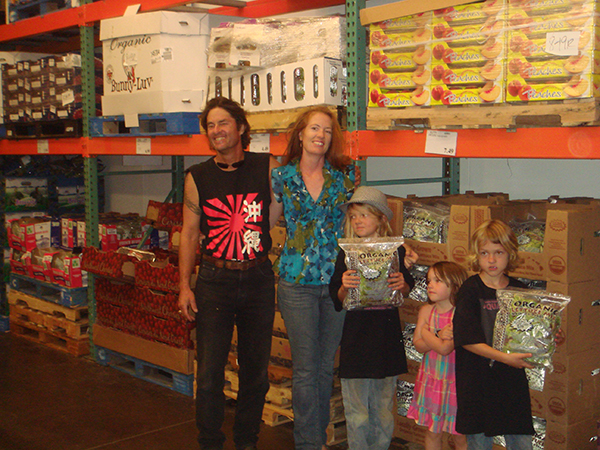 Our Farmily with our product in a "Big Box" store; the first time ever that a little mom and pop (Aquaponics!) farm took an account away from a multimillion dollar agribusiness. You'll see more of this, because you as consumers will demand it!

(In next week's "Nugget", we'll cover the next part of "Big Ag 0, Small Farmers 3". Thanks for listening!)

The photo below is our Second Generation Solar Greenhouse, at ten in the morning in the Tennessee winter. It's growing plants inside right now, and you have to take your jacket off because it's so warm! It's cool when it's hot, and warm when it's cold (hope that makes sense to you, it's the best greenhouse we've ever seen!).