Aloha Friend,
It's been a whirlwind last few weeks: we finished the (first) Hawaii Aquaponic Solar Greenhouse, then immediately needed to
write the manual for it, then gave
seven consecutive days of training (Aquaponics, Solar Greenhouse, and Commercial Aquaponics).

Our first Hawaii Aquaponic Solar Greenhouse training went ridiculously well: we had 28 attendees from all over the world: Mexico, Portugal, Idaho (almost a country by itself), China, and Texas (

definitely

a country), and of course Franz Schreier from Germany presenting the genesis of the first Aquaponic Solar Greenhouse in his home town of Heppenheim, Germany.

Two days of covering
thermal mass,
passive solar heating, geothermal cooling, AC and DC electrical systems, ETFE film, alternate energy systems both off-grid and grid-tied, modular greenhouse construction, insulation, plumbing and wiring, how to retrofit a conventional greenhouse to be energy-efficient as possible, water walls, backup systems, different types of greenhouse construction, timers, control systems, and solar chimneys left us with numb lips and suffering from high velocity data dump syndrome. It's simply not possible to absorb all this in just two days of training, that's why it's written out in exhaustive detail in the manual also.

We took the Monday after the last day of training off (one family day in four weeks: that's pathetic!), then Tim was on the plane to Oregon on Tuesday to meet with the Asahi Glass representative and Franz Schreier to help set up a distribution network in North America for Asahi's ETFE Fluon product for covering greenhouses (we will let everyone know when ETFE can be purchased in the small amounts that we use, along with estimated costs, as soon as we ourselves know). After returning from Oregon, it was two 12-hour days of work on the farm to catch up there, then Susanne and I got on a plane.

This time, it was a vacation! Susanne and I spend five days a year with a friend, Alan Clements, in a meditation retreat. For those of you who aren't familiar with Alan and his work, he was the first American to be ordained as a Buddhist monk in Burma and spent eleven years there in silent meditation in a monastery.

Alan spent six months in conversation with Aung San Suu Kyi, the elected leader of Burma, in her compound during the years she was under house arrest by the Burmese military dictatorship. The audio tapes of these conversations were smuggled out of the country at great risk and published by Alan as both an audio book and a print book. This book, titled "The Voice Of Hope", details his conversations with this amazing and gracious woman, who received the Nobel Peace Prize in 1991.

Our yearly retreat with Alan is a time spent among friends, all of whom are as committed as he is. Meeting these people each year recharges our batteries, for we realize that we are only two of many working to make the world a better place for our children, and take hope in meeting these partners.

Now it's Tuesday the 6th of March, we're back in the saddle and raring to go! We'll announce our training schedule for the rest of 2012 in the next newsletter, as we're still getting some details worked out. In the meantime, we have several announcements:

1. Florida Affiliate Sahib Punjabi is holding aquaponics classes the 10th and 11th of March. Follow this link to register:
Successfully operating "Nano" to "Zero Lot" Aquaponics Hybrid Urban Growing Systems March 10,2012 9:30 am -4:00 pm

2. Maui Affiliates Larry and Patty Yonashiro of Maui's Aquaponics No Ka Oi (Hawaiian for: Aquaponics Is The Best) are holding Micro System classes and have trough liner and tilapia fingerlings for sale, as well as different types of organic aquaponically-grown vegetables. You can contact them at 808-344-9756, or email Larry Yonashiro. Larry also has a line on foam for rafts on Maui.

3. We have liner for sale. On the island of Hawaii, we sell by the piece for Micro System and Family System sizes. We order and drop-ship ANYWHERE in the USA or WORLD; minimum roll size 100 yards email me at training@friendlyaquaponics.com for quotes for larger sizes for systems up to thousands of square feet.

4. The Hawaii Aquaponic Solar Greenhouse is a roaring success! It's easy and economical to heat using passive solar water heaters with a circulation pump and a heat exchanger in the aquaponic water. With appropriate insulation and average amounts of sunlight, it will grow plants and fish in -10 degree F weather with three feet of snow outside. When combined with our "Amicus Verticalis" or Friendly Verticals, you can get from 20 to 30 plants per square foot of greenhouse space.

Our "Verticalis" are not patented, although we could easily have done so. Watch for all the "imitators": we've noticed three or four aquaponics concerns who couldn't tell a solar greenhouse from a bunion, and they're all selling "solar greenhouse trainings" now that we've publicized and explained the concept. At some point, they'll probably have a version of the verticals to offer (IF they can figure out what happens at the "business end" of them). Remember, you saw them here first!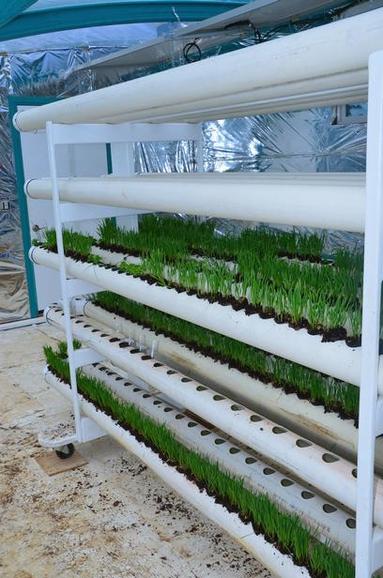 (Unfortunately for the "imitators", the "business end" of this Verticalis is out of the picture. They'll have to attend one of our Solar Greenhouse trainings to get a better look at it, or figure it out themselves just as we did). The verticalis in the photo is a 1,000-plant rack in a 3-foot by 10-foot space; or 33.3 plants per square foot.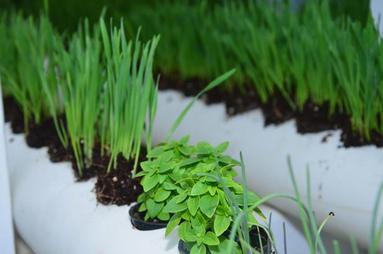 Closeup of plants growing in a Verticalis; 3-day old wheatgrass in the background, Japanese green onions and a cute baby pistou basil in the foreground.



Although the Verticalis are designed for maximum-density growing utilizing artificial lighting, they can also be used in natural light only at a lower density. We're researching now to confirm the recommended densities to use, but expect it to be a factor of at least two to three times what current vertical growing systems such as the "Foodie" and the "Vertigro" systems offer.


Because we all need to eat year-round, my wish is for you to enjoy year-round growing wherever you are. The Aquaponic Solar Greenhouse technology makes that possible. Aloha, Tim........

If you're interested in learning about our new Solar Greenhouse technology,
please take a look at our
Aquaponic Solar Greenhouse Training
(Special Offer in right sidebar of this email), where you will learn more about how to grow affordably using aquaponics in greenhouses than you can anywhere else in the world. The next training is in Hawaii sometime in June 2012; we will notify you in this newsletter when the dates are finalized. For smaller home backyard and apartment systems, please read on:

Purchase Construction Plans and Operating Info for 4 Different Sizes of Apartment/Condo Aquaponics Systems $49.95
Our Apartment/Condo System package includes new and easy-to-understand building instructions and complete operating information for 4 different sizes of small aquaponic systems based on our years of experience operating a commercial aquaponics farm. Anyone can build a system out of plastic barrels or IBC totes, but operating one successfully without good
and
easily-understood information can be frustrating. You simply use the "Daily O
perations Checklist" in the manual and follow the step-by-step
instructions on your way to success. We also cover how to make aquaponics systems out of weird things like old refrigerators and door frames; this makes aquaponics
much more
economical to get started in!
We spent hundreds of thousands of dollars, hundreds of hours, and built our first commercial aquaponics systems with FAR less information than this manual contains. We included all the information learned from that experience in this manual so you don't need to make any of the same mistakes we did.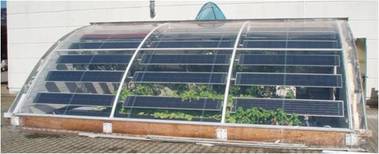 Our inspiration! Franz Schreier's FIRST Aquaponic Solar Greenhouse in full bloom, Heppenheim, Germany, 2011, showing lamellae PV panels and growing plants!
Friendly Aquaponics Video!
.......................................................
Back Issues Of Newsletters Now Available, Click Here!
.............................................


Purchase Trough Liner Directly From Manufacturer!


.......................................................


Free Farm Tours
We hold a free workshop on our farm the FIRST Saturday of every month, focused on growing food with aquaponics and permaculture.
Click here
for information. See you there!
If you are a school, a non-profit organization, an organization working with the poor, Native Hawaiians, or ex-inmates, or if you are a church, we will hold a free farm tour for you anytime. You DO need to email us first to schedule, or we might be out on errands!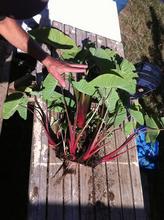 3-1/2 pound kalo (taro root) grown in a 2" net pot (little bump at bottom)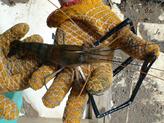 4-month old prawn (macrobrachium rosenbergii) grown in hydroponics troughs of our aquaponics systems

Sign up for any of our courses now, and receive the Micro system manual for free!, Free Micro System package so you can begin studying aquaponics! ($99.95 value)
More Information on Hawaii Aquaponic Solar Greenhouse Training
In
The Farmily
Aloha All!
There is a cynical but sadly realistic saying regarding farming: "There's money to be made in food, just not by the farmer."
We've made it our business to turn that around. We have the belief that the majority of the money to be made from food (we mean good food, REAL food, the kind of food that you want to eat when you are pregnant, the kind of food that you want to feed your children) should be made by the farmer. On average for most farmers, fully 90 percent of farm income comes from "off-farm" sources. In other words, almost all farm families have to have at least one member holding down a job in town.
Who is actually making the money in farming?
According to the USDA, only the largest commercial farms make most of their income from farming operations. The top 3 percent of farms – those that make gross sales of over $500,000 – earned profits of $177,200 on average in 2003. The next 4 percent of top farms – those making between $250,000 and $499,999 in gross sales – earned an average of $63,330 in agricultural related profits.

But those commercial farm families still supplemented their income with almost $60,000 in income from off-farm sources.
The smallest three categories of farms in terms of gross sales – those making gross sales up to $249,999 – account for 93 percent of the total number of farms but only 13.75 percent of total sales.

Most of these farms get the majority of their income from off-farm sources. The smallest farms pay for an average of $5,560 in farm losses with their income from off-farm sources. These farms that sell less than $10,000 a year in agricultural produce account for 58 percent of the total number of farms in the U.S.
We're making it our mission to turn this trend around. We've trained many new farmers, who are now earning income from farming aquaponically. Not all of them have given up their "day jobs", as we encourage people to transition in a manner that provides stability and security, but they are on their way.

So, we're calling on you to send us your story, and a few pictures of what you've built. We're especially interested in what you are growing, and where you are selling your produce.
Because making money is not the ultimate goal for some of the wonderful people who have come to our trainings, or purchased our DIY manuals, we'd also like to showcase people who have built aquaponic systems who are doing altruistic work all over the world. We're proud to call these people our "Farmily".

Over the next few weeks, we'll be profiling some of these new farmers in this column. We're honored to share some of your stories. If you're one of these people, email us, and tell us your story!
**Susanne**