Aloha Friend,
We have three aquaponics trainings scheduled in 2012, one in September in Tennessee! First is the schedule, then a description of our new training format; we've changed it substantially to make it easier for you to attend the training that suits your needs the best.

At the Hawaii trainings, we teach USDA Organic Certification and Food Safety Certification on certified systems: at the Tennessee training, we teach certification on certifiable systems (though our Tennessee affiliate's systems are not certified yet).

Training 1: In Hawaii August 26-28, and August 30th- September 1st. Our Aquaponics Technology Training, plus the Solar Greenhouse Training, plus the Commercial Aquaponics Training. Attend one or more trainings to suit your needs. More information on those trainings on our webpage here.

Training 2: In Tennesee, the same six days of training from September 16-18, and 20-22nd at Randy and Katy Campbell's farm, Ellibell Farm, in Elora, Tennesee. You can sign up now for these trainings on our webpage here. You can also call Randy directly at 256-679-9488, or email Randy for information.

Training 3: The same six days of training, October 21-23, and 25-27th in Hawaii.

Now: More Training Flexibility
To Meet Your Needs

If you only want to attend one training, ie the Aquaponics Technology, the Solar Greenhouse, or the Commercial Aquaponics trainings, click here for more information. If you're thinking about attending all three trainings, we offer three ways for you to do this, and all cost the same amount ($2,495). You choose which works best for you, based on the time you have available and the amount of hands-on aquaponics experience you feel it's important for you to acquire.

Way 1: Our standard two-month internship (details on this webpage), where you live on our farm in Hawaii for two months, then get to attend the training during the last week of your two-month period on the farm. We provide meals, hot showers, and a bunk, and you work 5 days a week 8 hours a day doing the normal work on the farm, learning as you work (cost $2,500).

Way 2; Our new two-week internship, where you provide your own meals, accommodations and transportation, work as an intern on our farm in Hawaii for your first week, then get to attend the training during the second week of your two-week internship. This also costs $2,495.

Way 3; Attend just the six days of the trainings,(provide your own meals, accommodations and transportation). The $2,495 cost is a $500/17% discount over the individual costs of the trainings.

If you're interested in our Solar Greenhouse technology,
please take a look at our
Aquaponic Solar Greenhouse Training
(Special Offer in right sidebar of this email), where you will learn more about how to grow affordably using aquaponics in greenhouses than you can anywhere else in the world. The next training is in Hawaii in August 2012 and in Tennessee in September 2012. For smaller home backyard and apartment systems, please read on:

Purchase Construction Plans and Operating Info for 4 Different Sizes of Apartment/Condo Aquaponics Systems $49.95
Our Apartment/Condo System package includes new and easy-to-understand building instructions and complete operating information for 4 different sizes of small aquaponic systems based on our years of experience operating a commercial aquaponics farm. Anyone can build a system out of plastic barrels or IBC totes, but operating one successfully without good
and
easily-understood information can be frustrating. You simply use the "Daily O
perations Checklist" in the manual and follow the step-by-step
instructions on your way to success. We also cover how to make aquaponics systems out of weird things like old refrigerators and door frames; this makes aquaponics
much more
economical to get started in!
We spent hundreds of thousands of dollars, hundreds of hours, and built our first commercial aquaponics systems with FAR less information than this manual contains. We included all the information learned from that experience in this manual so you don't need to make any of the same mistakes we did.

Aquaponics Nugget #81: Economical Trough End Fittings
We now have TWO GOOD ECONOMICAL WAYS to install your trough plumbing, based on new information we developed in the last six months. You can put your trough fittings in the ends of the troughs using either: 1. A threaded bulkhead fitting installed in the end of the trough, with a threaded PVC adaptor fitting screwed into it from each side, or 2. A male and a female threaded adaptor fitting, installed into the end of each trough with a ¼" plastic disk you make. With either of these types, you can then choose whether to put the pipes in a trench belowground or NOT (you may have untrenchable, rocky ground, or be building in an asphalt parking lot. Don't laugh, it's happened!). Here are descriptions of the two to help you decide what's best for you:
1. The first way is to install the trough fittings into the ends of the troughs. For 3" pipe, this method uses two fittings called male threaded adaptors which cost $5 each, and a $28 bulkhead fitting with internal female threads (for 3" pipe this is Aquatic Eco catalog #TF7). You drill a 3-1/4" hole in the plywood end of the trough before the liner is installed in the trough, then install the liner and cut out the hole through the liner with a knife. DON'T try to holesaw through the liner, the holesaw will grab the liner and rip it up. Install the bulkhead fitting into the trough end with a little polyethylene calk under the rim of the fitting (on the inside of the trough!) and screw it down tight. Now you have a female thread on either side of the bulkhead you can screw the male threaded adaptors into, then glue your PVC pipe into the adaptors and thence down into your trench or whatever.
In the photo below the middle fitting (1-1/2" thread) demonstrates this type #1.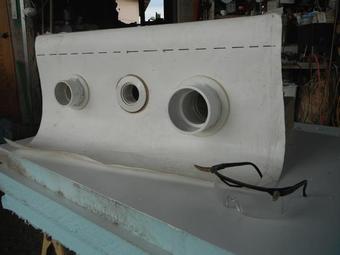 2. The second way costs one-quarter as much as way #1 for the bigger fittings (3" and larger). However, you need to make a plastic disc (using a couple of holesaws or a jigsaw) for each trough end fitting. If
making things
is difficult for you to understand, using method #1 may be easier. The way method #2 works: simply screw a male threaded adaptor (with the plastic ring on it) through the hole in the liner and trough end into a female threaded adaptor on the other side, with some
polyurethane
calk (
not silicone!
) under the plastic ring on the inside fitting. Then just glue your PVC pipe into the adaptors, etc. Either of these ways are cheap and easy.
In the photo above the two end fittings (2" on the left and 3" on the right) demonstrate this type #2.
The beauty of both these ways is that you can put the pipes in trenches if you want to, but you're
not forced to
, and you can build the troughs first
then
put the plumbing in later, which is MUCH less work.
The next photo shows the 90-degree "ells" used for standpipes on the INSIDE of this mocked-up trough end. They are NOT glued to the fittings going through the trough wall.
This is on purpose, so they can be rotated to raise or lower the water level in the trough. These standpipe elbows are on the OUTFLOW end of each trough; there is no need for them on the inflow end of the troughs, just a plain fitting as in the previous photo is all that's necessary there.
(And the reason we don't use or recommend silicone calk is that it was developed to seal quartz windows into aluminum spacecraft and shuttles. So unless that's what you're making your aquaponic system from, silicone is a bad choice, because it doesn't stick to
anything
well but those two materials!
Use polyurethane calk!).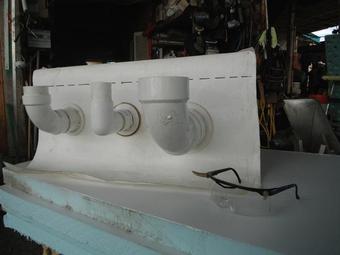 The next photo shows the fittings on the outside of the "mocked-up" trough end, with piping showing how they go down into the trench you will dig for the piping. Everything outside here IS glued together, AND all threaded fittings have a good multiple wrap of Teflon tape on them before threading them together, otherwise you WILL get leaks!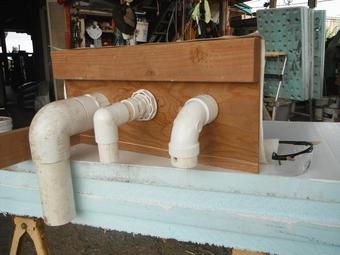 The next photo is our Solar Greenhouse. It's cool when it's hot, and warm when it's cold (hope that makes energy sense to you, it's the best greenhouse we've ever seen!).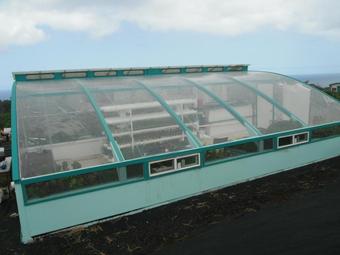 Friendly Aquaponic's FIRST Aquaponic Solar Greenhouse in full bloom, Honoka'a, Hawaii, March 2012, (on a grey rainy day) showing PV panels, and growing plants.
Next week: Something educational and useful; we just finished our June training week, then did Fourth Of July with about 20 kids (some of them ours!), all on a normal 12-hour a day work schedule on the farm, got sunburned, and we're FRIED! Thanks for listening!
Click Here To See Our New Aquaponics Video!
.......................................................
Back Issues Of Newsletters Now Available, Click Here!
.............................................


Purchase Trough Liner Directly From Manufacturer!

Free Farm Tours

..............................................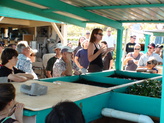 Aquaponics tour at the Friendly farm!
We hold a free workshop on our farm the FIRST Saturday of every month, focused on growing food with aquaponics and permaculture.
Click here
for information. See you there!
If you are a school, a non-profit organization, an organization working with the poor, Native Hawaiians, or ex-inmates, or if you are a church, we will hold a free farm tour for you anytime. You DO need to email us first to schedule, or we might be out on errands!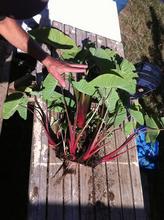 3-1/2 pound kalo (taro root) grown in a 2" net pot (little bump at bottom)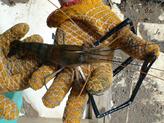 4-month old prawn (macrobrachium rosenbergii) grown in hydroponics troughs of our aquaponics systems
Special Offer!

Sign up for our HAWAII August 30-31st
Aquaponic Solar Greenhouse Training

or our


HAWAII August 26-28 Aquaponics Technology Training

,

or our
TENNESSEE September 20-21
Aquaponic Solar Greenhouse Training

or our


TENNESSEE September 16-18th Aquaponics Technology Training

,
and receive a free Micro System DIY package so you can begin studying aquaponics! ($99.95 value)
More Information on Hawaii Aquaponic Solar Greenhouse Training
"In The Farmily"

The "Farmily" writer (overworked me!) is madly trying to get the CAD drawings for the Aquaponic Solar Greenhouse done for everyone we've promised them to. The first Aquaponic Solar Greenhouse (ASG) will be available
about five days from today
as a set of DIY manuals and plans for three different sizes of greenhouses : 512 square feet, 1,024 square feet, and 1,536 square feet.

Right after I finish the CAD drawings for this larger ASG, I will be putting together the manual and plans for a smaller, more affordable ASG in three sizes also: the smallest of 180 square feet, 240 square feet, and 360 square feet. Thanks for your patience, and please keep tuned here if you are interested in them when they come out.

Thanks from Tim, Susanne, Victor, Jack, Lucky, Rose, Isabelle, all the interns, and many animals (the :Farmily").