Aloha Friend,
Where does your food come from?. A lot of ours comes from our backyard. That's easy for us: we live on a farm. But if you live in an apartment or condo in the city this can be a more worrisome question. Is there anything that city dwellers can do to be less dependent on fragile supply lines that are in turn dependent on cheap oil for their continued operation? The answer is an unqualified Yes! with our newly released Apartment/Condo Aquaponics systems.
We won't pretend (the way some aquaponics outfits do) that these small indoors systems will grow all the food a family of 4 needs. We DO guarantee they will grow food easily and give you fresh food when it becomes more expensive to buy. Most importantly, they will give you a new skill and a new confidence to take out into your life. Imagine knowing how to grow your own food!
Even if you live in a city high-rise, you can grow vegetables on your balcony using a solar panel for power. To understand why we think this is so important, even for city dwellers, check out our new
Biogas On The Farm
page, or our new
"Alternate Energy On The Farm"
page. People, Power Up!
Special Introductory Offer on our Apartment & Condo Aquaponics Systems; $29.95!

Construction Plans and Operating Information for 4 Different Sizes of Indoor Aquaponics Systems $29.95
This manual is written so understandably that it makes it easy for a twelve-year old to build and run these systems. Build four different sizes of stable, durable, and productive indoor aquaponics systems that can be operated indoors OR outdoors, or even MOVED between indoors and outdoors, depending on the season. These affordable systems range from a COUNTER TOP 2.5 square foot system to one with 32 square feet in grow bed area. The 2.5 square foot system costs $95 for materials, the 32 square foot one costs $250 for materials. Most materials are available locally; some items may need to come from suppliers whose contact information is given in the materials lists. In addition to the four standard sizes of systems in the manual we show you how to build small aquaponics systems out of Igloo coolers, discarded refrigerators and freezers, plastic garbage cans and barrels, concrete mixing tubs, and other easily-procured items. Most importantly, we show you in complete detail how to OPERATE them successfully!
Indoors: These systems are appropriate for anyone who is limited to growing indoors, or for those who only have limited space outdoors. They are perfect for getting your fingers wet in aquaponics without spending a lot (pun intended!). They can easily be set up inside an apartment or on a balcony, in a garage or outbuilding, inside a spare room, or even a closet. You can use them for the centerpiece of a living room or family room to show off to your friends. Best of all, they produce food! If you have light and heat you can grow vegetables and fish!
Schools:
These systems are perfect for schools because of their low cost and the easily-understood instructions and plans for construction and operation that come with the package. They are so affordable and understandable that a sixth-grader can easily use one as a science class or science fair project. They are small enough to be easily and affordably operated indoors in cold weather climates and lighted with artificial lighting (instructions included). Cost for plans AND materials for the
biggest
of these systems is only $250, making them affordable for all schools. This large school system produces a serious amount of vegetables as well as teaching kids aquaponics (read: chemistry, biology, animal husbandry, plant physiology, math, some physics, and business skills) .
The Indoor System package includes new and easy-to-understand building instructions and complete operating information for small aquaponic systems based on our years of experience operating a commercial aquaponics farm. Anyone can build a system out of plastic barrels, but operating one without good
and
easily-understood information can be frustrating. Operating information is given in the form of a "Daily O
perations Manual" where you simply use the checklist and follow the step-by-step
instructions on your way to success with aquaponics.
We've spent hundreds of thousands of dollars, hundreds of hours, and built our first commercial aquaponics systems with FAR less information than this manual contains. We included all the information learned from spending that money and time in this manual so you don't make any of the same mistakes we did.
Learn about our Apartment/Condo Systems!

Aquaponics Nugget #12:
Feeding the fish (Part 2)
We've made some strong statements about duckweed in the past because we've had very negative experiences with it. The biggest problem with duckweed is that everyone claims it is 38% protein. That's true, on the DRY weight of the duckweed. Duckweed is from 92-95% water, depending on the variety. When you dry it, you have 38% of 5% left, which is 2% of the WET weight of the duckweed. This is NOT a vegetable that is high in protein, and is also why most commercial fish foods have fish meal or slaughterhouse waste meal as a major component: that's where they get the needed protein from. Fish also require a certain percentage of fat (around 8%), to thrive and grow well, and it is difficult to get fats out of vegetables; most of them have so little.

One of our students makes her own fish food out of dried ground-up duckweed and black soldier fly larvae. She's a genius, because she figured out that this mixture floats, and has a good food value for her tilapia. However, in a commercial environment such as our farm, if we were to make our own fish food the way she makes hers, the labor involved would make the food cost us around $5 per pound, when we can buy commercial fish food for $0.64 per pound.

We have a design for a "small" fish food plant that we can build for $50,000 or so. It makes 1,000-1,500 lbs of fish food per day, and has a break-even point of 2 days of operation a week. Unfortunately, the amount of fish food used on our entire island is about 400 pounds per week, which makes a plant that makes 2,000-3,000 lbs per week a BAD commercial venture. When our island has expanded to need more fish food, this will be a good idea for a small business for someone to get into. But for now, we're still looking for an easier and better way to use cheap ingredients to make an acceptable fish food.

Upcoming Free Training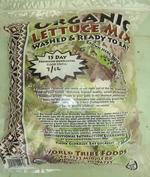 Organically Certified is worth more to your farm!
We invite you to our first "Organic Certification and Tilapia Breeding Workshop". This FREE one-day workshop will be held August 21st at our farm in Honoka'a, Hawaii, just off the main highway between mile markers 40 and 41.


Training starts with a two-hour free farm tour from 10-12, a potluck lunch from 12-1, then the workshop from 1-4. See you there!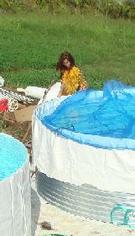 Installing a hapa in a tilapia breeding tank.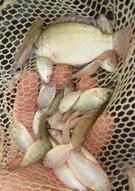 White tilapia fry from our nursery system
Special Offer!
Sign up for our October 4-7th, 2010 Commercial Aquaponics Training now, and we will email you our Micro System package so you can begin studying aquaponics! ($99.95 value)
Sign up for Commercial Training
In
The Farmily
Our Farmily now consists of ten people; here are a few: Xiao Cheng, our Chinese intern with a Master's degree in agriculture from China's biggest ag college, who is going to take aquaponics back to China with him and revolutionize the country that hosted the Cultural Revolution; Damon, our Ohio transplant who made a huge change in his life by moving from a chefs job in Ohio to Hawaii, who now manages and owns a percentage of our farm; his wife Nadja from Germany, who as our master germinator technician is responsible for getting the most out of our seeds (pun NOT intended!) who also owns a percentage of the farm; Victor, our fifteen-year-old son who is half an inch taller than his six-foot-tall Dad. Victor hates going to the beach, but the other day when we said "Victor, there are girls at the beach!", he said "Oh, yeah", and went with us. Victor is one of the most tireless workers in the lettuce patch, and although not terribly fond of lettuce (what teenager is?), understands how the aquaponics systems work and always asks intelligent questions.
This email, our manuals and construction plans are all copyrighted by Friendly Aquaponics, Inc, Susanne Friend and Tim Mann, 2008-2010
Email:
Friendly Aquaponics