Aloha Friend,
In Today's Newsletter:

We've got a great "Nugget" in today's newsletter about how to make concrete tanks or troughs work, if that's what you have to work with. We've had several students who wanted to take aquaponics to the Third World, and said that while lumber and LDPE liner were expensive, concrete structures were cheap!


Our Request: Please Send Us Your Story And Photos!
We just got emailed a bunch of photos from a student who'd built a commercial aquaponics facility (only the first phase of their operation) from our Commercial DIY package of about 2,000 square feet of trough area in about 3,000 square feet of greenhouse. Everything is nicely laid out, and his plans for marketing his produce are impeccable. So what's the problem? We didn't even know he'd built a system until this email!

Sometimes clients contact us and fill us in on their progress with aquaponics; sometimes, (as in Shumin Wang's case) the student surprises us with an incredible fait accompli, and we're absolutely floored when we hear.
Sometimes we don't hear about a student's problem until they've been suffering for awhile. So, here's our request of you (actually, two requests):
Request Number One: If you have a successful aquaponics system that you built from our plans, PLEASE email us and let us know, with photos, so we can be proud of you!
Request Number Two: If you have an aquaponics system that you built from our plans, and are having any difficulty at all with it, please email us and let us know, with photos, so we can help you get it back on track. We have always offered free email support with our Family System or Commercial System DIY packages!
We will send everyone who replies to this request a free copy of the new "Safe and Effective Pest Control For Aquaponics Systems", that Susanne recently finished.

If you want to earn a living from aquaponics, we have three trainings scheduled in the balance of 2012:
Training 1: In Hawaii, August 26th to September 1st. Our Aquaponics Technology Training, plus the Solar Greenhouse Training, plus the Commercial Aquaponics Training. Attend one or more trainings to suit your needs. More information on those trainings on our webpage here.

Training 2: In Tennesee, the same six days of training from September 16th to the 22nd at Randy and Katy Campbell's farm, Ellibell Farm, in Elora, Tennesee. You can sign up now for these trainings on our webpage here. You can also call Randy directly at 256-679-9488, or email Randy for information.

Training 3: The same six days of training, October 21st to the 27th in Hawaii.

If you're interested in our Solar Greenhouse technology,
please take a look at our
Aquaponic Solar Greenhouse Training
(Special Offer in right sidebar of this email), where you will learn more about how to grow affordably using aquaponics in greenhouses than you can anywhere else in the world. The next training is in Hawaii in August 2012 and in Tennessee in September 2012. For smaller home backyard and apartment systems, please read on:

Purchase Construction Plans and Operating Info for 4 Different Sizes of Apartment/Condo Aquaponics Systems $49.95
Our Apartment/Condo System package includes new and easy-to-understand building instructions and complete operating information for 4 different sizes of small aquaponic systems based on our years of experience operating a commercial aquaponics farm. Anyone can build a system out of plastic barrels or IBC totes, but operating one successfully without good
and
easily-understood information can be frustrating. You simply use the "Daily O
perations Checklist" in the manual and follow the step-by-step
instructions on your way to success. We also cover how to make aquaponics systems out of weird things like old refrigerators and door frames; this makes aquaponics
much more
economical to get started in!
We spent hundreds of thousands of dollars, hundreds of hours, and built our first commercial aquaponics systems with FAR less information than this manual contains. We included all the information learned from that experience in this manual so you don't need to make any of the same mistakes we did.

Aquaponics Nugget #85, Concrete Tanks and Troughs

Concrete tanks, because of their labor and materials costs, usually cost as much as solid fiberglass tanks do in most First-World locations. However, if you have free gravel and labor, they can be really cheap. Think twice before using concrete structures; they will still be here 1,000 years from now because they are difficult and expensive to remove. If you do use concrete tanks or troughs, make SURE you get them in the right place the first time, and have any plumbing fittings installed in them before you pour or apply the concrete.

IMPORTANT! Wash the new concrete with muriatic (hydrochloric) acid and then rinse to neutralize the high pH (alkalinity) of the new concrete, or the alkali will bleed off into the fish water and possibly kill or stunt your fish, or result in a prolonged and difficult system start-up or NO SYSTEM startup at all (we have plenty of evidence from students who DIDN'T wash their tanks completely). High pH, or highly basic water, acts on the fish and vegetables exactly the same way that highly ACID water does: it stunts and kills them!

Here's the best way to neutralize your concrete tank: After your concrete has cured (if you don't know what this means, you have no business building concrete tanks anyway) apply the muriatic acid (hydrochloric acid) directly to the concrete using a brush with plastic bristles, wearing rubber gloves, protective face shield, cartridge respirator, high rubber boots, and long-sleeved protective clothing.

You also need to have a water hose with a squirt handle on it right at the top of the tank so you can hose yourself off and dilute the acid in case you accidentally get some on your clothes or skin! The acid is known as muriatic acid, and is sold in hardware stores and building supply stores; it's just another name for hydrochloric acid! Paint the acid on, then get out of the tank and go upwind somewhere! After the acid has set on the concrete for an hour or so, rinse it off, but don't let it go down the drain! Leaving the acid and rinse water in the tank, now fill the tank to the top with the water, and let it sit and soak for a couple of days. The diluted acid in the water will now have a chance to soak into and completely neutralize the highly basic new concrete.

Now drain the tank water off to a location where the acidic water cannot harm animals, plants, or people. When it is empty, rinse the inside of the tank well with a hose, letting this water go down the drain also. An ideal safe place is into an existing cesspool or septic system.

Now, check the pH of the water supply you use to fill your tank. Why? You want to know the pH of your fill water, so you can compare it to the tank water after it's sat for a couple of days.

After two days, check the tank water pH and compare to the pH reading you took of your water supply two days ago. For example: if the supply water pH was 7.2, and after two days in the tank it is now 8.5 or higher, you need to repeat this process with the acid wash, sit and soak AGAIN because your concrete is still bleeding off alkali (base) into the water. If your tank water pH reads between 6 and 8 AFTER two or three days, your pH is acceptable and you can start your aquaponics system (see our back newsletters here for startup coverage).

The only exception to this might be when the supply water you started with is VERY basic, ie 8.5 or so. If you had pH 8.5 water to start with, and after two days in the tank it was only 8.6 or 8.7, it's probably OK to start your system. If your supply water has a pH of 8.5 or higher, you will still have a pH problem that you need to address even if your concrete tank is NOT bleeding base into the tank water. The only dependable way we know to decrease high pH is to get fish into the system; as they breathe, the carbon dioxide they breathe out is converted into carbonic acid, lowering the water's pH almost immediately. Some people say you can add phosphoric acid to adjust high pH in your supply water, but everyone we've ever heard of who tried it said it only dropped the pH for a day or two, no more than that, even with large amounts of the acid. Don't use citric acid to neutralize high pH supply water, because it is an organic herbicide and will kill your plants!!

Good luck with your tanks made of rocks!!
The photo below is our Solar Greenhouse. It's cool when it's hot, and warm when it's cold (hope that makes sense to you, it's the best greenhouse we've ever seen!)
.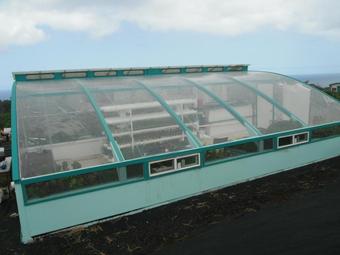 Friendly Aquaponic's FIRST Aquaponic Solar Greenhouse in full bloom, Honoka'a, Hawaii, March 2012, (on a grey rainy day) showing PV panels, and growing plants.
Next week: Something interesting and valuable to know about aquaponics. Thanks for listening!
Click Here To See Our New Aquaponics Video!
.......................................................
Back Issues Of Newsletters Now Available, Click Here!
.............................................


Purchase Trough Liner Directly From Manufacturer!

Free Farm Tours

..............................................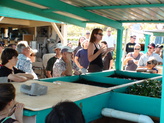 Aquaponics tour at the Friendly farm!
We hold a free workshop on our farm the FIRST Saturday of every month, focused on growing food with aquaponics and permaculture.
Click here
for information. See you there!
If you are a school, a non-profit organization, an organization working with the poor, Native Hawaiians, or ex-inmates, or if you are a church, we will hold a free farm tour for you anytime. You DO need to email us first to schedule, or we might be out on errands!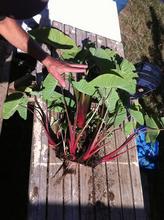 3-1/2 pound kalo (taro root) grown in a 2" net pot (little bump at bottom)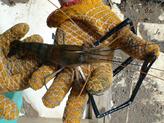 4-month old prawn (macrobrachium rosenbergii) grown in hydroponics troughs of our aquaponics systems
Special Offer!

Sign up for our HAWAII August 30-31st
Aquaponic Solar Greenhouse Training

or our


HAWAII August 26-28 Aquaponics Technology Training

,

or our
TENNESSEE September 20-21
Aquaponic Solar Greenhouse Training

or our


TENNESSEE September 16-18th Aquaponics Technology Training

,
and receive a free Micro System DIY package so you can begin studying aquaponics! ($99.95 value)
More Information on Hawaii Aquaponic Solar Greenhouse Training
"The Fish's View"

This is a fish story from 1983, when Tropic Bird and I were fishing off the coast of Kona on the Big Island. It's about how I developed the mahi-mahi call. If you're a fisherperson, or a commercial fisher, you probably already know about "holding your mouth right"; a major component of catching fish in any waters anywhere, whether salt or fresh. I'll explain that first, for our non-fishing readers:

"Holding your mouth right" simply refers to the unquantifiable ingredients that go towards a fisher's success or failure in the enterprise. If you don't hold your mouth right, you don't catch any fish. If you hold your mouth really right, then you are the one that comes home with the fish hold filled to the brim, because when you hold your mouth right, it helps you figure out where the fish are. No one can ever catch a fish until he can answer the question: "where are the fish?".

The subtle, often interconnected clues (that tell him or her where the fish are) don't always jump right out and salute you, they often have to be figured out from slight hints and differences in the way the tides and currents are interacting, from the wind, from the temperature of the water, and sometimes just from "the way it feels".

This isn't shopping, where you know what section of the store to go to to find light bulbs, or cream cheese. This is fishing, and it's not the least bit amenable to logical analysis.

You'll get a hunch, or for some people it's a feeling. The good fisher learns to listen to these hunches, and play them. Often that good fisher will put a baited line in the water, or troll for a while in a certain area to get a little more information.

What's happening here is that they are trying to reduce the variables. It's like a mathematical equation; a 1-variable equation is easy to solve: 2 plus X = 5, you know what "X" is, right? A two-variable equation is those parabolas and hyperbolas that we did in high school algebra; a three-variable equation is calculus, and the answer is expressed as a range of possibilities rather than a single-number "answer".

But fishing? That's more like a seventeen-variable equation, with the variables shifting all the time: some being subtracted from the equation, and more being added, as the tide changes, as the schools of bait fish move around. It is something that can be solved only by approaching it using a special kind of "fuzzy" logic, in the fastest and most complex computer in the world: the human mind. I'll give you an example that will demonstrate the "fishing computer" in action:

We were on our way to the shrimp grounds, to pull and reset our three lines of shrimp traps. I knew we were going to pass by a deepwater fish aggregation bouy, and about two minutes before we got to the bouy, an uncontrollable urge seized me, and I yodeled for an entire minute: heeerrre, mahimahimahiiiiii! (repeat). Now, imagine this yodeled at the top of one's voice, with the same intonation and cadence that is usually used in "soooweeee, here, pig, pig, pig!" when one is calling the hogs to feed.

My crewman just looked at me like I'd lost my mind! I told him: "get ready". About a minute later two mahi mahi, each about thirty pounds, hit our trolling lines, one on each side of the boat. I idled back the engine, went and pulled one of the lines in and gaffed the fish, while he did the same with the other line. We had sixty pounds of fish in the boat, we'd made some money over expenses, and we hadn't even pulled the shrimp traps yet.

We knew it was going to be a good day. And I used the mahi mahi call a lot, after that.