Aloha Friend,
Today we'll talk about
what
you can grow in aquaponic systems.
Why are we covering this apparently simple subject in today's newsletter? One of our "competitors" told someone over the phone: "You can only grow lettuce in our aquaponics systems."
That's a silly statement, for you can grow far more than that. For a complete free listing,
email me
and I will send it to you (this list is detailed, ten pages long, and includes all our experience with
how
things grew over the last five years, as well as raft hole spacing, seed sources, and more!). They won't send you this for free; because they don't know, or want money for everything they do.
We were astounded. It must be because they never had to make money from growing things for a living, but do so by selling aquaponics "kit" systems to people instead. We don't sell aquaponics systems, because we know that the most important thing about aquaponics is the knowledge. We also feel it's unconscionable to sell stuff to people at a 300 to 500 percent markup just because the client is new to the game of aquaponics and doesn't know any better.

You can purchase the tanks, piping, pumps and air blowers for an aquaponics system and assemble them into a complete and profitable aquaponics system if you have the right knowledge.
In fact, it's far less expensive if you do it this way:
All the components for one of our 4,096 square foot systems on the East Coast costs $16,450. The cost for one of their "kits" that's roughly the same size is around $85,000, plus crating and shipping. Check on their website; you know who they are, but we can't mention their name because they've threatened to sue us if we do. Their "kits" require assembly using the exact same amount of labor required for our designs, for theirs are
not
"turnkey" systems. They're also not USDA organically certifiable, and we are still waiting for them to publish data on a single one of their systems that is profitable in commercial operation (for our student's profitable farms see
"Zac's Farm #3"
, and
"Shumin's Farm #8"
in our back newsletters).
But it isn't the components that make you a success or a failure, it's the knowledge. The
knowledge for success
can only come from the right school. The school we went to had a gun to our heads: we were going to lose everything if we didn't make a profit selling produce from our systems, and were forced to figure out how to do so. More in today's "Nugget" about what grows in aquaponics!
For new readers:
we got such
a positive response to the September 6-day aquaponics and solar greenhouse training in Tennessee, we've already scheduled the next Tennessee training for January 20th to the 26th in 2013, at Randy and Katie Campbell's "Today's Green Acres", in Elora, Tennessee.
The hands-on parts of the course were everyone's hands-down favorite, so we added a whole day to the January course to include hands-on construction of small aquaponics systems by all the attendees. Here's the day by day description of the course, which is now seven days long:

1. The four days of the Aquaponics Technology training is everything we know about the techniques and methods of growing with aquaponics. Each day has hands-on segments. In addition, you will spend all of Day Four building several 12-square-foot TableTop Systems from scratch (under our expert eyes, of course). More details of the Aquaponics Technology course here.
2. You can take one of these 12-square-foot TableTop systems home, assemble it there, and begin growing with aquaponics immediately, even in the middle of winter! The cost of this kit is only $450; much smaller "kits" from others start at $1,295 and go up from there, not including shipping. This is a complete kit, with fish tank, water and air pumps, airstones and airstone tubing, growing troughs, prepainted rafts, pots, potting mixture, seeds, bacterial inoculant, and mini water test kit; all you provide is the water and the seeds! You have to pay for your kit when you register, or we cannot guarantee having enough available!

3. The two-day Aquaponic Solar Greenhouse course is everything we know about energy-efficient greenhouses, including information and complete CAD plans showing how to build a Chinese-style aquaponic solar greenhouse; along how to convert existing greenhouses to be as energy-efficient as possible. We even show you how to purchase and erect a good used greenhouse for ten cents on the dollar! More details of the Aquaponic Solar Greenhouse course here.

4. The one-day Commercial Aquaponics Training is everything we know about the various ways of making money with aquaponics, from CSA's to Costco, from wholesale to retail, from selling simple produce to producing value-added products, including Food Safety Certification and Organic Certification. More details of the Commercial Aquaponics course here.


To introduce this expanded training, we're making a "super-saver" offer of $1,000 off the regular cost of the Tennessee Training (this is only $1,495 for all 7 days instead of $2,495). Watch this three minute video and you will be able to sign up at the super-saver rate.
Click Here To Find Out More About The January 2013 Tennessee Training, And Get A $1,000 Discount!
For smaller home backyard and apartment systems, please read on:


Purchase Construction Plans and Operating Info for 4 Different Sizes of Table Top Aquaponics Systems $49.95
Our TableTop System package includes easy-to-understand building instructions and operating information for 4 different sizes of small aquaponic systems based on our years of experience. Anyone can build a system out of plastic barrels or IBC totes, but operating one successfully without good
and
easily-understood information can be frustrating. You simply use the "Daily O
perations Checklist" in the manual and follow the step-by-step
instructions on your way to success. We also cover how to make aquaponics systems out of weird things like old refrigerators and door frames; this makes aquaponics
much more
economical to get started in, and fun too!
We spent hundreds of thousands of dollars, hundreds of hours, and built our first commercial aquaponics systems with FAR less information than this manual contains. We included all the information learned from that experience in this manual so you don't need to make any of the same mistakes we did.

Aquaponics Nugget #98: What Grows In Aquaponics Systems

The answer's simple: almost anything!

Today's "Nugget" is mostly photos of stuff we actually grow in our aquaponics systems. These photos may make our "competitors" blow a fuse, but here they are: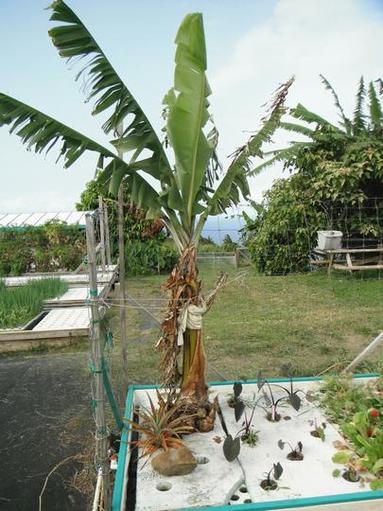 Eight-foot tall banana plant in a 64 square foot backyard Micro System.
This plant is 9 months old, and was planted in a 3-inch net pot when it was 3 inches tall. It shouldn't even have grown in good soil, but it did in the aquaponics system's awesome nutrients.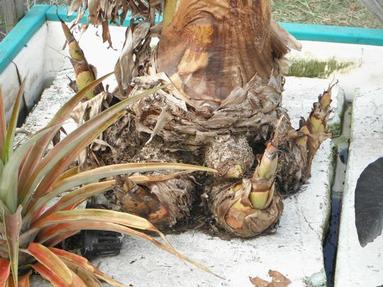 Base of the banana plant showing seven "keikis" (Hawaiian for "children") in a backyard Micro System.

These "keikis", or sprouts at the base of the banana plant shown previously are only supposed to happen when the banana is around 2 to 3 years old: this plant is 9 months old. Each one of these can be cut off without hurting the mother plant, and planted to grow an entire new banana plant. This opens up possibilities for nursery use for propagation purposes, for it works this way with bananas and many other plants.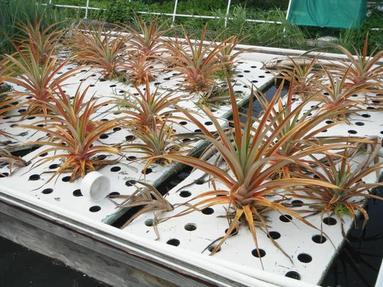 Six-month-old pineapple plants that were all put directly into the raft holes as dry and dead-looking "crowns" with no roots.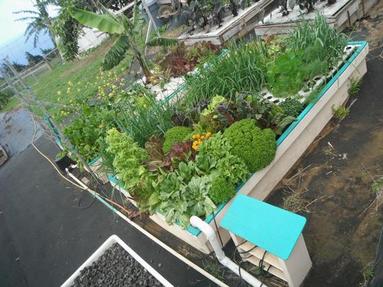 A variety of veggies in a 64 square foot backyard Micro System: the banana plant at 3 months, three kinds of basil, four kinds of lettuce, three kinds of green onions, leeks, edible flowers, parsley, mustard greens (for seed), dill, anise, melons growing off onto the ground on the far side, some baby tomato plants, and a few others I can't identify (Susanne is the plant expert, I'm just the plumber and fish cowboy).
Hope you enjoyed the photo show; remember to email me for the free list if you want to know all the plants that we know grow in aquaponic systems. You too can get the best information so you don't have to guess: the upcoming Tennessee Training in January 2013.

The photo below is our Solar Greenhouse. It's cool when it's hot, and warm when it's cold (hope that makes sense to you, it's the best greenhouse we've ever seen!).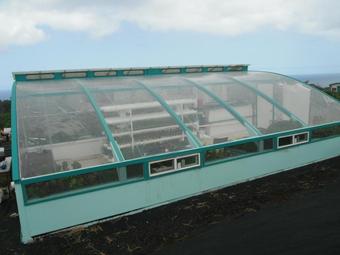 Friendly Aquaponic's FIRST Aquaponic Solar Greenhouse in full bloom, Honoka'a, Hawaii, March 2012, (on a grey rainy day) showing PV panels and growing plants.
Next week: Something else interesting and valuable to know about aquaponics. Thanks for listening!
Click Here To See Our New Aquaponics Video!
.......................................................
Back Issues Of Newsletters Now Available, Click Here!
.............................................


Purchase Trough Liner Directly From Manufacturer!

Free Farm Tours

..............................................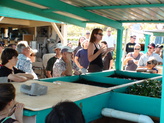 Aquaponics tour at the Friendly farm!
We hold a free workshop on our farm the FIRST Saturday of every month, focused on growing food with aquaponics and permaculture.
Click here
for information. See you there!
If you are a school, a non-profit organization, an organization working with the poor, Native Hawaiians, or ex-inmates, or if you are a church, we will hold a free farm tour for you anytime. You DO need to email us first to schedule, or we might be out on errands!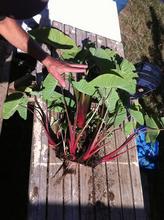 3-1/2 pound kalo (taro root) grown in a 2" net pot (little bump at bottom)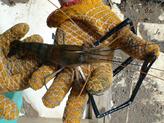 4-month old prawn (macrobrachium rosenbergii) grown in hydroponics troughs of our aquaponics systems
Special Offers!

Sign up for our TENNESSEE January 20th-26th Commercial
Aquaponics and Solar Greenhouse Training
and receive a free Micro System DIY package so you can begin studying aquaponics! ($99.95 value)
The "Tropic Bird Chronicles", #47: "Amateur Demolition Team"

Sometime back in 1981 I was supervising the haulout of the 60-foot catamaran "SeaSmoke" in Kawaihae. I was the head boatbuilder, and did the tricky repair and modification work while the boat's normal crew did all the sanding and painting.
During the haulout, two of these guys who were my friends, the captain and the alternate captain, had an old Opel Kadett that they couldn't get safety checked anymore without a LOT of expensive repairs, so they decided to have some fun.
They went to their friend the welder and had him fill four large plastic garbage bags with an oxygen-acetylene mixture, put the bags in the back of their pickup, and brought them back to where the Opel was parked in the middle of the sand flats, about 250 feet away from where the SeaSmoke was hauled out.
They put the bags in the Opel, made a makeshift fuse, and lit it. They ran off about 150 feet, and waited, and waited. And waited.
I was taking a lunch break, and had rowed out to my 56-foot trimaran "Tropic Bird" anchored in the harbor to make lunch and enjoy the ocean breeze for a while, so had a perfect view of what happened next from around 500 feet away.
I had no idea what they were doing, of course. All I could see was a bunch of people milling around an old car, then running to hide behind a pickup truck parked a ways off.
They hid there for a long time, then just as they started out from behind the truck to go back to the Opel, the Opel let out a big, bass KA-BOOOOOM!. The noise was so loud it physically hurt, even as far away as Tropic Bird.
There was a huge cloud of black smoke with orange flames shooting out of the center, just like in the movies, and the Opel's roof appeared, emerging from the smoke cloud about 75 feet up. It continued sailing upwards (twirling clockwise as it went) up to 120 feet before it topped out and started back down, landing about a hundred feet to the side of the car.
As the smoke on the ground cleared, I noticed the gaping hole where the Opel's roof had been. The hood and trunk had been folded backwards against the center of the car so they kind of overlapped each other.
All the doors were still attached, but were all wide open, and there was no glass to be seen in any of the windows. There was a burned ring about twenty feet out from the car on the ground where the white coral sand had been blackened and scorched.
I noticed the guys hiding behind the pickup truck. They had a really close call. But it wasn't over for them yet. On the other side of the little inlet that separated the Opel from the SeaSmoke, I noticed an official State of Hawaii SUV parked, and three men who had just got out of it and were shouting at the top of their lungs at everyone within hearing.
This happened to be the Hilo Harbormaster, the Kawaihae harbormaster, and the head of the State harbors system, who were touring Kawaihae harbor on the big man's visit to the Big Island, and were driving down the little road about twenty feet away from the SeaSmoke when the Opel went off.
As you can guess, my friends disappeared from the haulout scene for about a week.
What this says about Opels is anyone's guess.
(Something fun next week!)