Aloha Friend
In today's "Nugget", we were supposed to cover "yucky roots", but changed our minds, because we've noticed far more buzz about "cycling" (or what we call "start up") on the forums we watch. We have a simple and dependable way to do this, that we've continuously improved over the last six years, and we share it with you here.


Watch out for the announcement of our new book: "Aquaponics The EASY Way!" within the next few days. We apologize for any delays in delivery, but Susanne's been working on it night and day; and insists on getting it perfect for you. It's still available at a presale discount of 33% now, for only $19.95 by clicking here. It will be $29.95 when finished; you'll save ten bucks and get it emailed directly to you when it's finished if you buy it now!


Our "In The Farmily" column today
is Part 4 of the story of our son
Lucky
, and why he got the nickname "Lucky". He really
is
lucky, as you will understand when you read it!
Aquaponics Nugget #146, Startup Reloaded, Part 1: (Starting Up Your Aquaponic System Is Easy And Fast!)
How To Get "Started":

Many amateur aquaponics "gurus" call startup "cycling". That's a term that comes from the aquarium industry, and doesn't have much to do with aquaponics. We feel the term is misleading; a "cycle" is something that happens again and again (and you only ever need to do this once). We just call it startup.
"Startup" time is when you fill the system with clean water and introduce ammonia and nitrifying bacteria to begin the nitrification cycle which powers plant growth.
We will tell you how to startup your system in three simple paragraphs. If you follow instructions to the letter, everything will work fine. However, these paragraphs can't possibly cover all the ways startup can get difficult, especially the ways that are out of your control. So first we'll give you those three simple paragraphs, then we'll fill several pages detailing the things you might have to deal with, and give you simple ways to avoid these difficulties.
1. If you just fill your aquaponic system with water and put fish in it, it will start up all by itself. You can't prevent it from starting up unless you do something really dumb. To start it up sooner (so you have vegetables to eat sooner) simply "inoculate" it with some of the nitrifying bacteria that occur naturally in aquaponics water. You can buy these from a mail-order company such as Aquatic EcoSystems (877-347-4788, on the web at AquaticEco.com), or at a local aquarium store. Don't believe their salesman when they tell you "how much you need". We were told we needed a gallon per 1,000 gallons of system water, yet we started up a 24,000 gallon aquaponics system quite nicely with a single $42 gallon of bacterial inoculant (24 of those would have been $1,800 with the shipping!).
2. We recommend operating your system with 0.3 pounds of fish per square foot of raft area or media bed. However, we suggest starting your system with 10-20% or so of this recommended operating amount of fish. There are two reasons for this: first, it is difficult and/or expensive to just buy a large amount (by weight) of live fish. Second, until your nitrifying bacteria get well established and numerous, you do not want to inject too much ammonia into your system, which is what "too many fish" will do. Ammonia levels of 3 ppm or over in your water will slow down or stop your system startup in its tracks, because the nitrifying bacteria in your inoculant are inhibited by too much ammonia, even though it's their "food". It's like that kid's movie "Cloudy With A Chance Of Meatballs"; at first, the people thought it was cool that food was raining from the sky, then it turned into a big problem for them. Too much ammonia is a big problem for your nitrifying bacteria, and will stop your startup dead.
3. Although there are some bacteria present in the water itself, these bacteria are primarily "colonizers", which means that they live in colonies on solid surfaces; this is sometimes called a "biofilm". There is a limited amount of surface area for them to colonize in your brand-new aquaponics system, and as a result, there is a limited amount of bacteria; and they can only process a small amount of ammonia, period.
But, as you put baby plants into your system during startup, you are adding a tremendous amount of surface area (the bacteria colonize their roots!), and as your plants grow and increase their root area, the bacteria colonize them and increase exponentially until they can handle an incredible amount of ammonia.
4. Let me explain that (dang! I went into four paragraphs!): I did a "back-of-the-napkin" calculation on the amount of plant roots in our system after doing a rough measurement and count of the roots on a few sample plants, and came up with a root surface area denominated in square miles, in an aquaponics system of only 5,000 square feet! This made the amount of system "area" represented by the sides and bottoms of the fish tank, the sides of the troughs, and the bottoms of the rafts look positively sick! When you have a new system that you're just planting baby plants (with teeny roots) into, there's very little area for the bacteria to colonize, as compared with later, when your system is mature and you have lots of big plants with acres or square miles of root area. This is why it's easy to overload a young system with ammonia during startup. Once you're through startup, you don't need to worry about this again.
(So that's how to startup your system! Our next newsletter will cover the possible difficulties you could have during startup, and how to deal with them successfully. Thanks for listening!).
An Aquaponic Solar Greenhouse with the participants in our second June 2013 course in Tennessee!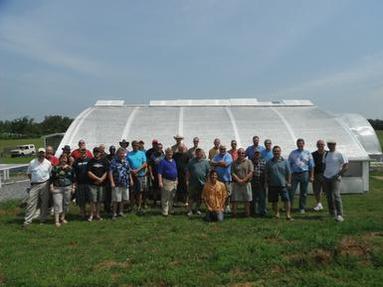 For smaller home backyard and apartment systems, please read on: