Aloha Friend,
Today we show photos of our Verticalis system! A little over a year ago, we developed a vertical growing system that can hold up to 80 plants per square foot of greenhouse space, that can be built by amateurs from common, readily-available materials. This is the Verticalis, and it will revolutionize growing in greenhouses and inside warehouses in the city, especially when artificial lighting is used.
Our "In The Farmily" column today, is by Tim, a funny little story about sailing, Part 2.

We will continue our two complementary regular columns soon (they are covering why the combination of aquaponics and energy-efficient greenhouses is an excellent solution to many of the worlds problems today), but will finish covering the Verticalis information first, so you can benefit from it (down below the turquoise band in the middle of the newsletter).

One-day New York Benefit Training: Saturday, June 8th: TableTop and Backyard Systems (this is a BENEFIT, by donation). Registration will open soon!

New York Training; June 10-14 (Monday thru Friday) , the 5-day Commercial Aquaponics and Energy Efficient Greenhouse Training, $1,495 per person (this special $1,000 off discount only applies until April 25th).
Click here to register for the New York Training!

Click here to find out more about the New York Training!

Tennessee Commercial Aquaponics and Energy Efficient Greenhouse Training, $1,495 per person (this special $1,000 off discount only applies until April 15th). First 5-day training: June 17-21st (register here for first Tennessee training). . Second 5-day training: June 24-28th (register here for Tennessee second training).

(Click here for more information on Tennessee trainings).

These five-day trainings allow you to travel during the weekend so that you only need to take a week off your busy life to attend.
All of these five-day trainings include
our $999 DIY Commercial Aquaponics package, $998 DIY Farmer's Market Aquaponic Solar Greenhouse package, $1,998 DIY Commercial Aquaponic Solar Greenhouse package, and new $295 DIY Commercial Tilapia Hatchery manual as course materials, plus our Plywood/Epoxy/ Tank manual, CAD construction drawings for all greenhouses and aquaponics systems, and much more!
If you're located near Tennessee
, Randy and Katie give regular free farm tours of their aquaponics systems and greenhouses to introduce the public to the benefits of aquaponics and energy-efficient greenhouse growing.
Call Randy and Katie at 256-679-9488
or
email Randy
to find out when the next farm tour is scheduled.
More details of the Aquaponics Technology course here.
More details of the Aquaponic Solar Greenhouse course here.
More details of the Commercial Aquaponics course here.
For smaller home backyard and apartment systems, please read on:

!
Purchase Construction Plans and Operating Info for 4 Different Sizes of Table Top Aquaponics Systems $49.95
Our TableTop System package includes easy-to-understand building instructions and operating information for 4 different sizes of small aquaponic systems based on our years of experience. Anyone can build a system out of plastic barrels or IBC totes, but operating one successfully without good
and
easily-understood information can be frustrating. You simply use the "Daily O
perations Checklist" in the manual and follow the step-by-step
instructions on your way to success. We also cover how to make aquaponics systems out of weird things like old refrigerators and door frames; this makes aquaponics
much more
economical to get started in, and fun too!
We spent hundreds of thousands of dollars, hundreds of hours, and built our first commercial aquaponics systems with FAR less information than this manual contains. We included all the information learned from that experience in this manual so you don't need to make any of the same mistakes we did.

The Amicus Verticalis, Or Friendly Verticals, Part 2:
2. Technology Of The Verticalis
The Verticalis uses cheap, easily available construction lumber for its structure and food-grade 4-inch thin wall Schedule 40 PVC drainpipe for the water channels.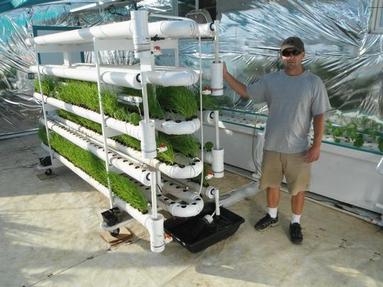 (Photo above) The "business end" of the first generation Verticalis. Note the water path: small white tubing comes into a "rack" of piping at the top left, the water goes through that pipe and goes to the next lower rack where Jeff has his right hand resting. And so on and so on, down to the bottom right, where it exits into the small black cement trough. In this installation of a single Verticalis, there is a second pump in the black trough that pumps water back into the vegetable trough behind Jeff.
In a regular greenhouse installation, there would be an overhead water supply manifold, a lower sanitary water drain manifold (no black trough), and these Verticali would be stacked right up against each other, long sides to long sides. If used this way, you can put 20,000 plants (or more!) into a floor area that is 20 feet by 30 feet.
Add maneuvering room for the Verticali, and our sprouting table technology, and you can still fit it all easily into a 36 by 48 foot greenhouse. If you include the 9,996 plants our sprouting tables hold, you would have a total of 29,996 plants in 1,728 square feet, or 17 plants per square foot of greenhouse floor area. Densities far greater than anything yet conceived can be achieved.
The two upper racks aren't even drilled out yet for the pots: we wanted to try different planting densities in those two racks. Red-handled valves are for draining the individual racks before removing them for planting or harvesting to make them lighter. Also note the single T8 fluorescent lights between the rows of plants, which are visible in the left middle of the photo, about the height of Jeff's chest (end photo description).
The Verticali (plural of Verticalis) are designed to be deployed in "rows" inside the greenhouse where they are stacked right up against each other, long sides to long sides. This is how space inside the greenhouse is efficiently maximized, for a Verticalis that is only 6 feet/5 rows of piping high has a plant density of 33 to 40 per square foot in a footprint of 3 feet by 10 feet, for a total plant count of 990 to 1,200 in that 3 by 10 area.

Each Verticalis has quick-disconnect water supply and drain fittings so it can be easily disconnected from main supply and sanitary drain manifolds, unplugged from electrical connection (for the lighting), then drained using the drains at the end of each piping run (red valves in photo) to make it as light as possible. Because it has wheels, it can then easily be moved to a separate harvesting and replanting area for harvesting and replanting.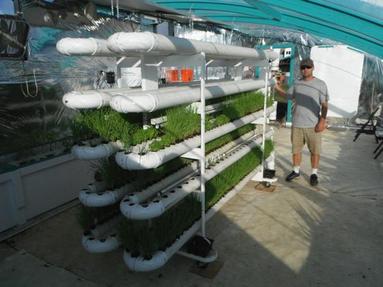 A view of the opposite end of the Verticalis showing the pipe turns and how the pipe "racks" can be completely removed from the structure by sliding them out towards the far end where Jeff is standing.
At the harvesting and replanting area, the individual "racks" are easily slid out and placed on sawhorses or rests at the most convenient height for your employees to harvest the crop. This can often be done by just a single employee. Here's why: once the water has been drained, each rack only weighs around 25 pounds, plus another 30 pounds or so for the vegetables. If you grow lettuce to a "spring mix" size, for instance, where each head is around 1/7th of a pound, that is 28.4 pounds of lettuce per rack, or 142 pounds per Verticalis, when the lettuce mix is mature.
If used in conjunction with our sprouting table technology, this would result in a harvest of that 142 pounds per Verticalis every four weeks. Our 36 by 48 foot greenhouse would produce 2,840 pounds of this lettuce mix every four weeks, or 710 pounds per week. Multiply this by the price for organic lettuce (you can get this from your local USDA "terminal reports"), and it will give you an idea what the potential gross income from such an operation could be.

After moving one or more Verticali to harvest and replant, each remaining Verticalis, because they're on wheels, can be moved again to maximize space use inside the greenhouse. They're just like kid's toy trucks: move them around where you want them, like playing in a big sandbox, then plug them in again.
The lighting system utilizes single bulb T8 fluorescents placed between the plants. Each T8 thus supplies light to plants that are on the sides, below, and above it, which maximizes lighting energy efficiency and purchase cost. In contrast, normal supplemental lighting is installed above plants only, and much light is wasted because you're only getting a benefit from the light that goes straight down onto your plants, while you're paying for the light that goes in all directions.
This is only a single Verticalis: densities of up to 120 plants per square foot are possible with multiple level harvesting, which we will describe in next week's newsletter.
The photo below is our Second Generation Solar Greenhouse, at ten in the morning in the Tennessee winter. It's growing plants inside right now, and you have to take your jacket off because it's so warm! It's cool when it's hot, and warm when it's cold (hope that makes sense to you, it's the best greenhouse we've ever seen!).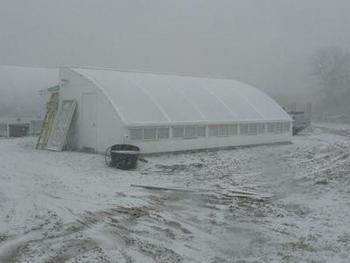 Watch The Friendly Aquaponics Philosophy Video!
.......................................................
Back Issues Of Newsletters Now Available, Click Here!
.............................................
Purchase Trough Liner Directly From Manufacturer!
New Source! Trout Fry/Fingerlings Shipped Directly From the Hatchery To You!
Free Farm Tours
..............................................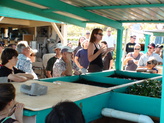 Aquaponics tour at the Friendly farm!
We hold a free workshop on our farm the FIRST Saturday of every month at 10:00, focused on growing food with aquaponics and permaculture.
Click here
for information. See you there!
If you are a school, a non-profit organization, an organization working with the poor, Native Hawaiians, or ex-inmates, or if you are a church, we will hold a free farm tour for you anytime. You DO need to email us first to schedule, or we might be out on errands!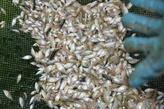 Thousands of inch-long "fifty-cent" baby tilapia from our "backyard" hatchery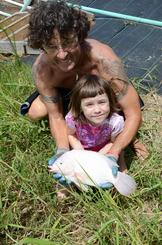 What they turn into about a year later: a beautiful 2-pound white tilapia grown in the fish tanks of our aquaponics systems
Sign yourself up!



for the New York June 10-14th, 2013 Commercial

Aquaponics and Solar Greenhouse Training

NOW, and get a $1,000 discount, plus you receive a free Micro System DIY package so you can begin studying aquaponics! ($99.95 value)


ORSign yourself up for the FIRST

Or sign yourself up for the SECOND


TENNESSEE June 2013 Commercial

Aquaponics and Solar Greenhouse Training

s

NOW, and get a $1,000 discount, plus you receive a free Micro System DIY package so you can begin studying aquaponics! ($99.95 value)



Half Moon Bay Sleigh Ride, Part 2:
Last week we left off flying through 15 to 18 foot seas going to weather in Spice, my 37-foot cutter-rigged trimaran. We were doing about 9 knots close-hauled over the ground, and about 30 knots through the water, and being on deck was like being under a fire hose.
I was at the helm, feeling like I was flying over the waves. I was so exhilarated I would just yell every once in a while for the heck of it.
My three friends stood it for awhile, then mumbled things I couldn't hear above the howling of the wind in the rigging and the pounding of water against the hull. They went below, one by one, into the rear cabin.
After another fifteen minutes of this, I started to get a little chilled, and realized that I was alone. We'd been beating to weather for about an hour, and I figured maybe everybody was ready to turn around and head back for the harbor and a warm fire (there was a little wood stove on the boat, but we couldn't possibly use it safely in these conditions!).
So I slid back the aft cabin hatch to see if everyone was ready to call it a day. Two of my friends were lying on the cabin sole in pools of you know what, and the other was at the galley table. He hadn't thrown up, but couldn't form words. I knew it was time to call it quits, so I turned the boat around and we headed back downwind to the harbor.
Although we'd beaten to weather for over an hour at about nine knots, we covered the distance back to the harbor in slightly over fifteen minutes. Turning the boat around without losing the mast was exciting, but once headed downwind, we were surfing up the backs of the waves in front of us, probably doing from 22-30 knots, since waves that size travel at 18 to 22 knots. This was also fun, it was just sad that it lasted such a short time!
We tacked back through the harbor entrance, which was a feat in itself since it was only about 100 yards wide, and we needed three tacks to clear the end of the breakwater and get into the harbor proper.
Once inside the harbor, threading our way at 8-9 knots closehauled through the hundreds of boats was a relative breeze, so to speak. We approached my mooring, which was a 150-foot length of 1-1/2-inch polypropylene line floating on the surface, with my dinghy tied to the far end. I picked the least affected of my "crew" to pickup the mooring with the boat hook, knowing we'd only have one chance in these winds.
He missed the mooring with the hook. We fell off, drifted back over the floating line. I pulled up the centerboard so it wouldn't get caught, and started dropping sails like mad. I got the mainsail down, but the staysail stuck. We were doing six or seven knots at a heading ninety degrees to the mooring line, which was stuck on the rudder now, and the dinghy was zooming towards the back of the boat at the same speed the boat was going through the water.
Oh, did I forget to say? My rudder was a "kickup" type, with a little piece of eighth inch nylon parachute cord that would break if it hit something, so it could pivot up and ride over the obstacle. I watched the dinghy zoom in towards the rudder, and had a short discussion in my head over whether we would rip off the dinghy's bow eye when we hit, or if the rudder cord would break.
Either way, we'd be headed downwind at the next boat (about 100 feet away) at six or seven knots, possibly without any steering because we just kicked up the rudder.
The dinghy hit with a "BANG!!" that shook the whole boat! The rudder cord held, the dinghy bow eye held, and there we were, anchored by our rear end in 45 knots of wind; barf all over the cabin I'd have to sleep in that night, and three useless sick sailors I'd have to row in to shore, one at a time, in 45 knots of wind.
I got some more lines on the mooring line quick, so we were secure in case the rudder or dinghy had second thoughts about cutting loose, then started cleaning up.
Did I mention somewhere in there that Spice had no engine?
Aloha, Tim.....