Aquaponics Nugget #54:
Hybrid Aquaponics/Permaculture Sustainable Food Production Systems
We described two of these hybrid systems in the last two "Nuggets", and this week I'll describe another such system. this system is normally referred to as "Dutch Buckets" and is traditionally used in chemically-fertilized hydroponic systems. In today's column, we'll investigate making dutch buckets out of all kinds of
cheap
things as well as how to use them effectively in conjunction with an aquaponics system. Here's a picture of some dutch buckets from the CropKing catalog ( a big hydroponics equipment supplier) so you can see what they look like: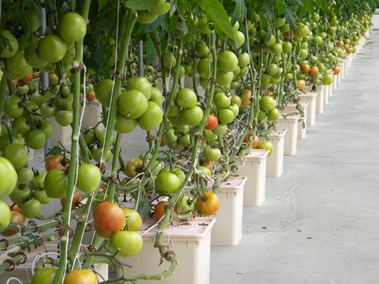 A dutch bucket is simply a container that holds a potting mixture, with a drip irrigation system to keep it moist, and some drain holes near the bottom of the container so that the container can't fill up with water and drown the plant. When you use aquaponics water in the drip irrigation system instead of chemical fertilizer solutions, they grow food like no one's business, in about half the time it takes to grow in the soil!
The advantages of dutch buckets are:
1. You are not just limited to the nutrients that the aquaponics water brings in, because you mix your own potting mixture for the dutch bucket. This leaves you free to use ingredients such as volcanic cinder or sand (to aerate the mixture), azomite, calcium carbonate (oyster shells) and other mineral additives (to provide trace nutrients and adjust the pH of the potting mixture), and compost, compost tea, or vermicompost (to add more nutrients for heavy feeders such as tomatoes). In addition, you have the ability to adjust the amount of nutrients going into the buckets by putting these additional nutrients in at any time, not just when you are initially filling and planting the bucket.
2. Dutch buckets are inexpensive; and depending on the size of the plants grown, they can be gallon cans, buckets specifically made for this use, 5-gallon buckets, or barrels cut in half. What do you have that is
cheap, easily available, and holds water?
The larger sizes of dutch buckets can easily support two or more plants in them. When they get a LOT bigger, they are called "wicking beds" rather than dutch buckets (we covered these in a "Farmily" column in an earlier newsletter). They are versatile: you can install them at any desired spacing to get the results you need.
3. The nutrient water from the aquaponics system is simply run through the normal irrigation drip tubing for distribution, with battery-powered or AC water timers so that you don't have to stand there holding the hose when watering. We suggest NOT putting "emitters" on the ends of the drip tubes, as these will reduce the size of the hole that the aquaponics nutrients need to drip out of, and will possibly lead to clogs and dry plants.
4. Plants that are particularly suited for growing in dutch buckets are anything that climbs or spreads out; such as tomatoes, cucumbers, melons, squash, and gourds. Another advantage is that you can take a single dutch bucket out of a system for replanting without having to deal with the rest of the system.
5. Using dutch buckets is really simple: just feed your fish a little more, add a little more water to your system, and siphon off the resulting rich nutrient-filled water to grow more stuff in dutch buckets on the ground outside your aquaponics system!
These hybrid systems are simply
combinations of ingredients that we put to
gether in a different way using system thinking that understands the qualities and possibilities of interrelationship between all the parts.
Think of additional ways YOU could combine systems so the output of one can reduce the need for (purchased) inputs in another, for instance.
(Next week: something interesting (though we're not sure what!). We just got back from an exhausting two weeks of training and being-on-the-road, and we're pretty fried right now. Aloha!)