Aloha Friend
Being a pioneer can be scary.
You're in new territory without any maps; "There be sea serpents here!", as the old charts used to say. There are no aquaponic sea serpents, but after surviving a near-bankruptcy (in another life, in a different business) I know there are risks in any business that one needs to minimize wherever possible. It's a new world out there: huge companies like GM need bailouts costing billions, and major banks and brokerages melt like snow in the summertime. The old rules no longer apply.
How does one navigate
this brand new world? In 2006, we had two thriving businesses tied to the construction industry. When they both went poof in 2007, we decided to grow food. We were uncertain how to start, but we knew food never goes out of style; people don't stop buying it like houses and cars when the economy gets difficult.
After less than a week
of intense research, we set our feet on the path that led to us becoming the first aquaponics farm in the world to get USDA organically certified in 2008, the first ever to deliver to Costco, and the first to share everything we learned with others who wanted to duplicate our success. Our farm has paid the bills since the first check came in September 2009.
We'll talk a lot more about the greenhouses and their integrated aquaponic systems we pioneered and developed (in the series beginning in this week's Nugget) but if you want to learn how to do this instead of just read about it, we have trainings scheduled for Tennessee in September of 2013 (see bottom of this column, and right sidebar).
In today's "Nugget", we start a
brand-new
series on
"Energy-Efficient Greenhouses For Aquaponic Growing"
. If you're hoping to be able to grow food year-round for your own use or as a business, we'll show you how to make that desire a reality in the most affordable and sustainable way.
Our "In The Farmily" column today
is about how our Farmily is moving towards a life of self-sufficiency and sustainability!
Aquaponics Nugget #135, Part 1: Energy-Efficient Greenhouses For Aquaponics

Where We Started:
A year and ten months ago our goal was to develop the world's most efficient all-weather growing structures, but at the same time have them be affordable and productive. We knew a lot of the basics (suggested reading: our back newsletters #'s 60-72 for a "Primer On Energy-Efficient Greenhouses") but have learned so many ways to improve them during the last year and eight months since we finished and planted out our greenhouse.
First Generation: the Hawaii Aquaponic Solar Greenhouse. We got 90% of it right the first time around, which is practically unheard-of for first generation anything! Because we only deal with heat (not cold), the improvements we need for Hawaii are larger vents and a water wall (we'll explain a lot more about these in this series).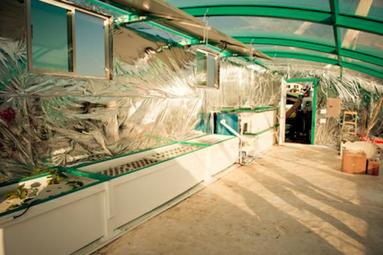 Generally Speaking:
Here's the Basic Rule Of Greenhouses: "The more extreme your local weather "extremes" are, the more you will have to spend to get a greenhouse that can successfully cope with them. If your winters are in the teens or single digits (Fahrenheit), and your summers are in the high 90's to low 100's, you will have to spend more for a greenhouse than if your climate was milder.
In Hawaii, we don't need a greenhouse at all! So it's actually funny that we ended up with a greenhouse that will work in the temperatures just noted. We built this "unnecessary" greenhouse because the bulk of our students live in places where greenhouses are necessary for year-round growing. Our purpose in building our greenhouse was so we could understand and improve on the technology, then share it with people in places that require greenhouses.

There's no magic wand to give you a cheap greenhouse that will keep your plants warm when there's snow outside, and cool when it's cooking outside; it costs what it costs. The good news is that the energy-efficient technologies we've developed use only a fraction of the energy that conventional greenhouses do for heating and cooling. Because your main concerns are how much these greenhouses cost, and how much they produce, this series focuses on construction and operation cost and production numbers. And to do that, the first "study case" we'll present has no greenhouse at all included. This is the least expensive scenario possible!

How do you grow in an aquaponics system in a temperate climate using no greenhouse? The same way you grow in the soil; by only growing during the normal growing season. I'm sure you have realized by now that you can't just plant "fish seeds" to get your fish going again in the Spring the way you plant vegetable seeds; so how does this work?
As Fall gets closer and the weather gets colder, you will do a final harvest on your vegetables, then drain your vegetable troughs and cover them with tarps or black 6-mil plastic, remembering to weigh it down with sand in garbage bags or something similar so it doesn't blow away in the winter wind. Now, with your troughs secured for the winter, turn your attention to the fish.


You will have two problems to solve in order to keep your fish alive and in good shape for the Spring: one is keeping them warm enough that they don't die; and two is keeping the water in the fish tank clean enough that the fish don't get sick (and die). Let's tackle number one first:

One: Because you had planned for this, your fish tank is in some sort of an insulated protective structure that shields it from the wind: a small greenhouse, a prefab storage building, or a structure you build. This structure's walls are well insulated, and it is well insulated underneath the floor. You can accomplish the same thing by putting the fish tank in an uninsulated structure, but insulating it well on the outside and underneath it.

Hook up a propane- or natural gas-fired pool heater with a thermostat and a circulation pump to this tank, set the thermostat temperature at the lower end of the fish's "comfort range" (the range of temperatures that the fish can survive within!). Keeping the fish at the lower end of their range keeps them alive but uses the smallest possible amount of fuel to do so. A setup like this will maintain your tank temperature automatically at a small cost for electricity and gas in most locations. If you are a real do-it-yourselfer, you can use a wood stove or an automatic pellet-feeder stove to keep the fish tank water warm enough.

Sit down with a piece of paper and a calculator and get an idea what this will cost you before you start into a winter committed to keeping your fish alive; it won't do you much good to spend more money keeping the fish alive than it would cost to just buy new fish in the Spring.

Two: You need to feed the fish, (even in the wintertime) but you don't want to feed them too much. Fish will get irritated if they don't get everything they want to eat, but they won't die the way we do; they're far more energy-efficient creatures. If the fish are kept at the lower end of their comfort range of temperature, they will metabolize much more slowly, eat less food, and poop less. This last is important, because the more they poop, the more ammonia the poop generates as it decays, and the more tank water you'll have to dump to bring the ammonia in the tank down to a safe level for the fish.
Monitor tank ammonia level at least every two to three days, and if you're using tilapia, catfish, koi, or most perch, dump half the tank water and refill anytime that ammonia gets up to 3 ppm (parts per million). If you're using trout or another fish that is more sensitive to ammonia than tilapia and these others are, experts suggest keeping the ammonia level below 0.5 ppm.
In the Spring, when you're sure you've passed your last "freeze", refill your troughs and turn on the pump that pumps the water back to the fish tank. Your fish tank kept your fish and your nitrifying bacteria alive through the winter; but the bacteria will take a little while (maybe two to three weeks) to get all the surfaces in the troughs fully colonized again, forming what's called a "biofilm".

If you're smart (and properly equipped!), you will have started your first batch of seedlings in a warm location, either in a small greenhouse or inside a building under artificial light, so that they're ready to put into the troughs when the weather turns nice and your nitrifiers are well established again. Gradually feed your fish more and more as your plants get bigger, and your nitrifying bacteria get well established again. As your plants get more mature (and you continue planting out the system until the whole thing is again full), the plant's ability to remove nitrates is soon back up to par, your ammonia and nitrites are nice and low, and you're in normal operation again until next Winter. That's it!

(Next newsletter in this series will continue explaining our Aquaponic Solar Greenhouse Technology, with tips on how to make your own greenhouse more efficient, even if you never purchase any of our offerings! Thanks for listening!)

For smaller home backyard and apartment systems, please read on: