Aquaponics Nugget #63:
A Primer On Sustainable Energy-Efficient Greenhouses, Part 4
This column is an ongoing series on how to understand, build, and operate energy-efficient greenhouses. If you missed any of the previous newsletters in this series, you can click here:
"Back Issues Of Newsletters"
to read them first if you wish.
We're building a Chinese-style Aquaponic Solar Greenhouse that is very similar to Franz Schreier's
(click here to see Franz's "Solar Greenhouse" slideshow).
This Chinese-style greenhouse is the most energy-efficient if you are north of 21 degrees North latitude, or south of 21 degrees South latitude. If you don't want to build this kind of greenhouse from scratch, there are other options open that still incorporate most of the benefits of the Aquaponic Solar Greenhouse. We'll cover one of them in today's column.
There are greenhouse businesses all over the US that grew flowers and ornamental plants, for which there is very little market in today's economy. You can purchase a greenhouse from one of these companies for pennies on the dollar, disassemble it, and transport it to your location for reassembly and reconfiguration as an Aquaponic Solar Greenhouse. But you won't simply rebuild it as it was; there are several improvements (we will cover these in the next few newsletters) that you will make so it is more energy efficient and durable. Here's how you do it:
First, do your web-based "due diligence": put "Wanted" ads on Craigslist for your area, for the size of greenhouse you want, and for your price range; and of course, also search Craigslist, Ebay, and other online auctions for your greenhouse. What are you looking for in a greenhouse? You want one that has a full-length screened ridge vent for venting hot air in summertime, that can be opened manually from the ground. You also want one that has roll-up side curtains and end walls (these are usually the first 4 to 5 feet in height of the sides and ends) that can also be manually operated, so that you can let in cool air. If it has "Aluminet" or similar sliding mesh shades inside, they're a plus. If it has what are called "water walls" they are a plus, but they're not necessary, as you can easily build your own later.
What you DON'T need: you don't need to spend any money on air conditioning units, air conditioning ducting or fans, propane space heaters (
air
heaters); these are all a waste of money to remove and reinstall; in fact, don't even accept these if the owner gives them away for FREE! You're going to be using MUCH more energy-efficient heating and cooling systems than these outmoded and energy-wasting ones! Don't worry if the greenhouse sides seem high; you can make them shorter by cutting the wall columns shorter when you reinstall it at your site.
What you ARE looking for is a relatively new structure that has no rust; they're all made of galvanized metal. Don't worry if the owner says "the glazing or plastic covering is old", you're going to replace that anyway with Asahi Glass' ETFE film. Also, it needs to be reasonably-priced; to determine if you're getting a deal or getting scammed, get the brand name and model, then call the manufacturer for a
current
price, plus shipping to your location; now you will have an idea of what "discount" you are getting for the used house. It's VERY likely that if you are persistent and polite, you can find a greenhouse in good condition for ten to twenty cents on the "original" dollar cost. Third, being reasonably nearby may also be a benefit; read the next few paragraphs, then you can determine how far away "too far" is for you.
Let's say you've found your greenhouse. The next step is to get a good tent and some camping gear, and take your work crew, tools, U-Haul truck and/or flatbed trailer to the greenhouse site. You're going to camp at the greenhouse's location and take the greenhouse apart, taking photos and making sketches and labeling and numbering the parts as you go, so it's easy to reassemble when you get it home. You've got a gas-powered compressor for air wrenches (for undoing bolts); and a generator to charge battery-powered drills (for removing screws) and for electric tools and lights (and TV for after work hours). If the greenhouse has columns that go straight down into concrete piers, you'll want to rent a portable electric metal bandsaw or a cutting torch (make sure you know how to use these!) at your rental place that you can cut the columns off at the base with.
Take your crew and do a tour or two around the house before you pick up tools, and familiarize yourself with it to figure out how to take it apart with the least amount of work. As you take it apart, stack and bundle "same" items together on your trailer or U-haul truck. Put each separate length of bolts in a coffee can (or 5-gallon bucket) which you remembered to bring for this purpose, and label them so you know later where they go and what they connect together. If the deal you struck with the greenhouse owner includes cleaning up the garbage when you leave, you'll want to have an extra pickup truck along that you can haul stuff to the nearest dump with.
When you finish, you should have a U-Haul truck or trailer full of neatly labeled bundles of metal beams, columns, tie straps, braces, and buckets and cans of bolts and screws; and also a camera full of pictures and a sketch book full of sketches. Was it worth it? Yes! Here's why:
If you purchase a brand-new greenhouse from the manufacturer, it's a bunch of parts and bolts that comes in a crate, and you are going to have to assemble it ANYWAY. If you buy a new one, your crew WON'T be familiar with all the parts and pieces. They will be slow and tentative, and may make mistakes that require backing up and beginning again. The BEST way to figure out how something goes TOGETHER is to take it APART! This is why taking apart an existing greenhouse is so valuable: it trains your crew, and when they DO put it together again at your place, the work goes smoothly and quickly, and even if you're paying for this labor, you still may pay LESS or about the same as if you just had a crew assemble a new greenhouse at your site.
Another reason it is worth it: you may get a $30,000 greenhouse (that would cost another $3,000 to ship to you!); landed at your site for $3-6,000 plus another $1,500 worth of U-Haul rental, gas, tool rental, new bolts and screws, and so on.
Next week, we'll start explaining the steps you will take as you reassemble the greenhouse to make it more energy-efficient, durable, and economical to operate.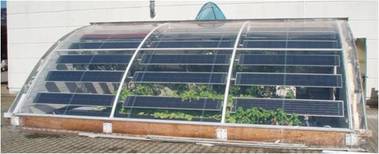 Franz Schreier's FIRST Aquaponic Solar Greenhouse in full bloom, Heppenheim, Germany, 2011, showing PV panels and growing plants!
(Next week: More on the Aquaponic Solar Greenhouse, and how you can build your own! Thanks for listening!).