Aloha Friend
In today's "Nugget", we continue with Part 8 of our series on
"Energy-Efficient Greenhouses For Aquaponic Growing"
.

Our "In The Farmily" column today
is a fish story by Tim (it actually happened!). Really!
We have a new
"mini-column" called
"Fish Bites"
with technical information and supplier information we recently developed.
Aquaponics Nugget #142, Part 8: Energy-Efficient Greenhouses For Aquaponics
(You can catch the first 7 of this series on our "Back Newsletters" page, starting with #135, if you wish!)
Energy Efficient Cooling: How To Use Hot To Get Rid Of Hotter (AKA passive air venting for cooling):
In addition to the active cooling your aquaponics water will get from circulating the heat exchanger water through the geothermal cooling ditch pipes (we cover this in just a bit!), you will ALSO need to get rid of excess hot air as efficiently as possible to help keep your greenhouse from heating up. The sun shining into your greenhouse will heat up the air and other contents of the greenhouse, and you will need to get rid of the resulting hot air before it becomes even hotter, and bring in relatively cool air at the same time.
The easiest way to do this is to have a large vent at the highest point in your greenhouse. Hot air rises in the greenhouse, and ends up in the highest point in the greenhouse; if you can OPEN that highest point to let this hot air out, you're ahead of the game. This is called passive air venting, because the energy in the rising hot air is what moves it out your vent even without the expenditure of any electrical energy.

So you need a VENT at the highest point in your greenhouse. Standard vent hardware is available from all greenhouse supply companies, ranging from hand-crankable vents to solar-powered ones to electrically-operated ones with thermostatic controls you can set to open or close at any desired temperatures. Guess which ones cost more. In addition, many standard "transom" windows available for houses are perfect for this purpose, and can be purchased with insulating double-layer glass.

If you're in a climate that is hot in summer and cold in winter, your vent needs to be an opening/closing vent that is easy to operate. The hotter it is in the summertime, the bigger your vent needs to be in order to be useful in cooling the greenhouse. You need to be able to open it easily in summertime to let out hot air (which rises out of the open vent) and close it easily also, because you may have a single VERY cold day or night in an otherwise hot period due to weather vagaries, during which you do NOT want to lose your daytime heat through the vent at night.
This vent is referred to as the "ridge vent" (although we specify it installed in the back wall near the top), and for any useful amount of air movement, is often two feet wide and runs the full length of the greenhouse!! The bold here means if you install a couple of puny little vents in your greenhouse because a "greenhouse sales expert" told you that was all you needed, then don't blame us when your greenhouse cooks in the summertime.
An Aquaponic Solar Greenhouse showing the full length ridge vent that cools it at no cost for electricity. It's mostly open, except for a couple of recalcitrant solar-powered vent openers! In June in Tennessee, the greenhouse is covered with Aluminet for shading the crops (which will be covered in a separate newsletter). Also, the participantts in our second June 2013 course!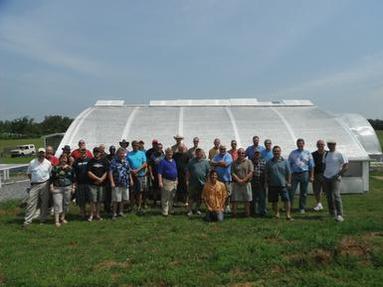 This ridge vent is how you get hot air out of the greenhouse. For it to work, you need to bring air in from somewhere else in the greenhouse; it's logical: unless air can get in, none will flow out. However, there is no need to waste nice cold air doing this (we'll get to that in a moment) because what we want to do is get the really hot air out of the greenhouse. It's perfectly okay to use hot air to get hotter air out of the greenhouse. We use the well-known principle of 'heat rises" to accomplish this.
Because there's plenty of hot, ambient air available just outside the front wall vents, all we need to do is open those vents, and outside air pours in. As it heats up inside the greenhouse, it is rising all the time, taking all the hot air inside the greenhouse with it, until it finally pours out the ridge vent. There's no fan and no electricity required because this hot air rises naturally and sucks more air along with it.
This is quite profitable from an energy efficiency standpoint: We use hot ambient outside air to remove the hotter air from the inside of the greenhouse, and it's free: the only energy used is that required to open the vents.

A greenhouse with NO ridge vents, but energy-sucking fans instead. All they can do is bring in hot ambient air, and force even hotter air out the other end, at a huge ongoing expense for electricity. They keep the greenhouse slightly hotter than the outside air, but don't actually cool it. Does that sound right?

Often, the only cooling in conventional greenhouses is provided by blowing lots of hot ambient air in one end and out the other with huge fans that use kilowatts of electricity per hour. And doing so doesn't cool the inside of these greenhouses, it simply keeps them from getting much hotter than the outside air. We'll show you several ways to cool the inside of the greenhouse in a bit; what we just discussed is just the best and most energy-efficient way to get rid of the hot air.
(Next newsletter in this series will cover more methods to achieve energy-efficient cooling for the aquaponic solar greenhouse. Most important for those of you who are "lightly funded", a bit later in this series we will explain how to purchase and erect your own energy efficient greenhouse for pennies on the dollar, even if you never purchase any of our offerings! Thanks for listening!)

For smaller home backyard and apartment systems, please read on: