Aloha Friend,
Why do we think aquaponics is so great?. That's easy: it's what will feed us when cheap oil is gone. It operates on electricity, not on oil. It's impossible to make our own oil, but there are many ways little people like us can make their own electrical energy.
Even if you live in a city high-rise, you can grow vegetables on your balcony using a solar panel for power. To understand how dependent we are on cheap oil for our food right now, check out our new
Biogas On The Farm
page, or our new
"Alternate Energy On The Farm"
page. People, Power Up!
**First Ever** Indoor Aquaponics Systems!

Construction Plans and Operating Information for Indoor Aquaponics Systems
Build four different sizes of stable, durable, and productive indoor aquaponics systems that can be operated indoors OR outdoors, or even MOVED between indoors and outdoors, depending on the season. These affordable systems range from a COUNTER TOP 2.5 square foot system to one with 32 square feet in grow bed area. The 2.5 square foot system costs $65 for materials, the 32 square foot one costs $250 for materials. Most materials are available locally; some items may need to come from suppliers whose contact information is given in the materials lists. In addition to the four standard sizes of systems in the manual we show you how to build small aquaponics systems out of Igloo coolers, discarded refrigerators and freezers, plastic garbage cans and barrels, concrete mixing tubs, and other easily-procured items. Most importantly, we show you in complete detail how to OPERATE them successfully!
Indoors: These systems are appropriate for anyone who is limited to growing indoors, or for those who only have limited space outdoors. They are perfect for getting your fingers wet in aquaponics without spending a lot (pun intended!). They can easily be set up inside a garage or outbuilding, inside a spare room, or even a closet. You can use them for the centerpiece of a living room or family room to show off to your friends. Best of all, they produce food! If you have light and heat you can grow vegetables and fish!
Schools:
These systems are perfect for schools because of their low cost and the easily-understood instructions and plans for construction and operation that come with the package. They are so affordable and understandable that a sixth-grader can easily use one as a science class or science fair project. They are small enough to be easily and affordably operated indoors in cold weather climates and lighted with artificial lighting (instructions included). Cost for plans AND materials for the
biggest
of these systems is only $350, making them affordable for all schools. This large school system produces a serious amount of vegetables as well as teaching kids aquaponics (read: chemistry, biology, animal husbandry, plant physiology, math, some physics, and business skills) .
The Indoor System package includes new and easy-to-understand building instructions and complete operating information for small aquaponic systems based on our years of experience operating a commercial aquaponics farm. Anyone can build a system out of plastic barrels, but operating one without good
and
easily-understood information can be frustrating. Operating information is given in the form of a "Daily O
perations Manual" where you simply use the checklist and follow the step-by-step
instructions on your way to success with aquaponics.
We spent hundreds of thousands of dollars, hundreds of hours, and built our first commercial aquaponics systems with FAR less information than this manual contains. This manual would have saved us over half that money and time. We included all the information learned from spending that money and time in this manual so you don't make any of the same mistakes we did.
Learn more about our Indoor Systems!

Aquaponics Nugget #11:
Feeding the fish (Part 1)
Subtitle: Nitrogen Deficiency?
We got questions from a couple of Micro System owners asking us why their vegetables are yellow, soon after system start up. These guys were on our island so we just tooled over and checked their systems out. It was easy to diagnose both systems problems because they were identical! The vegetables were showing a nitrogen deficiency (see our
free download
on "Diseases, Deficiencies, and Toxicities in Aquaponic Plants" for pictures of what this looks like). Since nitrogen in the form of nitrates is the main nutrient for plants in these systems, we saw immediately that the plants were starving!
This was due to two things: both owners had been on a budget, and when it was time to purchase fish for their systems, had gotten only one-quarter of the 20 pounds of fish the Micro System manuals recommend be used (Read: they finished their systems and were out of money, so we gave them each $25 worth of fish for free; and suggested they get more soon). So, these two systems would have been chronically under-fish-pooped and would have had a nitrogen deficiency ANYWAY. However, there was an
additional
contributing factor.
Their fish food came in such large pellets that the fish did not like to eat it. This became obvious after seeing large amounts of the food still floating on the surface of both of the systems fish tanks six hours AFTER a feeding that originally consisted of a VERY small amount of food. In other words, the fish were not eating the food! The fish food pellets were 5/16" in diameter dry out of the bag, and got to be about 1/2" in diameter after a few minutes of soaking up water. The fish could not eat it when it was hard, and it was too big for them to swallow when soft, so they just left it there. Eventually it sank and turned into decaying organic material on the bottom of the fish tank.
There were tilapia in this tank from 1 pound in size down to about four ounces. It sounds strange to say "the fish did not LIKE the food", as if the chef had not prepared it to their liking, but this was effectively what happened. We solved this problem by changing to a much smaller pellet size Rangen 1/8" diameter floating catfish food that the same fish ate eagerly; AND by donating more fish to the owners of these two systems!
This experience shows us why it is SO important for us all to work together to increase knowledge of aquaponics. We always used this same 1/8" floating food, never had any problems with it, never even thought about it, and didn't know to warn people about this potential problem. Now, this information is going into all our manuals and is going to save a lot of people a lot of worry!
Upcoming Free Training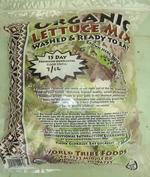 Organically Certified is worth more to your farm!
We invite you to our first "Organic Certification and Tilapia Breeding Workshop". This FREE one-day workshop will be held August 21st at our farm in Honoka'a, Hawaii, just off the main highway between mile markers 40 and 41.

This workshop covers all aspects of getting your aquaponics farm USDA organically certified, and tilapia breeding,hatching, and nursery operation; as we teach in our Commercial Aquaponics Trainings twice a year.
And it's free!
Training starts with a two-hour free farm tour from 10-12, a potluck lunch from 12-1, then the workshop from 1-4. See you there!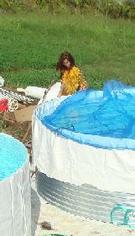 Installing a hapa in a tilapia breeding tank.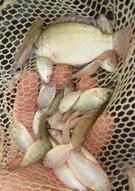 White tilapia fry from our nursery system
Special Offer!
Sign up for our October 4-7th, 2010 Commercial Aquaponics Training now, and we will email you our Micro System package so you can begin studying aquaponics! ($99.95 value)
Sign up for Commercial Training
In
The Farmily
My wife Susanne had a great idea seven years ago which was to start breeding Shires; similar to the "Budweiser Clydesdales". They're black and white with "feathers" on their hooves, and look like 2,000 pound quarterhorses; they have a beautiful gait, are super gentle around children; and there were none on our island, which meant we had a corner on the market. We got a lot of inquiries for colts from the Shires, then our stallion got sick.
He didn't die, which was lucky, but unfortunately he lost his eyesight as a result of the illness. Except for this, he's a regular horse. When he shows an interest in dating one of the "girls", they simply wander a few steps away from him, and he's left holding his flowers and candy and saying "baby, where did you go?".
So, we're investigating artificial you-know-what. But with cheap oil receding in the distance, we're REALLY GLAD we have four of the biggest draft horses in the world on our farm!
This email, our manuals and construction plans are all copyrighted by Friendly Aquaponics, Inc, Susanne Friend and Tim Mann, 2008-2010
Email:
Friendly Aquaponics