The Mysteries of Aquaponics, Part 2: How Many Fish You Need For Good Vegetable Growth:
Mystery Number Two:
This is about the complex relationship between the amount of food you feed your fish, how much fish you actually need to power good vegetable growth, and the levels of nitrates (vegetable nutrients) required for good vegetable growth in your system.

The universities and the consultants will tell you this is a critical area you have to pay a lot of attention to, measuring out fish food by the gram, feeding the fish carefully and conscientiously, and so on. Unfortunately, there isn't any hard evidence for such a well-defined relationship; what's happening is that the consultants and universities are trying to establish a relationship between themselves and your wallet. Again.
There is a relationship here, but not the complex numerical one that the universities and consultants would have you believe. It is a far simpler and more beneficial one for you, and involves the fact that systems that are organically certified and operated behave very differently from the university and consultant's systems. The university systems and consultant's systems are not organic; they have their pH adjusted with caustic chemicals that are not organically certifiable. This affects far more than just organic certification, as I will clarify next.
Some of you are now undoubtedly thinking the question: "Why is organic certification so important?". Well, it's not, unless you are undertaking a commercial scale venture. There's no economic point in certifying a backyard scale aquaponic system. In fact, we believe that the vegetables that come out of one are just as healthy as those that come out of a certified system. However, unless you are USDA Organically Certified, you cannot legally use the word "organic" anywhere in your farm name, packaging, or advertising, and this has a huge economic consequence for the farmer.
When you consider these facts: one, organic produce usually goes for double what uncertified produce does (USDA Terminal Market Reports), and two, that certification only costs around $1,200 a year, you can see why. If an aquaponic farmer that is producing $20,000 a year of non-certified produce can turn that into $40,000 worth of certified produce by only paying a $1,200 certification fee, it would be stupid of them not to; they net $18,800 more per year for doing exactly the same amount of work.

It's been five years since we first specified the 0.3 lbs/square foot figure for our organically certified Low Density systems (explained in our last newsletter here), and since then, our six thousand square feet of LD systems have run like clockwork. In fact, our outdoors systems (this is important, mark this!) have gone through several periods of intense rainfall in that time (60 inches in two months; this is the tropics) during which they had no measurable levels of nitrates for three to four months at a time. None, zero, not any, not measurable on tests that clearly show 1 part per million (ppm) nitrates.
The first time we saw this happen, we thought we were finished as farmers, and that our vegetables were all going to die. No such thing happened; in fact, the explosive growth we've come to expect from organic aquaponics systems continued unabated.
This was welcome but puzzling: didn't we need high measurable levels of nitrates in our water for good growth? The university professor had said so. (Please note I said "measurable ….. in our water"; we'll come back to this in the next newsletter). Although we didn't understand why yet, the evidence seemed to say otherwise. Since this initial experience with the rainwater dilution of our system's measurable dissolved nitrates, we've seen our systems running at zero ppm nitrates for months at a time, several times over the past five years.
Rose and Dad and two of our "Delicious Fishes". Although we eat them with respect, we don't give them names because then it's harder to eat them.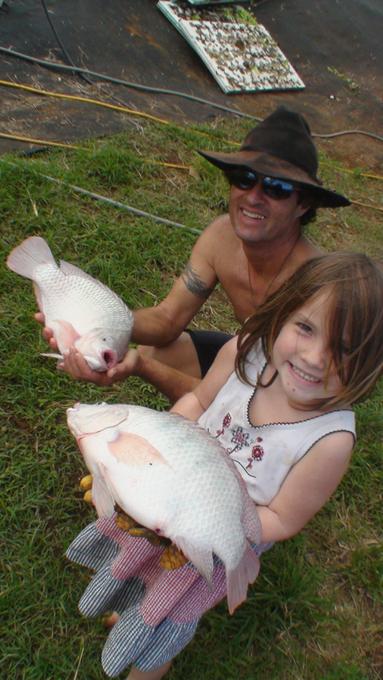 In fact, at the Texas Commercial Aquaponic Solar Greenhouse training we just did at Ben and Alysha Godfrey's Sand Creek Farm in January 2014, one out of the Godfrey's three systems tested zero for nitrates, while the other two were 3 and 5 ppm respectively; we got to do this test right in front of a class of 30 participants. The vegetables looked great in all three systems.
In addition, we know of several aquaponics systems of our design that have run just fine for months at a time on as little as 0.02 pounds of fish per square foot of raft area. Yes, you read that correctly; two hundredths of a pound of fish per square foot of raft area in the system! To maintain good vegetable growth, these systems only required that the fish be fed three times a day. When they were fed this way, the vegetables in these systems thrived, with no deficiencies of any sort visible.
This small amount of fish per square foot of raft area is what we now call "the lower end" in our trainings, although we conservatively recommend that you use 0.05 to 0.10 pounds of fish per square foot of raft area just to make sure.

And there is a situation that this extremely low fish density is custom-made for: inside a greenhouse where there is no risk of rainwater dilution of the nutrients in the aquaponics water; and where larger fish tanks mean less floor space for profitable vegetable production. It means you can get by with very small fish tanks, which do not waste a lot of greenhouse space, much smaller air pumps which use far less electricity, and far less fish food; but still see very profitable plant growth.
There are a lot of people who say we're wrong with our Low Density approach, and that the goal of aquaponics should be to grow LOTS of high protein fish. None of these people have commercial aquaponics operations, or have ever done this profitably themselves, but that doesn't stop them from spouting their opinions loudly and longly on the forums.
(Next: How much to feed the fish, and where the heck are the nitrates coming from anyway? This will all make a lot more sense when combined with the information in our next couple of newsletters. Thanks for listening!)
Friendly 2014
Commercial Aquaponics and Greenhouse Training Schedule:
Texas Training in May, dates to be announced
Tennessee Training in May, dates to be announced
California Training in June, dates to be announced
(Below) One of Ben and Alysha Godfrey's aquaponics systems in a greenhouse in Milam County, Texas. Their system water tastes great! It has a pale blond hue, with a hint of apple and pear blossoms.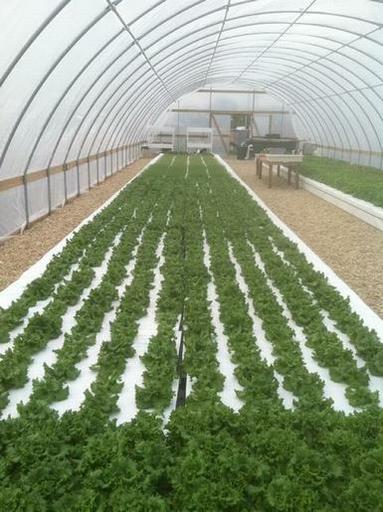 (Below) Another of Ben and Alysha's aquaponic greenhouses.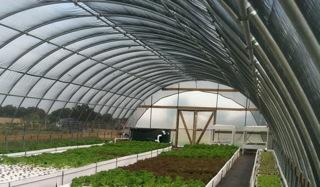 (Below) Tim drinking water from one of Randy and Katie's aquaponics systems at a Tennessee training. "I've been doing this for six years; I'm certain the food from these systems is safe and healthy" (Tim).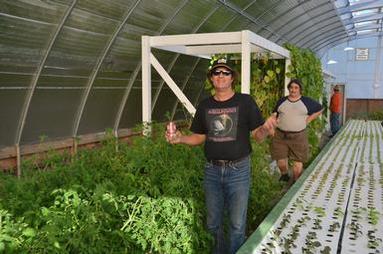 These five-day trainings allow you to travel during the weekend so that you only need to take a week off your busy life to attend, and include our $999 DIY Commercial Aquaponics package, $998 DIY Farmer's Market Aquaponic Solar Greenhouse package, and new $295 DIY Commercial Tilapia Hatchery manual as course materials, plus our Plywood/Epoxy/ Tank manual, CAD construction drawings for all greenhouses and aquaponics systems, and much more!

(Below) Randy and Tim showing attendees at a Tennessee training how easy it is to use a DO (dissolved oxygen) meter to measure oxygen levels in the vegetable troughs.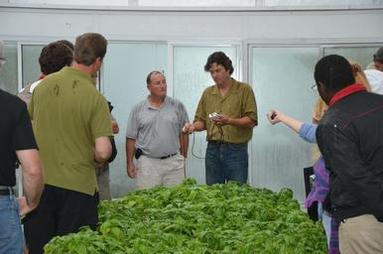 More details of the Aquaponics Technology course here.
More details of the Aquaponic Solar Greenhouse course here.
More details of the Commercial Aquaponics course here.
(Below) Randy and Katie's Chinese-style Aquaponic Solar Greenhouse in Tennessee in the February snow, 2013. 70 degrees inside and you had to take your coat off when working with the vegetables!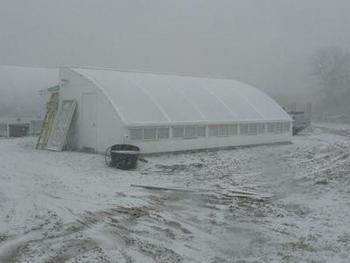 An Aquaponic Solar Greenhouse with the participants in our second June 2013 course in Tennessee!