Aloha Friend,
This is the fourth in our ongoing series of newsletters about commercial aquaponics. Last week we shared our student Zac Hosler's income and expense numbers for his first year in operation. We're proud of Zac and what he's done with this new technology, but any awards should go to Zac for doing things right and working his butt off.
This week we examine everything Zac did right that contributed to his success. Even in normal times, the failure rate for new businesses in Hawaii is 38-80 percent (depending on whom you believe). These are decidedly not normal economic times, and starting a successful business has more roadblocks than usual. So we'll also take a quick look at things that you do NOT want to do that can contribute to your failure.
This column, and our courses, are designed to remove as many of the barriers as possible between you and your ability to start up a successful new aquaponics business.
There are many teaching "commercial aquaponics". We suggest you ask for verifiable income, expense, and profit numbers from whoever you're considering taking a course from or purchasing a "commercial" aquaponics system kit from. If they can provide them, that is. We gave you these numbers
for Zac's farm in last week's newsletter (click here to read it).
If the teacher you're considering can't provide numbers for their economically successful students, we'd love to meet you in person at one of our live
Aquaponics Technology Trainings
(only $495) For those of you who can't free up the time to come to Hawaii, our
Commercial DIY Training
has all the information combined in our Aquaponics Technology and Commercial Aquaponics Trainings together, and allows you to duplicate our success anywhere.
What Zac Did Right:

Here are the reasons Zac is successful with commercial aquaponics:

1. He uses standard aquaponics systems of ours. He didn't add any extras, he simply built systems that were straight out of our plans book, and operated them according to the procedures we'd developed over four years of aquaponic farming.

2.
Zac had a strong background in business before he even began in Aquaponics. We suggest all newcomers to Aquaponics develop business experience (or

hire

some) before they "quit their day job". There's no paycheck at the end of the week unless

you

bring it in through your intelligent decision making and hard work.
Aquaponics, while a powerful vehicle, is not a magic potion! For goodness sakes, this is

farming

!

3. Zac is a hard worker, and he's done everything possible himself, from mixing concrete to digging ditches, planting seeds and harvesting, and marketing his produce. He hired some labor for grading, concrete work, and construction for his expansions, but has done the lion's share of the work himself, in addition to keeping up with a young growing family.

4. Zac started small with what he could afford and expanded out of cash flow. Rather than borrow a huge chunk of money up front, then take a long time building a big farm, and then having the pressure of a loan payment over his head from day one; Zac began operation with a system of 1,200 square feet; one-third the size of the one he has now, and had cash flow almost immediately.

As he got cash flow, he built additional sets of troughs so he could expand his production. When he had twice the amount of troughs he began with, he had twice the cash flow as when he started, and was able to afford to build even more troughs. He currently has 3,600 square feet of trough, and is expanding to 6,000 square feet soon. At 6,000 square feet, he will have about five times the cash flow of the system he began with.

5. Zac didn't feel any need to experiment. He used proven systems and operating procedures, and didn't change a thing. Because Zac built from our existing knowledge base, he was able to avoid dead ends, failed experiments, and problems with his system. Instead, he concentrated on learning what grows best in his location, which no one can teach you.
What Zac Could Have Done Wrong:

We have seen many people start out in commercial aquaponics and come to a screeching halt because of some problem or other. Unfortunately, we usually hear of these after the systems have been built, all the money has been spent, and there are no resources to fix the problems. We still try and help out however we can.

All the dead-ends we document here came from people who corresponded with us and failed at commercial aquaponics, because of the problem noted. So here are the reasons Zac's farm could have been a disaster instead of a success. Fortunately he didn't go down any of these paths:

1. Zac could have decided he didn't need to operate his farm according to generally recognized good business practices. He
could have expected the farm to give him a paycheck just because he showed up every morning.
He could have hired a manager, then had the manager hire employees, and think he would make a profit because of all these people working for him.

2. Zac has good credit; he could have borrowed a huge amount of money, built a huge farm, and then expected that the big farm would make him big money. It's often the opposite: a big farm built on debt like this has a huge payment due the very first month after the money is borrowed,

but

there's often no income from the farming operation until after the first, or even sometime during the second year of operation.

It takes time to build the farm and farm infrastructure, then time to get everything planted out and work out all the bugs in planting, tending, and harvesting crops, let alone processing and marketing of the produce; during which the payments still need to be made. This is a huge financial handicap that can kill an otherwise viable business model if it had started out with less debt (or none!).

3. He could have used unproven or poorly-designed aquaponics systems, which didn't produce either vegetables or fish well, and spent all his time (and money!) either trying to make them work, or trying to figure out why they weren't! We know of four or five farmers like this.

4. He could have purchased expensive "kit" systems that don't hold many plants per square foot, and have no real information on how to make an aquaponics farm commercially viable (because the sellers have never run such a farm, they just sell kits!). The prohibitive cost of these systems combined with their lower productivity and higher labor costs might have been too difficult a financial burden to overcome.

Even if these systems were efficient at producing plants, some of them cost nearly five times as much as it is necessary to spend. Why would anyone want to begin a business with an unneeded financial burden such as that?

5. He could have tried to figure it out himself. He's a smart guy; he eventually would have. The question is: how long would it have taken him to get it operating at a profit? And where would he get the funding that would allow him to do the years of development required?

We started with the best aquaponics information available in 2007: the UVI course, which was the result of 20 years of university research into aquaponics. We developed new systems and techniques from this basic information over the last four years, and are at the point now where our systems are profitable, if built and run according to specifications. The technology that's available now is the result of 24 years of continuing investigation into aquaponics, yet many people are still trying to reinvent the wheel, unaware that the wheel in question is now mounted on the aquaponic equivalent of an electric hybrid car.

6. Zac could have ignored the economics of produce marketing altogether, and set up his system so that it could not possibly grow the most valuable crops. There are people who use sex-reversed tilapia fingerlings, and/or caustic chemicals in their systems, both of which deny them any possibility of organic certification.

Depending on the market, organically certified produce is worth from 40% to 100% more than conventional, and these people have just left that money on the table, while doing exactly the same amount of work on their aquaponics farm.

Even if you "switch the system over" to organic (which

can

be done, using our techniques and information), the organic certification agencies require

two years

of transition time, during which you cannot market your crops as organic, even though you are now doing everything right. Why not do it right from the beginning?

Although Zac's got a good local market that does not require organic certification, his systems are organically certifiable

right now

, without changing anything or doing anything differently, and most important, without waiting 2 years. Zac could get certified within a couple of months if he wanted to.

Thank you Zac, for sharing so freely what you have found to be true in your first 15 months of being a Primary Food Producer. We are impressed by you, and honored to know you. Thank you for your hard work.
Aloha, Tim and Susanne
We hope this has been useful to you. In the next "Commercial Aquaponics" newsletter we will examine what Zac did (and is doing) right to ensure his success. If you have any additional questions you would like us to answer in this continuing series of Special newsletters,
please email them to Tim
.
Click to see our new Video!
............................................


Purchase Trough Liner Directly From Manufacturer!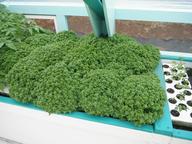 Pistou basil growing in our Aquaponic Solar Greenhouse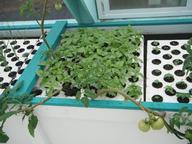 Large-leaf basil interplanted with tomatoes equals yummy pesto in the future!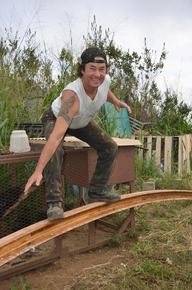 Tim joking around, but really showing off the strength of the 20-foot curved beams used in the Aquaponic Solar Greenhouse.

Special Offer!
Sign up for our June 28-29
Aquaponic Solar Greenhouse Training
or our June 24-26th Aquaponics Technology Training, and receive our Micro System package for free so you can begin studying aquaponics! ($99.95 value)
More Information on Hawaii Aquaponic Solar Greenhouse Training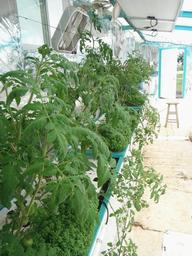 Tomatoes on the north wall of the Hawaii Aquaponic Solar Greenhouse; the wall reflects light and provides a built-in tomato trellis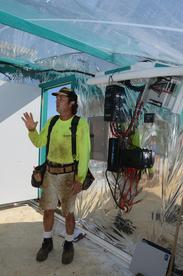 Tim with the PV system charge controller, inverter, breakers, and cabling from the PV panels on the wall to the right. The roll-down white plastic cover (rolled-up in this picture) keeps all this (black) equipment from heating up too much on a sunny day.
"The Fish's View"

You can benefit from all our experiences and learning curve so you don't have to pay the same price as we did, to learn what we know now.

For instance, Susanne got our aquaponics systems USDA organically certified (we are the first organically certified aquaponic farm in the USA) It took her six months to do so, because we were the first, and the certification agency was understandably cautious about certifying a farming method neither they nor anyone else had never certified before.

We've heard since then that some of our students have gotten certified in as little as a month and a half (after their farms were fully planted out, of course),

We shipped an organically certified product to Costco for nearly two years, something no other aquaponic farm has ever done. Getting our product into Costco was not easy, and Susanne worked for over a year to accomplish this. Now that we've done it, we can teach others how to do so much more easily.

Our success is a major reason we get attacked on the internet. As an associate of ours in Trinidad says: "No one throws stones at a tree with no fruit!".

Commercial aquaponics is different from backyard aquaponics, "kits", and hobby systems sold by aquaponics supply houses, in the same way a PeterBilt semi hauling a 16-yard dump trailer is different from the family car, a motorbike, or a bicycle. They're

all

vehicles, but they can't all do the same job.

Commercial aquaponics must be profitable, or you are out of business at a loss.

If you read something in this newsletter about commercial aquaponics, and then an "expert" tells you in an online forum "They're all wrong, those systems don't work, and you can't make money with aquaponics", it may leave you with a valid question. Here's how to resolve it:

First ask for their background and experience with large-scale commercial aquaponics. A few of the "experts" who say our systems don't work don't even have aquaponics systems, let alone large commercial ones.

If your "expert" claims to have students with commercial-scale systems, have them send you the "numbers" for those systems, with contact information for the owner so you can verify their claims. They can't and won't do so, because their systems are not turning a profit.

The aquaponics community can truly benefit from all the aquaponics teachers, consultants, and farmers with experience.

But the subject of commercial aquaponics is getting muddied by these people who have little or no personal experience earning a living from their aquaponic produce, just because they have a personal grudge.

To be very clear: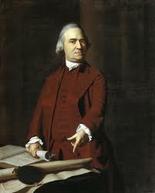 "If you read it on the internet, it must therefore be true."
Samuel Adams
(1722-1803)
, A Founding Father of the United States
(PS: This is a
joke!
)