Aquaponics Nugget #95: Filter Nonsense And Gritty Fish Poops; What's Really Happening: (Part 1)
I've followed a few forum discussions lately as a "lurker". There are "explanations" about biofilters and filters coming from people who don't understand the subject and the few situations in which they're really necessary. It's sending people off in the wrong direction to waste a lot of time and money.
Here's a metaphor: if you put a cup of water into your gas tank every time you fill up at the gas station, you can fix the problem with a "water filter". If you don't put water in your gas, you don't need a water filter.
In much the same way, one doesn't need a "filtration" system, solids settling tank, net tank, degas tank, "biofilters" and so on, unless you've mistakenly done one of the following:
1. You're using a cheap fish food, and because it is not well-processed and formulated (it's a CHEAP fish food, remember?) there are large undigested chunks of decaying organic material passing through your fish and going out into your troughs, at which point this stuff coats the roots of your plants out there and compromises their growth (we'll explain why this is a problem in a bit).
2. You're using a good fish food, but are feeding way too much of it to your fish. This is easy to do if these fish are tilapia, for they have a "pass-through" digestive system that simply spills excess undigested food down the "out" pipe if they overeat! As a result there are large undigested chunks of this decaying organic material passing through your fish and going out into your troughs, then coating the roots of your plants out there.

3. You designed your system with information from an aquaculturist, not someone who is profitably practicing commercial aquaponics. Aquaculturists like filters, because they are the ONLY way you can get bad stuff out of a system that has NO plants in it! Profitable aquaponics practitioners know you can run systems for years without a mechanical filter anywhere in sight; for your thousands of plants are your filter.
4. You have WAY too many fish in your system. This usually happens when you have taken advice from an aquaculturist or a university aquaponics department that has never had to make money selling fish at a profit. There's a problem with this: in most places in the world, the cost for fish food, electricity for aeration, labor to raise the fish, and other costs are MORE than the local wholesale price for the fish. You are losing money raising fish, you just haven't got the news yet.

Please have anyone who contradicts me present you with their P&L statement from a profitable fish farm in the US; for there are only two or three that I know of, and they are highly specialized and selling into small niche markets (there are MANY in China and Thailand, but labor's $4/day there).
It's MUCH easier and cheaper to fix this "problem" without a "filter", once you understand what's really occurring. Here's a clear description of the phenomenon that's causing this confusion:
A. A digestible fish food results in a slimy, well-digested fish poop with no "grit" in it, that immediately breaks up into micro particles when it hits the swirls of airstone bubbles in the fish tank. All these tiny particles have tons of surface area, which the heterotrophic bacteria that live in your system and break them down into ammonia love.

The more surface area that is available for these bacteria to colonize, the faster you will get results from that bacteria. The resulting ammonia is what the nitrosomonas bacteria love; they metabolize it and excrete nitrites. The nitrobacter bacteria love nitrites, and metabolize them and excrete nitrates, which looks like nutrients to your plants> They love nitrates, and remove them from the water as fast as they can use them!
B. However, an undigestible, or less digestible fish food can cause a problem that some people think they need to "solve" with a "filter". If you are feeding your fish too much, or feeding them a cheap fish food, you will have large undigested chunks of fish food going out into your system and coating your plant roots, instead of getting turned into ammonia, then nitrites, then nitrates. Out on the plant roots, these chunks simply rot, apparently overwhelming the bacteria's ability to deal with them and turn them into the nutrients the plants need. The roots rot too, becoming grey and slimy, and the plant becomes unhealthy at best.

These relatively large "chunks" will still seem super small to you, but are so large, and present so little surface area for the bacteria to go to work on, that they effectively throttle the bacteria's ability to convert them into something that is easily used by your plants. It's as if you had cheeseburgers glued all over you, but someone had handcuffed you. The food is theoretically within your reach, you just can't get to it. Neither can the bacteria or the plants in this type of situation.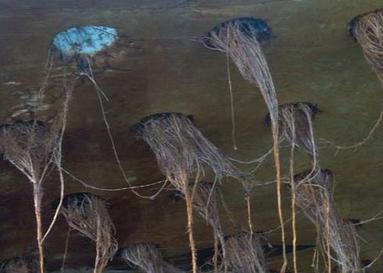 Unhealthy and crud-covered plant roots; NOT how they normally look.
We saw this phenomenon at one of our student's systems here on the Big Island. I visited his farm, and happened to check out his plant roots: they were slimy; grey, brown and ugly; the plants looked unenthusiastic. This was not at all like the vibrant green plants I'd seen here on an earlier visit, and I started wondering why at once.
Then I went over to the fish tank and checked the texture of the fish poop floating on the surface: it was gritty, with many large grains of fish food still undigested in the poop. It was a cheap fish food that he'd bought locally, since the more expensive, digestible food was a 4-hour drive away at the Farm Coop Store on the other side of the island. As we'd never used an undigestible fish food before, and none of our students had, I'd never seen this condition in an aquaponics system.
But I knew there was a problem somewhere. To figure it out, all I did was compare what was different about his system (which wasn't working!) with ours (which was!). The one difference that stuck out like a sore thumb was the gritty fish poops. I checked his fish food bin, and the fish food pellets were gritty also when I broke a couple of them in my hand. They didn't turn into dust, the way our fish food did when I broke the pellets.
And then I had an epiphany ( a moment of extreme mental clarity and understanding, says the dictionary). All of a sudden, it just made sense to me: instead of being broken up by the constant movement of the airstone bubbles in the fish tank, then being broken down further into nitrites and nitrates by the bacteria, which LOVE all this surface area, this gritty fish poop simply went out and coated all his plant roots. The bacteria, lacking surface area to colonize, simply couldn't get to work on the gritty fish poop that came from the cheap fish food.
I made a recommendation, he made the 4-hour trip, and within ten days of switching back to the digestible fish food, his plant roots were clean and white again.
Yes, a "filtration system" will take care of this, because it provides an intermediate location that will catch all the decaying organic material and allow it to decay further before passing out into the troughs. But so will simply using a more digestible fish food that your fish can fully digest, without having to buy and build and plumb any "filters".

Understanding the aquaponics system is always the answer, not jumping to conclusions based on inadequate data or a poor understanding of the situation.
Next week, in Part 2, we'll explain the very simple and understandable situation in which using solids settling tanks, net tanks, and degas tanks makes sense (they cost a LOT more to buy and plumb!).

The photo below is our Solar Greenhouse. It's cool when it's hot, and warm when it's cold (hope that makes sense to you, it's the best greenhouse we've ever seen!)
.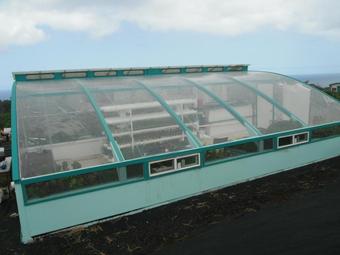 Friendly Aquaponic's FIRST Aquaponic Solar Greenhouse in full bloom, Honoka'a, Hawaii, March 2012, (on a grey rainy day) showing PV panels and growing plants.
Next week: Something else interesting and valuable to know about aquaponics. Thanks for listening!