Aquaponics Nugget #157, "Why We Don't Have Competitors"
Why We Say That:
For two reasons: one, in three years we haven't run across any "commercial aquaponics consultant" or "trainer" who is willing to publish their aquaponic financial data.

We do, and we offer a free "Aquaponic Projections Spreadsheet Tool" which is based on real-world numbers from actual production. The only conclusion we can make is that no one else out there is making money on their vegetable production; I'd sure want the world to know.

And two: we believe in sharing and cooperation rather than competition as a business model. Competition is a bankrupt model that will not serve us well in the difficult times the world is facing today.

This is a typical response we send to clients who ask about productivity and costs for our commercial aquaponics systems. It compares an actual "competitor's" aquaponics systems because you need an honest comparison to make economic decisions of this importance; it also gives real numbers based on actual production (at least for our systems; they won't give this information out for theirs).
This "competitor" has threatened to sue us if we compare our systems to theirs in print. Although we guarantee the comparison made here is true and accurate; you know that the one who has the biggest legal fund still wins. And that's not the way we roll.
So, I will contrast a system of ours of 2,100 square feet with our "competitor's" so-called "Commercial System" of nearly twice the size (around 4,100 square feet) so we have an apples to apples comparison. If you noticed that their system is "nearly twice the size", it's because I'm trying to give Goliath a little advantage here; he's sluggish even though he's so big.
System Cost And Capacity Comparison:
Our system costs $36,133 for materials only (averaged over the USA, end of 2013), which includes the cost of materials for the single 35-foot by 96-foot greenhouse required to house our system. This is a system with 2,100 square feet of raft area, and two 4-foot by 24-foot sprouting tables of our design that we will call "our" greenhouse.
Because of advances in nursery and planting technology that Susanne has made over the last three years, our greenhouse holds 27,325 plants. It produces 174,038 plants per year, at an average total weight of 20,885 pounds. You will see these numbers, and more, in this "Aquaponic Projections Spreadsheet Tool", which we are supplying free of charge to help you make predictions on your aquaponic business.
Their system requires 3 larger greenhouses, costs over $95,000 (not including the greenhouses, or other extras such as crating and freight, which is probably another $85,000 or so), for a total of around $180,000, six times what ours costs.

That would be OK if it produced six times the amount of plants. But their system only holds 7,500 plants (+/-), and only produces from around 90,000 to 142,000 plants a year (based on their claims), even less than our system of half the size.
Other Areas Of Comparison:
Our systems are organically certifiable. Our farm was the first organically certified aquaponics farm in the world, in August of 2008. Since then, over twenty of our students have had their systems organically certified. To the best of our knowledge, it's not possible to organically certify their systems because of the methods and chemicals they use.
A quick comparison of three organic and conventionally-grown produce items from the April 26, 2012, USDA Daily Market Report (http://www.usdareports.com/) for Atlanta, Georgia (selected as the closest market to your location in Alabama) shows the following prices. These items are frequently grown in aquaponic systems :
Organic Red Leaf lettuce, 24 ct, $39-41/case; compared to non-organic Red Leaf lettuce, 24 ct, $19-20/case.
Organic Green Leaf lettuce, 24 ct, $39-41/case; compared to non-organic Green Leaf lettuce, 24 ct, $17-19/case.
Organic Romaine lettuce, 24 ct, $39-41/case; compared to non-organic Romaine lettuce, 24 ct, $17-21/case.
Organic vegetables bring in twice the income at the wholesale level that non-certifiable vegetables do. Using their systems gives you half as much income for each plant, because you can never sell organically certified produce. What farmer in their right mind would consciously make such a choice if the alternative was available for $600 to $1,200 of certification fees per year?
Our technology includes a tilapia fry and egg hatchery as well as nursery technology; the cost of the equipment for the size hatchery required is about $2,200. Using our technology, you could also build a full-scale tilapia hatchery and nursery capable of producing more than 1,000,000 fry per year for about $35,000. They don't offer any hatchery technology. This is important not only because you should have the production for your own tilapia fry under your control, but for two other reasons also:
The hatchery operation forms another income stream for the commercial aquaponics farm, which is important for financial stability. By hatching the tilapia fry yourself, you reduce the cost for the fry to restock your own farm's systems to the absolute minimum, thereby making your farm's operation more profitable.
Profit/Loss Comparison Of The Technologies
Cost per plant space: Our system costs you $2.09 per plant space (including the greenhouse), theirs costs you $24.00 per plant space (including the greenhouse).
Greenhouses required: Our system requires a single 35 foot by 96 foot greenhouse; theirs requires three larger ones, for less production.
Installation cost per dollar's worth of produce created: Our system produces approximately 20 percent more volume of produce than theirs does. However, the organically-certified produce from our system is worth twice as much. As a result, our system produces two and a half times the dollar value of produce that theirs does.
Energy Costs: By incorporating energy efficient heating systems and by using energy efficient cooling systems, combined with the natural thermal mass properties of the water contained in the aquaponics systems, the energy costs for heating and cooling our single smaller greenhouse will only be a fraction of what theirs is for three larger greenhouses using their conventional technology. The cost savings of our systems are obvious here also.
Labor Costs: It is also obvious that there would be a small percentage of the labor involved in operating a single system of ours in a single smaller greenhouse as compared to operating their three systems in three larger greenhouses. There is simply a lot more "walking around" for employees to do in an installation more than three times as large; only this extra time spent doesn't result in greater production, but in less.
Partnership: We will partner with your organization to offer commercial and backyard aquaponics training that is comprehensive and affordable, using the proven curriculums that we have developed and used for the last six years. They refuse to train anyone to be potential competition to them. We aren't worried about training our competition, and have done so since 2008. We simply want as many people as possible to have access to this technology as soon as possible.
Conclusions
You should make your own, after informed research and due diligence. But, we hereby challenge all our "competitors" to take our "Aquaponic Projections Spreadsheet Tool" and fill in the numbers from an actual operating system of theirs, as a simple comparison. We issued this challenge three years ago, and no one has taken us up on it yet. Simply put, our systems, or variations of them that someone developed from ours, are the only profitable commercial aquaponics systems in the world today, to the best of our knowledge. Wouldn't you rather get your information on what works in commercial aquaponics from the horse's mouth?
In the nursery system: the poly film keeps cold winter rain (even in Hawaii) off our babies for two weeks; then they're big enough to do without it. The "secret"? Lots of plants in a relatively small area! Come to our training to get it explained to you, or you can figure it out from this photo. This is why our systems hold 4X as many plants as our "competitors" systems do. This = profitability!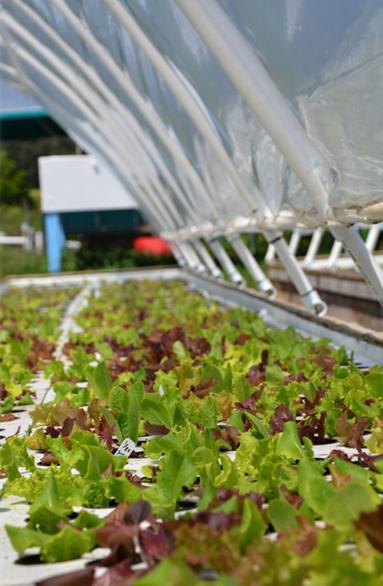 In the "grow out" troughs; another two weeks here and the greens will be harvested from the far end of the troughs. The young plants on the rafts go in on the nearer end, then the rafts float down to the far end, reducing the amount of walking required to harvest.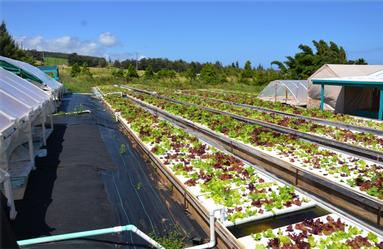 We have no idea what we're going to do for our next newsletter! We've got four kids and it's almost New Year's, so we're going to take some time off and spend it with them. You all have a wonderful New Year's, we'll be back next Monday with something valuable and interesting aquaponic. Thanks for listening!.