Aloha Friend
In today's "Nugget", we continue with Part 4 of our series on
"Energy-Efficient Greenhouses For Aquaponic Growing"
. If you want to learn how to do this instead of just read about it, we have trainings scheduled for Tennessee in September of 2013 (see bottom of this column, and right sidebar).

Our "In The Farmily" column today
is about Bird and Boob, two members of the Farmily that came along before I even knew there was going to
be
a Farmily.
Aquaponics Nugget #138, Part 4: Energy-Efficient Greenhouses For Aquaponics

Where We Started:
(If you got started late, you might like to read back newsletter #1, back newsletter #2, and back newsletter #3 of this series to catch up before continuing!).

Why The Heck Are We Doing This?
Aquaponic farms (and other growing methods) need energy-efficient greenhouses to grow outside of the normal spring and summertime growing season in temperate climates. In extremely cold climates such as Germany, Switzerland, Norway, Northern Russia, and Sweden, it is almost impossible to grow anything outside of a few-month-long summer growing season.

In extremely hot climates such as Israel, Egypt, Libya, lots of Africa, and other hot dry areas have, it is almost impossible to grow anything except during their winter season, and even then you need to be near a river with LOTS of irrigation water. If you want to grow something during the "wrong season" in these areas that are too cold or too hot, you need a well-insulated, energy-efficient greenhouse to even consider doing so.
Insulation, Energy Efficient Heating and Cooling, and Thermal Mass:
These are the critical three concepts to understand if you are trying to heat or cool anything (not just greenhouses) and use (read "purchase") a minimum of "conventional energy" in the process. We started covering insulation in our last newsletter in this series, but we'll flesh that out more now:
We talked about the experience of "putting on a jacket" before going outside in the cold, to make the concept of insulation easy to understand. But we can't just put jackets on our fish and plants, and putting a jacket on a 36-foot by 128-foot greenhouse would be a monstrous task! So we need to utilize commonly available and affordable insulation materials and installations to insulate our greenhouse, troughs, and fish tanks.

Why Insulation Is So Valuable:
Let's say you operate your greenhouse for several years. Whatever heating and cooling you provide will need to be provided over and over during that time. If you can reduce the amount of heat and cool that the greenhouse loses, you reduce the amount of heating and cooling you need to provide. This will reduce your ongoing costs for heating and cooling. Thus, a one-time investment in insulation will give you decreased greenhouse operating costs forever. It's that easy!

How Insulation Works; Types Of Insulation:
Insulation is any material or system that tends to retain heat and/or cool where you want it retained. Insulation is rated in terms of "R" value; the higher the R-value, the better the insulation works. We use insulation in the "cold" north wall of our aquaponic solar greenhouse, in the end walls, and under the floor, troughs, and fish tank, to keep heat and cool from escaping from the greenhouse.

Insulation is one of the most important things to understand before building your greenhouse, because it is very difficult to put insulation into your greenhouse after building it! If you get the right amount of insulation (or slightly more, even better!) in your greenhouse, heating and cooling it will be much easier, and will require less energy.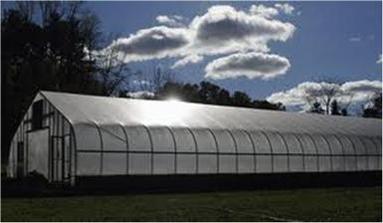 (Above) A conventional plastic film covered "high tunnel"; it has NO insulation at all, unless you install some under and around the growing troughs and fish tank (actually a GOOD solution for mild climates!).
Insulation works because it does not transmit heat energy, or because it transmits heat energy very poorly. Examples of things that make good insulation include: wood, styrofoam, spun fiberglass insulation, plastics, hay bales (only if kept dry) and air, because they do not easily absorb heat or cold. Examples of things that make poor insulation are: metals, water, oil, glass, rocks and sand, and wet hay bales, because they easily absorb heat or cold, and then easily pass it on.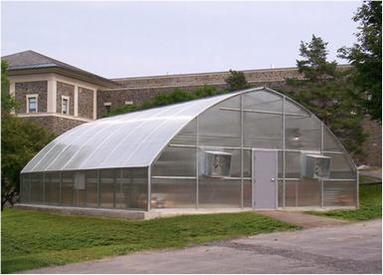 (Above) A nice expensive, polycarbonate-covered greenhouse; it has a small amount of insulation value afforded by the double-layer polycarbonate covering; but that same covering cuts out a MINIMUM of 20% of incoming sunlight during the wintertime, when getting enough sunlight to your plants can be critical!
Think about being at the beach: lean over and touch a white styrofoam boogie board or cooler that's been in the sun, then lean over and touch a piece of metal that's been in the sun; you'll burn your hand on the metal, while the boogie board just feels vaguely warm. That's insulation!
Typical Wall Insulation: Insulation used in the walls is paper or foil-covered fiberglass insulation that comes in rolls from the building supply. Since this is covered with a 6-mil polyethylene vapor barrier, it should pass Organic certification inspection with no problem. But there are other places you may have insulation exposed directly to the interior surface of your greenhouse; an explanation of the insulation to use here follows: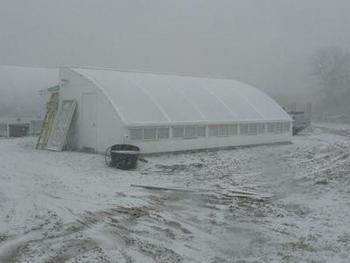 (Above) A relatively inexpensive, ETFE covered greenhouse; but it has LOTS of insulation in the walls and under the concrete slab. The resulting heating and cooling costs are quite low, and the ETFE covering allows the maximum amount of incoming sunlight during the wintertime (even MORE than glass, at a FAR lower cost!), when getting enough sunlight to your plants is critical.
Organically-Approved Insulation Types: If you plan on seeking organic certification at some point, you need to use approved materials in all permanent installations. This includes insulation materials underneath and on the sides of troughs and fish tanks, because they can bleed out whatever evil things they might be made with into the somewhat sealed greenhouse environment.

The one type of foam we currently know is approved by the certification agencies is the EPS foam known as Dow Blue Board. This is very strong and durable (for foam!),and is what we use for the rafts in our systems. Another foam that is approved is the white styrofoam board that looks like a bunch of little styrofoam beads glued together. A type of foam we know is not approved, and can cause you problems because of its possible toxicity, is any brand that is "polyisocyanate foam". It is, however, a lot cheaper than the Blue Board while being as strong; and thus is tempting to use.
As Important As Insulation; Paint Color:

Color (Paint): In addition to the insulating properties of whatever material you're dealing with, you also have to consider the color of the item. Paint a wooden board flat black, and another flat white, put them in the direct sun for an hour, then touch each in turn. The black board will be about 170 degrees F and will burn your finger, while the white one will be 85 degrees F, even though they are both made from an insulating material.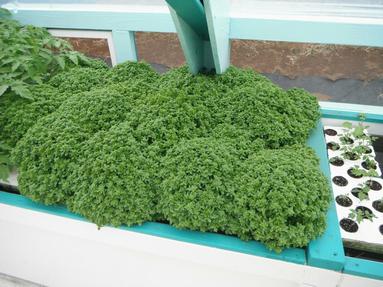 (Above) That attractive turquoise trim measures 147 degrees F in the sun on a day that the outside air temperature is 90 degrees; the white painted surfaces and the rafts measure 85 degrees. A real education in proper paint colors for greenhouses!

So pick paint and material colors carefully for anything inside your greenhouse that the sun will shine on. If you install a black piece of equipment (such as a charge controller for a PV array), you should cover it with a piece of white, roll-up plastic to keep it cool. White is safest and coolest. PAINT IT WHITE!!!
(
Below) A Chinese-style greenhouse, complete with roll-down straw insulating mat to keep daytime warmth inside at nighttime. The small entrance building serves as an "air lock" keeping the warmth inside, as well as storage for tools and supplies.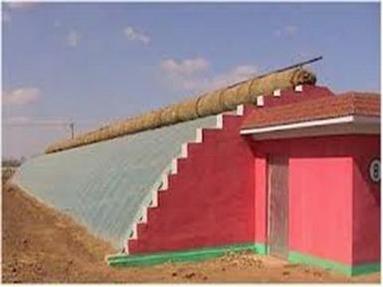 (Next newsletter in this series will cover energy-efficient heating, the next will cover cooling, and the next will cover thermal mass. Most important for those of you who are "lightly funded", a bit later in this series we will explain how to purchase and erect your own energy efficient greenhouse for pennies on the dollar, even if you never purchase any of our offerings! Thanks for listening!)

For smaller home backyard and apartment systems, please read on: