Aquaponics Nugget #59:
A Primer On Aquatic Ecosystems, Part 3
So far in this series, we've looked at freshwater prawns,
(macrobrachium rosenbergii)
, and water fleas (
gammarus
) as examples of successful new organisms that fit into available niches in our aquaponics systems.
This week, we'll look at a third example where we introduced a new organism into our systems that flourished. This is the hihiwai, (Latin name
Neretina granosa)
,
which is an edible freshwater Hawaiian limpet. They normally grow in Hawaiian streams from sea level in lightly saline water to 1,200 feet of elevation.
So, one day we're in our friend Kiko's Hawaiian sailing canoe sailing off the Hamakua Coast of the Big Island (where we live), when he says "Let's go up the river!". We turn the canoe, surf through the surf on a 44-foot Hawaiian sailing double canoe, past surprised-looking surfers sitting on their boards, and into the river.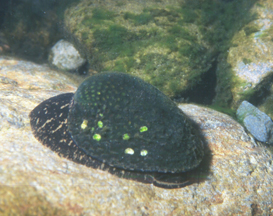 Here's a handsome Hihiwai in a Hawaiian stream, clinging to its rock. They grew AND procreated

just fine

in our Micro System!
Once we got a ways up the river, we ran out of wind and dropped the sail, then paddled. We went as far up the river as the rocks would permit, then anchored the canoe for some swimming. I don't remember who, but someone noticed the hihiwai stuck to the rocks and said "what are these?". Kiko, ever the Hawaiian natural historian, gave us the name, the story, and all the lore about the little animals. We decided to take some home and see if they would survive in our aquaponics systems. So we did.
We harvested about 30 hihiwai, put them in a bucket of stream water, and kept them cool and aerated all the way home. We put them into a 64-square foot Micro System, checked them a few times the first week, then pretty much forgot about them for four months. This was what we did with the prawns, because we are so busy running the farm to worry about much else. So, four months goes by; we harvest vegetables from this Micro System, replant, and every time we remove rafts from the system that have hihiwai stuck to their bottoms, we carefully put the hihiwai back into the water on the bottom of the trough.
They were sweet little limpets: they would cruise along the liner or the underside of the rafts, eating algae off their surfaces. They didn't chew holes in the liner, or eat mosquito fish, or chew on vegetable roots, because they are
algae eaters
. We KNEW about this feeding habit BEFORE we brought any home, and weren't too worried that they would present a problem in an aquaponics system. The algae we normally see around the top two inches of the waterline on the liner in this system grew noticeably thinner with the hihiwai munching on it.
The kicker was four months later, when we had to drain and sterilize this Micro System because it got clogged with duckweed. We harvested ALL the hihiwai that were in the system, and there were 60! Remember I said we put 30 in? Well, I also remembered how big the smallest of the original 30 were, and there were 30 new ones that were
smaller
than that! They had made 30 new hihiwai in the four months they were in the Micro System, and the original 30 we put in were now huge!
Although the hihiwai are cute and so on, they are particularly interesting because, although it is legal to gather hihiwai for personal consumption, there's a $10,000 fine if you're caught selling them! They're a favorite food in Hawaii, and are
valuable
. This is also true of another organism, with the Hawaiian name "Opae 'ula", which is a little red freshwater shrimp. The poachers who sell these two usually get $25/lb for them.
So, armed with this information, I called the Hawaii Department of Land and Natural Resources (DLNR) and talked to their specialist who knows about these guys. I got a verbal opinion from him that, although it's unlawful to gather them and sell them, it should be OK to
culture them and sell the cultured ones
, since the purpose of the law was to help keep the numbers of the natural stocks high enough to stay viable.
One would want to get this in writing before basing a business plan on it, but it appears that it may be aquaponically possible to raise organisms for profit that are currently not allowed to be sold because the only source for them is gathering in the wild, which could endanger wild stocks by putting a price on them. This is a whole new field where aquaponics can be a valuable addition to environmentalist's and naturalist's efforts to keep diversity alive in our natural ecosystems. It is even conceivable that businesses that culture such organisms for sale could contribute a certain percentage of the organisms themselves to restocking the natural environments they originally came from.
(Next week: We're Giving A Training And Will Be Too Busy To Even Scratch An Itch! We'll resume newsletters the week of the 31st October. Thanks for listening!).