Aloha Friend,
Today's "Nugget"
is the second part of the profile of our Tennessee commercial aquaponics affiliate, Randy Campbell, that we started in
newsletter #123
..
(Editor's note: this is all in Randy's own words. I have added some definitions and clarifications to help out those readers who don't know Randy and Katie as well as I do. Any errors are mine, Tim......)


Our "In The Farmily" column today
is the second part of another little sea story by Tim.
(By Randy:) Hey Tim,
For the past six years when people would ask me "what is aquaponics"? I would respond with the typical, lengthy explanation describing the water, bacteria, fish and plants... you know: the definition we all try to give when we introduce this fascinating growing method to someone new.

We think we can explain it in one long sentence (so we don't lose them) followed by another ridiculously long sentence that touts how little water and energy it uses and then we end with "and it is all organic". That's what I used to do.

Over this past year since Bobbye passed away, my definition has changed drastically. In a year of facing more questions than answers when it comes to life looking back and life looking forward, I discovered what aquaponics really is:
(Below) Randy and Katie's Chinese-style Aquaponic Solar Greenhouse in Tennessee in the February snow, 2013. 70 degrees inside and you had to take your coat off when working with the vegetables!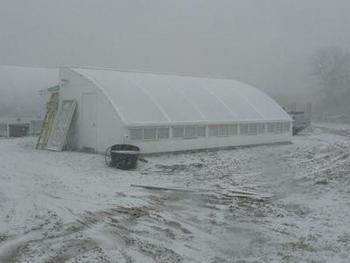 Aquaponics has many faces. It is all the obvious things like I described above as well as a way to feed our people and bring food to parts of the world that currently have none or little of their own. But when you slow down, as I have, you begin to see it as much more than the obvious.

I know it as health (or even medicine). Katie, Bobbye and I learned through our cancer battle that we as Americans are significantly undernourished, but not under fed... Not at all. It's simply that most food in the grocery store is nutritionally void.
(Below) Randy and Tim showing attendees at the training how easy it is to use a DO (dissolved oxygen) meter to measure oxygen levels in the vegetable troughs.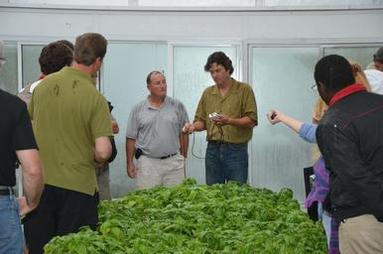 Bobbye had stage 4 cancer for nearly 5 years of her cancer battle. We used "real food" as medicine. She only ate food that we produced on the farm or organic from the stores. This added significant quality and quantity to her life. I know this may sound strange but she was healthy and vibrant during all but the last few months of her life.
I have learned that Aquaponics is hope. Why do we all want better quality food? Not just because it tastes better. We want it to make us feel better, look better, to stay healthy, to live longer. We all want to avoid cancer, heart disease, diabetes and obesity.

Aquaponics provides us hope that we can achieve these things with high quality food that we grew ourselves. I think that deep down most of us know that the food that comes from the system is killing us and is directly related to these illnesses.
Aquaponics is independence. We have all grown weary of the constant food recalls, the GMO's, the pesticides, herbicides and radiation in food provided by the current system. Food independence is empowering!
(Below) Tim drinking water from one of Randy and Katie's aquaponics systems. "I've been doing this for six years; it's the reason I absolutely know the food from these systems is safe and healthy" (Tim).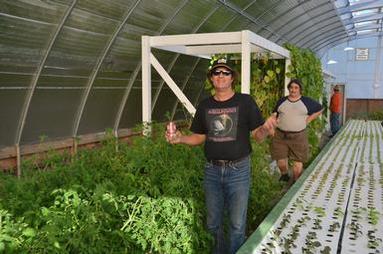 Most of all it is an addiction. Once you build a system and have your first seeds germinate, then you eat your first salad from your system-- you're hooked. You will feel something deep inside, you may not recognize what it is at first but I contend that what you are feeling is the power of your addiction to health, hope and food independence. Support it! You have become a primary producer, something that is rare in today's world!

Tim, you asked me about the future plans that Katie and I have for our aquaponic farm. As of today we have not yet made a step by step plan. We are just living in the now.

However, I can say with certainty, we will continue to support this addiction, to learn more, to expand, support and perpetuate aquaponics every way we can. We will continue to expand our systems, eat great and sell some produce along the way!
Thanks, we'll see you on the journey!
***Randy and Katie Campbell***

For smaller home backyard and apartment systems, please read on: